---
Why is employee experience important for customer experience?
If there's one thing that's true and constant about today's ever-changing market, it's that the companies that deliver the best experiences win.
From incredible, as-you-need-it customer service to world-class employee engagement programs to attract, retain and develop top talent, the organizations that continue to invest in experiences are leading the way.
However, with shifting organization priorities, allocating resources across brand, employee, customer and product experiences has become increasingly difficult. And while organization leaders intuitively know that they are all interlinked, the challenge is knowing exactly which experience levers for each drives the best outcomes and benefits the bottom line.
Free eBook: Combining your EX and CX to fuel business growth 
When EX and CX work together, they deliver incredible results
Historically, organizations have treated employee experience (EX) and customer experience (CX) as separate initiatives — and despite efforts to align them, current approaches remain siloed, piecemeal or technically inadequate.
But when employees are happy, fulfilled, challenged and motivated — they deliver better products, services and advice. These exceptional experiences then delight customers, who in turn write great reviews, spend more and advocate on behalf of the brand via word-of-mouth marketing, strengthening an organization's brand sentiment and market position.
This is experience management — a more human-centric approach to creating inspiring interactions, and it starts by connecting employee and customer experiences.
Laying the foundation
In most organizations, the fundamental problem is that there's no shared or centralized understanding of what drivers are critical to specific EX, BX, PX or CX outcomes; and as such, they're flying blind.
Sure, there are expensive, time-consuming and complex cross-program reports that they could pay for or run themselves, but when it takes months to compile, analyze and uncover insights from data — is that a competitive advantage?
For example, what if you wanted to look at how employee well-being initiatives affect NPS scores? Or what if you wanted to measure the influence of employee sales training courses on customer satisfaction and overall brand recall and compare operating locations?
Furthermore, of all the things you already ought to be doing to improve the employee experience, which of these actions are also most likely to influence the customer experience?
Right now, CHROs are being asked:
Where should we spend more to improve employee experiences and customer outcomes?
What trends are we seeing across various operating locations that could help us increase revenue?
How can we retain existing talent and bolster employee engagement to support customer satisfaction?
And CX leaders are being asked:
How can we promote next-level customer success?
What options do we have to drive employee engagement to influence frontline revenue?
In many instances, they don't have the answer because their programs are disconnected and incapable of capturing the right data to identify the specific drivers of outcomes.
The ROI of connected experiences
Now, the organization (and leadership) rationale for connecting EX + CX is clear — and easily communicated to the rest of the c-suite (and any other key stakeholders):
Team
Rationale for EX + CX
Outcomes
HR

Highlights that HR is a value center
Shows the impact of EX driving topline organization success
Align HR with the C-suite

Drives investment in people while reducing costs
Adds a new lever for customer retention
Prioritize areas of opportunity
Get more lines of organization to drive success
Lead with customer-centricity
Align CX with the C-suite

CX

Link revenue to EX efforts
Increase frontline employee retention
Brings C-suite into the picture

Decrease costs
Increase customer and employee retention
Guide organization decisions based on customer and employee outcomes
Brings C-suite into the picture
More importantly, benefits are well-documented;
Companies that take measures to create an engaged workforce are 21% more profitable, as well as being 17% more productive.
Research shows that 70% of engaged employees show a greater understanding of how to meet customer needs. In comparison, just 17% of disengaged employees can say the same
Glassdoor's recent study found that for each one-star improvement in a organization' employee rating led to a 1.3-point improvement in customer satisfaction scores. The study highlighted a trend where the employee ratings improved first, before the satisfaction scores rose, indicating that engaged employees have a strong impact on keeping customers happy.
And our own research has found that brands with a high level of employee engagement have a 24% higher Net Promoter Score (NPS) than less-engaged competitors, with 12% higher customer advocacy.
The reason for all of this is simple — and returns us to the point made at the start: engaged employees are happier at work and content. That job satisfaction translates to better results as they care more about the experience they deliver to customers.
And as customers feel cared for and acknowledged, they spend more, write glowing reviews and advocate on behalf of the brand.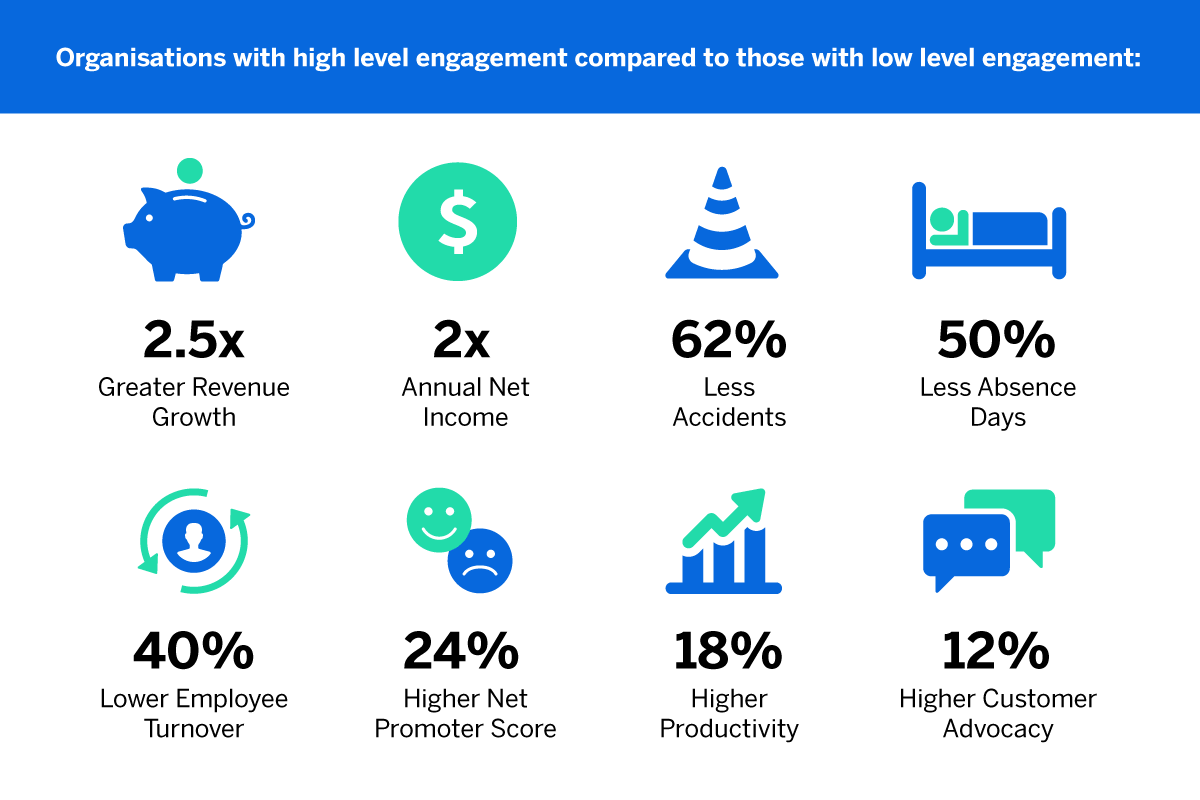 Every leader knows that by providing employees with the right support, opportunities and resources, they can create customer experiences that resonate. Now, let's look at how you can develop a cross-experience program that drives the right outcomes.
How to develop your cross-experience programs
The foundations of a cross-experience program are technology, data and culture. When an organization operates in unison towards a shared goal, and has the appropriate tools to collect the right kind of experience insights, it becomes significantly easier to understand what actions drive bottom-line results — and more importantly, how to scale them.
Start with your technology
One of the principal challenges with realizing the capabilities and extent of cross-experience programs is that organizations simply don't have the right tools, methodologies or processes in place.
And existing options just don't deliver superior time to insight nor value. There's also the fact that they're significantly less secure as you're constantly shifting data between platforms for analysis.
In an ideal world, organizations need a holistic, single-platform solution that automatically combines EX and CX data sets and runs advanced artificial intelligence parameters to:
 identify key trends and consistencies amongst the data,
present the key drivers of one area against the another,
make it easy for researchers to quickly pull insights and act on them, and
provides a benchmark for future analyses and subsequent actions
Assess program readiness
Just how ready is the organization to execute on a connected EX and CX program, and to what extent can it act on the findings?
Some organizations are simply too early on in their experience management (XM) journey to implement and act on findings from a cross-program analysis. For example, it may lack the technology (as covered above), competencies (e.g. skills and people), and/or culture (a data-driven organization) to produce and meaningfully act on the insights generated.
There are three key areas for organizations to start with, part of a wider XM operating framework:
Technology
Organizations require a platform that infuses actionable intelligence throughout the entire operation, enabling them to capture, connect, analyze and act on employee and customer experience data.
Competency
As well as the right solutions, organizations require the right people and skills to leverage the tools available and capture and act on the insights gained.
Culture
Finally, every person in the organization must have a data-driven, XM-centric mindset that nurtures the right behaviors and beliefs across the organization.
To find out more about program readiness — and to assess your own organization, check out our XM Operating Framework guide.
Data quality, usability and participation
To uncover meaningful insights, organizations first need to identify a common unique identifier that exists across EX and CX data sets. This shared unit of analysis will connect the EX data set and CX data set so it combines into a single data set. Once EX and CX data is combined, organizations can analyze it to uncover EX drivers of CX outcomes..
Having data organized in such a way also makes it possible to compare performance across the shared unit of analysis, e.g. location, region, or account team, based on how EX drivers influence CX outcomes. For instance, HR leaders might want to see the effect of higher wellbeing and engagement for a frontline customer service team on revenue generation and/or overall customer satisfaction.
This kind of data is invaluable, and once leaders know how changes appear and function in different locations and/or teams, they can start to make more strategic, data-driven changes.
As well as this, organizations must also:
1. Get the right type of data
Use your EX program as the starting point for what you want to measure in customer experience. For example, how do improvements in wellbeing and the employee technology experience manifest as CX outcomes or metrics?
| | | |
| --- | --- | --- |
|   | CX | EX |
| Metrics | NPS, CSAT, CES, etc. | attrition, employee tenure, manager tenure |
| Outcomes | Customer loyalty, share of wallet, cost to serve, etc. | engagement, wellbeing, intent-to-stay, etc. |
| Drivers | agent communication, issue resolution, etc. | role clarity, enablement, manager effectiveness, etc. |
Rather than a template annual engagement survey, take the opportunity to agree with HR stakeholders on the metrics required to see how teams deliver on the customer experience.
There may be specific employment engagement survey questions related to your program that you want to include in order to assess how it's impacting your employees and whether they're confident enough to deliver on it. It's best to have around 30-50 employee experience-related questions, and remember to keep records on your demographics as well.
2. Compare data points
The more granular your data on what keeps employees engaged and customers happy, the more you can find trends and correlations. Using an annual engagement survey, as well as more regular pulse surveys, will enable you to track how your actions make a difference to your workforce and your customers.
For example, if you implement better work-life balance measures for your employees, you can track progress through these pulse surveys to see how specific customer experience metrics have been impacted.
At the same time, you can collect customer feedback across the entire journey and their interactions with your staff to better understand the results of going the extra mile for your workforce. Using the right platform to support your data collection and analysis will help you to draw more effective conclusions.
3. Get employee buy-in
Removing data silos across different parts of the organization and moving towards a more customer KPI-driven CX program requires serious buy-in on the part of employees. After all, they're the ones who'll help capture the insights necessary for change.
To be successful, a customer experience program should become ingrained in the culture of the organization and the day-to-day working practices of staff, whether they're customer-facing or not.
The strategy, measurement and management platform are just one part of a successful CX program:
HEAD – the measurement and management of your program, these are your agreed objectives, tools and processes you've put in place to run your CX program
HEART – the engagement of your people to get behind and drive change by establishing customer experience values and purpose within the organization
HANDS – the systems, training and mechanisms that allow your frontline employees to make real-time decisions on behalf of the organization
The last of these is often the hardest to get right, and possibly the most daunting too – particularly in sectors like financial services which historically have not operated with such flexibility.
Essentially, it's about enabling frontline employees to make unilateral decisions to step in and improve the experience for customers.
Align your employee culture to your CX strategy
Any organization transformation starts with employee culture – without it, it can be near impossible to see changes through.
Most organizations will already have some employee engagement programs in place, and perhaps they've been running longer than their CX programs – but it's unlikely they were designed to help drive customer results.
What's crucial is that leaders and the drivers of the cross-analytics program engage the wider to:
Gather feedback on a regular basis
In the same way that customers are routinely asked for feedback, organizations must do the same for employees too.
We know that engaged employees are keen to share their thoughts – in fact more than half the full time employees we surveyed in our latest Employee Pulse study said they wanted to give feedback more frequently than every 6 months.
A more regular cadence will allow organizations to measure the impact of new EX initiatives on existing CX programmes. Furthermore, having highlighted improvements (or areas of opportunity) it becomes far easier to create baseline reports and make changes that deliver maximum impact.
Understand the employee journey
Think about the employee journey; just as a world-class customer experience program breaks down silos by moving away from transactions to a journey-level approach, your employee experience program should too.
Think about the entire employee experience; how employees interact with each other and customers, the overall level of engagement, and what empowers them and enables them to do the best they can do. This is just the surface of measuring and utilizing experience data to drive better outcomes.
And when you use a holistic, organization-wide tool to capture these interactions, you can start to identify the moments that matter, and how each one contributes to driving engagement and productivity to move your CX program forward. Furthermore, as you connect the link between employee experience drivers and customer experience outcomes, your HR leaders can start to implement the right initiatives to repeat these successes.
Make giving feedback more appealing
Create a digital open door – again, take the same approach as you do for customer experience and make it effortless to give feedback. Make use of mobile and SMS surveys to make it easy for your staff to give feedback at the right moments.
Plus, through automation within your HR software, you can trigger feedback at specific moments in the employee lifecycle too, so when someone reaches a critical point, you're there to gather that feedback.
For example, you could run feedback surveys after training courses on your CX program or immersion sessions for frontline staff to identify how well they're working and whether or not they had the desired effect in helping you to align the employee and customer cultures.
The Employee Experience ROI Calculator
Consider appointing a Chief Experience Officer
Increasingly, organizations are now starting to connect their employee experience data and their customer data to drive improvements for employees that have a positive impact on the latter through KPIs like customer loyalty, revenue and profitability.
In fact, more and more companies are now bringing these together alongside other experience management disciplines like brand and product experience, with a Chief Experience Officer taking ownership at C-level of all aspects of the experience.
This allows you to start to join the dots and connect your data across the organization, as well as have a single owner for the transformation that will have every employee working in the same direction to deliver your desired outcomes for customers.
Drive customer and employee experience with the right tools
Employee engagement and customer happiness are intrinsically linked, but creating successful programs on both sides of the coin requires the right tools. Bringing employee data insights and customer feedback together in one place helps you to develop a strong, data-led approach for better ROI across the board.
Now, for the first time ever, organizations can connect their employee and customer experience data to uncover the critical employee experience drivers of customer experience success.
With Qualtrics CrossXM, you can unlock the integrated value that exists across all your experience programs, from customer and employee to brand and products and services.
Qualtrics CrossXM utilizes best-in-class technologies to combine employee experience (EX) and customer experience (CX) data to uncover how employee, customer and brand experiences affect each other. This allows organizations to identify the actions that will have the greatest impact on their bottom line, whether that's improved CSAT scores, revenue, brand recognition and sentiment and much more.
Want to learn more about how you can bring your EX and CX initiatives together and leverage Qualtrics CrossXM? Just download our guide: Connecting EX and CX to fuel business growth below.