---
What is customer experience transformation?
Every interaction your customers have with your business – both direct and indirect – go toward forming their overall customer experience. CX is the overarching term that describes every step of the journey customers take with you, before, during and after their relationship, so it's essential to focus on this aspect of your business.
And that's exactly what customer experience transformation is: the art of overhauling and prioritizing CX across all fronts, so that the people working at the frontline of your business – in digital, physical locations, and in customer care – have the tools they need to make a lasting impression.
Get your CX transformation right, and you'll not only build stronger experiences in those battlegrounds, but you'll also boost customer satisfaction and retention alongside reducing cost-to-serve. And, importantly, you'll be fixing issues before they even arise.
One thing that's really important to keep in mind is that your customer experience isn't totally within your control. That's because…
Customer experience is made up of a huge range of factors – some of which are outside of your company's direct influence (for example user-generated social media content).
Customers create their own journeys, rather than following a prescribed process. They stop and start, move from one platform or channel to another, and sometimes retrace their steps.
In other words: the customer experience derives from the journey as a whole, not the quality of each touchpoint. So it's important to step back, see the bigger picture, and use whatever tools you have at your disposal to better connect each step.
Watch demo: Experience management for customer frontlines
What are the business benefits of CX transformation?
Maximizing every journey – at every touch point – should be a natural focus for any business, but what does CX transformation actually do?
Well, the short answer is that most metrics you'd want to go up will do. But don't just take our word for it – there's tons of research out there pointing to the importance of putting CX at the core of your business plan.
PwC, for example, cites that some 73% of customers think great CX is now the first thing they consider before making a purchase – and that 86% are willing to pay more if the customer experience is up to scratch.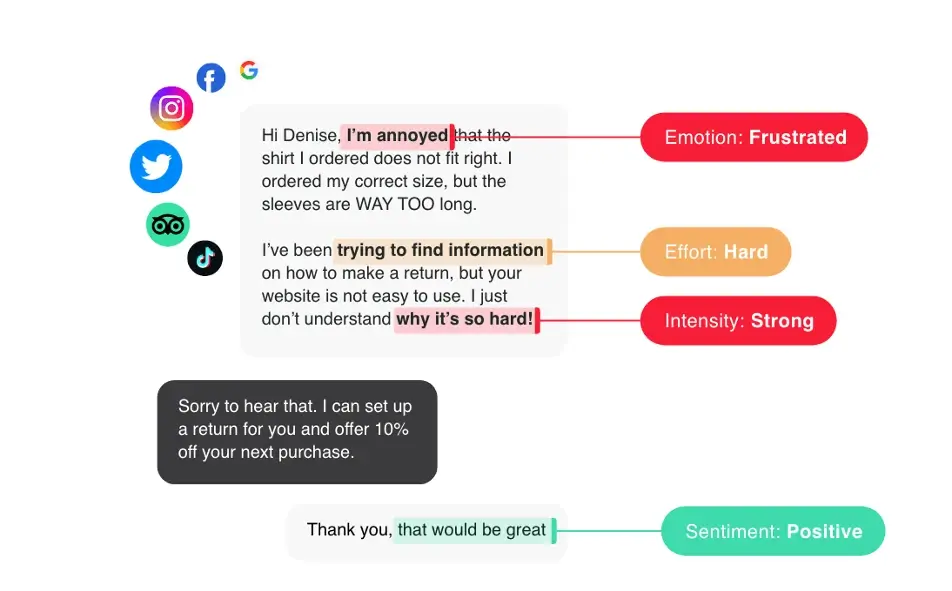 Gartner, meanwhile, suggests that great CX accounts for more than two-thirds of customer loyalty (more than price and brand power combined), while CX Index found that customer-centric brands report profits 60% higher than those that aren't.
Zippia backs this up, citing that there's an 80% increase in revenue to be won by companies that can provide market-leading customer experience. Fail to meet customer expectations? Emplifi suggests you could be at risk of losing up to 86% of your customers are just two poor experiences.
Customer Experience Management provides businesses with the strategies necessary to decode the numerous signals arising from their operational landscapes while effectively transforming these signals into valuable insights and disseminating them swiftly to the relevant personnel in an easily digestible format. This facilitates the execution of intelligent, prompt decisions in various organizational roles. In short, brands compete on experience differentiation."
– Juliana Holterhaus, PhD, Principal XM Scientist, Qualtrics
What's important to remember here is that customer experience is much more than just support calls and queries. Every interaction on every touchpoint goes into making your CX what it is. So that's everything from your marketing and social media presence to your website's ease of use, and even things you can't own, like reviews on third-party websites.
The good news? Get it right, and you'll flourish. With the right combination of digital transformation tools and customer experience strategies, you'll realize five key benefits of having top-tier CX:
1. Driving revenue and customer lifetime value
2. Increasing brand value
3. Boosting customer loyalty and advocacy
4. Better understanding your customers
5. Reducing costs
What's the customer experience transformation process?
Ok, so what is CX transformation in practice? How do you turn 'putting a focus on CX' into actionable steps?
The first thing to consider is that the most successful businesses are those that manage to create a seamless experience across every channel – digital and physical, as well as in customer support.
With that being the case, let's take a look at each and think about how things can be improved:
Digital
Identify and close digital experience gaps
It's important to learn where your UX and UI is letting you down, where your highest traffic areas are, and how people are moving from page to page. If your checkout process is clunky and you don't know about it, you'll be losing customers hand over fist who drop off out of frustration. Tools like session replay can help here, as part of digital experience analytics suites that can help show you why things aren't performing as they should.
But surveys delivered at crucial moments are just as powerful. Whether a customer's had a great time or a terrible time, it pays to ask them how things went, what they thought, and where they think things can improve – and to do so at various stages along your various journey maps. Frequent surveying can help you uncover pain points you might otherwise miss.
Tie those results together with an analytics suite built to capture every single signal, and you'll soon see trends and commonalities that point to brand-new ways of working.
Optimize customer journeys
Understanding the journeys your customers take across your digital properties is key to being able to orchestrate better ones. Digital experience tools can help you track journeys at scale, identify where drop-offs are happening, and curate flows that make sense for individual customer segments.
As a first step, customer journey mapping is a fantastic exercise to help your team understand who your customers are and the various steps they take toward making a purchase and throughout their relationship with the organization. Mapping out entire journeys – and not just the direct interaction points with the business – can shine a light on pathways and routes that are currently underserved. Plotting out entire journeys – not just the touchpoints they land on – can shine a light on pathways and routes that are currently underserved.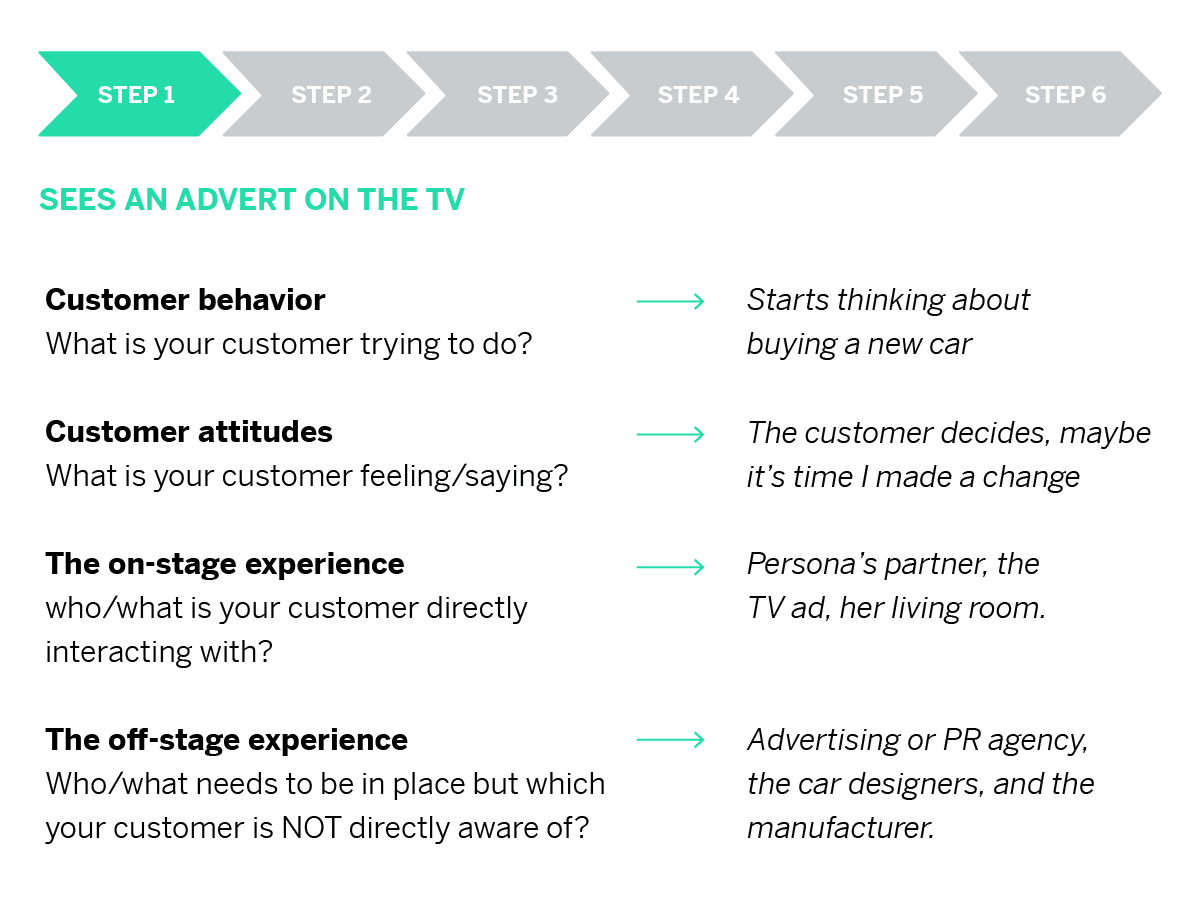 This mapping exercise enables you to assess:
Insights – from your existing customer journey, how to understand it better
Impact – how to optimize budgets and effort for changes we want to make to the customer experiences
Issues/opportunities – Diagnose the existing customer journey
Innovation – where you might want to completely change the existing customer experience
Journey centric thinking powers CX transformation by uniting stakeholders to visualize and understand the experience from the customer's point of view. This approach promotes a shared sense of ownership, smooths cross-functional transformation, and gains wider buy-in."
Personalize customer experiences
If you can drill down and identify target segments with precision – and understand what makes them tick – you can deliver more powerfully personalized experiences.
Imagine a customer who routinely buys one kind of product from you; with the right software on your side, you can present a unique website journey to them that gets them to those products quicker. Or you might send them a personalized discount if they've been away for a while. Success in customer experience here relies on being able to leverage all the customer data you have in new, connected ways.
Physical
Gather location-specific insight
Sometimes your best in-store feedback happens online. But you'll need a social listening suite that's able to understand and collate feedback from a myriad digital platforms – like social channels and Google reviews.
67% of customers are influenced by online reviews, and just a one-star improvement can increase revenue by as much as 39%, so it's important that you have a framework in place to amplify your positive feedback as much as possible.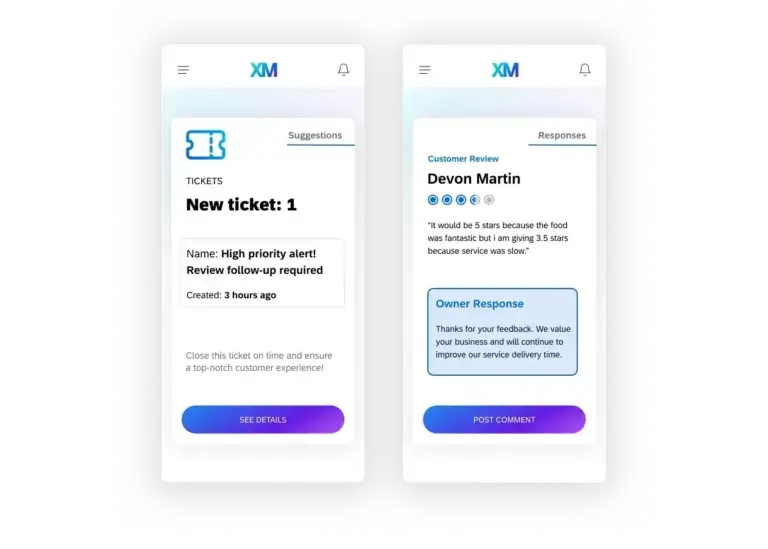 Optimize employee coaching
Managing a bunch of different branches? It's vital that your staff training program can adapt to the needs of each location, and that you're able to champion great members of the team. In other words? Staff coaching needs to be a digitized, connected process, not an ad hoc effort.
Turn negative customer feedback into loyalty
If you're listening online, you'll be better equipped to spot emerging trends at any given location and act to mitigate them before they become reputational risks. Done right, that kind of proactive service recovery can turn poor reviews into return customers who're thankful that you've listened and acted upon their input.
Customer care
Empower your frontline
Delivering best-in-class customer care starts by giving your frontline agents and managers the tools they need to spot trends, monitor real-time performance, and understand and empathize with customers.
Today's contact center needs to be able to connect all the dots, mapping context-rich customer histories against what's happening in each conversation, so that agents feel empowered to handle any issue. That's on top of smart cost-saving tools that can automate time-consuming scoring and post-call work.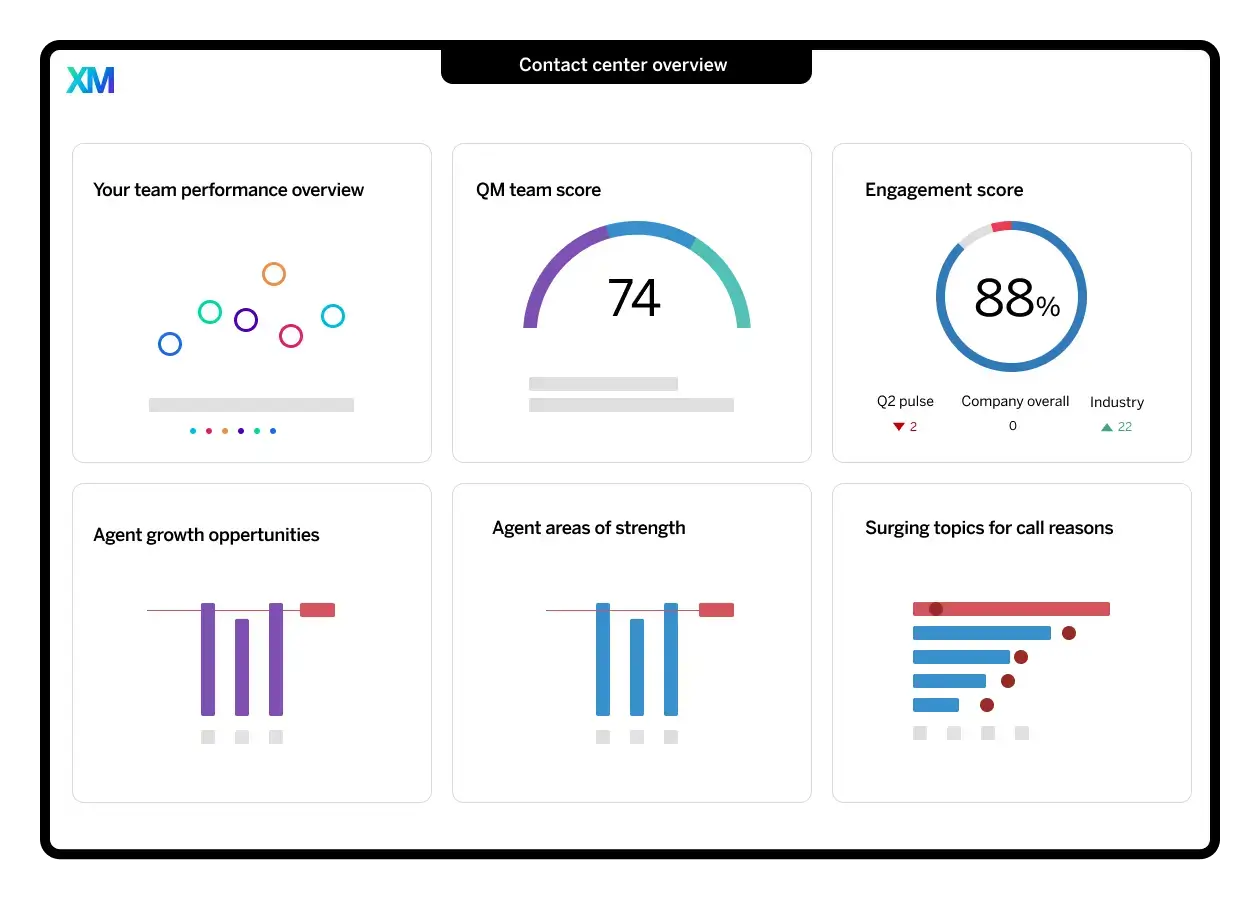 Become a hub for intelligent insights
Your contact center is much more than just a way to handle customer queries. And it's not just the place customers come to be told 'sorry'. It can be the place customers develop a stronger bond with your organization, and where your frontline is adding direct value to the customer relationship.
If you're able to help automate the quality management process with an intelligent contact center technology solution combined with maximizing your human leaders' bandwidth, you'll also be able to spot trends, common pain points, and customer journey orchestration opportunities. These can help turn the contact center into the most important part of the business: a nerve center for customer insights and opportunities. Organizations that fully close the loop internally by fixing upstream systems issues as well as closing the loop with the customer are the ones who benefit most from frontline insights, even for small issues which nonetheless push up cost to serve by their sheer volume.
Enable smart customer self-service
Self-service can be a really powerful way to transform the support arm of your overall customer experience.
AI-powered chatbots and self-service options imbued with natural language processing can help alleviate wait times and free up agents to handle more pressing calls. That means more customers getting the answers they need – faster, and in a way that best suits them – alongside more efficient agents, and a reduced cost-to-serve. Organizations which implement automated self service mindfully, with seamless connection to human assistance where needed will see gratitude and trust from customers whereas those who focus only on cost cutting will ultimately drive customers away.
How to drive customer experience with digital transformation
Sense a pattern forming in the section above? CX transformation can only really be enabled by empowering your teams with the tools they need to make a difference. And that means using the right technology to deliver better results.
Designing a customer experience digital transformation means using all the software capabilities that modern contact center and digital experience suites have to offer. If that sounds daunting, don't worry: the good news is that today's CX technology is more powerful and more streamlined than ever – and they can help you revolutionize your CX at scale.
How AI is transforming the online customer experience
We've mentioned using AI to power self-serve options like chatbots, but artificial intelligence has a whole lot more to offer in terms of digital customer experience. The world's most customer-centric brands are already using AI to understand their customers better – how they feel, their emotions, and what they might do next.
Natural language processing tools like those found in Qualtrics's Contact Center Experience Software can analyze conversations as they happen and assign meaning in the form of effort, emotion, and intent, and relay that info to the people who can really use it: your frontline agents.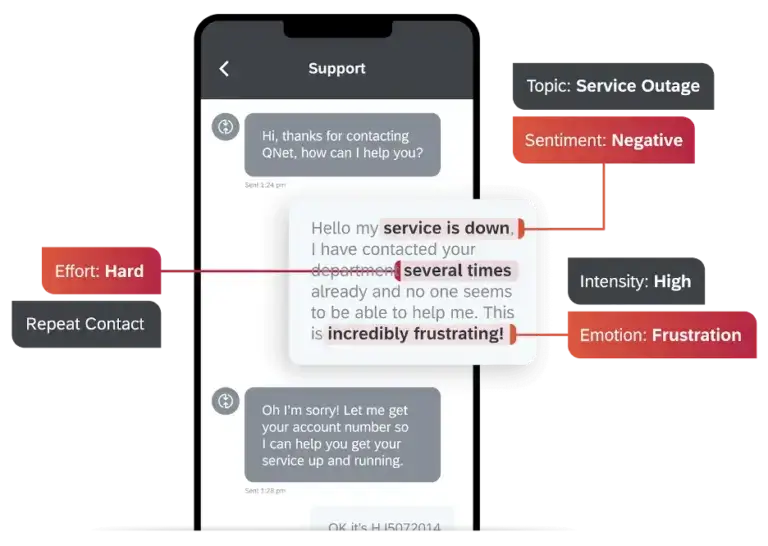 That means that your teams will have a better grasp of who they're dealing with, as well as what they can do to resolve their issue or meet their needs the first time around. That also includes using AI to automatically monitor script compliance, agent scoring, and opportunities for coaching.
Listen, learn, act, iterate
Transforming your customer experience isn't a one-and-done process – it's an ongoing one. It's all about listening to feedback gathered at every stage of your frontline operations (digital, physical, and in customer care – both direct and indirect), and then understanding where to improve.
If you can then give the people who deal with customers day in, day out the technologies they need to make a difference, you'll transform your CX at scale – and in a lasting manner. Ultimately, CX improvement will speak for itself; if you're really acting on what you learn, you'll see growth in customer satisfaction and customer retention, and you'll reduce cost-to-serve by solving potential issues before they have a chance to frustrate new and existing customers alike.
XM® for customer frontlines can help you design experience based on your customer data  and behavioral heuristics that create smoother journeys and improve business performance.