---
What is a contact center software solution?
A contact center software solution is a collection of automating software processes that make a contact center more efficient, more workable for support teams and more appealing to customers.
It can be used to:
Streamline costs and increase business efficiencies
Evaluate and progress contact center agents
Track and improve the customer experience
Monitor compliance with regulations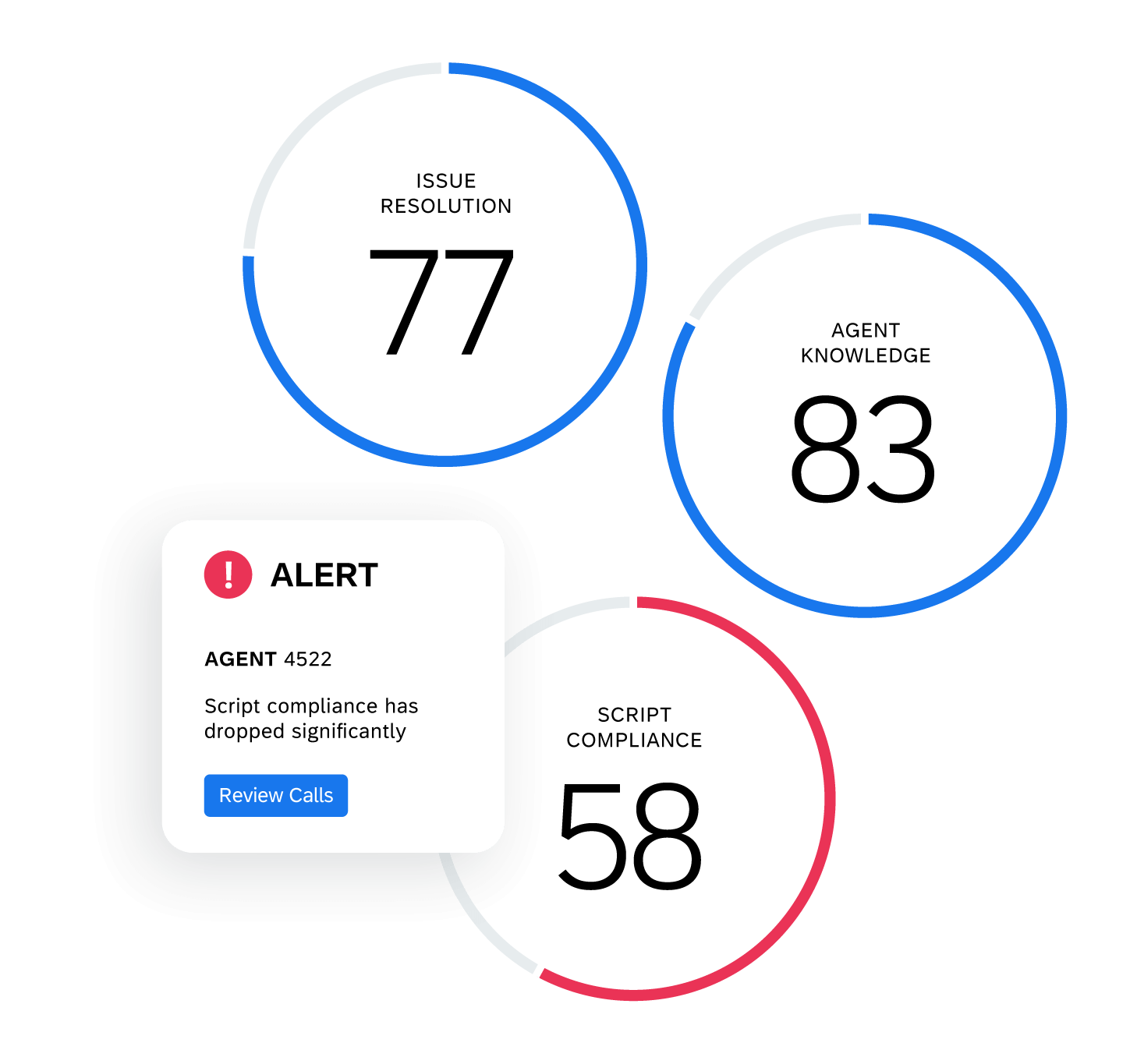 What's the difference between a contact center solution and call center software?
A contact center encompasses all the potential touchpoints a customer might use to reach out to your business, including:
Inbound calls
Social media interactions
Chatbot interactions
Emails
and more
Call center software usually focuses specifically on the handling of incoming calls, whereas contact center software likely includes multiple communication channels, of which inbound calls might be one.
Learn more about Qualtrics Contact Center Experience software
Types of contact center software
There are many different types of contact center software, each with their own purpose. Depending on the sort of contact center you operate, you may need one or more of these types of contact center software options.
For example, you might have try a contact center solution for:
More efficient operations and workforce optimization
For contact centers to understand and meet their customers needs, contact center leaders need to plan strategically. Using leading software can help to optimize your operations, you'll know what areas of the business need prioritizing and what you're doing well. Say one agent is performing well and another is scoring lower than expected. Contact center software can pick up on those insights so you can coach and enable your agents to do what they do best: deliver a better customer experience.
Examples might include:
Real time reporting software
Smart call routing / automatic call routing for business phone systems
Workforce management tools
A cloud based contact center platform
An improved customer experience
Sometimes it's not about powering the contact center or optimizing operations – it's about providing a more helpful, intuitive, or pleasant customer experience. Contact center software that enables your customer service teams to provide more personalized phone support, or your marketing team to offer
Examples might include:
Help desk software
A cloud based solution for your CRM
Call recording for customer feedback analysis
A self-serve customer service portal
Performance management tools
Benefits of using contact center software or call center solution
Contact center leaders need to think strategically about where to invest their funding to ensure that both internal and external stakeholders' needs are met. Contact centers don't just have to be for addressing customer questions – they can be a hub for innovation and insights when powered by the right software.
Using contact center software has multiple benefits across your business for this reason. From better customer relationship management to reduced strain on your customer service teams, investing in contact center software options provides great ROI.
For example you might see:
Better customer experiences
In our latest research on global consumer trends, 6.2% of customers we surveyed said helpful agents made them happy in their contact center experience, and 5.2% said agent empathy made a difference. When customers get the right customer support the first time, with agents who understand their history with the brand, they feel more warmly towards your business. That positive sentiment can go a long way towards higher customer satisfaction and boosted sales.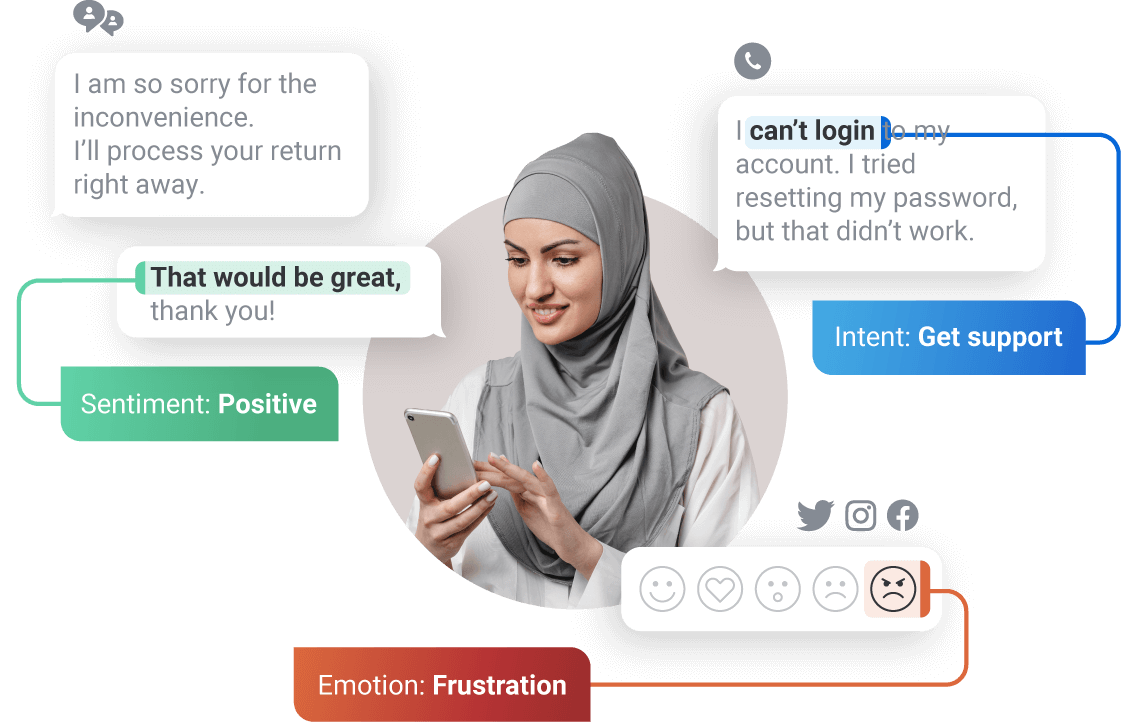 Reduced costs
When your contact centers are powered by all the features we'll discuss later, you're able to revolutionize your operations and reduce costs.
For example, when incoming calls are streamlined, your contact centers don't have to work so hard to meet customer needs. You can deploy agents only where needed for prioritized calls, allow customers to self-serve, use artificial intelligence (AI) to handle rote calls and reduce the rate of second-time calls. All of these actions reduce the cost to serve and improve customer lifetime value.
You can also utilize cloud contact center software to eliminate your need to have a location-specific center. With a cloud-based contact center, your agents can be situated anywhere, without the complicated infrastructure that traditional and likely outdated telephone hardware can bring. This can significantly reduce business costs.
Improved loyalty and advocacy
How a customer feels after interacting with a brand is more important than whether they were even able to do what they aimed to do. Contact center software that improves the customer experience – from swift customer support down to personalized customer journeys – generates positive sentiment.
Customers who find it "very easy" to interact with a brand are 8.1 times more likely to recommend that brand to others, and customers who "completely succeeded" in getting the experience they were after are 6.3 times more likely to recommend.
Easier management with in-depth insights
Ideally, your contact center should be agile, with iterative management that can flex with customer and business needs. No more missing small problems that snowball into larger issues – real-time reporting and insights mean you're constantly uncovering risks and opportunities and taking action on them.
Creating a technology-based ecosystem for contact center support ensures information gets where it needs to go, faster. For example, being able to handle interactions more efficiently with help desk software that's customer insight-led means your agents can handle priority issues with all the information they need. Data-based insights delivered on a holistic platform means that vital information on pain points, common issues and technological failures are seen instantly by the right people.
Happier and more engaged employees
It's not just your customers who benefit from better contact center software – your support teams also stand to see an improvement in their experiences. More than one-third (38%) of contact center agents don't feel they have what they need to succeed, and just 54% of agents believe their leadership has invested in their support team. Your support teams need support, too.
Streamlining customer workflows in your contact center means your agents can spend less time on tedious, repetitive every day queries and can focus on priority issues for maximum effectiveness. Lower call volumes lead to less workplace stress and lower employee turnover.
Additionally, rather than scoring your agents on a handful of sampled calls, you can monitor every interaction they have with customers to get an accurate and more fair view of their approach and the potential progress they can make. You can also offer real-time training insights to help them improve as they go.
All of these actions help employees in your support team to feel more engaged with their work, reducing employee churn and offering insight-driven progression and development.
Learn more about Qualtrics Contact Center Experience software
Must-have contact or call center software features
Automatic call routing with ACDs and IVR
A contact center can often primarily be a call center,  meaning you need a call center solution that can get customers' queries to the right person in real time. You can use a system that utilizes automatic call distributor (ACD) software for call routing to the most appropriate department or representative.
Ideally, you'll also have contact center software powered with Interactive Voice Response (IVR), allowing customers who phone in to choose their call direction with a menu. This enables your customer support teams to better triage customers for more efficient and helpful interactions. Rather than be left waiting on hold and find out they're speaking to a general department or even the wrong person, Interactive Voice Response allows customers to self-direct to a relevant responder.
An integrated CRM tool with CTI
Customers like to feel as though brands know them, and the last thing they want is to explain time and time again who they are and their history with your business. Offering your support team the vital context they need via computer-telephony integration (CTI) software that integrates with your customer relationship management (CRM) tool. This means they can automatically identify callers, see their interaction history and subsequently provide a personalized experience.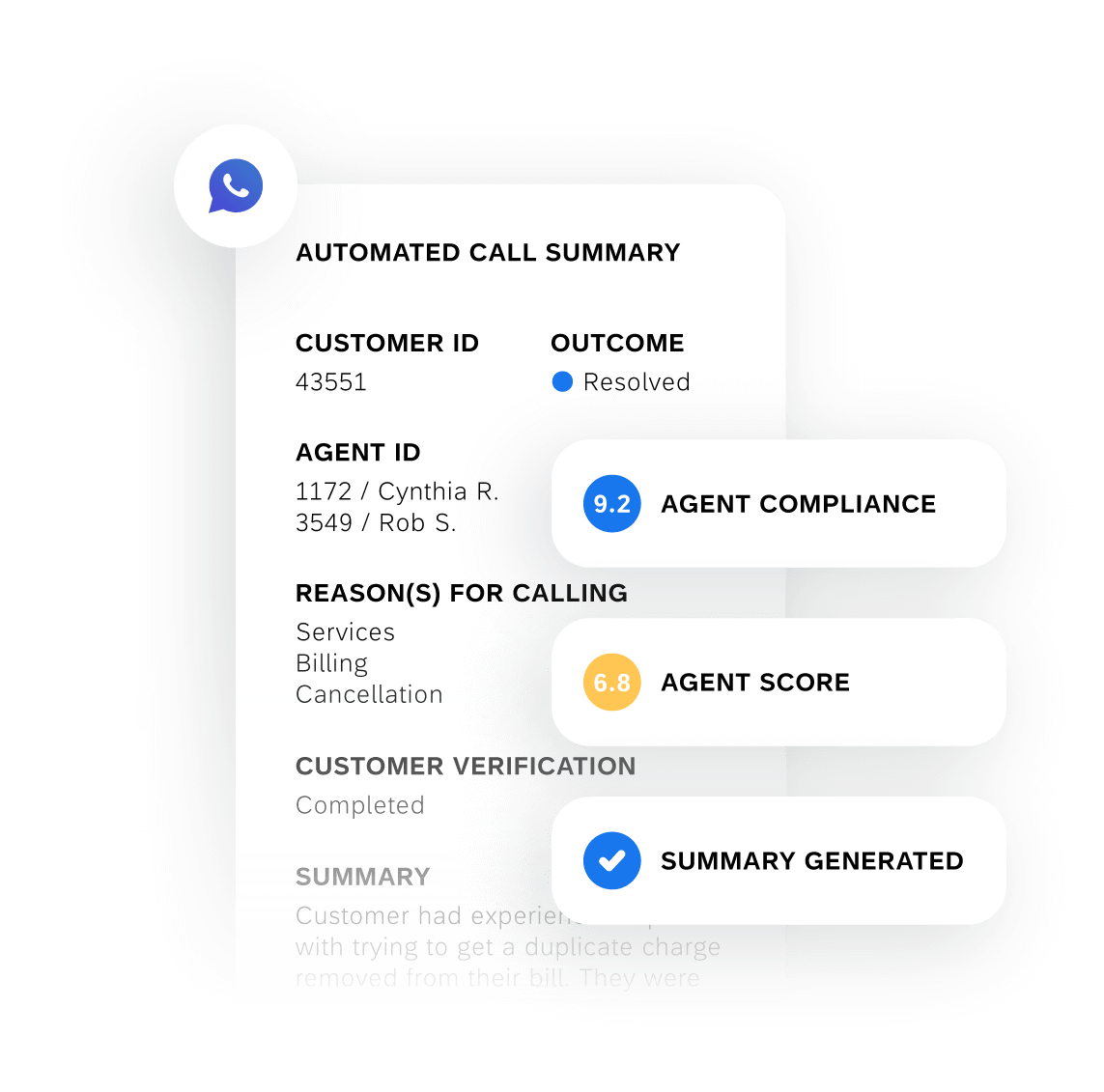 Cloud contact center software
Moving to a cloud based contact center means you can essentially operate from anywhere. Cloud based calling and other digital interactions can be made without a conventional telephone system, breaking your brand free of the costs to maintain a physical solution. Cross-channel support becomes easier, and you can automate more efficiently. Not only that, but you can operate from anywhere in the world.
Top 5 contact center solutions to explore
Genesys
Overview: This cloud call center software provider offers seamless cross-channel support.
Key features:
Inbound and outbound contact facilitation through cloud telephony
Artificial intelligence-based bot support
Data based insights
Workforce management
Automatic call distribution (ACD)
And more.
Why this is a top contact center solution: The intuitive cloud based phone system created by Genesys offers digital experience management that pivots with your business needs. Rather than being limited by your physical capacity, this cloud based call center software enables fluid customer journey orchestration from all touchpoints, handled in one centralized hub.
Salesforce
Overview: A powerful CRM tool, this cloud based platform offers the ability to forecast business revenue and track sales leads.
Features:
Customer data management and contact management
Workforce management with workflow options
Sales opportunity and pipeline management
Contract, quote and order management
Interaction tracking, forecasting and pipeline visualization
Customer relationship management
And more
Why this is a top contact center solution: Used the world over by many businesses, this well-known solution gives your brand a detailed look at customer information and sales management. Integrating this software with a contact center platform allows brands to efficiently manage their sales streams and devote effort and financial support to where it's needed.
Five9
Overview: A cloud based solution, Five9 enables not just cloud based calling, but customer contact via email, chat, SMS, social channels and more.
Key features:
Inbound and outbound calls
Integration with workforce management tools such as Zendesk, Salesforce and Microsoft Teams
Call transcriptions in real time
CRM data access for agents
Predictive dialing
And more
Why this is a top contact center solution: This solution makes having a cloud based call center simple and effortless. With sophisticated AI capabilities, many of the background processes that can occupy your team's time are automated. It's efficient and streamlined, with helpful prompts for your team to provide a better customer experience across all your communication channels.
ServiceNow
Overview: End siloed processes with ServiceNow. Digitization and automation is made easy through a sophisticated serverless computing and workflow management system.
Key features:
Real time communication, resource sharing and team collaboration
Anomaly detection
Predictive modeling
Performance forecasting
Workflow and workforce management
And more
Why this is a top contact center solution: Most workflows can be supported by this center software solution, with the ability to apply a wide range of tools to manage everything from large-scale projects to tweaking minor workflows. With machine learning and artificial intelligence as well as legacy system integration, this contact center software makes streamlining operations a breeze.
Amazon Connect
Overview: An easily scaled cloud based solution for your contact center needs, this flexible system enables an omnichannel customer service.
Key features:
Inbound and outbound calling, as well as omnichannel voice and chat facilitation
Artificial intelligence and machine learning insights into customer sentiment, as well as caller authentication
Unified customer profiling
Real time recommendations and in-depth analytics
And more
Why this is a top contact center solution: This is no ordinary call center software. Amazon Web Services (AWS) is a well-known cloud based platform providing brands of all sizes with the cloud contact centers they need to scale at will and at a lower cost. The scale of adoption and breadth of experience AWS has means that this tool is well-honed for any needs.
Maximize the value of your contact center with Qualtrics
Ultimately, contact center software should allow your agents and business as a whole to be more effective, minimizing operational costs and driving loyalty through improved customer experiences.
This is why Qualtrics, with a single system of action and integrations with contact center partners,, allows you to put customer experience at the heart of business and meet customer needs through your contact center.
Qualtrics' contact center solution is a connected, intelligent system that provides a unified, omnichannel view across all your data. It applies powerful analytics to help you create better customer experiences, surface opportunities and identify issues in real time in order to best serve customers.
How does Qualtrics' contact center technology differ from other options on the market? Here are a few ways:
Natural language understanding (NLU)-powered conversation analytics, empowering agents with insights to provide the best service and driving customer satisfaction
Omnichannel listening and analytics on data integrated from more than 35 social and digital channels, allowing you to surface context-driven insights and take meaningful action
Rich customer profiles designed to personalize experiences for increased customer satisfaction
Holistic overview of agent performance with 100% interaction scoring across multiple languages and channels, providing fairer and more accurate methods of evaluating agents and customer interactions
Automated compliance management for easier, more consistent oversight
Automatic issue detection and resolution insights for swift management of pain points
Optimized chatbot support with CRM insights for personalized customer experiences
Customer and process insights with delivery to the right team in real time for improved customer experience and increased loyalty
We are constantly driving actions across your business for improved operation and offer customer-first solutions that have significant ROI.