---
What does "call deflection" mean in a contact center?
Call deflection is a way of redirecting incoming customer service calls to other support channels to help reduce the impact on your contact center. These support avenues could be self service channels or other staffed options that are lower cost digital channels (such as live chat, FAQs, chat forums and more).
Call deflection can help not only to free up your customer service agents to dedicate their time to more complex calls (i.e., those longer calls which typically require hold time and/or transfers), but also better exceed customer expectations of service and improve customer satisfaction. By offering myriad ways to resolve problems and answer questions, you're less likely to lose customers to churn and negatively impact customer loyalty.
At the same time, you're able to improve your employee experiences by making their working day more efficient and less bogged down by queries that could have easily been answered elsewhere.
You're also able to improve your business outcomes, with the reduction in call volume helping to reduce your contact center costs.
Free eBook: 5 ways to balance costs and customer loyalty in the contact center
What is an example of call deflection?
Let's take the example of a customer who's calling to find out how to activate a product. Your call center might use an interactive voice response (IVR) system that informs your customer that they can either wait to speak to a customer service agent or visit your website for information on product activation. The IVR system provides a URL to go to.
The caller types in the URL and finds an FAQ presented to them as part of your self service options. It details what to do to activate the product, but also indicates that they can reach out via live chat if they have any further questions.
Rather than having the customer wait on hold to speak to an agent, you're able to deflect their call to a more appropriate digital channel. The customer is able to resolve their query and doesn't feel as though their issue was ignored. They feel satisfied with their experience.
What are the benefits of call deflection?
There are plenty of benefits to call deflection for your customers, your business and your employees. Here are some examples of how you can benefit by implementing call deflection below:
You can redirect customer queries to preferred channels, increasing customer satisfaction
Customers aren't a monolith, and their preferences for the channels they use can vary depending on their problem, their age and other factors. Take for example our study, which proved just this point: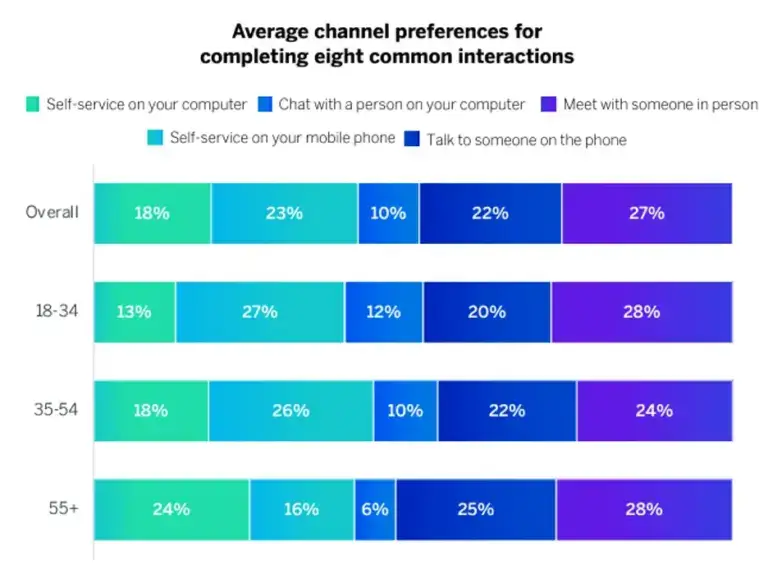 Customers may prefer having a way to self-serve over calling your contact center or reaching out via another method. By offering them multiple ways to access the information they need, you're more likely to increase customer satisfaction, resolve problems faster and provide a better, more personalized customer experience.
Your customer service agents can focus on key customer calls
Your customer support team's time is valuable, and spending it on low-value calls that could have been resolved with the appropriate self-service resources is bad for business and your employees' engagement. By offering multiple digital channels for customers to resolve their queries, the calls that do come into your call center are the ones that are more complex or require a more human approach to solve. This reduces wait times while also raising customer satisfaction and employee satisfaction rates.
You can improve your contact center efficiency and value for money
Answering high volumes of customer calls can become costly. By directing customer calls to the appropriate arena of customer support using call deflection, you're better able to keep your cost to serve down – as much as 40%, according to McKinsey.
When you use call deflection, you lower several contact center costs, such as the cost of your customer support team, maintaining your phone lines and more. Calling customer service should be the last resort for your customers, rather than the first, so that your money is best spent on the higher-stakes calls that might cause customer dissatisfaction and churn.
What is a call deflection rate?
Your contact center's call deflection rate is the rate at which your other, non-call-based digital channels are able to handle customer queries that would have ordinarily gone straight to your call center.
How to calculate your call deflection rate
To calculate your call deflection rate, you'll need a few figures to get you started. Choose a specific time period and find these numbers:
The number of self service events by entitled customers: How many times did customers choose your self service options over a call?
The success rate: How many customers were successful in finding their answer via self-service?
The intent rate: What is the percentage of entitled customers that found their answer AND intended to ask for help from your contact center if they needed it?
The no further action rate: What is the percentage of entitled customers that found their answer AND intended to ask for help from your contact center if they needed it AND stated that no further action was needed to resolve their query?
The formula for calculating your call deflection rate then will be: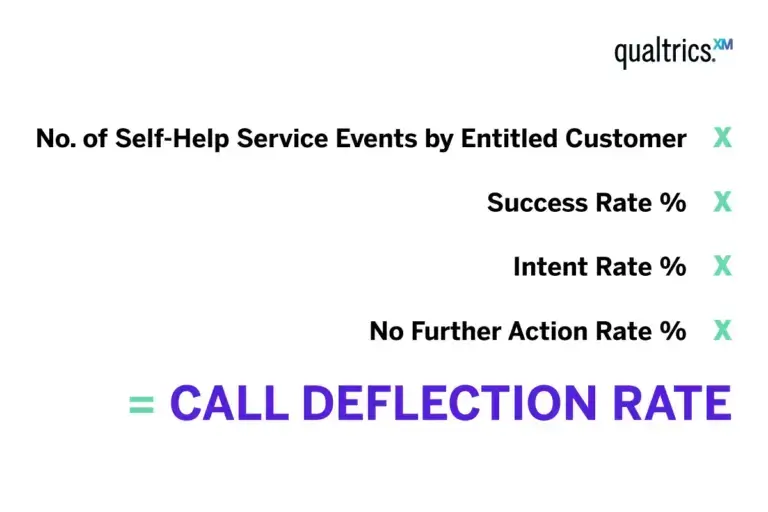 Call deflection rate example
For example, your call deflection rate equation might be:
400 x 80% x 60% x 40% = 76.8%
This means that there were 400 instances where self service was used by customers who could have called instead (call deflection)
80% of those 400 customer interactions provided the answer needed via self service
60% of these customers who used self service found their answer and had the intention of calling to find their answer if they needed to
40% of customers who used self service found what they needed, intended to call, but needed no extra help
This gives you a call deflection rate of 76.8%. This means that just over three quarters of your customers who could use self service to find their answer did so successfully, being deflected away from calling your contact center instead.
Effective call deflection strategies
There are numerous call deflection strategies that you can implement in your contact center model to ensure that your customer calls are reduced and your customer experience is improved. Here are a few to try:
Understand why your customers are calling
Any good call deflection strategy requires a nuanced understanding of why your customers call. Without knowing the main reasons why a call takes place, any call deflection strategies will be just guesswork.
Using customer feedback surveys, call transcription analysis, data insights and more to understand why they usually reach out will be helpful in developing effective digital channels and a call deflection strategy that will work.
Set up an interactive voice response (IVR) system based on customer behavior
Rather than simply listing potential options, you can ensure that customers are quickly redirected to the appropriate self service resources. For example, if your customers frequently call about returning products, this should be a priority option in your system to swiftly redirect customers.
Implement new self service options
Many businesses have an FAQ page – but perhaps your customers would be better served by a live chatbot. Maybe you've already created multiple messaging channels for your audience to reach out to your staff – but what about creating a peer to peer support forum where your customers can answer each others' questions without any input from your customer service team?
Creating an ecosystem of helpful self service solutions means your customers have a better chance of answering their own questions with little input from your team. Your self service content could include:
A knowledge base: This could include a range of articles explaining product usage or set up details. This should be made searchable to help your customers help themselves.
Chatbots: This interactive option gives the feeling of speaking to a human customer support agent but reduces the burden on your staff and workforce management team.
Blog posts: Pre-empt your customers' needs by making sure that their queries sent to search engines automatically find your instructional or helpful blog posts to provide them with an answer fast.
Social media videos: Customers may need a visual aid to help them get to grips with your products. By providing them with easily-found videos on product setup and/or usage, you can better help them resolve their own queries.
In-product assistance: For technology products or apps, you can add in-product assistance to help customers get the information they need without having to use another source or device.
Give customers information before they call
It might seem unlikely that you can pre-empt a customer call to your contact center – but providing answers to commonly-asked queries at specific points in the customer journey can help to reduce call volumes. This call deflection strategy is easy to implement with a timed marketing strategy that triggers emails or SMS messages when a customer buys a product. Rather than waiting for a call, you can resolve common queries without the customer ever even leaving their inbox.
Ensure you can track customers across multiple digital channels
No matter where your customers end up finding their information, you should be able to adequately track them across your contact center and your other digital channels. For example, if a customer sends you a form entry with their telephone number but then decides to call your contact center anyway, all details on these interactions should be linked and collated in one place for your customer support team to see. This helps to improve brand loyalty, as customers feel recognized, as well as enabling more personalized customer service.
Optimize your self service channels and contact center with Qualtrics®
Creating call deflection strategies should form part of your overarching optimization of your contact center.  Reducing cost to serve and increasing customer satisfaction requires an in-depth examination of your company data – and that's where our Digital Customer Experience software comes in.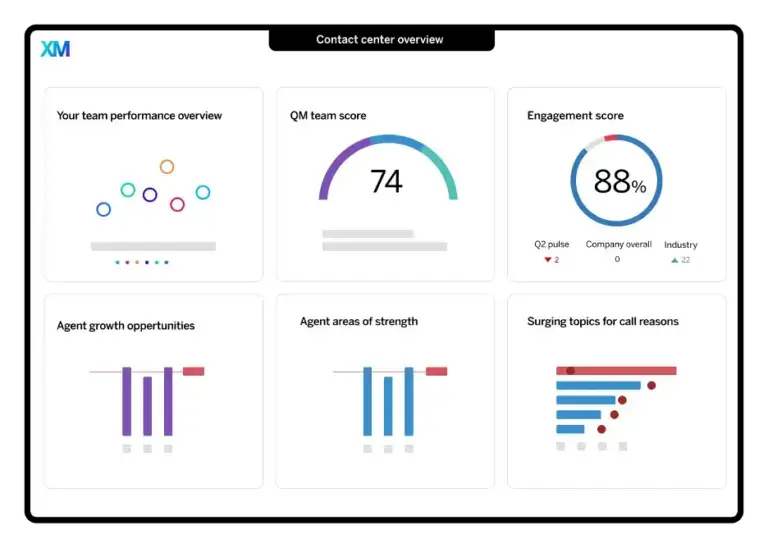 Design experiences based on your customer data and behavioral heuristics to create smooth customer journeys that improve your business results. Understand how best to meet customer expectations with an optimized contact center strategy, powered by deep customer insights and personalized experiences.