---
Why do world-class digital experiences matter?
The best digital channels provide customers with enjoyable and fulfilling interactions, which leads to increased customer service satisfaction. Customer experience (CX) is how a customer perceives your brand based on their exposure to it. It can touch on lots of business areas – customer service, product marketing, sale interactions – so it's important to manage this process well.
Customers that enjoy great customer experiences have increased customer satisfaction levels and are more likely to:
Spend more: Deloitte research found satisfied customers spend up to 140% more than customers who had a bad experience.
Be loyal: These customers are involved with your company over the long term.  visit the site more frequently and engage with the brand. 94% of consumers who rate a company as very good in CX are likely to purchase again.
Be positive about your brand: 94% of consumers who rate a company as very good in customer experience are likely to recommend the company and recommend the brand to others.
Today, digital channels have the advantage over other channel types for a number of reasons:
1. Customers prefer using digital channels to engage with brands
Our research found that digital channels hold the top position as your customer's preferred avenue for engagement. In addition, customers are online more often than before – Global internet usage has increased from 24% in 2012 to more than 59.5% today.
2. Customers are purchasing direct from digital channels
Behavior shifts during the COVID-19 lockdowns also led to customers using digital channels as their default purchasing channel.
3. Digital channels provide access to new and global markets
Digital channels can provide an always-on sales tool that showcases products and services to customers across different time-zones and different languages. This increases your market presence and your customer pool.
However, research has found that digital channels have poorer customer service interactions – less than 30% of customers rate customer experiences on digital channels as 'good' and 'very good' – in comparison to in-person experiences (41%) or phone experiences (59%).
If businesses want to provide world-class customer experience through their digital channels, they need to fulfil customer requirements and make improvements as part of a Digital CX program.
Get started with our free website satisfaction survey template
Digital CX programs help structure and learn from customer feedback
A Digital CX program is used to help manage and improve your customer experience. It's a systemic approach to improve business interactions with customers, by:
Listening to what customers are saying, and understanding their needs, values and behaviors
Measuring the feedback against your metrics and goals (like CSAT or ease of use)
Developing insights from data to provide recommended actions
Acting on the insights (like feeding these back into improving customer experiences)
Improving customer satisfaction (like closing the loop on bad experiences)
The program covers topics like the website quality, usability and integration between systems. It is integrated across every part of your business operations in order to keep standards high.
As Digital CX programs can focus on many areas, customer feedback is a crucial tool for understanding whether current experiences are working, where there are experience gaps and what could be improved to make things better.
A good Digital CX program brings together feedback data and analysis to create powerful insights. For organizations, it's recommended to gather both X and O data types to provide richer insights:
Economical (O data) is operational data, like sales and financial data. It can be measured as quantifiable numerical values, and datasets can be compared over different time periods. Often, it provides trend-based insights on current performance, which can form the basis for predictions. It can only tell you about past activities and what happened
Emotional (X data) is experience data, like free-text answers about why 'why' customers acted in the way they did. This qualitative data tries to explain emotional decisions by asking people how they are thinking and feeling, both about a particular experience but also about the brand more broadly.
3 steps to improving your digital customer experiences
We've created a digital maturity model that can help you understand how you can improve your customer experiences in a structured way.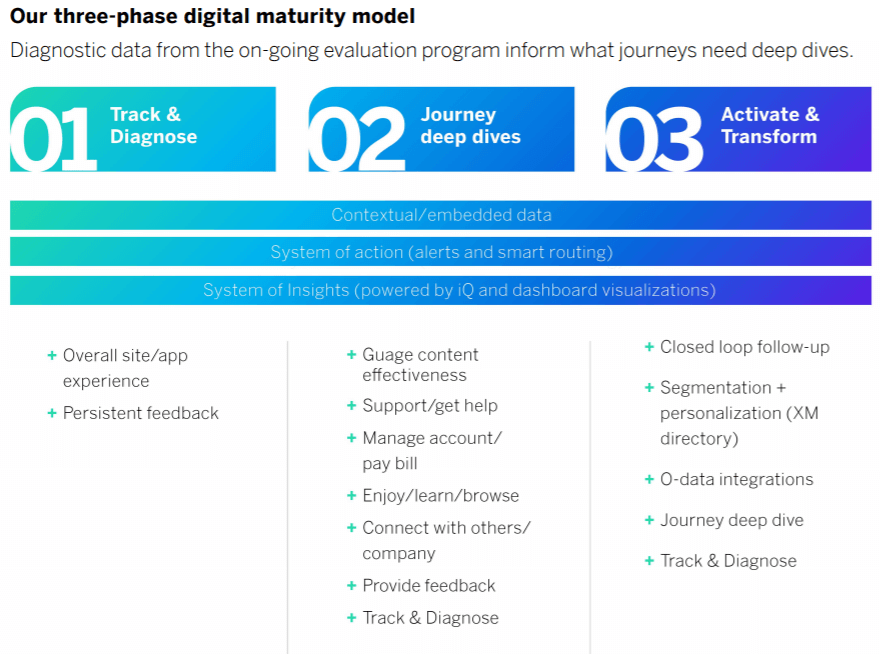 Step 1: Track and Diagnose
The aim of this step is to build an appreciation of the overall site experience. It is setting up the foundational systems that allow you to know what's happening now.
To win in the next normal, companies need to identify the current behaviors that will define customer experience in the near term.
This starts with building a 'System of Insight' that continuously collects and analyzes feedback and behavioral signals from visitors. You do this by thinking through:
Your organization's goals and what metrics would 'move the needle' within your organization. This can look at themes like Primary purpose, CSAT and Ease of Use.
How you want to visualize the data. Consider visualizing with a  verbatim analysis of unstructured data and powerful predictions about future behaviors.
In your Digital CX program, this information can be expressed through dashboards to provide you with an integrated visual overview.
Next, create a  'System of Action' that is your framework for carrying out actions. This requires you to:
Map out at a high level where data should be located
Set up listening posts that look out for key triggers
In your Digital CX program, this can be expressed by setting up alerts and smart routing between platforms, so that the data goes where it needs to go.
Finally, Set up a system of 'Persistent feedback'. Persistent feedback provides ways for customers to feedback. This could appear in a survey format with questions that produce a certain type of feedback, and open-ended text-field questions for additional information sharing or clarification.
With your results, you can carry out analysis that understands:
Trending topics
Sentiment
Demographic data that reveals trends between customer segments
How people interacted with the web page (using session replays)
Track and diagnose issues with website surveys
Website surveys are a great way for customers to provide feedback on your site, and connect back with business owners. They are questions presented to visitors, which capture information around real-life transactions as customers engage with your product or service.
Through website surveys, businesses can gain:
Suggestions for improving the website, products or experiences
Awareness of problems that create bad customer experiences
Reasons why customers believe and act in the way they do
Customer data that helps build customer personas
Target customer reactions to new experiences or improvements
The 'voice of the customer' and how they sound
The questions you ask on your website survey will be influenced by these three factors, which are outlined in Step 1 of the maturity model.
1. Define your strategic Digital CX goals
What are your key organization priorities? Ask yourself these questions and consider how they apply to your business:
What metrics will move the needle within your organization?
What are the primary goals and objectives of your digital properties?
How do you want to leverage operational data (O-data)?
How do you want to visualize and action your data (e.g. role-based dashboards, AI driven analysis and rich customer databases)?
Who needs access to what information and when? (smart routing, actions & alerts, automated workflows, closed-loop ticketing & escalations)
What listening posts will capture the most action-oriented data? (personalized & targeted requests for feedback)
2. Create a rounded survey that considers the 3 experience dimensions
Customers judge their experiences with a company along 3 dimensions:
Success: Were they able to achieve their goals?
Effort: How easy or difficult was it to achieve those goals?
Emotion: How did the interaction make them feel?
All 3 of these dimensions are important, but the emotional component has the biggest impact on customer loyalty behaviors, impacting the likelihood of the customer to repurchase, recommend, or trust the company.
Decide how you would like to collect and visualize the data you receive back. This could be done manually, or if you have a Digital CX platform, this can be pre-customized for you.
3. Choose questions based on the metric that you're measuring
Questions are purpose-built to match a metric that you're trying to measure. Here is a list of the metrics and a question that helps you gain the right feedback:
Net Promoter Score
On a scale from 0-10, based on your experience today, how likely are you to recommend our website to a friend or colleague?
Net Promoter Score (NPS) is a metric that uses social proof to understand customer satisfaction. Customers that receive good experiences are more likely to be happy to recommend the same service or product to a friend or colleague.
Depending on respondents' answers, they can be classed as Promoters (scored 9 or 10 as they are loyal and enthusiastic customers), Passives (scored 7 or 8, as they are satisfied with the service) and Detractors (scored 0-6 because they are unhappy customers).
A Net promoter score is calculated by subtracting the percentage of detractors from the percentage of promoters. A number between 0-100 shows you have more promoter customers than detractors.
Customer effort score
Overall, how satisfied or dissatisfied were you with your experience on our website today?
Extremely satisfied
Slightly satisfied
Neither satisfied nor dissatisfied
Slightly dissatisfied
Extremely dissatisfied
Customer Effort Score (CES) measures customer satisfaction through how easy it was for the customer to carry out a task, or use the product or service. If there was a lot of effort required, the customer would have had a tough interaction and is likely to be less satisfied.
Primary purpose of visit
What was the primary purpose of your visit to our website today?
I wanted to make a purchase
I was just browsing
I was researching a product/service
Other (specify)
Understanding the goal of your customer can help you boost the right areas of your website and ensure that they can achieve their goal during a transaction.
Likelihood to return
How likely would you be to return to this website?
Extremely likely
Moderately likely
Slightly likely
Neither likely nor unlikely
Slightly unlikely
Moderately unlikely
Extremely unlikely
You can judge how successful an interaction has been if the customer would be willing to repeat the same behaviour. This indicates that the experience they had is one that they'd be willing to have again.
Task completion and dedicated time expectations
How much more time would you be likely to spend on this website in the future?
A great deal
A lot
A moderate amount
A little
None at all
This question measured the time that a customer is willing to pass while looking at your website. This question can help you understand where your website sits in the customer journey. Do customers spend time browsing as part of the sales process? Understanding customer behaviour can help you design a site that supports the  users.
Intent to convert
How willing would you be to make a purchase from this website?
Extremely willing
Very willing
Moderately willing
Slightly willing
Not willing at all
This question indicated whether your website has provided enough evidence and created trust in the product or service. If the website experience is successful, the customer will convert from viewing to purchasing.
Opportunity to hear any additional information sharing and or clarification points
Please share any additional feedback that could help us improve your experience of our website.
This question gives you the customer the chance to take the feedback in any direction they want. This kind of question is great for getting qualitative 'why' based answers, areas for improvement and website design ideas. This helps you create digital customer experiences that are directly what the customer wants.
Step 2: Optimize through Journey deep dives
This step builds on your overall appreciation by going deeper with fundamental journeys or common routes that people take to complete tasks. Some common journeys include:
Abandonment (Cart/Buy/Book)
Managing your account
Paying your bill
Getting support or help
Learning or Browsing
Providing feedback
>Measuring content effectiveness
You may have others. The key action is to think through the exact user flow and the associated emotions during each stage, before deploying a request for feedback to learn more.
When you want to learn more about journeys, keep feedback requests short and succinct (ideally 2-4 questions) and keep them relevant to the experience the visitor just had.
Step 3: Activate and Transform
This last step is about activating and transforming the organization. The listening posts, dashboards, contextual embedded data, and smart-routing capabilities established in the earlier phases should now inform decision-making processes across the organization.
The data leads to powerful insights that are fed back into the digital CX program. Then, you can do the following things:
Identify the actions you need to take to improve the on-site experience for your target audience
This could be any action that helps make the route to purchase easier or make a transaction more effective.
99.99% of the time, poor customer satisfaction is a result of a failure to meet expectations
For example, this might mean updating your current customer journey mapping (an illustration of customers' needs and transactions across processes and interactions) – maximizing satisfaction along the customer journey could increase customer satisfaction by 20%, lift revenues by up to 15%, and lower the cost of serving customers by up to 20%.
Close the loop with customers that have a bad experience
One of the core benefits of insights is being able to identify customer experience gaps – where your customers' needs aren't fulfilled at customer journey touch-points. Some examples might include slow response times, long payment processes or unclear messages.
Being aware of improvement areas gives businesses a chance to make changes and then 'close the loop' directly with the affected customer. It can reduce attrition rates and keep your customers loyal to your brand if they see that you care about their feedback and want to improve their experience.
The best closed-loop programs include a range of solutions, such as smart routing, API integrations, alerts and triggers, real-time dashboards and ticket management solutions.
Understanding core data statistics
The information gathered can create worthwhile insights, based on data points like average cart value, repeat business, total spend per year or subscriptions status. Knowing this information can inform your organization goals the next time round.
You can also understand who are your priority customers and how to serve them best, by asking questions around following up with these customers. Some questions include: who should get follow-ups, who will conduct them, how they should be handled and what happens after a follow-up?
As your integrated 'living' CX program continues, repeat each step to optimize and add in new information or data as needed.
A customizable Digital CX program trusted by brands
Manually collecting and analyzing this data can be time-consuming and confusing, so it might be worth considering a smart integrated system. For example, Qualtrics Frontline Digital is designed to collect customer feedback across the entire digital journey, identify experience gaps, and take action that has maximum impact.
By feeding back insights into your Digital CX program, you can
Optimize conversion of key moments in the digital journey
Improve the effectiveness of digital content
Drive usage and uptake of new digital products and services
Optimize the in-app experience to improve app store ranking and brand perception