---
What is customer effort score (CES)?
Customer effort score (CES) is a single-item metric that measures how much effort a customer has to exert to get an issue resolved, a request fulfilled, a product purchased/returned or a question answered.
CES surveys typically ask the question, "on a scale of 'very easy' to 'very difficult', how easy was it to interact with [company name]." The idea is that customers are more loyal to a product or service that is easier to use.
Customer churn is a key business driver and customer effort is a great indicator of loyalty. This measurement is quick and easy for customers to evaluate, and it's simple to implement across different service and survey channels. CES correlates with business outcomes and is easy to track over time.
Learn how Qualtrics can help you improve your customer effort score
History of customer effort score (CES)
In 2010, researchers from CEB found that reducing the amount of effort a customer has to do to get their problem solved is a higher indicator of customer loyalty than delight. By acting on this insight and removing obstacles for the customer, they found companies can reduce customer service costs and attrition rates.
CEB found that indicators of high effort activities include customers switching channels to get their problem resolved, repeating information, generic service, and getting transferred to a different agent. According to the research published in the book, the Effortless Experience, "96% of customers with a high-effort service interaction become more disloyal compared to just 9% who have a low-effort experience. Disloyal customers are likely to cost the company more — they spread negative word of mouth and cease future purchases."
Learn how to capture and capitalize on customer insights with our eBook: Download Now
When to use CES vs other CX metrics
There are three main customer service metrics: Net Promoter Score (NPS), Customer Satisfaction (CSAT), and Customer Effort Score (CES). These metrics can complement each other, and your organization must experiment to understand which combination is right for you.
Customer effort score
CES is an easy survey to deploy and track over time and is best for measuring customer loyalty. Unfortunately, it doesn't always give the full picture and should be used in tandem with NPS. For instance, your customer may have a great relationship with your company but had a bad interaction this one time. If you only looked at CES you would think he wouldn't be a loyalty customer, but that might not be the case.
Become a customer experience expert with our XM Playbook for Customer Care
Net promoter score
NPS measures long-term loyalty and determines which customers are brand ambassadors and which could defect to other products. It looks at the entire relationship between the customer and the organization and is a great indicator of company growth. NPS can be used in concert with CES because while CES measure a single touchpoint, NPS is measured by the experience as a whole, including the product attributes, price, brand, and customer service altogether.
Higher NPS typically means higher, long term customer loyalty. See how improvements can be charted in the simulation below.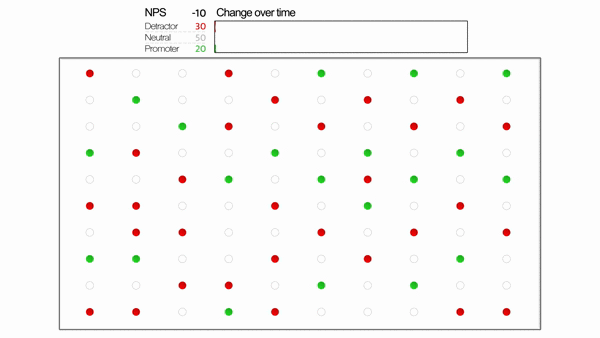 Customer satisfaction
CSAT measures the short-term happiness of your customers. It's a versatile metric that allows you to ask a variety of questions about a single interaction or touchpoint. CSAT targets a "here and now" reaction to a specific interaction, product, or event, but it is limited when it comes to measuring a customer's ongoing relationship with a company or loyalty.
Tips for building CES surveys
CES surveys should be deployed immediately after interactions or specific touchpoints like a product purchase or an interaction with customer service. When a customer interacts with your company, simply asking them how easy it was to get their issue resolved can indicate if they'll return as a customer. To take the survey one step further, you could ask why they rated the interaction easy or difficult so you know how to improve or close the loop on the interaction.
What to think about when building CES surveys:
Optimize for Mobile– More than 50 percent of online interaction occur on mobile devices, so your survey must be optimized for mobile. Remove any additional content like logos, unnecessary text, and external links and put the positive options at the top and the negative options at the bottom.
Automated Triggers– Surveys should be automatically sent out after an interaction with a customer service representative or specific touchpoint. Using software like Qualtrics can create automatic triggers so you don't need to manually send out the survey.
Keep it Simple– The survey should only be one or two questions and you should avoid using any leading questions.
Share Your Data– Results should be shared with those who can take action and leadership across multiple departments should collaborate to implement a strategy. Additionally, customer service representatives should be empowered to follow-up with the customer and resolve any issues that weren't solved in the original interaction.
CX Study: Learn how to increase the ROI of your customer experience
Ways to improve the CES score at your company
Customers want easy transactions and will switch to a different provider if they're having a difficult time getting their questions answered. You can quickly improve your CES by implementing a few tools which are listed below.
Provide multiple channels for contact/feedback– Your business should be meeting customers in all channels of digital support, so they can choose the realm they feel the most comfortable with. Some popular options include social media support, email, chat, in-person support centers, and call centers.
Use self-service tools- Many customers would rather solve the issues themselves instead of speaking to a customer service representative. By providing self-service options, you make it easier for the customer to get their question answered and reduce customer effort. Forms and self-help articles are a great place to start.
Reduce wait times– Customers want their issues resolved quickly and they don't want to wait on the phone to talk to a live representative. If you have high wait times, use a callback system or employ more staff during your busiest hours.
It's important to always close the loop with a customer if they're unhappy and fully understand what you could do better to keep their business. You'll also want to make general improvements to your products or customer service program based on the cumulative survey results.
Research by Gartner shows that reducing your customer effort can increase repurchase rates, lower service costs, and reduce employee attrition. CES survey programs are just way you can use a customer experience management platform like Qualtrics. Request a demo today to see how we can improve your customer experience. Most Qualtrics licenses come with our Transactional Customer Effort Score (CES) XM Solution automated project. XM Solutions are a set of predesign survey and reporting projects with a guided setup wizard to help you get off the ground in no time.