Customer Experience
Original research: The state of digital experience in 2023
For the last three years, the focus for many companies has been on accelerating digital transformation. They had to —their very survival depended on it. Today, you see the impact of that, digital experiences are the new norm. But there's a catch. In the rush to digitize everything, and drive operational efficiency, many companies left their humanity behind. Creating digital experiences that don't really resonate with or meet the expectations of those they serve.
In this competitive environment, it's more important than ever for businesses across all industries to elevate the digital touchpoints along the customer journey and understand how they affect consumer perception and brand loyalty.
Digital marketing and experience leaders must be able to find and fix experience gaps, create interactions that are emotionally engaging, and build stronger connections with customers so they want to return and stay connected. To explore how this can be accomplished, we surveyed more than 1,300 digital leaders worldwide to better understand the current realities and challenges they face, and what would help make their professional lives easier.
So, what is the current state of digital experience? Let's get into the details.
Priorities revolve around people, process, and technology
We've long maintained the value of assessing organizational performance through the framework of people, process, and technology. In looking at the top priorities reported in the survey, digital leaders agree. Their number-one goal (21.5%) is focused on creating a cohesive customer journey across all channels and devices, as this consistency is critical to delivering the seamless digital experiences that support long-term brand loyalty. The other top priorities all represent strategies for achieving that goal by focusing on ways to improve internal collaboration (people); organizational structures and processes (process); and innovation, real-time customer engagement, and improved visibility into the customer journey (technology).
Top priorities of digital leaders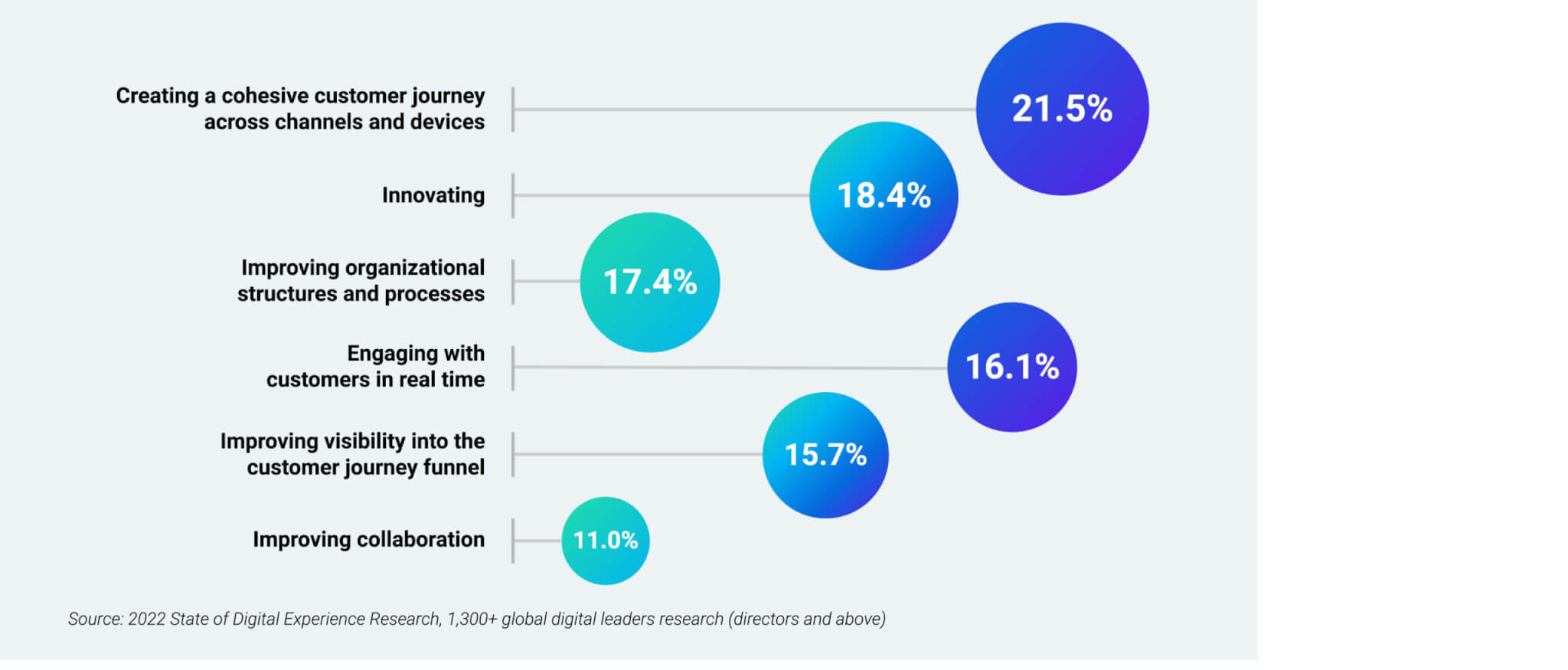 Digital is a major source of revenue
It stands to reason that the top metric that business leaders use to evaluate their digital organizations is revenue (26.1%).  The majority of  companies say digital channels contribute to at least 40% of their revenue. What's more, 85% of leaders surveyed believe that percentage will continue to grow.
Key metrics and revenue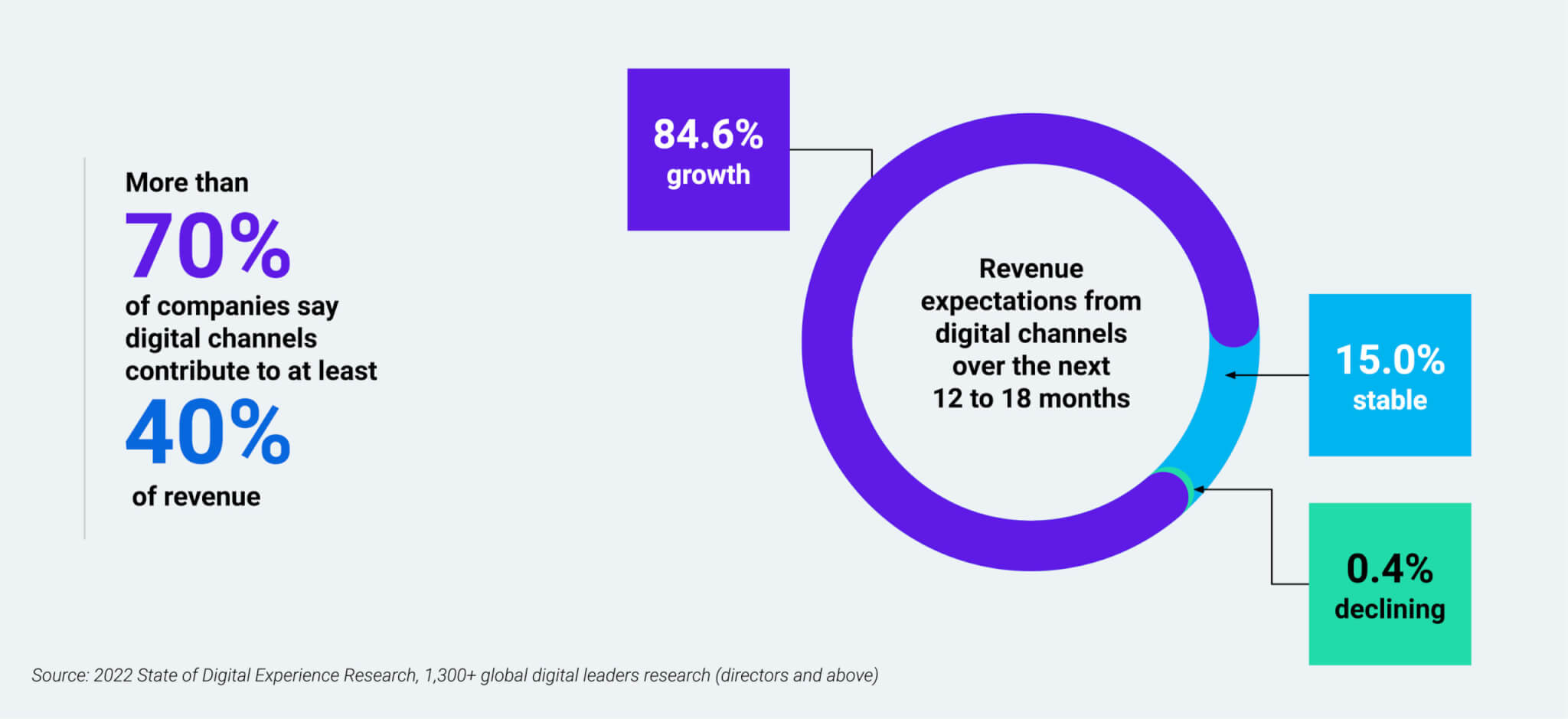 Data privacy is a top concern
Digital leaders know that to make their business more human they must learn all they can about their customers – and that requires the ability to gather and use customer data responsibly. When asked about top data initiatives, digital leaders stated that privacy is number-one on their list (39.7%). They recognize the need to carefully balance the hyper-personalization that customers expect, while building trust by staying compliant with privacy regulations.
Data priorities


Efficiency is the biggest challenge facing digital leaders
While digital leaders report that the most valuable outcome of their data initiatives is improving customer segmentation (22%), their biggest pain point is doing so efficiently: 18.5% say setting up automation and workflows to close feedback loops is their top challenge. They also struggle with creating and updating customer profiles in real time (17.7%) and prioritizing insights (16.0%).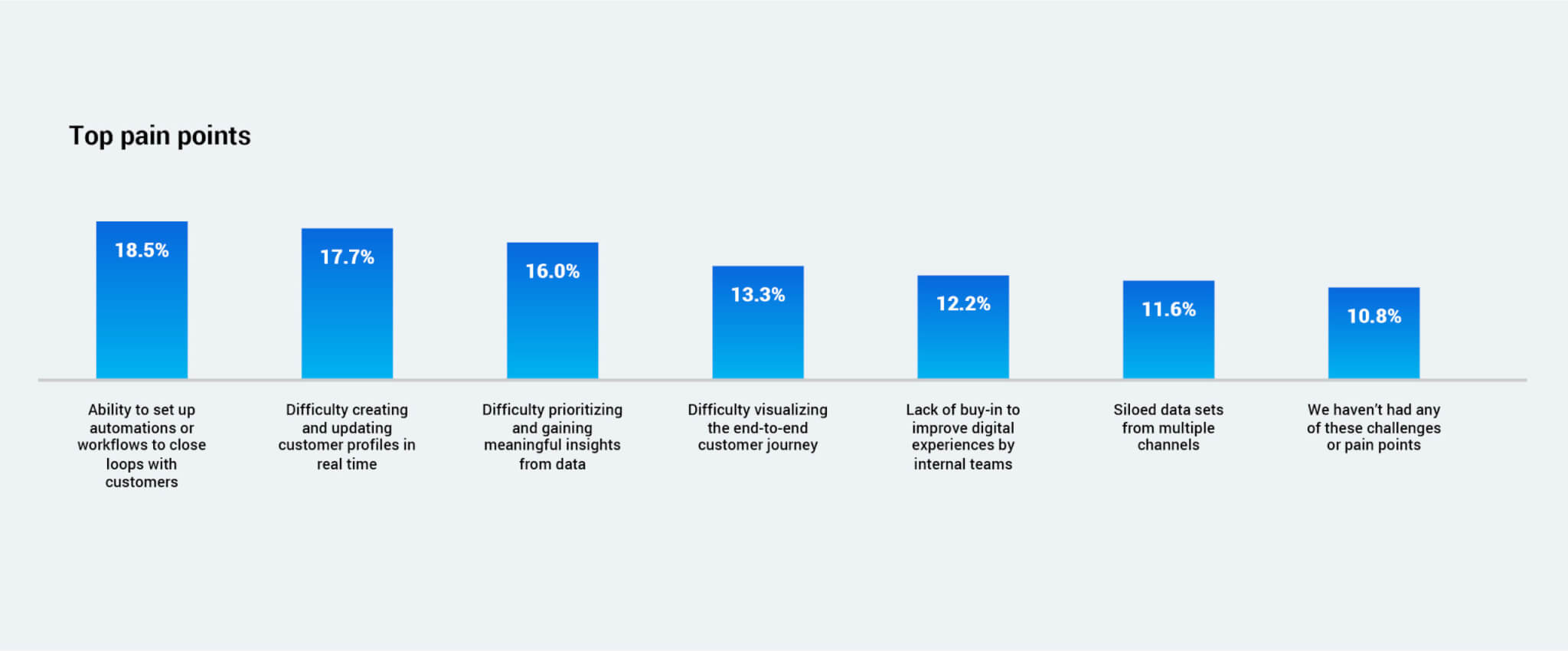 Treat customers as people, not data points
In a digital-first world, seamless experiences are an essential part of business success. Qualtrics helps companies take a human-centric perspective of the digital experience and journey to understand how each touchpoint along the way impacts brand perception and customer loyalty.
CustomerXM for Digital enables you to:
Access meaningful data through tailored listening that is in context within the digital experience.
Analyze data to truly understand and identify the biggest needle mover to improve the experience.
Ensure you have the right people, process, and technology in place to take in-the-moment actions.