---
What is compliance in call centers?
When they talk about compliance, call center managers are specifically referring to adhering to rules created by a regulatory body or by the business they work for. Depending on the country, the sector or the business, the rules that call centers have to follow can vary.
But it can also mean complying to the behaviors that your organizations wants to see – like showing friendliness, understanding, recaping the problem. But also ensuring agents aren't displaying the behaviors the organization doesn't want to see.
There are several reasons why adhering to these rules is vital for a company to thrive. Important
customer data
, such as credit card data, needs to be protected to avoid any fraud. Sensitive data that should not be shared widely, such as protected health information, also needs to be protected.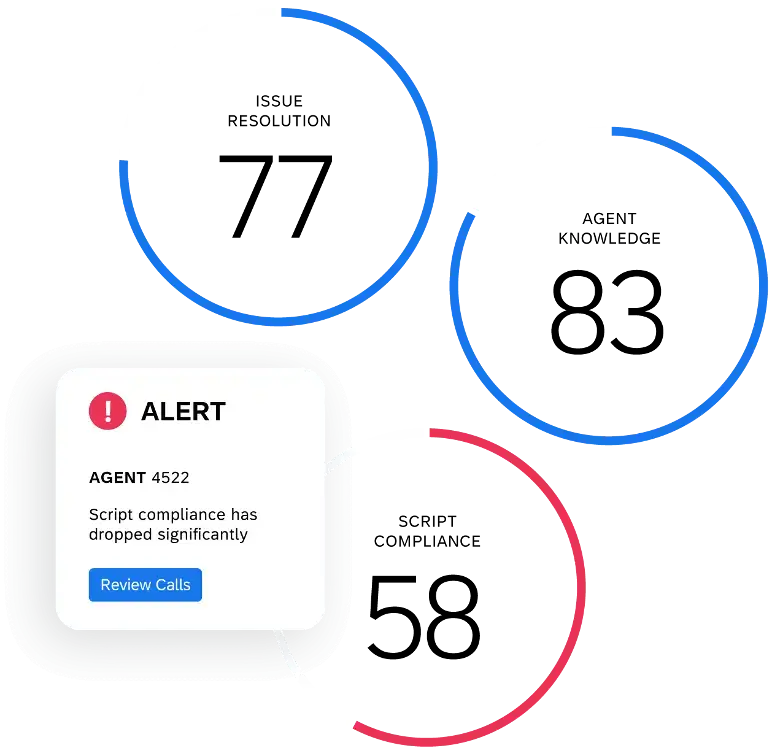 The need to protect customer data is obvious, but in practice, call centers can struggle to ensure that their teams are following the right framework and monitoring data security can become a cumbersome task.
Read the 2023 contact center trends report
What are the industry standards for call center compliance?
Though industry standards for call center compliance can differ between sectors and location, there are a few well-known examples that can help illustrate call center compliance regulations.
Protecting customer financial data
Payment Card Industry Data Security Standard (PCI DSS) compliance is designed to prevent call centers from keeping records of sensitive cardholder data, such as CVV2 numbers, PINs or entire magnetic stripe data. This ensures that customer credit card data (for example) is never held in its entirety, which decreases the potential damage if the information were ever at risk.
Gaining consent for call recording
Frequently, customers phoning a call center will be greeted with a recorded message, stating that "calls will be recorded for training purposes". This ensures that anyone contacting the call center knows that they are being recorded, and by staying on the line, gives their consent for the businesses to do so. Agents may also state that calls are recorded once a connection is made.
Guarding protected health information
Though countries around the globe have various requirements for the protection of sensitive data around health, a good example of an industry standard is the US Health Insurance Portability and Accountability Act (HIPAA). This protects customer information from being disclosed beyond any specified bounds and helps to ensure that patients are protected from fraud and theft.
Protecting customers from nuisance contacts
Another good example of an industry standard is the US Telephone Consumer Protection Act (TCPA), which governs the solicitation of prospective or current customers through telephones or automated call equipment. This prevents contact centers from reaching out at unsociable hours, calling customers who've specified they do not want to be reached via outbound calls and much more.
Why call center compliance is important
Contact center compliance requirements are there for a reason, usually to protect customer data but also to help businesses from putting off their customer base.
Key reasons to focus on contact center compliance include:
Potential fines or penalties: Without ensuring that you meet your compliance requirements, your business may end up paying severe fines or penalties.
Reputational damage: Your customers rely on you to protect their interests, and trusting your brand with sensitive information means that your reputation is at stake if that trust is broken. Without a robust call center security policy, for example, you can risk data breaches that would cause customers to be very unhappy with your business.
Lost business and revenue: When customer trust is broken – particularly at scale – this can have harsh ramifications for your business, resulting in lost revenue. If current customer trust is betrayed, businesses will struggle to attract new customers as well. Listening to every call, fixing broken experiences and implementing training to ensure agents are exhibiting the behaviors that create loyalty is a great way to build long lasting relationships.
Lost staff: If a business doesn't follow compliance and regulation, there is a risk that employees will also leave in search of a more reputable company. Being asked to risk their own careers for a compliance failure could be why an employee might leave.
How businesses ensure their contact centers are compliant
Commonly, businesses employ an array of measures to ensure that they meet regulation and protect customers. A common call center compliance checklist might include:
Call center monitoring
Usually, call center monitoring includes the manual and subjective evaluation of a small sample of calls from each agent. Call center leadership examines a recording or a transcript of calls made and flags any lack of adherence. But the traditional approach focuses on 1-3% of interactions, leaving huge margin for error. To truly see the big picture, we need to get a handle on every interaction. Then we can improve the experience at scale.
Creating a compliance score for call center agents
Businesses are often looking for call center agents to be compliant not only with the law, but with their own specified rules about engaging with customers. Often, they'll create a compliance score to mark transcripts and recordings to help flag areas where center agents need more training.
Agent coaching
Coaching call center agents helps to improve compliance, as center agents are made aware of the rules they need to follow. Usually, there are scripts provided to agents to follow to make sure they meet not only the regulatory body's rules and regulations, but also to protect and further the business's interests.
Using call center technology
Call centers are often equipped with redaction software that can automatically pinpoint and delete personally identifiable information or sensitive data during calls or other forms of contact. Recordings might be paused or scripts automatically redacted when sensitive information is shared.
Security measures
Businesses often implement security measures to ensure that only authorized access is made to customer data to prevent data theft. They might encrypt sensitive data, or relay data only on a private communications network. Network security measures are likely to be in place to help prevent an outside entity from gaining access.
But the traditional approach is broken, and there's a better way…
How to simplify call center compliance
Given the scale of call centers' interactions, the potential for non-adherence is high. Without the right approaches in place, call center compliance can easily become a difficult business process with costly risks.
Automatically identify non-compliance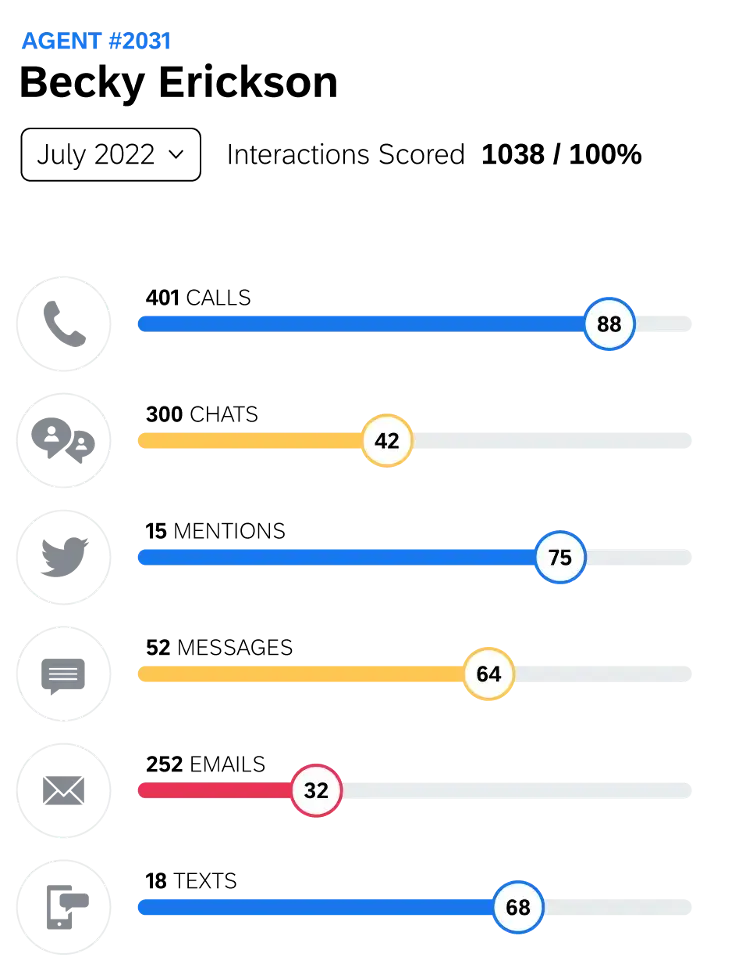 With traditional call center monitoring, only a small sample of calls is actually scanned through for compliance issues or data breaches. With the right contact center quality management software, 100% of calls, chat interactions, emails and other avenues of customer contact can be monitored.
Not only that, but the software can automatically flag what's being said, and what's not being said – and trigger the correct workflow accordingly. Call center agent scoring is performed automatically, with missed opportunities to engage in business-mandated behavior (upselling a product, for example) also noted.
Set up instant notifications to resolve issues in real-time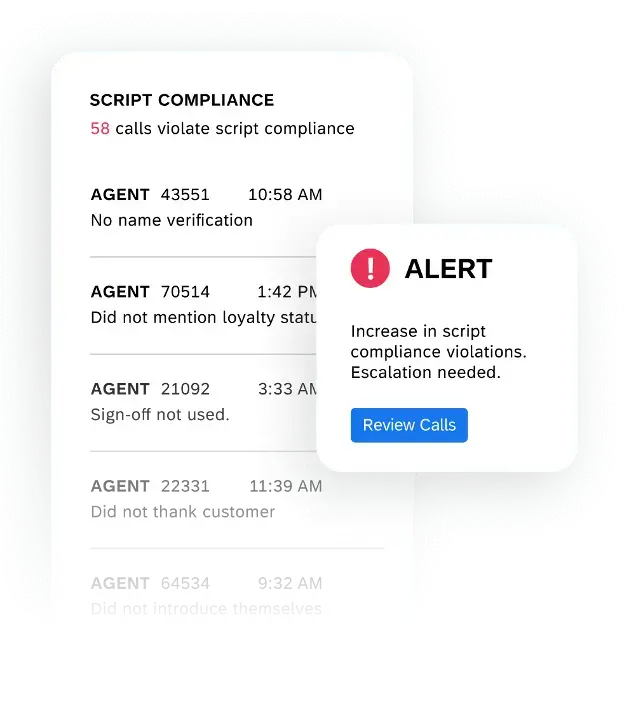 With 24/7 monitoring on 100% of contact channels, your contact center quality management software can instantly alert the right people when compliance violations occur. Rather than missing opportunities to improve or resolve important compliance breaches, your team can instantly take action. This also helps to free up contact center supervisors' time to focus on the important things, such as helping agents to resolve customer issues instead of only analyzing a small sample of interactions and hoping that critical issues are surfaced.
Train your agents on the job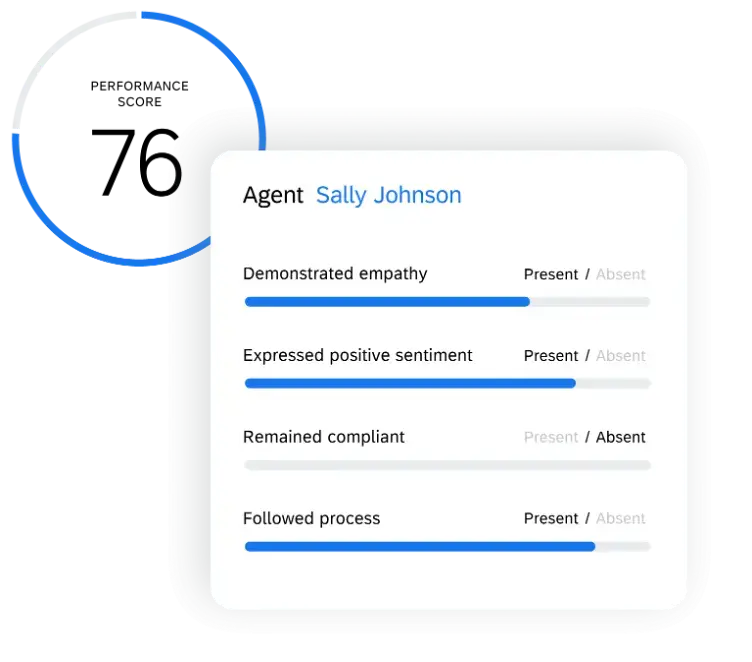 Scoring operational and experience behaviors for a later review is incredibly useful – but completing it in real time allows for agent coaching for quality assurance on another level. Flagging interactions that need action in real-time means you can fix issues and train call center agents on the job. This helps to avoid costly agent attrition by giving your employees a fair and transparent review of their work.
Monitor every interaction, improve every experience
Investing in the right contact center quality management tools not only helps your business to maintain compliance, but actually drive customer experiences and reduce operational costs. Instead of dedicating valuable time and resources to high-level monitoring of compliance, the best software allows you to deep dive into your customer interactions, diverting employee effort towards customer experience while driving compliance and protecting your brand and its revenue.
Qualtrics' contact center quality management software uses AI and Natural Language Processing (NLP) to analyze every aspect of customer interactions, from script compliance to agent knowledge. Reduce the risk to your business' reputation or revenue by using an all-encompassing tool that gives you objective, clear reviews of your call centers' compliance. Meet not only customers' expectations, but employees' expectations as well, with compliance measures that are fair and transparent.
Learn more about how to simplify your contact center processes in our latest contact center trends report, out now.