---
What is first contact resolution?
First contact resolution (FCR) is a customer support industry term for solving a customer issue the very first time they call or chat with an agent. If a customer has a problem that requires multiple calls or messages, then first contact resolution hasn't been achieved – and the customer experience is sub-par.
If, on the other hand, an agent manages to fix the problem for them, then that customer will leave happy and – in theory – won't have to get in touch again.
Customers don't like to be bounced around from agent to agent and want their issues resolved at the first point of contact, so FCR is an important metrics to measure. Having a high first contact resolution rate shows that you have a customer support team performing as it should – and solving customer issues fast.
That means a lower cost-to-serve and an overall lower volume of calls or messages, which has a snowball effect of freeing up agents to be able to handle other customer queries instead of making customers wait.
FCR is very similar to first call resolution, but here the net is wider, encompassing digital forms of communication like chat or email. That's worth noting, as from time to time in this article we'll use the two terms interchangeably.
Watch Demo: XM For Customer Frontlines Contact Center
How do you measure first contact resolution?
In customer relationship management, first contact resolution rate (or first call resolution rate) is the metricized version of FCR; it tracks how many contact center cases or tickets require only one interaction with the customer as a percentage.
This is a vital operational metric to monitor, as a high first contact resolution rate will likely correlate with both positive customer effort and CSAT (customer satisfaction) scores – your customers will be expending less effort, and feel more satisfied, if they only have to contact your organization once.
How to calculate it: Count the number of incidents resolved on the first contact, and divide it by the total number of incidents your customer service team has had to handle. Then multiply that by 100 to get the first contact resolution rate as a percentage.
The industry standard FCR rate is around 70%, with world-class contact centers hitting around 80%. One thing to keep in mind is that repeated contact doesn't necessarily mean a failed first contact resolution. If a customer has their issue solved but then later gets in touch about a different problem, that should obviously be counted as a separate ticket. So when you're looking to measure FCR, it's important to be able to tell the difference – the right contact center management software can help here.
Tip: In addition, you can also measure the average number of replies it takes for a customer to get their issue resolved, and the amount of time it takes from when the customer submits the ticket to resolution.
First contact resolution examples
So what does FCR look like in practice? To help show what customer service team excellence looks like, let's take a look at a few quick examples:
First contact resolution on the phone
If a customer calls up about a billing issue – perhaps they've been double charged – and the agent is able to quickly and calmly get to the bottom of the issue, they should be able to fix things there and then. That first call resolution (FCR) means the customer will leave in confidence that they won't be billed twice again.
First contact resolution via live chat
Similarly, if a customer wants to understand when their contract is set to renew, they might choose to do so using live chat in a separate tab while they work. This might take a little longer if the chat is protracted, but customer service agents manning chat fields should ideally be able to relay that information without the need for further contact.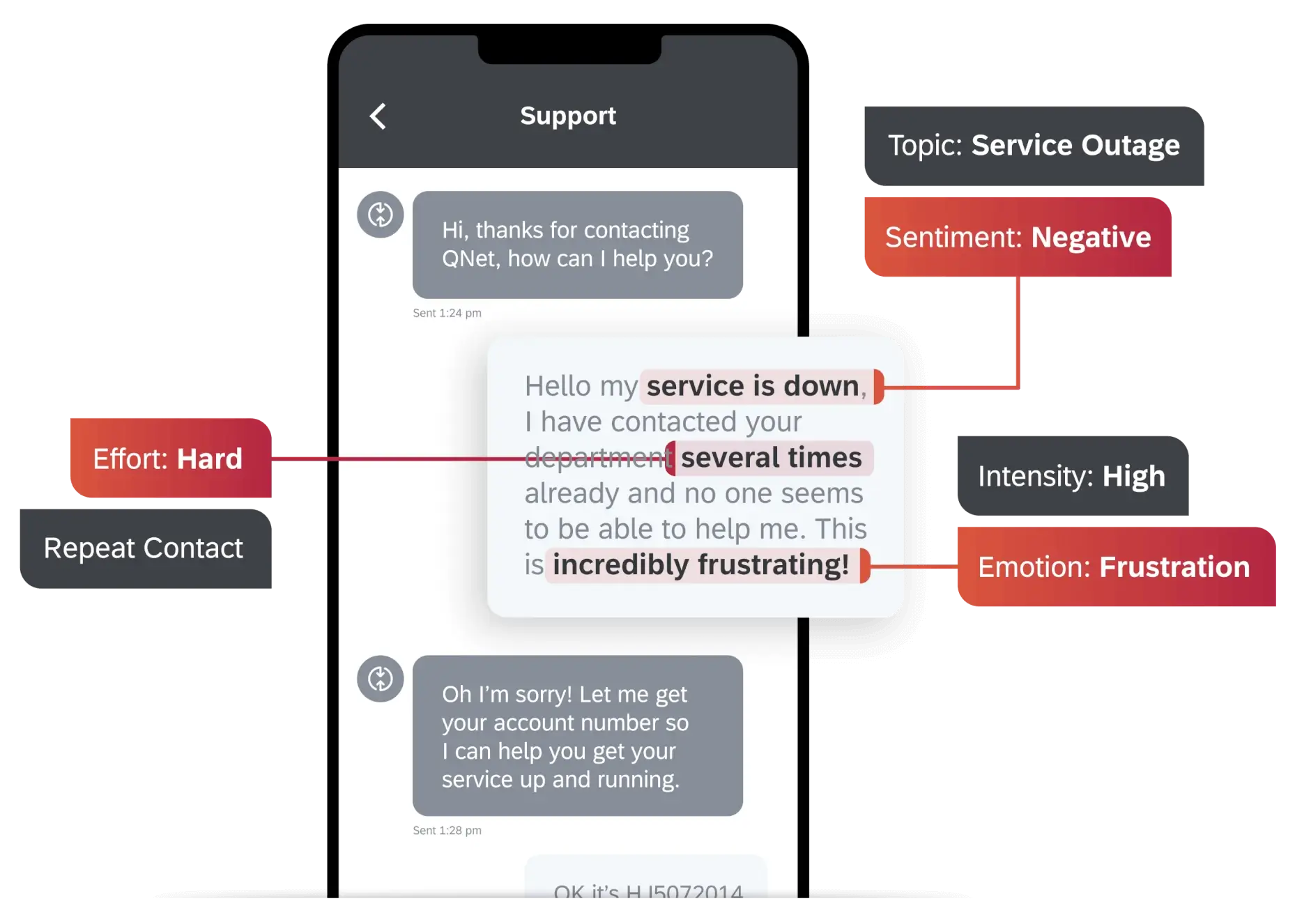 First contact resolution via email
Imagine a customer's order hasn't arrived on time, and they decide to fire off an email asking for an update. Great FCR here would be a single email back apologizing for the inconvenience, confirming the package's updated ETA, and providing new tracking details alongside a discount on future orders.
First contact resolution via chatbot
Sometimes customers can self-serve their way to FCR. If, for instance, a chatbot can answer their question or point them to a relevant Knowledge Base or FAQ repository, there's a good chance they can find a resolution without needing to engage with the call center.
How to improve FCR rates
Improving FCR rates means doing everything in your power to ensure speedy resolution across every touchpoint. While having a high first call resolution rate is a strong start, being able to solve problems in an omnichannel sense – across phone and digital – is more important than ever.
To explore how to do that, let's ask some key questions call center agents and managers face on a daily basis…
Why is FCR low?
Really this question is the same as 'How do I reduce repeat calls?' Either way, it's really crucial to get to the bottom of what drives repeat calls and fix those issues. Here are a few things to look at:
Customer redirection
If customers need to be redirected to a third party, you run the risk of a few things happening. Firstly, they might get disconnected during the redirect. But they may also become frustrated and leave – especially if they're short on time – resulting in the need for repeat contact. Worst of all, third parties often require the customer to repeat their issue all over again. In any case, that's a failed chance at FCR.
Requests or issues not logged
Post-call work is a really important part of the process for call centers, but it takes time and effort that could be better spent. If issues are logged accurately and tickets aren't raised properly, then a customer's issue might never get solved, resulting in them needing to get back in touch. A good solution here is a contact center management solution that can handle post-call work automatically – like Qualtrics' AI-powered Contact Center Experience Software.
No customer follow-up
Neglecting customer follow-up after their initial contact is a missed opportunity to lock in customer satisfaction and prevent repeat calls. When there's no systematic follow-up process in place – like an automatic email confirming the interaction and next steps, for instance – customers may feel that their concerns were not taken on board, or that there's no resolution in sight.
This lack of engagement can result in unresolved issues, unanswered questions, or even unresolved emotions. And without proactive follow-up, customers may feel compelled to reach out again, leading to a decrease in FCR rates. Implementing a robust customer follow-up system, whether through personalized emails, surveys, or post-call callbacks, can help you show attentiveness and minimize the need for repeat contacts.
High call center agent turnover
A high rate of call center agent turnover can hugely impact FCR rates and overall customer satisfaction. When agents leave an organization frequently, it disrupts customer interaction continuity and hampers the development of their expertise. New agents, meanwhile, often require time to ramp up and become familiar with the products, processes, and systems – resulting in longer call durations and potential errors. Worse still, that high turnover can lead to a lack of consistent customer service, as customers may have to repeat their concerns to different agents.
Organizations should focus on employee engagement strategies and software that can help streamline the process of keeping great people and training the ones who need extra help.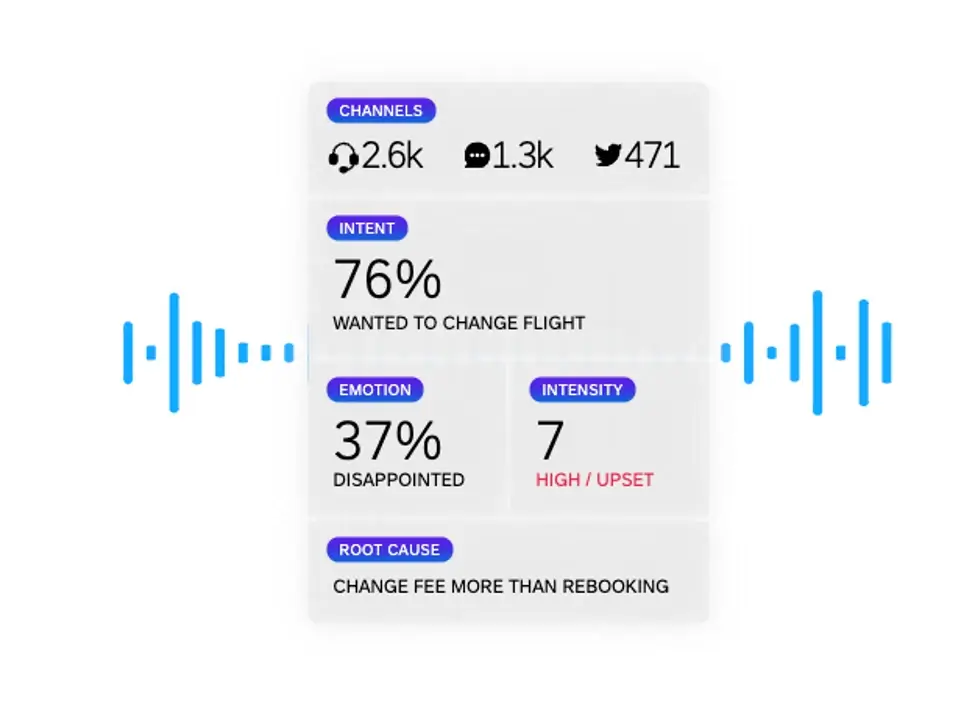 Inconsistent or inadequate agent training
If customer support agents lack proper training, it can significantly impact their ability to resolve issues on the first call. Training programs that lack consistency and don't focus on continuous improvement can result in agents who aren't equipped with the knowledge or skills to properly handle customer inquiries.
This can lead to longer call durations, transfers to other agents, or even incorrect information being provided to customers. Improving training programs and ensuring ongoing professional development can help enhance agents' knowledge and empower them to resolve issues more efficiently.
Lack of access to relevant information or tools
When agents don't have access to the tools they need to resolve customer issues, it becomes difficult for them to do so efficiently. The issue here might be outdated or incomplete information, which can lead to prolonged call durations or the need to transfer customers to other departments or specialists, or it might be that the information exists but is hard to find in the moment.
You can ensure that agents have access to up-to-date information by employing contact center software that's able to listen to the call or read along with a text chat and surface the right information at the right time.
Insufficient empowerment of agents
If agents don't feel empowered to make decisions or take necessary actions to resolve customer issues, they'll be less likely to secure that all-important first call resolution. That sense of empowerment stems from three key areas: customer context, real-time assistance, and relevant coaching.
Intelligent contact center software can provide all three, using AI to detect emotion and effort, and providing agents with real-time prompts to help show empathy or deliver personalized recommendations. That same software can also spot opportunities for coaching by monitoring script compliance and resolutions.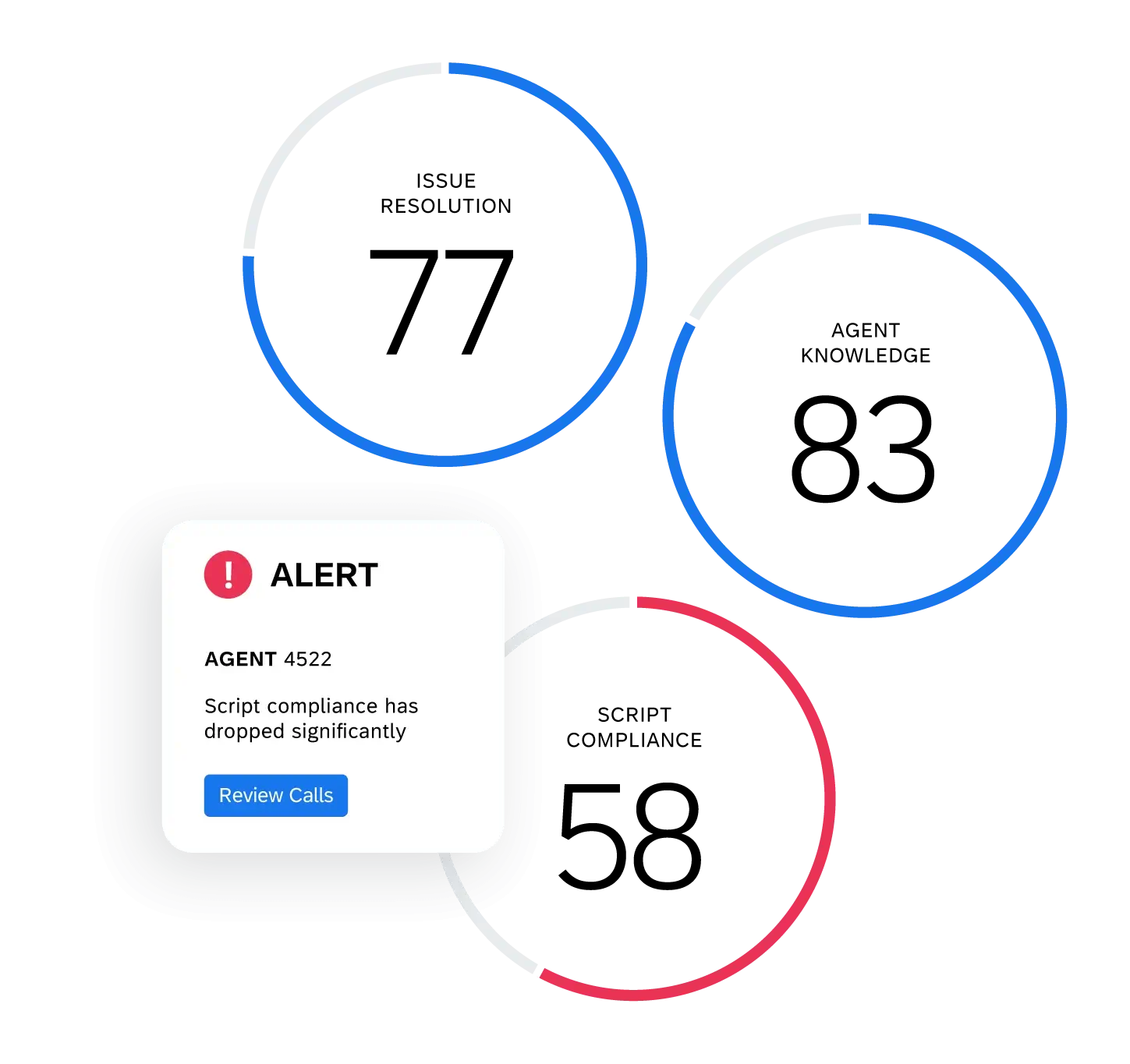 What kind of calls often get resolved the first time?
The calls that breeze through the support process are typically simple in nature – with clear-cut solutions rather than something that needs delicate unpicking. If a customer calls to confirm their account balance or asks for basic product information, that's much more likely to end with a satisfying resolution than an ongoing technical issue. Short calls in particular are by nature quick and efficient, which suggests that customers have come armed with a specific question or request that can be resolved in short order.
Which kinds of customer contact are candidates for self-service?
Increasingly, customers are more and more willing and able to self-serve on issues where they think a chatbot or a knowledge base article can give them the answer they need. These instances often revolve around routine tasks like checking on the status of an order, updating personal information, or accessing basic account details. User-friendly websites and apps, chatbots, and robust FAQ sections can help a lot of customers take matters into their own hands without the need for a live agent.
Private or sensitive issues are often strong candidates for this; customers may prefer to speak to a chatbot in a hotel, for instance, if airing their request to a person might make them feel embarrassed.
Either way, digital self-service offers convenience, speed, and independence, giving customers a chance to resolve their inquiries in their own way. What's more, digital self-serve options like chatbots can be accessed on-demand, and only end when the customer wants them to end, which means they're much more likely to get to the root of a problem on the first attempt.
How to empower contact center agents
Outdated or inefficient contact center technology can really hinder agents' ability to resolve customer issues with speed. But remember: speed isn't everything. Any customer support team that demonstrates speed without empathy runs the risk of becoming known for poor customer service.
The solution to modern customer experience management is intelligent contact center solutions that can empower agents to close tickets efficiently while also offering them the help they need to ensure that customers feel listened to and understood.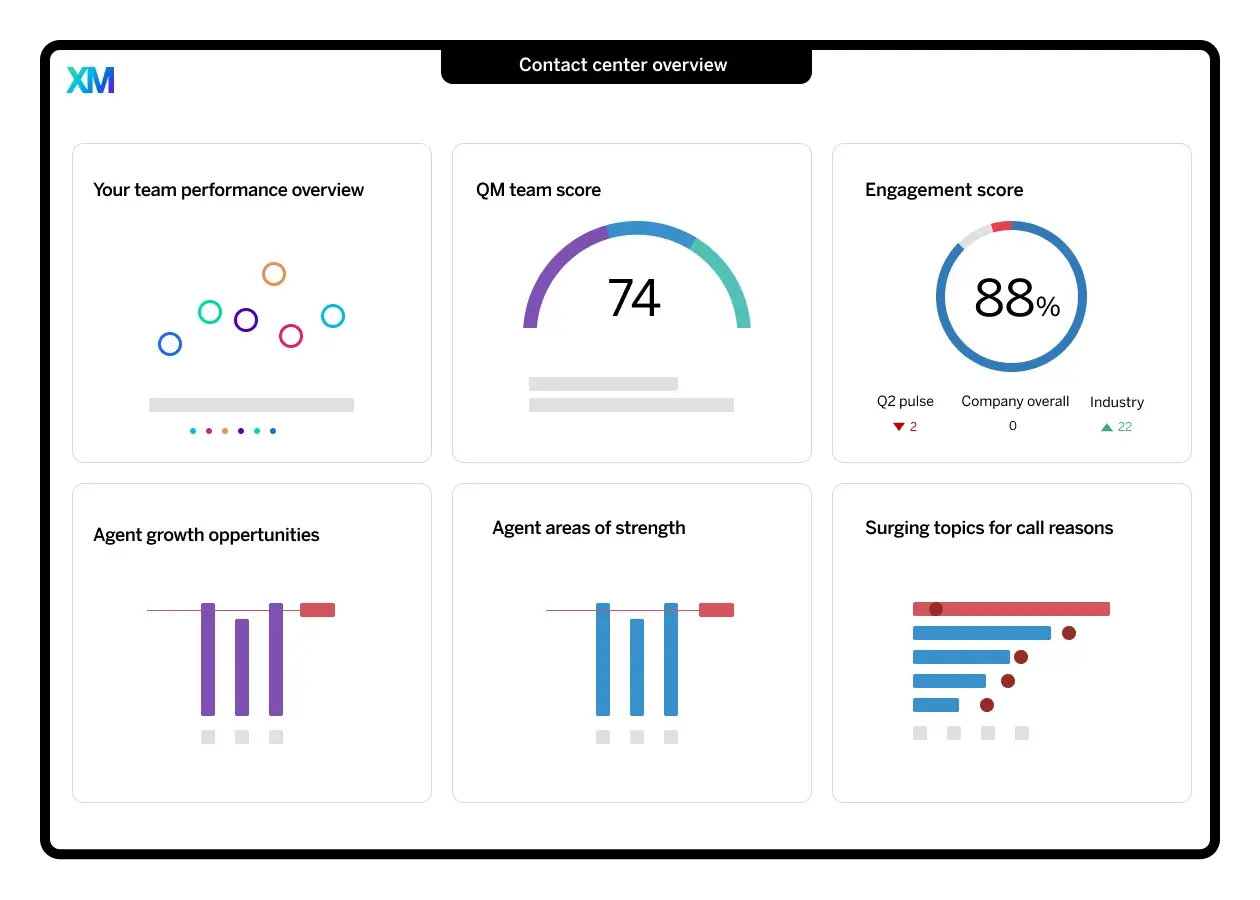 Qualtrics' Contact Center Experience Software is a one-stop-shop customer service portal imbued with AI and natural language processing, which means it can understand every signal in every interaction – across calls and digital – and offer real-time agent assistance. That could be a summary of a given customer's history that stops them from having to repeat themselves, it could be an empathetic nudge to help calm things down, or it could be the suggestion of a personalized offer to help smooth things over.
All customer service inquiries are different so it's vital that you have the right tools on hand to help your customer support agents answer and support requests as best as possible – and at scale. Do that, and you'll boost customer satisfaction, drive up customer retention, and increase your company's ability to deliver a fantastic customer experience.