---
If you want to improve the customer experience you need to understand the journey your customers go through when they engage with your organization. They might be buying a tv, changing their phone subscription or even just buying milk at the local supermarket. There are multiple journeys a customer can go through, which this guide will discuss further below.
Knowing the customer journey helps you identify and take action on pain points in the journey and keep what's working. By doing this you will improve the experience that your customers have, which will have better outcomes for your business.
This process is called customer journey mapping.
What is journey mapping?
Journey mapping is the process of creating a visual representation of customers' processes, needs & perceptions throughout their interaction and relationship with an organization. It helps you understand the steps customers take – the ones you see, and don't – when they interact with your business.
It enables you to assess:
Insights – from your existing customer journey, how to understand it better
Impact – how to optimize budgets and effort for changes we want to make to the customer experiences
Issues/opportunities – Diagnose the existing customer journey
Innovation – where you might want to completely change the existing customer experience
Journey mapping gives you deeper insight into the customer, so you can go beyond what you already know. Many brands see the customer journey as something that is visible – where the customer interacts with the brand. But in reality this is not true and only accounts for a percentage of the entire customer journey. Customer journey mapping gets you thinking about the aspects of the journey you don't see, but have equal weight and importance to the entire experience.
When mapping out the customer journey, you are looking for the moments that matter – where there is the greatest emotional load.
Example
If you're buying a car then the greatest moment of emotional load is when you go to pick the car up because it's yours, after picking the color, choosing the model and waiting for it to be ready.
Ensuring these moments match your customers' expectations of your product, brand and service teams is key to helping you reach your business goals. But you can only do that by understanding the journey your customers go on in order to get there, what they're thinking and needing from you at that time. Journey mapping puts you in their shoes so you can understand them better than ever before.
Aspects of a customer journey map
There are several ingredients that make up the anatomy of a customer journey, all of which should be looked at carefully so that you can find out where the customer journey runs smoothly and meets customer needs at that moment in time – and where the experience does not, and needs improvement.
By understanding their behaviors and attitudes this also means you can fix bad experiences more effectively too, because you know why you haven't met your customers' expectations and what you need to do to make amends. There may be times when things go wrong, but it's how you adapt and what you do to fix these experiences that separates the best. Knowing how the customer will be feeling makes taking that decisive action much easier.
When exploring and visualizing the customer journey we are assessing:
Customer behavior
What is your customer trying to do?
Customer attitudes
What is your customer feeling/saying?
The on-stage experience
Who/what is your customer directly interacting with?
The off-stage experience
Who/what needs to be in place but which your customer is NOT directly aware of?
Example
So what would the beginning of a customer journey look like when buying a car?
Customer journey vs process flow
Understanding customer perspective, behavior, attitudes and the on-stage and off-stage is essential to successfully create a customer journey map – otherwise, all you have is a process flow. If you just write down the touchpoints where the customer is interacting with your brand, you're typically missing out up to 40% of the entire customer journey.
There is no single customer journey. In fact, there are multiple. The best experiences combine multiple journeys in a seamless way to create a continuous customer lifecycle as outlined below.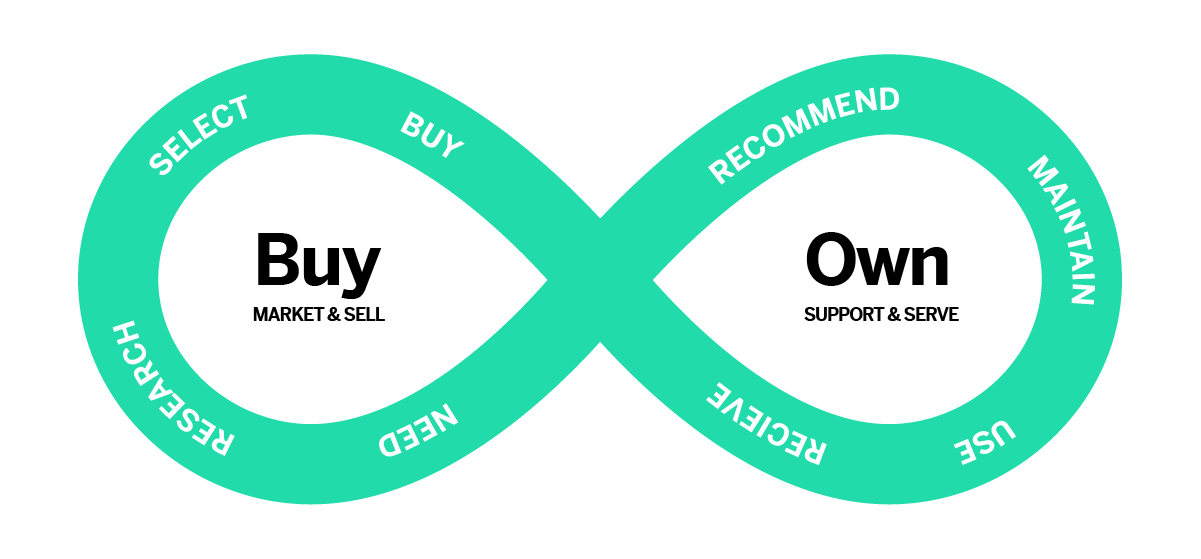 The customer journey mapping process
The step by step process of mapping the customer journey begins with the buyer persona.
Step 1 – Create a customer persona to test
In order to effectively understand the customer journey, you need to understand the customer – and this is where creating a persona really helps. You may base this around the most common or regular customers, big spend or new customers you haven't worked with before. This persona is beyond a marketing segment, but that can be a great place to begin if you're just starting out on the mapping process for your organization.
What do you include? Start with these characteristics.
Name
Age
Job role
Family status
Professional goals
Personal goals
These personas help you gain a deeper understanding of your customers and can be derived from insights and demographic data, or even customer interviews. This works for both B2B and B2C business models, but in B2B especially you'll have multiple customers for each opportunity so it's recommended you build out multiple personas.
To begin, start with no more than three personas to keep things simple.
Create a diverse team
You also need to build out a diverse mapping team to represent the whole business. Include frontline staff, day-to-day management, corporate teams, HR, and business support functions. They will give you vital feedback, advice and perspectives you hadn't thought of.
Every customer journey mapping process should end by asking 'what next?' so you can follow through and take action.
Step 2 – Choose a customer journey for mapping
Then build a behavior line. This might be a new customer journey, renewal, or fixing a product issue. You might also choose this based on the most frequent customer journeys taken, or the most profitable.
Step 3 – Work through the mapping process
Ask yourself the following:
Who are the people involved in this journey? E.g. if you're in a car dealership, that might be the customer, the sales rep, and front of house staff.
What are the processes or the things that happen during this journey?
What are the customer attitudes? What are they feeling at this time? Go beyond excitement or frustration. Bring these feelings to life. This car is my dream come true!
What is the moment that matters? Identify the greatest moment of emotional load. The make or break where everything could be good up until that point, but if you get that moment of maximum impact wrong, then all that's good is forgotten. The best experience brands get this moment right and identifying it is an important first step to achieving that. In that moment, ask yourself what are the things/people/processes involved? Think about this for the whole business – across product, brand and your service teams.
But beyond identifying this moment, you need to establish what your customers' needs are. What are they getting out of this moment? How do their needs change if this experience goes badly? Knowing the answer to these questions can help you deliver experiences that will resonate, and respond quickly to unforeseen circumstances or issues.
And finally, how do you measure how effectively you are meeting customer needs throughout the journey? Set KPIs to put benchmarks in place and track your progress.
Step 4 – Innovate
When you are mapping out your customer journey, brainstorm ideas for how to improve that moment that really matters. These ideas don't need to be practical, but by putting together a diverse mapping team from around the business you can begin to filter through these ideas.
Then, test it.
Ask yourself: Is it feasible? Is it viable? Is it desirable? Don't ask can we do it, ask should we do it? Then you can start to differentiate yourself from your competitors.
Step 5 – Measure
Use the journey map to decide on your measurement framework.
Who are you measuring? What are you measuring? When on the journey are you measuring it? And why? And finally, what metrics and KPI's are in place to measure this?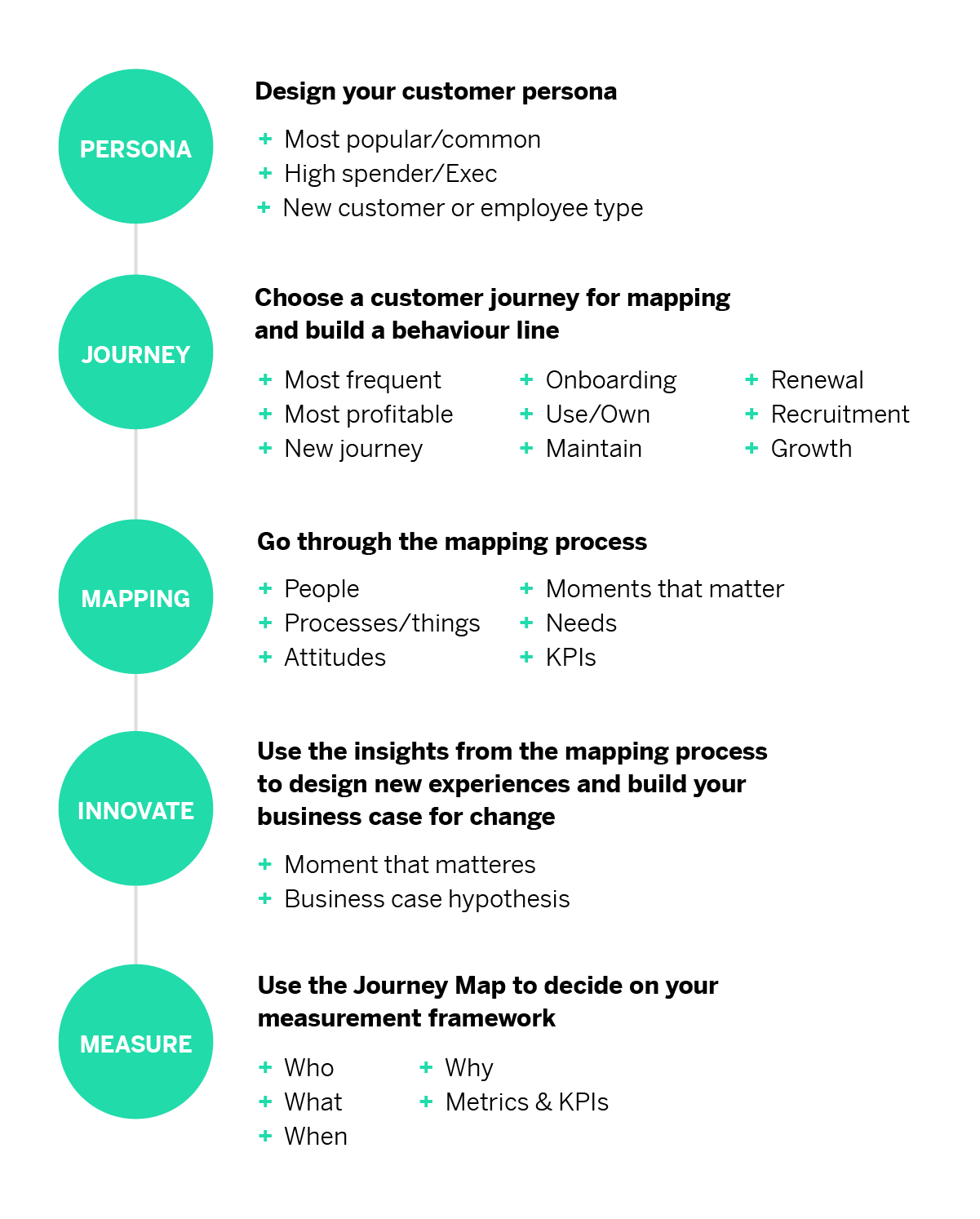 Why use a customer journey map
Journey mapping creates a common understanding for the organization of how a customer interacts during different stages of the customer lifecycle, and the roles and responsibilities of the different teams in charge of fulfilling that experience.
It will also bring an organization together, and foster empathy and collaboration between teams because people will know what is required from everyone in the business to deliver the experiences that customers expect. This will help you to develop a shared sense of ownership of the customer relationship, which ultimately drives a customer-centric culture. With everyone working towards a common goal, communication of what you learn about the customer and the journey they go through is vital in order to drive best practices throughout the organization.
Your journey mapping will influence your journey analytics across the business. So for example, it will determine what you ask, who you ask, when you ask, why you ask it and how you ask questions in your Voice of the Customer Program.
Maximizing satisfaction with customer journeys has the potential not only to increase customer satisfaction by 20% but also lift revenue up by 15% while lowering the cost of serving customers by as much as 20%
The uses of customer journey mapping
So when should you use customer journey mapping?
There are four main uses:
Assess the current state of your customer journey
Understand and diagnose issues in current experiences
Understand what the future state of your customer journey should look like
Design, redesign and create new experiences
Blueprints
For implementing change
Communication
Bringing teams together to train and scale up best practices.
How to improve a customer journey
To improve the customer journey you need a clear vision of what you want to achieve and you need to make a distinction between the present and the future.
What is your customer journey right now?
What does the future state of your customer journey look like?
This is why organizations blueprint their customer journey because they can see what works and then they can design for the future. By understanding your customers' attitudes and needs at critical times in the journey, you can make amends to better meet them – and develop contingencies to cope when these needs aren't or can't be met. For example, during a sudden, unexpected surge in demand.
Use your diverse mapping team to come up with ideas that incorporate experience from all aspects of the business to improve the customer journey – and remember that this has a significant payoff for your employees too. Improving the employee journey – by giving teams the tools to make a difference – can have a positive knock-on effect for the customer and improve their experience in those key moments. This is because employees have the autonomy and motivation in their roles to help their customers, and realize their own potential.
Journey map template
To begin, start by choosing a journey and outline the first step that customers will take. Use this template below to work out the customer behaviors, attitudes, the on-stage and off-stage processes – and the KPI's attached to measuring the success of this experience.
Download your journey mapping template
Tools to help you with your journey mapping
Being able to link operational data to key touchpoints in a customer journey is transformative for organizations. This is because improving segments of the customer journey will see a direct impact on your business. The Qualtrics Journey Optimizer helps you do just that. By analyzing areas for improvement in the customer journey, organizations can take actions that will have maximum benefit for their customers, and the business too.
With Qualtrics CustomerXM, you'll:
Create a common understanding throughout your workforce of how a customer interacts with your organization, and you'll know the roles and responsibilities of your different teams
Develop empathy and collaboration between teams, working together to achieve the same outcome
Develop a shared sense of ownership of the customer relationship which ultimately drives a customer-centric culture