---
What are employee expectations?
Employee expectations are the things that employees expect of an organization, team or role, and they're usually the basis for employee satisfaction or dissatisfaction.
When a company meets employees' expectations, it's generally assumed that its people are satisfied and enjoying a positive employee experience. And as we know, a good employee experience has positive knock-on effects on employee engagement scores, employee satisfaction, customer satisfaction, productivity, and retention.
The three types of employee expectations
1. Basic expectations
When a new hire signs an employment contract, they expect the employer to pay them a set wage at a set time, train them properly, offer a safe and clean working environment, explain company policies, set out their role and job responsibilities, and give feedback that's both constructive and fair. And the employer expects loyalty in return.
Many of these expectations are legal requirements that would harm a company if they were not in place. However, they form the basis of a business that can evolve and gradually grow towards the gold standard of brand equity.
2.'Great to have' expectations
For employees who want more than just a job that pays the bills, they expect their company to go further, and offer:
Great onboarding
One survey found that 31% of people left a job within six months, with 68% of those leaving within three months, citing poor onboarding as the reason. Good employee onboarding — where new hires learn how to do their jobs, how the organization ticks, learn how to fit into their team and truly absorb company culture — is more than the first few days of a job, and should continue for several months, even up to a year.
Great culture
Today's employees expect their working relationships to grow in a meaningful cultural environment. According to statistics from TeamStage, 88% of job seekers, and 94% of entrepreneurs say that a healthy work culture is essential for business success, and that culture has a greater impact on employee turnover than salary and benefits.
Work-life balance
Burnout is a major issue in today's society, so much so that even the highest-paid people would quit their jobs if they felt they were experiencing it. A company that understands the need for work-life balance encourages its employees to work flexible hours and remotely, or perhaps even implement hybrid working. Employees who have work-life balance are far less likely to leave.
Great managers
'People don't leave businesses, they leave managers,' as the saying goes. Employees who rate their supervisor's performance as 'poor' are four times more likely to look for a new job compared to those who rate their supervisor's performance as 'high'; just 10% of those people are likely to seek a new job. In other words: great managers inspire employee loyalty.
Opportunity for growth
Nowadays, nobody wants to be stuck in the same job forever, and millennial and Gen Z workers won't think twice about moving to a company that offers more career development. Employees who feel they are making career progress are 20% more likely to be working at the same company one year on.
Recognition
People stay when their efforts are properly recognized. According to statistics from Zippia, strong employee recognition programs reduce turnover rates by 31% and 80% of employees would work harder if they felt more appreciated.
When you deliver a great employee experience and recognise them for their contributions and growth, turnover decreases and engagement increases. Over time, you'll attract top talent because word will get around that your company is a great place to work, and happy employees serve happy, returning customers, who make the business profitable.
3. Future employee expectations
And there's still more to do. The 2020 pandemic swept through the world of work, demanding whole new mindsets, attitudes and priorities. Enlightened companies realize they have to listen more, learn more and adapt to the expectations of their employees and their customers. To remain competitive, they must build cultures that reflect the changing world and its values.
Today, employees expect more:
Diversity, Equity, Inclusion and Belonging
A diverse workforce brings sharing of unique perspectives and experience, respect of every employee's individual needs, and the ability of everyone to reach their full professional potential without barriers.
Employees now expect employers to create flexible working environments, recruit diverse teams, and train employees to identify unconscious bias and workplace discrimination, all while offering everybody equal opportunities.
Wellbeing
Few employees were physically, mentally or emotionally untouched by the pandemic, which also highlighted the health/wealth gaps in different employee populations. Ensuring employee wellbeing should be part of strategic planning to drive the current and future health of the entire workforce. Employees expect their employer to ensure their physical, mental, financial and social wellbeing. Employers can do this by encouraging and supporting employee behaviors that are rewarding, sustainable, and healthy.
Authenticity
In some corporate cultures, industries and organizations, this is considered 'unprofessional', but remote working laid bare the lives of others. Children, family members, and even pets in the Zoom background; everyone saw and heard intimate details of co-workers' home lives. Not all employees will want to bring their whole selves to work in the future, but many will, and organizations should expect employees' expectations to adjust when it comes to this.
More workplace flexibility
In some countries, working from home wasn't even an option for most organizations and employees, but it had to become a reality. While remote work doesn't appeal to everyone, organizations must anticipate that employees expect more flexible workplace policies in the future. This includes options to work from home several days a week or letting employees tailor their workdays around their schedules.
Greater connection with colleagues
One positive thing to come out of the pandemic was a sense of togetherness and more cross-cultural and global collaboration than ever before. We need to sustain this momentum, and employees now expect to be working with globally dispersed people in different time zones.
The business implications of future employee expectations are exciting. Diverse, inclusive workplaces where employees feel they belong are more productive, reputable and far better at retaining talent. At the same time, those that include great wellbeing programs ensure reduced healthcare costs and the future health of employees, and the greater connectivity we're seeing means there's a wide, global talent pool to work with and recruit from.
How to meet employee expectations
It's important not only to meet your employees' current expectations but also to prepare for future ones. So…
Ask employees for feedback
This might seem too obvious, but surprisingly it's something that many organizations fail to do. You can gather employee expectation feedback easily with direct conversations between employees and their managers but you can take it a step further.
Measure it more systematically with formal listening mechanisms like surveys. Engagement surveys, pulse surveys and 360 surveys to measure performance expectations can all be tailored to have an employee expectations element.
Measure employee feedback – and act!
Employees who are asked for feedback during times of organizational change are substantially more engaged than those who are not, according to one report. Embed specific questions on employee expectations into your surveys: ask about existing measures, canvas opinions on initiatives you're considering introducing, and find out what employees want more of.
A good survey platform can turn responses into qualitative and quantitative data that you can use to measure specific aspects of employee expectations. Implement changes and introduce your initiatives, then continue to survey multiple times after the changes have been in place for a while. The findings will inform how well your organization is managing employee expectations and what remains to be done.
How to manage employee expectations
It's essential to unite your existing employees around your company's cultural values. Most organizations have formal core or cultural values, which were the basis upon which they were founded, and which never change.  These values are, however, different from your company's culture, which is the way the values are implemented. And company culture does adapt and change, for better or worse, with the times and their challenges.
In every organization, there are gaps between the organization's ideal cultural values and the actual subcultures that exist and make up company culture. When employees move to a completely remote working environment, as they had to during the pandemic, there is a unique opportunity to break down entrenched subcultural differences and instead unite employees around those ideal, cultural values of the organization. In short, to improve your organizational culture.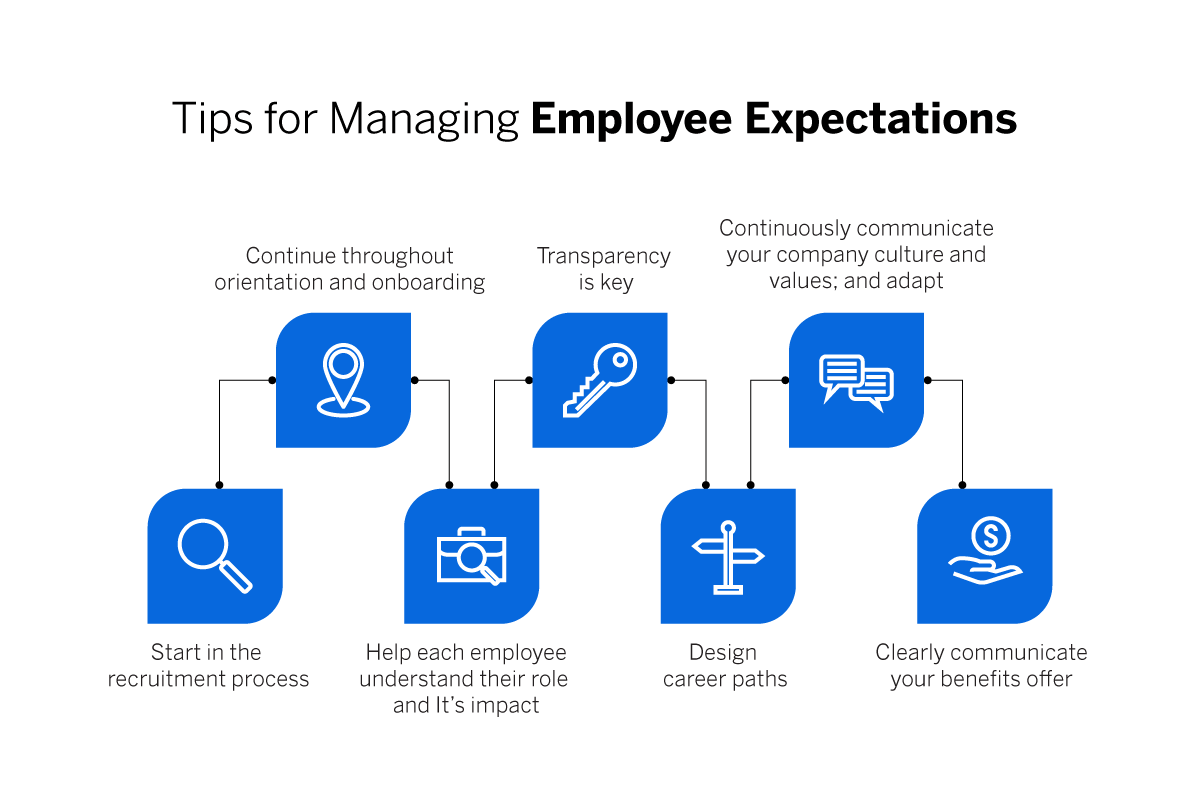 Employees are now getting used to a new, post-pandemic normal. Organizations — and employer expectations — cannot simply revert to what they were in the past as they no longer align with modern employee expectations.
Now is the time to anticipate, measure, and prepare for the brave new future of work in line with your employees' current and future expectations. Our new EX25 solution takes into account the metrics you need to help you capture your employees' expectations and what you can do to meet them beyond 2022.
EX25 is an industry-leading, holistic approach to measuring and optimizing employee experience. Engagement — as a single metric — is no longer representative. Instead, we've created a new set of key performance indicators (KPIs) to simplify engagement and add new measurements of inclusion and wellbeing across the employee experience.
Our team of in-house psychologists also identified the 25 most impactful drivers for these KPIs, which include trust, safety, respect and work-life balance. With EX25, you can understand employee experience every step of the way, and identify where you can drive the most change (and success) for your people and organization.