---
From engagement and retention, to productivity and the bottom line, employee wellbeing is what drives your employees' best work. And when wellbeing at work suffers, so does the health of your business.
Given its importance, we've taken a closer look at some of the key drivers of employee wellbeing, the benefits of supporting wellbeing at work, how the pandemic has impacted employee wellbeing, and what to consider when designing a wellbeing program, plus how to keep improving employee wellbeing at your organisation.
What is employee wellbeing?
The term 'employee wellbeing' covers all aspects of working life: health and safety, the physical working environment, the workplace culture, work-life balance, and employees' job satisfaction. Work environments that foster employee wellbeing – that is, both the physical health and the mental health of employees – deliver positive outcomes for individuals and the organization.  And employees who report positive well-being enjoy positive emotional states and consider themselves more engaged, productive, and more able to face challenges.
One study by Qualtrics found that there are five key factors that impact wellbeing at work:
I feel as if I belong at this company
I can be myself at work
I feel like a valued member of my team
I feel I belong on my team
I'm treated with respect
At Qualtrics®, we measure employee wellbeing at work using a five-point system of indicators. A positive working environment makes employees:
Feel calm
Feel energised
Rarely feel overwhelmed by responsibilities
Feel positive about themselves
Have trusting relationships
Find out what else drives employees in our 2021 Employee Experience Trends Report
The benefits of workplace wellbeing
If an employee isn't feeling their best, physically or mentally, they can't do their best work. Therefore, it's critical to take employee wellness seriously – by investing in wellbeing and mental health resources – to support employees so they can be productive for your business.
Here are some of the benefits of supporting employee wellbeing:
Reduced healthcare expenses
According to a 2010 Harvard Wellness Program Meta Study, for every dollar that's spent on an employee wellbeing program, a company saves $3.27 because of reduced healthcare costs.
Less absenteeism
Wellness programs improve employee health and morale – two factors that decrease absenteeism.
Improved employee engagement
A survey by Virgin Pulse found that 85% of companies say well-being programs support employee engagement. Approximately 42% of the survey respondents reported that their top reason for implementing a wellness program was to improve employee engagement. In addition, engaged employees tend to contribute more than what's expected of them, leading to better job performance and organisational outcomes.
Enhanced employer reputation
The American Psychological Association reports that 89% of employees will recommend their company as a good place to work if the company supports wellbeing initiatives.
Heightened feelings of empowerment
Employees who say their company proactively shares mental health resources are 61% more likely to feel that their company is communicating to them the information they need to look out for their own health and wellbeing.
Avoids burnout
On the other hand, if you don't invest in employee wellbeing, you risk employees burning out, not being as productive as they can, and increased safety risks. These risks include accidents at work, which can have detrimental emotional, physical, financial, and legal implications.
How has the pandemic impacted employee wellbeing?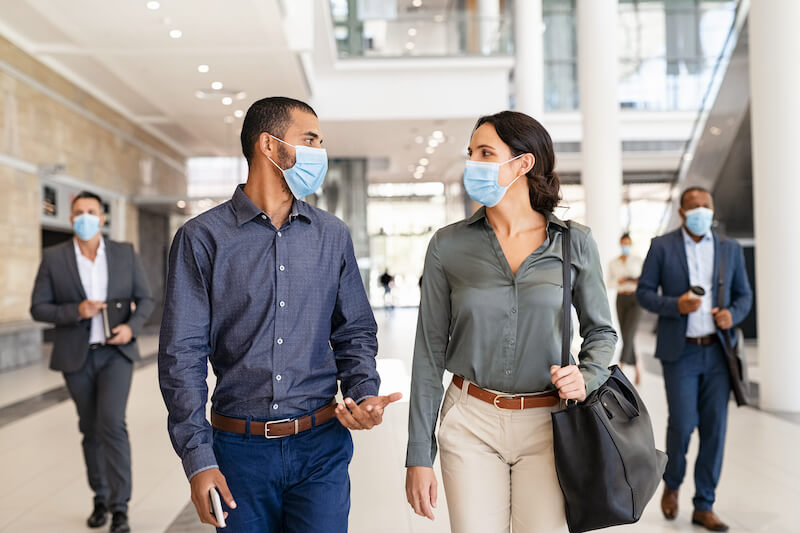 The pandemic – and the pivot to remote and hybrid work – blurred many of our built-in boundaries with work, and knocked work-life balance off-kilter.  Especially for those working from home for the first time, remote working and hybrid work meant more time sitting in front of a laptop – and not knowing how or when to switch off.
Given this, it came as little surprise that a study we recently conducted revealed burnout and workplace stress among the top reasons why employees say they will look for a new job in the next year.
In addition to burnout, a number of other factors have impacted employee wellbeing since the start of the pandemic, including:
Workload
Workload is a powerful buffer to workforce safety, resilience, and wellbeing. Research from our 2020 Global Workforce Resilience Report revealed that employees who were at manageable capacity in terms of workload felt the best about their safety, resilience, and wellbeing. Conversely, those employees with workloads far below their capacity expressed negative views of the same factors.
Being a parent and/or caregiver
Having to play multiple roles at the same time – that is, working from home while also being a parent and/or caregiver – has been extremely difficult for many employees. A recent study we conducted revealed some unfair treatment, in that 45% of working parents felt discriminated against in the workplace as a result of focusing on family responsibilities during the pandemic.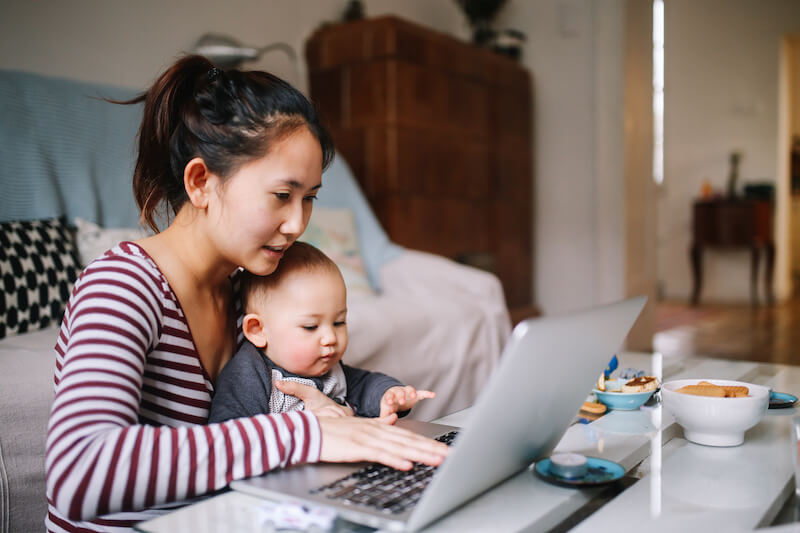 Uncertainty around job security
As we move through the pandemic, workers in some industries feel more secure than others to look for new jobs (hence, The Great Resignation). For others, the pandemic has accelerated plans for automation in their industries, causing workers' concerns over job security and longevity. Still, others view the pandemic-induced shortage of supplies as a factor that might impact their jobs in the near term.
What makes a successful employee wellbeing program?
Whether you're constructing a new program at your organisation, reappraising health insurance plans, or looking to bolster the program you already offer, here are some things your employee wellbeing program should cover:
Physical health
Employees' physical health plays a major role in their overall wellbeing, as well as their engagement and attitudes towards work. When employees fall into unhealthy habits – such as not getting enough sleep or eating diets low in necessary nutrients – not only do they not feel their best, and risk illnesses such as heart disease and other health issues, they can't perform their best at work. Wellness programs and employee wellbeing initiatives such as on-site (or virtual) yoga classes, fitness challenges, nutrition coaching, sleep training, healthy food in staff cafeterias, and more, can help promote habits that support physical health.
Mental health
Workplace stress and burnout are two of the biggest mental health threats to employee engagement.  As mentioned before, employee mental health problems and stress levels have skyrocketed during COVID-19. To help employees cope with stress, wellness programs can offer mental health resources – such as counselling – through an Employee Assistance Program (EAP) or other stress management resources. These could include (on-site or virtual) stress management classes, courses in meditation or yoga, or chair massages – all of which have mental health benefits.
Financial health
Some of your employees might find managing a budget or even paying for everyday expenses difficult, causing financial stress. Offering support around financial wellbeing, such as webinars or online courses, can help employees feel more confident in managing their personal finances – and better prepared for the unexpected.
Social wellbeing
Employees who have supportive relationships in the workplace are more likely to feel connected to their jobs and more engaged with their work. For those employees who lack social connection, wellness programs can help them make like-minded connections in a healthy setting. Whether it's through book clubs, running (or walking) clubs, on-site fitness classes, virtual fitness challenges, or volunteer programs, employees feel more engaged (and happier) when they can connect with their colleagues.
Occupational wellbeing
Wellness and productivity go hand in hand. And working environments affect employee wellbeing.  Employers benefit from supporting healthy habits that boost work performance: for example, companies should be encouraging employees to take regular breaks throughout the day, go for a walk when they are feeling stressed, and provide healthy, energy-boosting snacks in lunch and break rooms.
When designing an employee well-being program, remember to take a holistic approach; the sum of the above components is greater than the individual parts.
Start improving employee wellbeing at your organisation
Now that we've looked at the benefits of, and components for designing an employee wellbeing program, it's time to take action.
Here are five steps to help you boost employee wellbeing at your organisation.
Step 1. Meet employees where they are
Employees' concerns – and what's important to them – will change over time. Listening tools such as pulse surveys allow leaders to tune in to those evolving needs and then act on that feedback accordingly. This goes beyond guessing at the needs of employees – and who we think has those needs – by being more intentional with actions and supporting employee wellbeing in real-time.
Start with listening and understanding the issues affecting wellbeing at your organisation before you start investing in generic programs that may or may not improve wellbeing. Targeted programs are better; when you understand what's affecting wellbeing, you can better target the actions to improve it.
Step 2. Focus on DEI and belonging
Diversity, equity, and inclusion (DEI) and belonging are intrinsically linked, and organizations that work on improving DEI also see benefits to employee wellbeing, as well as employee engagement and retention.
A sense of belonging has a positive effect on employee wellbeing, which is itself an important part of the overall employee experience. Fostering an inclusive work environment is essential, and leaders must demonstrate they are doing this by taking action on whatever insights employee listening throws up.
In our 2021 Employee Experience Trends Report, we found that nearly one in four employees don't feel included or like theybelong at their organisation. Those feelings have a detrimental impact on employee wellbeing – ultimately motivating those employees to look for work elsewhere, at an organisation with a company culture where they feel they can be themselves.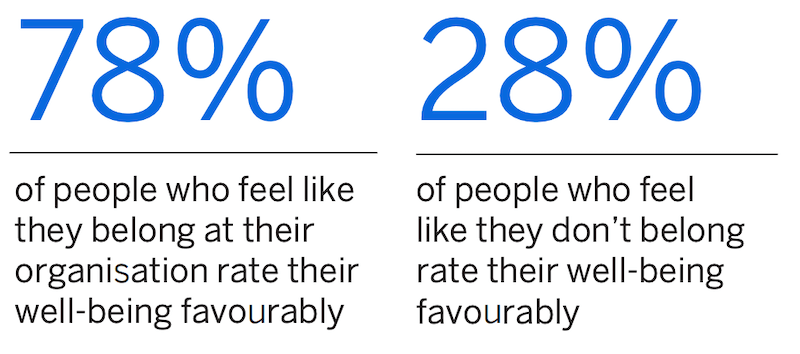 Step 3. Help employees manage their workloads
As mentioned above, an employee's workload has a lot to do with their wellbeing. And our research suggests that there's a sweet spot for employee workload – not too much work to be overwhelmed, but also not too little to be unchallenged and bored.
Open and regular communication between employees and managers can keep workloads at manageable levels, achieve better work-life balance, and help leaders anticipate when an employee might start to feel overwhelmed.
Step 4. Encourage managers to lead with empathy
In addition to workload, managers being more supportive, leading with empathy, and generally understanding and knowing what's going on in each employee's work life, go a long way to support employee wellbeing.
For those working parents and caregivers juggling responsibilities and remote work, having positive relationships with managers who are:
aware of their situation at home
flexible and empathetic
enabling employees to get work done
will help them feel seen and supported. The manager (and organisation) that appreciates the value employees bring is a useful facilitator in ensuring employee wellness. Poor management, on the other hand, leads to disengagement and poor wellbeing.
Step 5. Provide more mental health services as a benefit
From covering mental health-related expenses to additional EAP resources, providing employees with free and easily accessible mental health resources will help to better support their overall well-being.
Measuring employee wellbeing
You've put your employee wellbeing strategy in place as part of your corporate social responsibility; you're looking after your employees' physical and mental health, encouraging them to maintain a work-life balance with flexible work hours, opportunities for personal development, and support for their overall health. But how can you measure a successful employee wellbeing program?
Employee wellbeing needs to be a core metric of your employee engagement model as disruption continues into 2022. Employees cannot thrive or do their best work in a toxic working environment, so active listening and recognising their contributions is essential for employee happiness.
The good news is, employers are listening more to their people: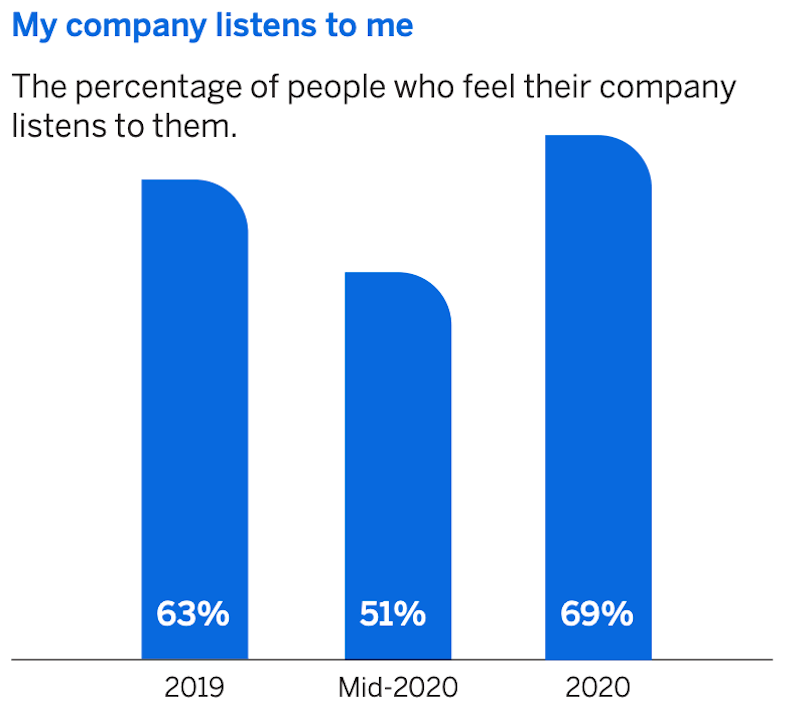 The importance of listening to employees was brought into sharp focus by the pandemic and the sudden need to support employees remotely with safety and wellbeing issues. Pulse surveys were, and remain, the most effective way to 'take the temperature' of employee concerns. This agile, employee listening method came into its own during the pandemic. Appetite for its insights has, if anything, increased as leaders appreciate the amount of information that can be gathered and analysed with pulse surveys.
And employees rate their wellbeing more favourably when they feel their company takes swift action as a result of their feedback: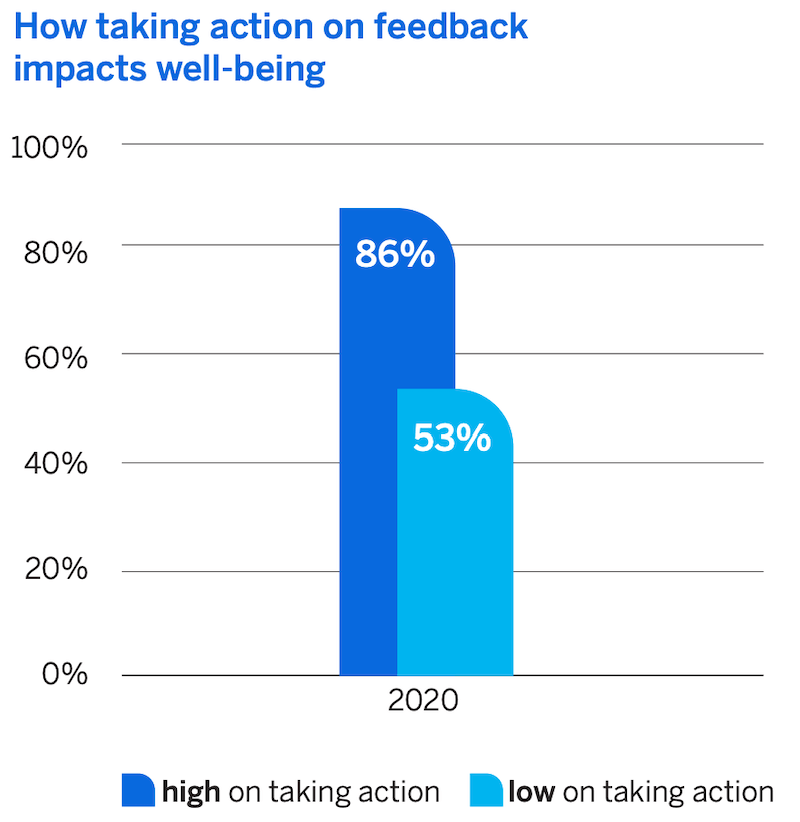 And when you combine your operational (O) data with your experience (X) data on a platform such as Qualtrics EmployeeXM you'll be able to gather continuous feedback from every employee experience. With these insights, you'll be able to take the right actions to enhance employee wellbeing, employee engagement, human resources, productivity, and planning, and put your valuable people first.