Employee Experience
The future of work will be defined by flexibility, mental health resources and leadership opportunities for women
The pandemic has been hard enough on working parents, who have adjusted and readjusted to daycare closures, at-home schooling, and workplace changes. What's more, nearly half of employed moms and dads feel they have been discriminated against at their jobs for focussing too much on their families.
That's according to a Qualtrics study of more than 1200 U.S. residents that was fielded in partnership with the Boardlist, a talent marketplace that connects companies with diverse leaders for board and executive opportunities.
In the past 18 months, women, in particular, have taken on the bulk of child care responsibilities and stepped away from successful careers at higher rates. If leaders want to attract and re-attract top talent in today's competitive labor market, they will need to respond to employees' new expectations for a better work experience.
Here's what respondents said about their changing needs and priorities, including their desires for non-monetary benefits including flexibility, help with child care, leadership opportunities for women, remote work options, and mental health resources.
Discrimination against parents
Having kids undoubtedly impacts professional life, with 45% of working parents reporting they've felt discriminated against in the workplace. Those with senior roles in a company are more likely to feel the pressure.
Working parents at the manager, director, and VP levels were 40% more likely to feel discriminated against than those at the individual contributor level.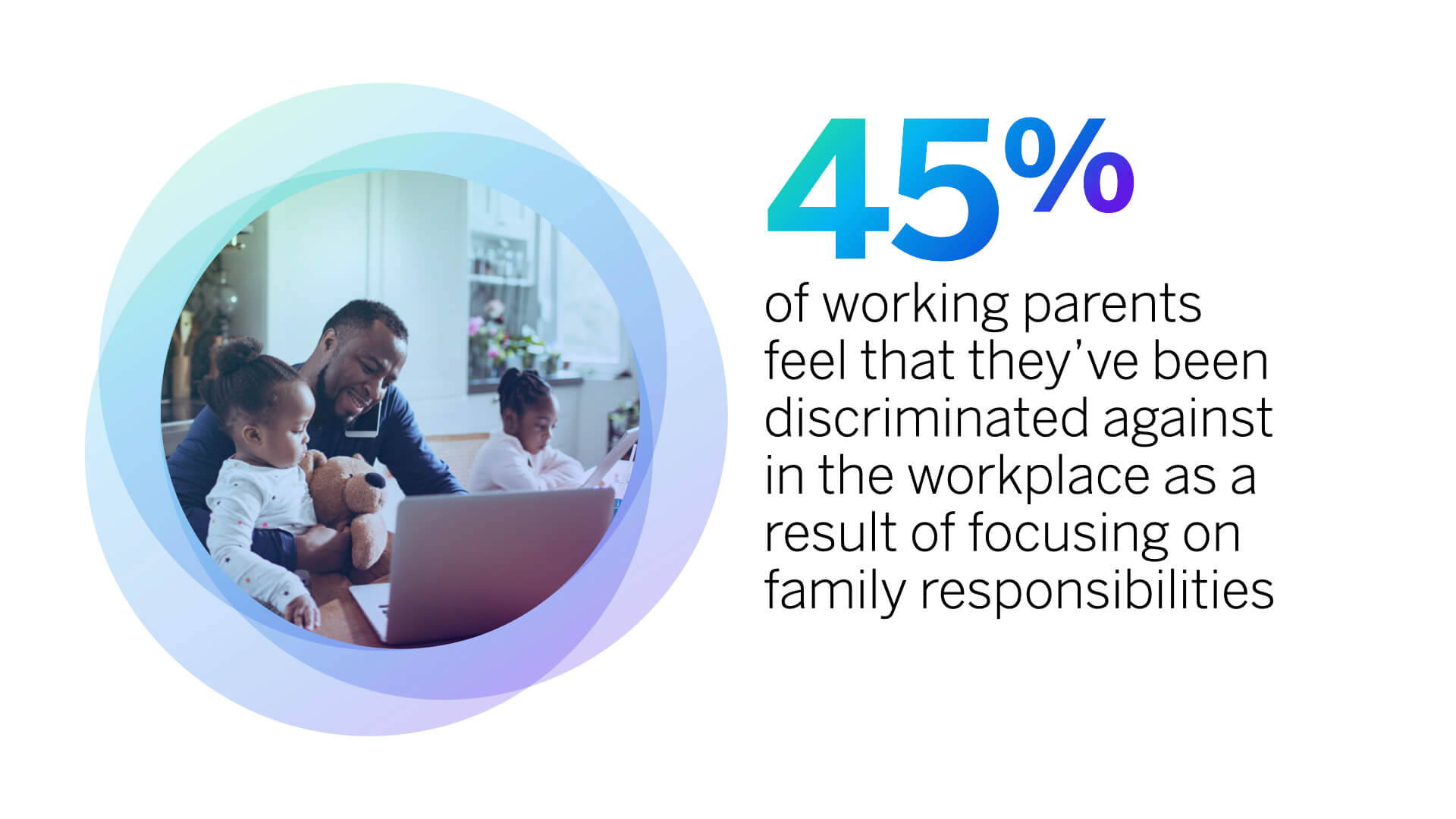 Here are the most common ways parents experience discrimination:
43% say they received criticism inside the company
33% say they were passed over for promotion
32% say they were asked to cut back on hours worked
Child care needs
Alleviating the burden of child care for parents could help working parents stay engaged and attract new talent.
35% of parents with kids at home say they worked more hours during the pandemic, compared to 25% of parents without children at home.
58% of working moms say they had exclusive responsibility for helping their children with remote learning, compared to just 34% of working dads.
More leadership opportunities for women
A majority of employees believe their company is committed to placing women in leadership roles, with most agreeing that having women in leadership improves flexibility and work-from-home options.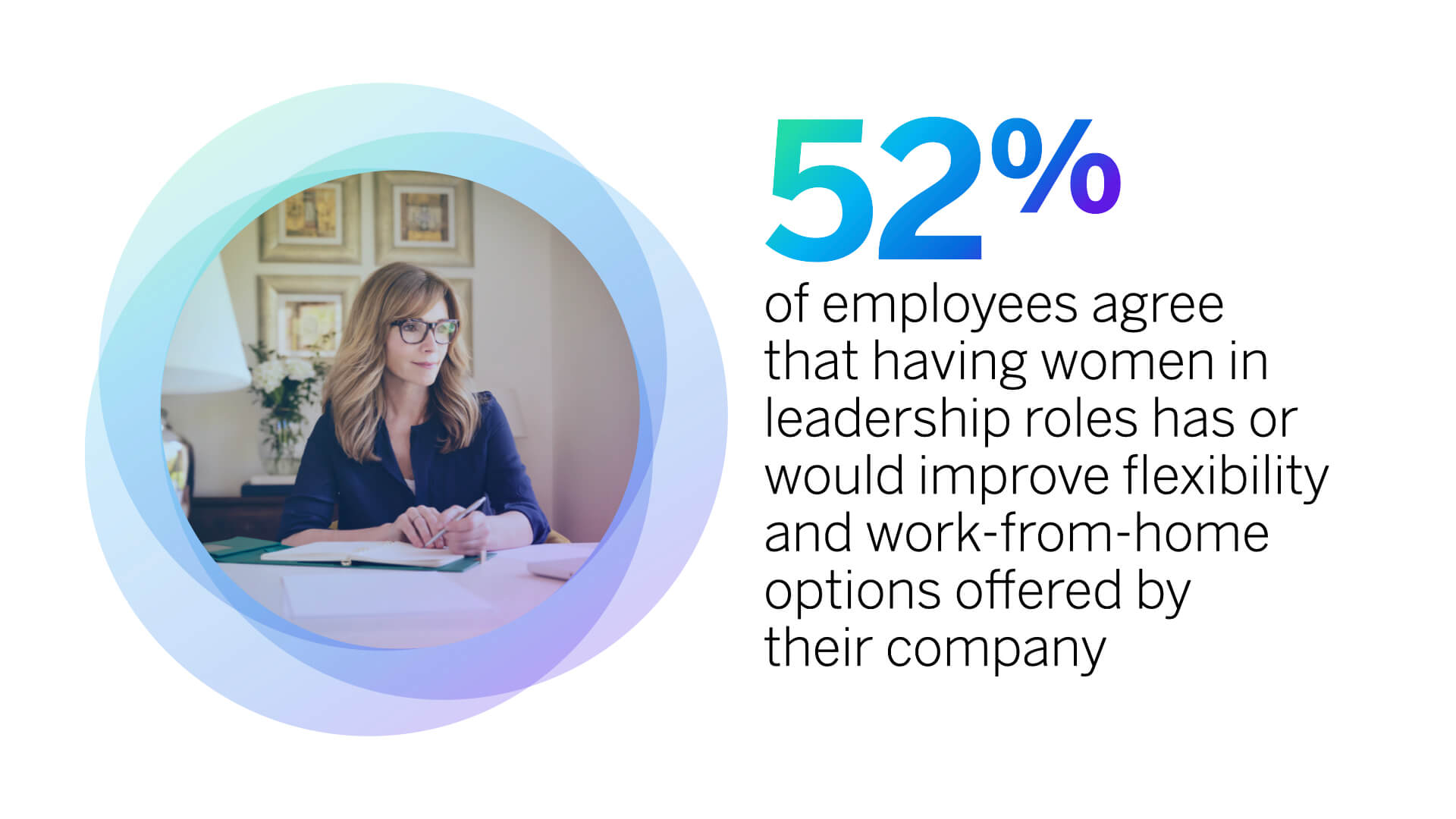 62% of employees feel that their company is committed to placing women in leadership roles
61% of employees say that women are strongly represented in leadership positions within their organization
53% of employees agree that their company has been proactive about increasing the number of women in leadership roles at their company
Employees feel in-person work is a career advantage
During the pandemic, employee expectations shifted away from the office and toward more hybrid and remote models that allow for flexibility. Now as offices begin reopening, employees are feeling pressure to return to the office, even when other options are available.
45% of employees think those who work in-person from an office have a career advantage for promotions and raises compared to remote employees
42% of employees say they feel pressured to work in-person at the office, even when the employer explicitly offers a hybrid or remote option.
The reasons respondents cited as advantages for office work included:
Visibility to leadership
Better access to colleagues for collaboration
Being picked for tasks
Bringing employees back to the workforce
Workers want more flexibility and non-monetary benefits, and they're not afraid to venture into the job market to look for them. In the next 12 months, close to 50% of all workers will be looking for a new job. Getting employees to go back to work might require more than just posting a job opening though.
More than half (54%) of unemployed respondents said they are still deciding whether or not to return to the workforce
42% of unemployed respondents say they would need full flexibility to choose their work model in order to consider rejoining the workforce
Those who left their jobs voluntarily said they would return to the workforce if the following benefits were offered to them:
More flexibility on working hours
Reduced working hours
Increased paid time off
Mental health is in decline, but companies can help
A year and a half of lockdowns, canceled events, and social distancing have taken a toll on mental health, with women and Gen Z most likely to say their mental health has declined.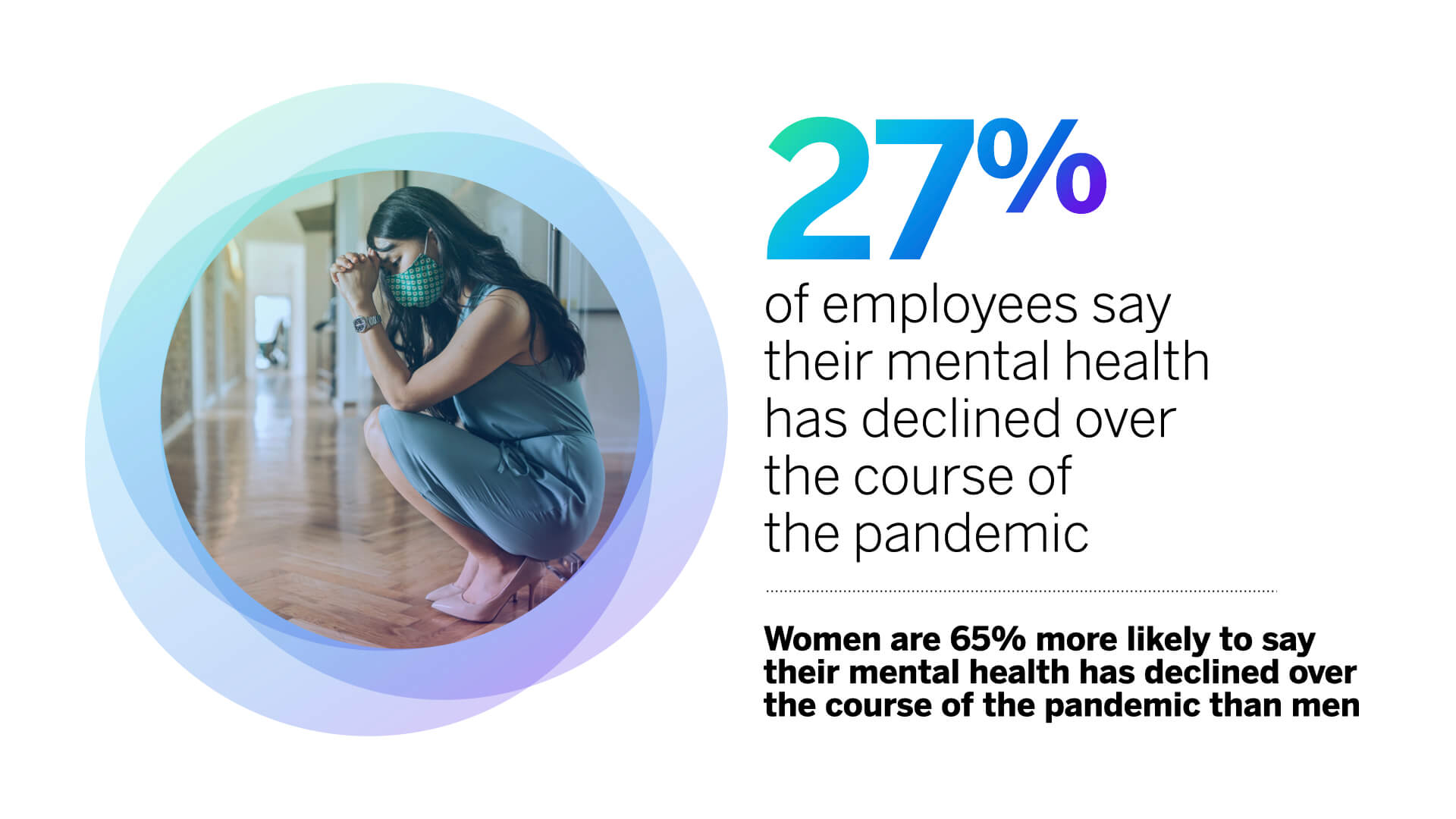 18% of those aged 18-24 said their mental health has significantly declined over the course of the pandemic — roughly double the numbers for the 25-34 (9%), 35-44 (8%), and 45-54 (6%) age groups
Women are 65% more likely to say their mental health has declined over the course of the pandemic than men
34% of separated or divorced respondents said their mental health declined over the course of the pandemic, compared to 25% of married respondents
Working from home, more comfortable environments, and companies providing mental health services are a few things employees want to see when it comes to making improvements.
59% of employees say working from home would improve their mental health

34% of those aged 18-34 said working from home would greatly improve their mental health, compared to 26% of those aged 35-54 and just 13% of those aged 55 and up

78% of employees agree that companies should provide mental health services for their employees, yet only 39% of employees say their company currently provides resources to assist with mental health issues
50% of employees say they'd feel comfortable reporting any potential mental health challenges to their manager
Sharing and listening to concerns
The vast majority (71%) of all employees said they feel comfortable sharing their opinions and ideas with their manager or leadership teams in general, with 64% saying their opinions and ideas are valued by their company. But there are discrepancies between men and women and lower and higher-level employees.
Men are 33% more likely than women to strongly agree that their opinions and ideas are valued by the company
Managers and above are 37% more likely to say their opinions and ideas are valued by their company than individual contributors
As businesses continue to create the future of work, leaders who focus on listening to and understanding employees' needs and work quickly to take actions that will improve the experience being delivered will have a key advantage in this competitive labor market.
Design + Improve breakthrough employee experiences with XM