---
What is meant by employee wellbeing?
The term 'employee wellbeing' covers all aspects of working life: employee health and safety, the physical working environment, workplace culture, work-life balance, and employees' overall job satisfaction.
Work environments that foster employee wellbeing – that is, both the physical health and the mental health of employees – deliver positive outcomes for individuals and the organization.
And employees who report positive wellbeing enjoy better emotional states and consider themselves more engaged, productive, and able to face challenges.
Free eBook: How to create a culture of well-being
The costs of poor workplace wellbeing
Research shows that a workplace culture that doesn't support, sustain, or restore employee wellbeing not only has a human cost, but a financial one too:

As experience management leaders come to understand just how much positive employee experiences contribute to overall employee health and the business' bottom line, they're trying to identify ways to activate and empower employees across the organization to deliver better outcomes.
So, what contributes to employee wellbeing and how can you improve employee wellbeing at your organization?
What contributes to employee wellbeing?
At Qualtrics, we found there are four key factors that impact wellbeing at work:
1. Alignment
Alignment speaks to the fit between the individual, their role and the organization overall. Research shows that achieving a good level of alignment helps to reduce (or buffer against) job pressures.
What alignment looks like:
Employees feel a sense of belonging, understand their promotion path and trajectory, and believe their job makes good use of their skills and abilities.
 2. Support
This category measures employees' perceptions of the availability of continued support, particularly from managers, as well as colleagues and the organization overall.
What support looks like:
Employees can ask and receive support from their managers, feel empowered to push back when overwhelmed, and have access to the best support services, resources and information at the organization.
3. Resilience
Resilience represents the personal resources that help an individual cope and — despite workplace demands — maintain healthy levels of well-being.
What resilience looks like:
Employees have the resources they need to cope with job pressures, bounce back from stress, build on their natural abilities to cope, develop mastery and can deal with and anticipate problems.
4. Balance
Balance is the measure of how well an individual copes with the demands of the job that require sustained effort. An employee's workload becomes negative when the demands and pressures of it exceed their available resources and capacity to meet them.
When these pressures outweigh available resources, employees experience negative health outcomes like stress, anxiety, depression or burnout.
What balance looks like:
When there's balance, employees can complete their tasks within working hours, manage stress accordingly, have time and energy for activities outside of work, and spend little to no time worrying about work in their personal lives.
We measure employee wellbeing at work using a five-point system of indicators. A positive working environment makes employees:
Feel calm
Feel energized
Rarely feel overwhelmed by responsibilities
Feel positive about themselves
Have trusting relationships
Building a workplace that supports wellbeing requires several things — all of which we're going to outline in the following sections.
Why it's important to build a workplace culture of diversity, equity and inclusion and belonging (DEIB)
Diversity, equity, and inclusion (DEI) and belonging are intrinsically linked, and organizations that work on improving DEIB also see benefits to employee wellbeing, employee engagement and retention.
A sense of belonging has a positive effect on employee wellbeing, which is itself an important part of the overall employee experience. It's essential to foster an inclusive work environment, and leaders must demonstrate they are doing this by taking action on whatever insights employee listening throws up.
In 2021, we found that nearly one in four employees didn't feel included or like they belong at their organization. Those feelings have a detrimental impact on employee wellbeing – ultimately motivating those employees to look for work elsewhere, typically at an organization with a company culture where they feel they can be themselves.
That said, our 2022 EX Trends report found that 69% of employees say their organizations have made sufficient progress towards greater DEIB (and therefore, employee wellbeing). Fewer (64%) say that senior leadership's actions show they are genuinely committed to building a diverse and inclusive company.
However, the report also found that employee perceptions of DEIB efforts and corporate social
responsibility have improved year-on-year, and employees recognize and appreciate the efforts their organizations have made.
But to keep improving, DEIB must be part of your employee listening program. Listen to what your people are telling you, understand what they need, and then act on it. It's critical to set bold, but achievable targets. And make sure your leaders, managers and employees are held accountable for achieving them.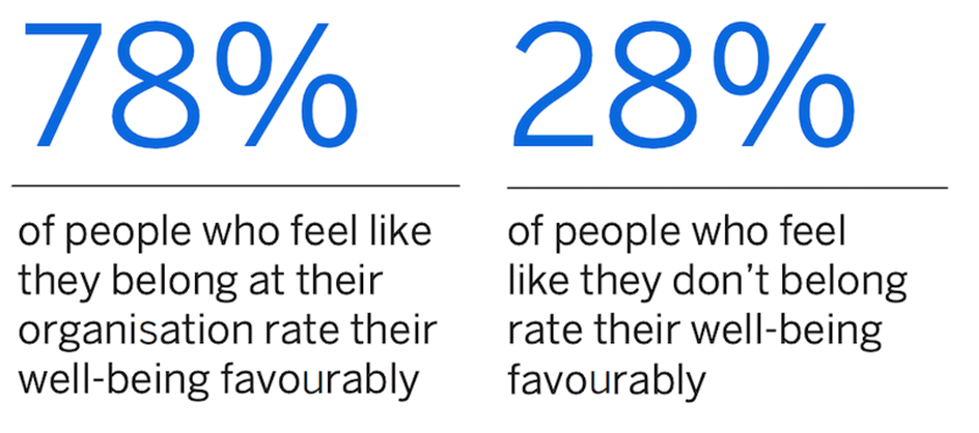 The value of good leadership
Another important part of fostering a great workplace culture and improving employee wellbeing is having great leaders.
Leaders and managers who are supportive, empathetic, understanding and familiar with what's going on in each employee's work life, go a long way to support employee wellbeing.
For example, for those working parents and caregivers juggling responsibilities and remote work, having positive relationships with managers who are:
aware of their home situation
flexible and empathetic
enabling of employees to get work done
will help them feel heard and supported. Similarly, leaders who routinely listen to employee feedback and operate with transparency will help to build better bonds with their teams and empower them to bring their best selves to work.
Managers who appreciate the value employees bring are crucial for ensuring employee wellness. Poor management, on the other hand, leads to disengagement and poor wellbeing.
Ten tips to improve employee wellbeing and engagement
1. Be transparent and open
It's essential to be straight with employees, through the good times and the bad, and people are generally resourceful and resilient as long as they know what they need to be resilient about. Engagement without transparency is little more than a one-way delivery street where employees are not treated as responsible adults. Working in this strange vacuum, with little emotional connection or collaborative input, job performance and employee health suffer.
Instead:
Be upfront immediately with a new hire
Explain the role, expectations, reports, schedules, overtime, communication tools and feedback mechanisms.
Be honest about the state of the business
How is revenue generated? What profit is made each month? How have sales gone? Are there any risks on the horizon?
Communicate
When everybody knows exactly what they are doing, work flows smoothly. Open channels such as Slack allow people to share problems, solutions and the human touch, especially for those who are working remotely.
Have an 'ask anything' culture
When no question is considered stupid, you encourage employees to ask about anything without fear of judgement or misinterpretation.
2. Ensure work-life balance
Work-life balance is essential for employee wellbeing — including mental health, physical health, reduced stress and job satisfaction. There are several ways to encourage and support employees to achieve balance in their lives and avoid burnout:
Offer flexible working hours and remote working
Responsible employees appreciate an employer who empowers them to manage their own time.
Focus on productivity rather than hours
Rather than sitting in the office for an extra hour after completing a task, encourage employees to go home. Chances are they'll stay longer when a task needs finishing and timings will all balance out.
Encourage people to take their breaks
While you can't shoo employees out of the office at lunchtime, or tell them to go out for a walk when a task gets knotty, you can embed positive behaviors and remind them to take a break. Setting an example also works to encourage employees to get some much-needed reprieve.
Check up on workloads
Know who is busy or stressed, and who has spare capacity, and reallocate tasks as appropriate.
Walk the walk
Leave the office on time, take breaks yourself, and keep emails to within working hours.
Make time for ESG
Improve employee wellbeing by encouraging paid time out on volunteer programs in the community or to do some pro bono work.
3. Get senior leaders on board with your employee wellbeing strategy
Promote employee wellbeing to senior leaders so that they get on board with your wellness  initiatives by:
Explaining the business benefits
Highly engaged and healthy employees are much more productive. According to data from Gallup's employee engagement report, companies with a highly engaged workforce are 21% more profitable.
Bringing a solution to a problem
Low productivity, low customer satisfaction scores, poor mental health, and an inability to retain employees can all be tackled by improving employee engagement with wellness programs.
Tying wellness initiatives to business objectives
Employee turnover, growth, profit — when senior leaders can see the positive impact of high employee engagement on key business objectives, they will get on board with wellbeing initiatives.
4. Involve employees in key decisions
When you get employees involved in business decisions, they are invested, feel in control, and take ownership. This leads to job satisfaction, and can boost employee wellbeing.
Things you can do as a leader:
Encourage employees to set their own performance targets and goals
Hold strategy days for teams to set their own goals and direction
Run employee pulse surveys to gather feedback before decisions are made
5. Set up two-way communication
Two-way communication shares information back and forth between two people. Rather than management issuing one-way demands and orders, two-way communication lets employees give their input, and both parties can listen and question. It builds trust and helps improve the free flow of ideas in the workplace.
To encourage two-way communication:
Take an interest in employees as human beings rather than machine cogs
Practice active listening
Use varied channels such as email, chat groups such as Slack, social media, one on one meetings
Gather feedback with always-on systems
6. Establish decentralized learning and development practices
In addition to training courses financed by HR,encourage employees to take ownership of their personal development:
Let learners choose their own learning needs and methods
Encourage collaborative learning through sessions where employees share their knowledge and expertise so that team members learn from their coworkers
Use a mobile learning solution so both in-house workers and remote employees can study anywhere
7. Bring in mentoring, peer support or buddy support systems
Few people exist happily in isolation. You can promote employee wellbeing and mental health support by ensuring employees always have supportive relationships with somebody to talk to and learn from:
A buddy system for new hires enhances your onboarding process, making people feel welcome and that they belong
Peer support, where employees talk to an understanding co-worker rather than a manager or professional, can be enormously helpful for tackling mental health and physical fitness challenges
Mentoring is neither coaching or counseling. Instead, it's a collaborative relationship where the mentee learns, grows and develops with the wisdom and experience of the mentor
Mental health support which encompasses not only talking, listening, and identifying stress triggers, but also proven preventative physical wellbeing measures, such as flexible work schedules, walking meetings, a gym membership and healthy snacks
8. Invest in a comfortable working environment  
Nobody does their best work in a cubicle farm or windowless, air-conditioned basement. Research shows that a comfortable working environment is important for:
helping employees to focus, perform and do their job well
enjoying quality of life at work, and job satisfaction
better all-round organizational performance
A clean, tidy office space or remote workspace — perhaps with standing desks and healthy food in a staff canteen — will boost morale, decrease stress and encourage healthy habits that will improve employee wellbeing.
9. Give everybody the best tech
Hybrid work is here to stay. And as we all know, the frustration of tech that doesn't work or connect properly can have a massive impact on employee stress levels and mental health. Businesses that want to get their hybrid work model right must develop world-class digital experiences that enable both in-person and digital collaboration.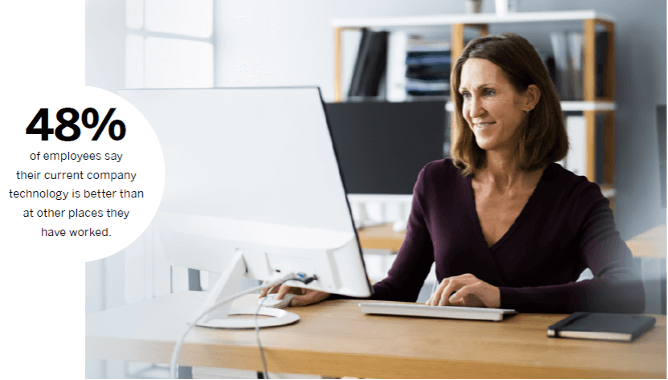 To improve the employee tech experience:
IT and HR leaders must work together to take more effective action on the experience data they collect
It's time to design a hybrid workplace experience that works for everyone, no matter
where they're working
10. Run regular surveys to pinpoint what's affecting employee wellbeing — then act!
For organizations to address employee burnout (and attrition) they have to work hard
at the root of the problem — counteracting toxic cultures that reward workplace martyrdom over self-care (and self-awareness). While days off and mental health apps help, it's vital that organizations listen to understand what's affecting employee wellbeing.
For example, running regular employee surveys where your people can speak their minds and tell it how it is and using listening tools to gauge the entire experience, allows you to understand how employees feel.
You can use:
What tools can you use to measure employee wellbeing?
All these surveys need a powerful analytical platform behind them so you can extrapolate the data and pinpoint where employee wellbeing issues lie.
When you use a solution like the Qualtrics Employee Experience Management platform™, which has measurements on inclusion and wellbeing included as standard, you'll be able to tell from survey responses and 360 feedback how your employees are feeling, and pick up the first signs of employee unwellness, ready to take action immediately.
And when you combine your operational (O) data and experience (X) data, you'll also be able to pick up signs of employee unwellness with metrics such as absenteeism, employee turnover, customer satisfaction, and employee engagement. Combining O and X data gives you a more holistic view of your organization so you can step in and remedy problems before they burn out your employees.