---
What is a positive work culture?
In a nutshell, a positive work culture is one that prioritizes the well-being of employees and has organizational policies that encourage respect, equality, inclusivity, trust, empathy and belonging at  and for all people.
As a result, employees at organizations with positive work cultures feel treasured, valued and supported, and are nurtured — and assisted — to achieve their full potential.
So, how does your organization stack up?
Free eBook: Creating a culture of well-being
Seven signs of a positive work culture
1. Your people feel valued
… by their leaders, direct reports, and peers. They are:
heard
appreciated
trusted to work autonomously
feeling a sense of belonging
2. Your people believe in the company's mission and purpose
Many employees want to feel that their daily work makes a difference to clients, customers or the world as a whole. Otherwise, they'll gradually disengage while the job becomes meaningless and stale.
3. The team works
Team members trust each other, communicate effectively, share ideas and feedback freely in a safe, inclusive space, and are empowered to make good business decisions.
Engaged employees who enjoy their working environment are more likely to manage workloads and timelines, and look forward to seeing their co-workers.
5. Leaders are trusted
Positive work cultures are led by a C-suite and managers who genuinely have employees' best interests at heart, and care about them.
6. There's a culture of employee growth
Not just professionally, but personally too. A positive culture will not only challenge and develop its employees as individuals, but also help them build their career and advance further into the organization.
7. There's recognition and reward
Rewards and recognition come in many forms: more challenging work, the opportunity to train or lead others, a dream project, a simple thank you, a bonus, pay rise or a promotion. At the same time, there are methods of informal recognition — such as thank you notes, kudos, words of praise shared with leadership or an internal recognition program.
But whatever the form, rewards and recognition make your people feel good — and people who feel good are more likely to go the extra mile, which in turn leads to business success. Overall, it's all about making employees feel valued and appreciated for their work.
Check out three leading companies getting their work cultures right!
What is the return on investment (ROI) and business impact of a positive workplace culture?
A positive work culture plays an integral role in employees' overall job satisfaction and success. When people feel their needs and values fit with those of their employer, they're more likely to love going to work, get on well with their co-workers, and be more productive.
And that's not all — there are even more plus points of positive workplace cultures:
Higher employee engagement
Employees who enjoy their jobs are more engaged, and 94% of executives and 88% of employees believe a positive workplace culture is a core part of business success.
Reduced stress
Work-related stress and mental illness due to toxic work cultures costs US businesses more than $300 billion a year. A positive company culture, on the other hand, will alleviate stress, not cause it.
Better wellbeing
Research from Mind found that 60% of employees said they would be more likely to recommend their organization as a good place to work if their employer acted to support employee wellbeing.
Increased retention
When employees connect with the organization's culture, they tend to stay – increasing retention rates and lowering costs associated with hiring.
Increased productivity
When employees are aligned with the culture and engaged with their work, companies see higher levels of productivity. A team-orientated company that hires people who thrive in a collaborative environment will help drive productivity.
Increased revenue
Engaged employees help drive business results, with engaged workplaces being 21% more profitable than those that are not.
Easier recruitment
According to a study by Glassdoor, 79% of adults would consider a company's mission and purpose before applying for a job there, while 77% would consider a company's culture. Clearly, the more positive a workplace culture is, the more attractive it is to candidates.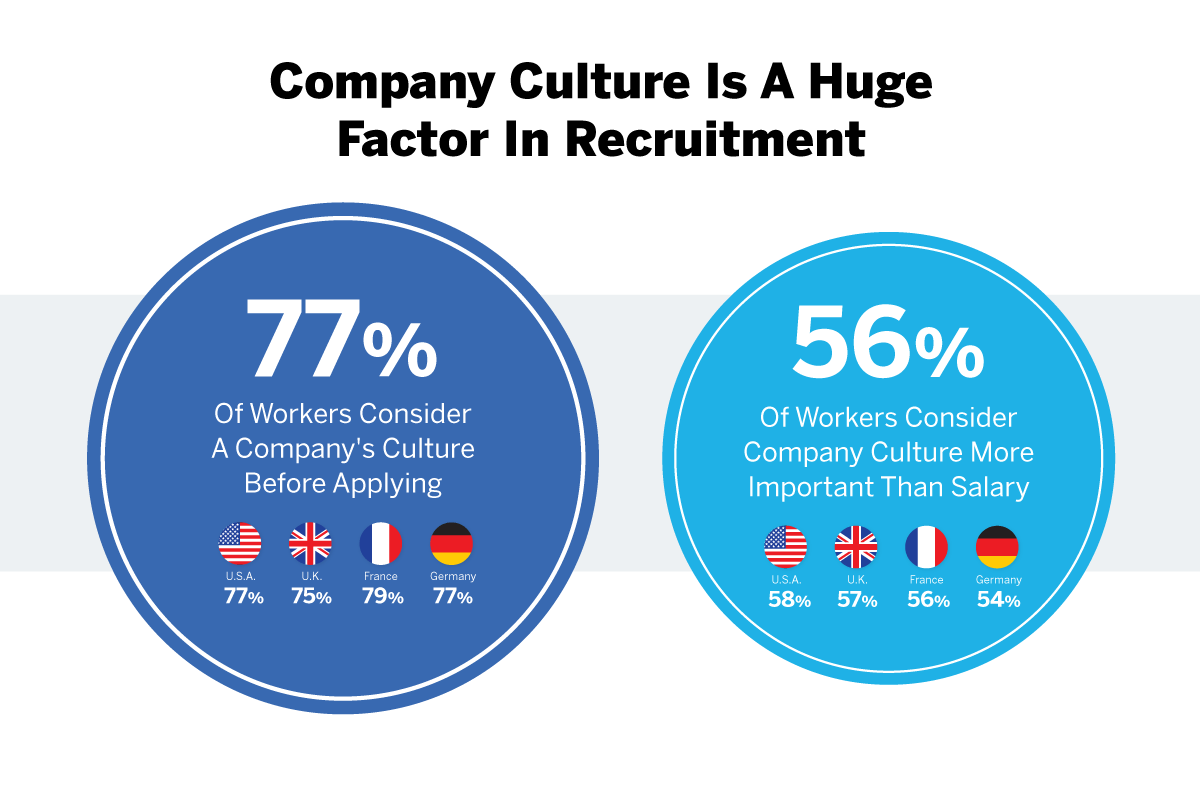 A toxic work culture, on the other hand, will make a massive dent in the bottom line. One report revealed that workplace toxicity cost companies $223 billion over five years.
What drives a positive workplace culture?
So now you know the ROI of developing a great workplace culture, how can you implement better workplace practices and drive your efforts?
Knowing core values — and practicing them
A company's core values really matter. They define a business's identity and purpose, which are usually included within a company's mission statement, and are the heart of workplace culture.
Core values should be inspiring, guiding, and uniting to encourage employees.
Developing a sense of belonging
Belonging emerged as the top employee experience driver linked to engagement and well-being, according to our global study. People who feel like they belong are almost three times as likely to have a greater sense of well-being: 78% versus 28%.
Factors that people say make them feel like they belong at their organization include:
Employee pride in ESG — making a positive difference in the world
Open and honest communication
Feeling like a valued member of the team
Feeling supported in adapting to organizational change
Belief that their company is one where everyone can succeed to their full potential, no matter who they are
A determination to promote diversity, equity and inclusion
Also, employees who feel strongly that they belong perform better and stay longer with a company. They are at 50% lower risk of turnover and have 56% higher performance than employees who feel that they don't belong.
And employees who feel a higher sense of belonging are 167% more willing to recommend their employer to others than other employees who feel like they don't belong.
Download our guide 'How to build bravery and belonging' to help you take the next steps in fostering belonging and bravery in your teams and organization.
Fostering collaboration
Evidence suggests that collaboration can truly revolutionize workplace culture and offer a competitive advantage. Close collaboration is key to a more productive, transparent, innovative and happier.
When employees collaborate by sharing skills and ideas, they connect with each other, are more engaged, and contribute to a company culture of growth and innovation. This has a proven impact on employee retention and organizational success.
Collaboration…
Bridges silos
Reduces isolation
Improves communication
Helps with problem-solving
Disseminates knowledge
Reduces burnout in high-pressure companies
Helps teams own their achievements
Building open lines of communication
Honest and transparent communicatio n is the bedrock of effective professional relationships, and essential for business success. It's also vital for team building, effective management, training and development, positive social connections and delivering great customer service.
Good communication contributes to a positive workplace culture as it ensures employees are heard, and managers and leaders understand their needs. This ultimately reduces misunderstandings and resulting conflict.
Recognizing and appreciate employees
Everybody feels happier, more motivated and more engaged when they've had some appreciation. Let's hear it for those poor 65% of people who received no recognition for good work in their workplaces in the last year.  From a simple 'great job!' Slack message to an Employee of the Month award, appreciation reinforces commitment to a company and encourages productivity. Appreciate and reward your employees with:
Peer to peer recognition
Shout outs in team meetings
Employee appreciation events
Feedback tools
Thank you letters
Out of office trips
Investing in well-being
Positive workplace cultures that foster employee wellbeing – that is, both the physical health and the mental health of employees – deliver positive outcomes for individuals and the organization. Employees who report positive well-being and work-life balance enjoy positive emotional states and consider themselves more engaged, productive, and ready to face challenges. These organizations also report less workplace stress, fewer workplace accidents and better performance outcomes than other organizations.
One study found there are five key factors that affect well being at work, and are markers of a positive workplace culture. These are:
I feel as if I belong at this company
I can be my authentic self at work
I feel like a valued member of my team
I feel I belong on my team
I'm treated with respect
Treat everybody equitably
A culture of diversity, equity, and inclusion is not only critical to the success of diversity initiatives but creating an equitable and inclusive workplace also creates a positive employee experience which in turn contributes to a positive culture.
There are 5 steps your company can take to build a culture of inclusion:
Support employees to feel like they belong
Use data to get to know your team's diversity experiences
Champion DEI company-wide
Champion diversity of thought in your teams
Communicate rigorously and candidly on your progress
Find out how to create a destination workplace
Go beyond measurement
When organizations have strong, positive work cultures — employees are much more likely to be engaged and go above-and-beyond what's normally asked of them.
With this in mind, it's crucial that organizations have a read on how employees feel about their experiences, and what they need to feel included, championed, supported and empowered.
However, simply measuring the employee experience isn't enough. Sure, you can measure engagement with employee engagement surveys, and choose to include questions about all aspects of work culture and work environment, but what's critical is that you go beyond that.
Measurement is just the beginning. With the right approach and system of action, you can start to use insights gleaned from employee surveys to create incredible employee experience strategies that set your organization apart from the competition.
That is experience management — and it starts with tools like Qualtrics EmployeeXM.
With Qualtrics EmployeeXM™, you can gather continuous feedback from every employee experience to take the right actions to impact engagement, talent planning, productivity, and innovation.
Ultimate listening engine
No matter where your people are, hear every voice in your organization with a listening engine that ensures you can take action when and where it matters most. With relational census and pulse to multi-rater and always-on feedback, you have the tools you need to understand and design unique, high-quality experiences for every employee.
Fix problems before they become widespread with advanced statistical analysis and human language tools that automatically model your experience and operational data to surface areas of opportunity.
Drive immediate and meaningful change with guided manager action planning and real-time workflows that support third-party integrations. This means you can get insights to frontline managers right away and close the loop on every employee experience.
Qualtrics EmployeeXM empowers you and everyone in your organization to take the actions that put your people first, and turn employees into ambassadors.