---
What's the definition of a toxic work culture?
A toxic environment is characterized by negativity, dysfunction, and a lack of trust. This can manifest in a number of ways, including bullying, harassment, and discrimination. There may be a lack of transparency or low levels of respect in all parts of the organization, as well as high employee turnover and a lack of work-life balance.
Free eBook: How 3 leading companies get culture right
What are the dangers of a toxic culture?
Toxic workplaces can have a hugely negative impact on both individual employees and on the organizations as a whole. Employees who are subjected to a toxic workplace culture are more likely to suffer from stress, anxiety, and depression, as Verywellmind reports. They're also more likely to take time off work, or to leave the organization altogether.
MIT Sloan reported that 'toxic culture is driving the Great Resignation,'. Their research found that a toxic corporate culture is 10.4 times more likely to predict a company's attrition rate than compensation, and that toxic cultures are the number one predictor of employee turnover in US companies. The research covered both blue-collar and corporate employees in industries ranging from apparel, retail and fast food services to tech and investment.
Indeed, organizations with toxic workplace cultures often find it difficult to attract and retain talent. They also tend to have higher levels of absenteeism, and lower levels of productivity. In extreme cases, toxic workplace cultures may even lead to legal action being taken against the organization, as in the case of Abercrombie and Fitch (2004).
Furthermore, the costs are as much financial as they are human; SHRM's 2019 report, The High Cost of a Toxic Workplace Culture, found that toxic workplaces cost businesses in the US $223 billion over 5 years thanks to employee attrition. They found that 1 in 5 employees had left a company due to its company culture.
Signs of toxic culture
There are several warning signs of workplace toxicity. Some of the most common include:
A lack of trust between employees and management
A feeling of being undervalued or unappreciated among employees
A competitive or "cutthroat" environment with hurtful office gossip and negative behavior going unchecked
A lack of transparency from management
Employees who dread going to work and experience the 'Sunday night blues' ahead of Monday mornings
Micromanagement from superiors
Blame culture, where problems and failures are attributed to individuals rather than situations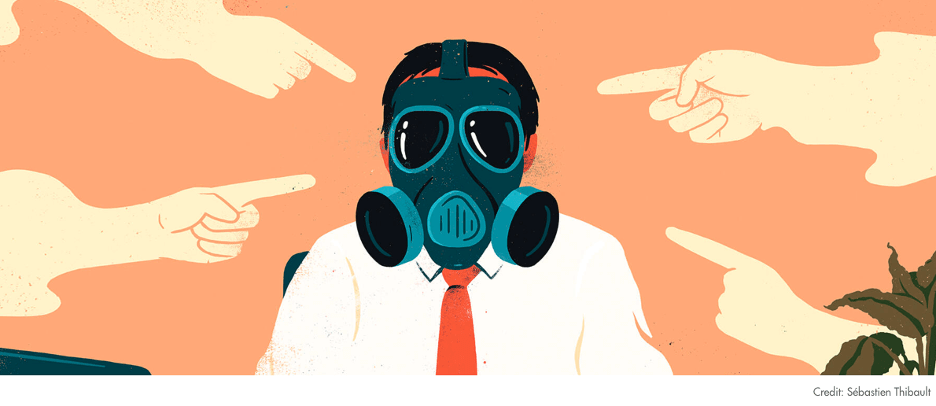 MIT Sloan's research found that the three core components of toxic culture – the 'dark triad' – are:
Failure to promote diversity, equity and inclusion
Workers feeling disrespected
Unethical behavior
However, among employees surveyed by SHRM, having a bad boss is also a big part of the picture: 58% said that a bad manager was the primary reason they left ​a toxic workplace.
How to change toxic work culture
It may not be a quick fix, but as an employer there are a few things you can do to create a healthier workplace culture. Even the most nurturing and innovative cultures take work to maintain, so the habits you prioritize now can form the foundation of a continuous program of improvement. Consider it the start of a journey that will end in a much better place than it began.
Here's what you can do:
Make sure you're clear about your company's values. Employees should be aware of what your business stands for, and its values should be reflected in day-to-day operations.
Promote a healthy workplace culture by encouraging open communication and collaboration, and by ensuring that employees feel like they have a voice in the organization.
Set your expectations and communicate them regularly. Employees should know what the standards are and what behavior is expected of them.
Remember that a healthy workplace culture starts at the top. As an employer, you set the tone for the rest of the company. If you're respectful and professional, your employees are more likely to follow suit. If you model positive behavior and treat your employees with respect, you'll create a much healthier workplace culture overall.
Above all, listen to your employees and act on their feedback. Experience data from your people is some of the most valuable information at your disposal, not only for maintaining a strong culture, but also for retaining talent, improving work-life balance, boosting engagement and fostering innovation.
Finally, create an environment where employees feel secure in voicing their thoughts and feelings even if they go against the majority. This is vital both for employee experience and for innovation, and for highlighting when employees feel overwhelmed.
Your people should never fear retribution for speaking up!
Taking action against toxic work culture
If you've identified elements of toxic culture in your company, there's no time to lose. It makes sense to start small, since toxic traits in the workplace can be pervasive and complex. While you won't fix the ultimate problem immediately, you can begin making life easier at work for employees, managers, and everyone else. Some ways to do this include:
Naming the problem
By encouraging open communication between employees and management about the current culture, you can begin to win trust through transparency
Promoting a healthy work/life balance
If your people are dealing with a toxic work environment, it's important to create a good quality of life outside the workplace. You can do so by encouraging employees to make use of paid time off rather than pushing presenteeism.
Fostering a positive and supportive work environment
It may sound a little cheesy, but making and stating your commitment to positive change and emphasizing that management's door is always open is a step in the right direction.
Encouraging employees to give feedback
You're aware there's a toxic work environment, but do you know what kinds of employee experiences are contributing to it? By welcoming, acknowledging and acting on honest employee feedback, you can get a better grip on the problem while strengthening trust and communication at the same time.
Offering opportunities for growth
Focus on the future and make a commitment to your employees by offering them development and training opportunities that support their career goals. Help them envision their future trajectory, whether it's at your company or elsewhere. You may even find it has a positive effect on employee retention.
By taking these steps, you can start to create a positive and productive work environment for your employees – and your business.
Companies that get company culture right
Japan Airlines
In 2010, Japan Airlines was bankrupt when it took on a new CEO, entrepreneur and Kyocera founder Kazuo Inamori. Taking the helm, his first priority was to communicate his commitment to his employees. "The purpose of management at the newly reborn Japan Airlines is to provide opportunities for the material and intellectual growth of all our employees," he told colleagues.
With compassion as its core value, Japan Airlines became solvent within two years. Part of its cultural transformation was Inamori's 'Amoeba Management' philosophy, a devolved system of management that focuses on empowerment and autonomy.
Brewdog
Scottish beverage company Brewdog was accused of toxic workplace culture in an open letter from employees on Twitter which led to an investigative documentary on the BBC. Despite refuting the substance of the documentary, Brewdog took the employees' accusation seriously and began taking action on the complaints, which included issues of health and safety, putting profit before people and failing to live the company values.
Brewdog's leadership has since overhauled its approach by making changes to the employee experience and benefits packages in a new People Blueprint. Employees now receive substantial shares in the company and bar staff receive 50% of the profits from each Brewdog bar.
Traeger
Traeger, a US manufacturer of outdoor wood-fired grills, saw its toxic work environment reach a spectacular nadir when one of its trucks was set ablaze outside the HQ in Oregon in 2014. With employee dissatisfaction reaching fever pitch and a mutiny on its hands, the company's leadership was struggling to form a united front and failed to gain a foothold on the corporate culture, outdated process and a disjointed customer experience.
With substantial personnel changes, a move of the HQ from Oregon to Utah and a shift in majority ownership, new CEO Jeremy Andrus was able to turn things around. Five years on, the company's profits had grown from $70 million to $400 million. It went public in 2017.
The power of company culture
A company's culture is often difficult to define. This is partly because culture itself tends to be unspoken – it's not the values championed on your website, and it's not what's written in the employee handbook. Instead, company culture is a nebulous set of interpersonal norms that determine how we behave at work, and how we treat one another.
As SHRM describes, culture depends on a group's basic assumptions about a number of things, including emotion (which emotions it's acceptable to express), human nature (whether people are inherently good, bad or neutral), success (what this looks like and how it's measured) and the organization's relationship to its environment.
However nebulous it may be, company culture has a profound effect on a company's ability to perform, excel and even survive. Generally, it starts with the senior leadership team, slowly cascading down to the wider workforce.
Companies with a strong culture are often united by a common perspective and a mutual commitment to improving things – whether that's investing heavily in DEI initiatives or driving corporate sustainability.
At the same time, these companies try to look after their employees, who as a result are more engaged and tend to give their all for the company.
Furthermore, a positive work culture can help improve employee retention, productivity, engagement and talent acquisition.
However, even a strong company culture requires nurturing to ensure it's healthy and thriving. This takes skillful human resource management, strong leadership vision and enduring commitment.
If left unattended, the work that keeps organizational culture healthy can take a back seat, allowing the traits of a toxic workplace to creep in.
Culture is an increasingly difficult area of EX to measure due to the rise of remote and hybrid working, which takes interactions between colleagues out of a shared in-person context where culture is more easily perceived. That's one more reason to proactively improve EX and ward off the possibility of developing a toxic workplace culture.
Reconnect with your workforce, transform your culture
With the Qualtrics Employee Experience Management Platform (EmployeeXM™), you have everything you need to gather continuous feedback from every employee to take the right actions.
So whether it's improving your company's culture, empowering employees or creating the right kinds of experiences fit for your people — and the talent you want to attract — we can help.
EmployeeXM is a system of action that takes you from just listening to breakthrough results. You can leverage best-in-class tools powered by our validated methodology to help you listen, understand, and act at scale and design the experiences they want to see.
That's not all; with AI-driven analytics and IO psychology-based decision tools, you can equip your managers, business leaders, operations teams and IT experts to take action to fix problems before they become ingrained in your culture. This is how you drive strategic transformation.
If you want to find out how our experience management platform helps you strengthen your culture, avoid workplace toxicity and make your business more human, just click the link below.