---
What is employee retention?
Employee retention is an organisation's ability to keep (retain) its current employees. It's closely linked to employee experience since a positive experience is associated with higher Intent to Stay. Employee retention strategies are the actions organisations take to keep employees happy, engaged, and productive at work.
Why does employee retention matter?
If your people are your source of innovation, it's clearly important to retain them. But not only that, employee retention is crucial for the bottom line. Employee turnover is costly for organisations and can directly impact business performance.
And losing a valued team member is only part of the picture. The period leading up to departure can be marked by lower employee engagement and lower job satisfaction too. Employees who are unhappy are less productive, have lower levels of engagement and morale, and are less likely to feel a sense of belonging at work.
Conversely, research shows that engaging employees as part of a positive employee experience makes them more inclined to work harder and solve problems, grow and develop faster, get along with people better, and stay longer at a company.
How does employee retention fit into your employee experience (EX) strategy?
Employee retention is closely linked to employee experience. In fact, the measurement of Intent to Stay is one of the 5 KPIs we look at when assessing the quality of employee experience a business offers.
Put simply, if the employee experience doesn't measure up to expectations, good people will leave. And if people are expressing a strong intent to stay over the long-term, the chances are good that your employee experience is of high quality.
Employee turnover, measured in terms of Intent to Stay, is part of a bigger picture of EX management. You can't directly manipulate Intent to Stay, but you can build on the drivers that support it, such as communication and follow-up, work-life balance, growth and development, training, pay and benefits, and the level of authority and empowerment your employees feel at work.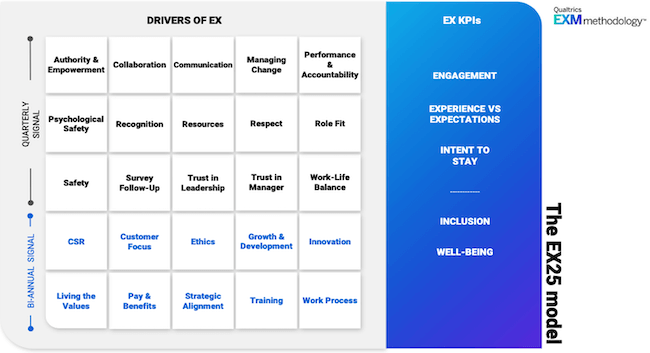 Learn more about the drivers of EX in our EX25 eBook
What are the benefits of employee retention?
Increase employee retention and engagement through better experiences and you should see measurable business impacts in all kinds of areas:
Improved performance. SHRM research shows that people who are engaged in their work are more likely to help the company achieve its goals.
Lower attrition. According to the Oxford Handbook of Positive Psychology at Work, engaged employees are 87% less likely to leave their organisation, which means reduced turnover costs in having to recruit new staff, train them, and wait for them to ramp up to full productivity.
Increased revenue. According to Gallup, high team engagement contributes to 21% greater profitability and those teams who score in the top 20% in engagement realise a 41% reduction in absenteeism and 59% less attrition.
A better customer experience. The same Gallup study found that high employee engagement contributes to a 10% increase in customer ratings and a 20% increase in sales.
Read our Diversity, Equity, & Inclusion guide to improve your company culture
How to calculate your employee retention rate
There's a simple equation you can use to quantify your company's total retention rate over a given period of time (e.g. in a year).

You can use this metric to benchmark employee retention and quickly gauge how it changes over time.
What causes employee turnover?
Despite an organisation's best efforts, valued employees leave for all kinds of reasons. The term employee turnover covers both wanted and unwanted exits from your company, but here we'll focus on the reasons people leave when you'd rather they stayed – i.e. the times your employee retention programs didn't work.
What motivates people to leave a company?
Not feeling valued
Misalignment with an organisation's values
Priorities have changed
Often it's a case of another employer offering a more attractive opportunity. For example, they may be tempting your employee with:
Better work-life balance
Better job satisfaction
More flexible work arrangements
Better company culture
More competitive pay
Better employee-manager relationship
Better opportunities for career advancement and/or job growth
More defined career path
More affordable health insurance
Free eBook: Use Employee Lifecycle Feedback to improve your EX
Employee retention vs employee turnover
It can be helpful to differentiate between employee turnover and employee retention. Turnover looks at changes in the workforce from a neutral perspective, whereas retention is more focused on keeping a specific group of employees – your top talent – in the fold.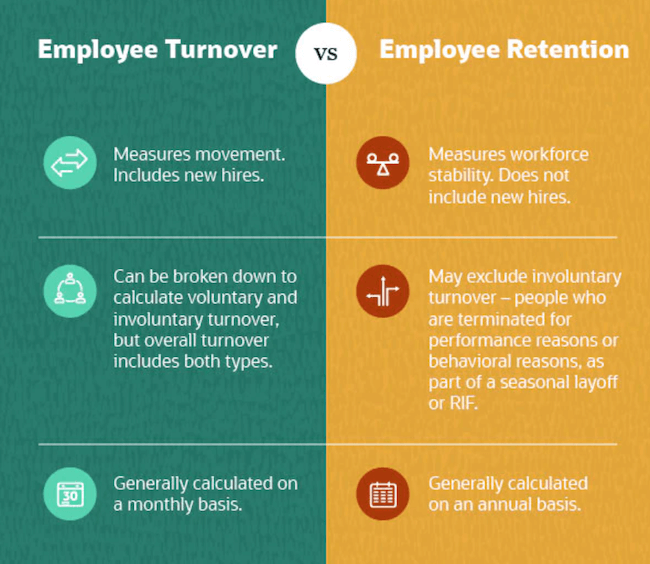 Measuring turnover helps you understand how much the workforce is changing, and whether the number of people you're hiring is growing your workforce, or just maintaining it.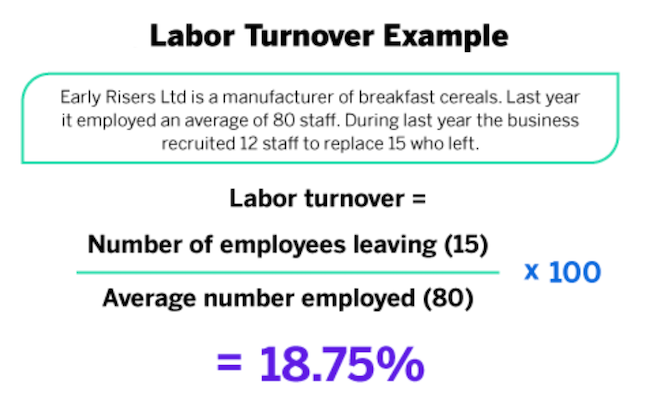 ---
5 retention mistakes employers make
1. Ineffective managers
Managers influence almost every key driver of employee engagement, so it's critical that managers have the support and tools they need to not only listen to their people, but act on feedback to improve their experiences and boost employee satisfaction.
2. Focusing on monetary benefits only
It's not all about the pay. Our research showed that those who left their jobs voluntarily said they would return to the workforce if the following benefits were offered to them: 1) More flexibility on working hours, 2) Reduced working hours. and 3) Increased paid time off
3. Thinking well-being and burnout prevention is the employee's responsibility alone
Organisations, managers, and employees all have a role to play in maintaining a sustainable work life and a company culture that will increase employee retention.
Organisations can help prevent employee burnout by establishing policies that promote work-life balance, prioritise well-being and restoration, normalise taking unplugged time off, and lead by example.
4. Discriminating against working parents
A recent study revealed that 45% of working parents felt discriminated against in the workplace as a result of focusing on family responsibilities.

If organisations want to retain top talent in today's competitive labor market, they will need to respond to working parents' new realities – and expectations – for a better work experience.

5. Not taking action on employee feedback
Our data shows that listening without taking action actually results in worse engagement than if you don't have a listening program at all. If employees decide that you're taking feedback from them without using it, they're likely to conclude that you're just wasting their time.
---
Understand your people better with our Essential Guide to Employee Experience eBook
10 employee retention strategies that work
Now that you know the importance of retaining employees, it's time to take action.
Here are 10 strategies to boost employee retention that will help you keep your employees happy and encourage them to stay.
1. Foster a culture of belonging at work
When we spoke to more than 11,800 participants as part of our annual global study of employee experience trends, a sense of belonging emerged as the strongest driver of employee engagement – ahead of typical drivers like trust in leadership and ability for career growth.
According to our research, only 20% of employees who feel they don't belong are engaged versus 91% of those who feel they do – that's three and a half times more. A sense of belonging not only meets your employees' basic needs, but it also inspires their work and drives better business results.
Our research also shows that managers directly influence a feeling of belonging in their teams. Employees who trust their managers, believe that they care about them as individuals, and listen to their perspectives, experience a high sense of belonging. Feeling supported in adapting to organizational changes is one of the top influences on having a sense of belonging.
While our understanding of belonging continues to evolve, we know that it is a key component of inclusion, which has been proven many times to have great outcomes for both employees and businesses.
2. Prioritize diversity, equity and inclusion (DEI)
One of your key employee retention strategies should be prioritizing DEI. Research shows that a company's DEI initiatives really matter to employees, and making commitments to social responsibility has a positive effect on job satisfaction.
Conversely, if an organization is all talk and no action on their corporate social responsibilities and company values, employees take a negative view. A company could be perceived as deceitful, even hypocritical.
Research found that employees who felt their company was 'not doing enough' to prioritize DEI, scored lower on the Workforce Happiness Index than employees who reported their company was doing 'about the right amount' and 'going too far' for DEI: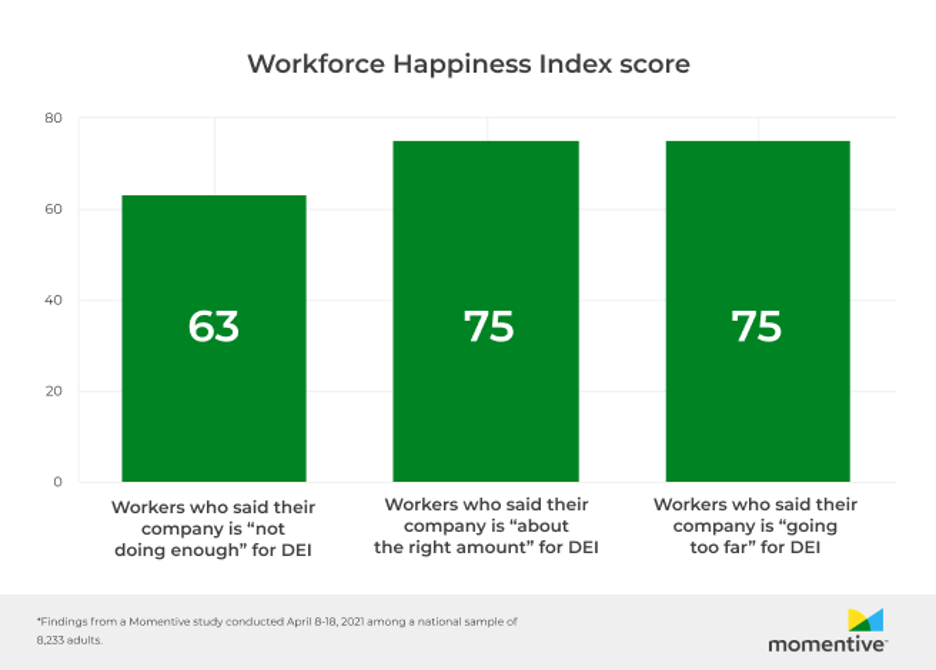 Increase employee engagement and experience by doing the following:
Set DEI goals that are clear, transparent and measurable
In short, just like your other business targets, set goals for accountability, specific objectives, and outcomes that are measurable. This ensures quantifiable results that you can share with stakeholders.
Take a long hard look at your culture
As Verna Myers, VP, Inclusion Strategy at Netflix says, "Diversity is being invited to the party; inclusion is being asked to dance". Make sure all your employees are dancing. DEI focus is no longer just on recruitment diversity. You'll need to look deeper into your company culture and ensure that all employees are included at every stage of their employee journey. This includes fair treatment in promotions, training, ongoing education, mentorship programs, paid parental leave, opportunities and benefits.
Weave DEI into your business decisions
There's no point having the most inclusive internal culture in the world if your company chooses to — for example — invest in, or partner with, less scrupulous businesses that do not share the same values. What message does that give out? Instead, seek out more progressive companies that are making a difference, whose employees feel valued, and give them support.
Also, Millennials and Gen Z candidates in the job market favor companies who give something back to their communities, and you'll encourage them to apply.
And, of course, you must do the same with your DEI initiatives as you do with every other aspect of your business.
3. Listen (and do it regularly)
Listening – and listening regularly – has a big impact on engagement and therefore retention, too. For example, engagement rises to 61% for those whose company has a feedback program, compared to 45% for those without.
Frequency of listening makes a big difference, too. Even if you have an engagement program, asking people for their responses to employee surveys once a week (or even more) can boost your engagement score by as much as 10%.
Asking for feedback not only makes employees feel heard and valued, the employee data has the often highly lucrative benefit of suggesting ideas to improve the entire business – not just an employee's day-to-day life.
Collect and apply employee feedback with our 360-Feedback eBook: Download
4. Understand – and act on – the results
Companies' execution based on employee feedback has a direct, positive effect on the employee experience. As more employees grow satisfied with the action their organizations take based on feedback, the higher employee retention and engagement will be.
Asking for feedback through employee engagement surveys helps you to understand your employees' attitudes at work and how they view your company.
But this is only half the story. Our data shows that listening without taking action actually results in worse engagement than if you don't have a listening program at all.
Why? Because it indicates that you're not really listening. Understanding and acting are crucial steps in the listening process. Your people will soon lose faith in the process if they don't see changes being implemented.
Instead, take a deep dive into the results.
Look at the data for trends in areas such as career progression, senior leadership communication, and managers. For people who said they may leave in the next three to six months, what are the common reasons?
If the majority of your employees state that their managers don't empower them to make decisions, dig deeper into what your managers need to be more effective. You might set up a training program to help managers become better champions for their people.
If employees feel like senior leadership isn't transparent, consider having your CEO film a weekly video series or send out a newsletter from the C-suite. Or, create a Slack channel where employees can talk to senior leaders directly, and get their questions answered. Either option helps increase transparency, as well as communicates the leadership team's vision and priorities — something we know is a key driver of employee engagement.
The key in both of these situations is to take action – and to ensure that you communicate the actions being taken to employees so they know their voices have been heard.
5. Support well-being to maintain engaged employees
Well-being correlates with important factors like an employee's intent to stay at a company. According to our 2021 Future of Work study, employees who reported improved well-being during the pandemic were 65% more likely than others to say they'll stick with their current employer long term.
So, what does supporting employee well-being look like exactly? Nowadays, it's more than wellness initiatives (like on-site gyms and free yoga classes) and EAP programs. And while both still add value to employees' lives, they're not the end-all, be-all organizations once thought them to be.
Instead, organizations should listen to the needs of employees and then act on that feedback accordingly.
Whether it's providing flexibility to employees as they juggle work and personal responsibilities, supporting employees as they attend to any family health concerns, or just taking the time to listen to employees' concerns, it's a necessity for organizations to care and support employees' well-being.
6. Take a holistic approach to preventing employee burnout
The pandemic – and the pivot to remote and hybrid work – exacerbated many of our built-in boundaries with work. So, it comes as little surprise that a study we recently conducted revealed burnout and stress among the top reasons why employees say they will look for a new job in the next year.
So, what's causing widespread employee burnout?  When the pandemic hit, and many (if not all) employees began working from home, organizations relied on technology to keep their businesses running. And while workplace technology-enabled employees to do their jobs from home, new behavioral issues arose, such as remote employees not shutting off from work (due to always having access) or not taking time off (because they had nowhere to go).
Organizations, managers, and employees all have roles to play in preventing burnout – and ultimately, influencing workplace culture:
Organizations build the work environment where culture takes place by creating the structure around how, where, and when work gets done work; taking time off; focusing on well-being; and so on.
Managers perpetuate the culture by modeling behaviors and helping employees prioritize work, and encouraging employees to take (restorative) time off.
But ultimately, it's employees who dictate the culture by establishing their own boundaries with work, communicating with their managers about workload, and taking ownership of restorative time outside of work.
Organizations can help prevent employee burnout, and reduce employee turnover, by establishing policies that foster work-life balance, prioritize well-being and restoration, normalize (and encourage!) taking unplugged time off, and aligning action with rhetoric (especially as it pertains to leaders' setting an example with their own behaviors).
We see some companies giving employees recharge days – or even weeks – off to allow them to focus on their well-being without worry of falling behind or missing something. And while these extra days off are helpful for taking temporary breaks, preventing employee burnout requires a holistic and sustainable approach to promoting a healthy work-life balance.
7. Offer work flexibility or remote and hybrid options
A recent study by the Future Forum revealed that flexibility is now one of the top factors influencing attraction and retention at organizations. Indeed, nearly all (93%) knowledge workers want flexible schedules, while 76% want flexibility in where they work.
Knowing what employees expect can help organizations understand their needs and preferences – including how and where they want to work, as well as what matters most to them – and then take action on those expectations.
And with 44% of people saying they'll look for a new job in the next year, now is the time for organizations to do the work; to take a hard look at their retention strategies and provide employees with the tools they need to establish healthy boundaries with technology – wherever they're working.
The pandemic enforced a remote work culture, and now flexible working arrangements, and hybrid working are more or less expected when new hires join a company.
There are benefits for the employee:
Saving money on commuting and lunches/refreshments
Better work life balance
Improved mental health
Fewer distractions
And benefits for the organization:
Cost savings in office rentals and infrastructure
Cost savings in overheads
A reduction in petty office politics
Less absenteeism
Access to a huge remote global talent pool
8. Upgrade the physical workspace
Post-pandemic changes in work present a chance to upgrade the work experience: many employees (46%) want to see the layout of their office space change significantly following the pandemic, and those working in large, open offices are over 30% more likely to want to see their office space change than those in divided spaces. The open office experience that provides employers such flexibility is ripe for change, according to employees.
For employees heading back to the office, their top priorities include:
More quiet and private working spaces
More flexible meeting and collaborative areas
More space between desks
From on-demand space to occasional face time, employees cited the following as the changes that would improve remote productivity for them the most:
Access to office space when needed
Ability to meet up with colleagues in person when needed
Access to physical resources in the office when needed
Ability to meet with clients, customers, and other external parties in person
Being able to plan ahead more reliably
Listening and taking action on employees' physical workspace preferences will not only deliver on their expectations but demonstrate their voices are being heard in a transition back to the office.
9. Do 'stay' interviews
Companies often perform an exit interview with a departing employee but rarely do they incorporate stay interviews to help with employee retention.
A stay interview is a conversation with an employee to help managers understand what's important to the employee. It should be an individual conversation with an employee and their manager.
Common questions include:
Which aspects of your job make you eager to come to work each day? Which aspects do you not look forward to?
How well do you believe your talents are being utilized? What skills do you possess that you feel aren't being utilized?
What are your career aspirations? How are we doing in helping you accomplish them here?
Have you ever thought about leaving the company? If so, what caused you to consider leaving? Why did you decide to stay?
What are the biggest challenges you face? Is there anything you'd like to change about your job? Are there things you would like to change about your team or department?
10. Emphasize professional development
If you want people to stay at your company, help them to visualize what the future will look like, and show them that an attractive career path is open to them. If you commit to them, they're more likely to want to commit to you.
Training and development shouldn't just be the preserve of human resources, it should be a priority that is understood as part of the company culture. Simply sending an employee on an occasional course isn't likely to create the results you want. Instead, view development as part of the everyday.
Managers have an important contribution to make here, as they can make development and coaching part of regular meetings and one to ones, and use their personal knowledge of employee strengths and challenges to tailor a development approach that matches both the employer's needs and the employee's career goals.
Your guide to talent development using 360 degree feedback
Employee retention examples
Here's how some of our customers have launched successful employee retention programs that use employee experience drivers to spark positive change.
Following a huge-scale merger, real estate leader Zillow implemented a listening program to communicate effectively with employees during a period of accelerated growth and change. This meant they were able to discover where employee experience gaps had arisen and how they could be closed. In particular, they found that Intent to Stay was low, and that career development was an important driver. Leaders armed management with a playbook to help them better meet employees' needs, and they were rewarded with a measurable improvement to how well employees rated career development at the company – and consequently their Intent to Stay.
International preschool and childcare provider Bright Horizons decided to harness the power of employee feedback to improve the employee experience, understanding what drives retention and engagement in order to make better strategic decisions. They put together a comprehensive listening program that covers the entire employee lifecycle, from recruitment and onboarding to development and annual engagement checks. Taking action on what they learned, they launched a development program that pays tuition for teachers to pursue a higher education degree. After the first year of the new program, 80% of employees said they now saw a future at Bright Horizons.
Luxury brand distribution partner Chalhoub was lacking detailed insights on where their employee experience gaps lay. They developed a continuous listening program to help gauge employee satisfaction, and help nurture a culture of employee feedback where there had previously been none. As a result, teams across the organisation were empowered to make changes that improved motivation, engagement and employee retention. Employees took to the listening program with enthusiasm, and the company saw a survey response rate of 75-100% across its 12,000-strong workforce.
How Qualtrics can help
If you're looking to retain employees in a way that's sustainable over the long term, consider a holistic approach that hits the key drivers of employee experience. An employee listening program is a key part of your retention strategy, providing you with the insights you need to take action.
Tools like pulse surveys and engagement surveys help you keep your understanding of employee experience metrics up to the moment, and tactics for listening at employee moments that matter, such as onboarding and exit interviews, give you important contextual insights on what shapes the employee experience across the employee lifecycle.