Experience Management
How to get the insights you need with an online suggestion box
Online suggestion boxes are an always-on approach to gathering honest opinions about products and services. Read on to find out how you can start using one today to collect questions, ideas, comments, votes, suggestions, and everything else on the minds of your employees and customers.
Ready to get started with your own suggestion box? Try out our free online suggestion box tool.
What is an online suggestion box?
Traditional suggestion boxes are often ugly metal bins bolted to the ground or wall in a single location. Participant anonymity isn't always guaranteed and responses are managed in ways that waste resources. As workforces become more mobile and companies want input from a wider range of stakeholders, this old system strains to keep up.
You want employees or customers to be able to make suggestions in a simple, hassle-free way. You also want them to feel confident that their feedback has been received without comprising their identity.
Online suggestion boxes are the digital equivalent of collecting the information securely and anonymously. For customers and employees, it's as simple as following a link to submit their feedback. For management, the set-up of the survey and the follow-up afterward is quicker and easier.
Why should you move your physical suggestion box online?
Good suggestions have the power to improve your business for the better. When a British Airways employee suggested descaling airplane toilet pipes to make them lighter, this online suggestion box idea saved the company over $700,000 a year in fuel costs.
There are a number of reasons why suggestion boxes work better online:
24/7 access across all regions - Your target audience may live and work in a different time-zone or have inflexible schedules. Online suggestion boxes provide instant access at any time, anywhere.
Truly anonymous collection - Where confidential response-gathering is paramount, having a non-biased and secure system can protect people's data.
The right people receive the information fast - Online suggestion box submission processes can be set-up to let specific people know when suggestions have been received in real-time.
Make informed business decisions - Research & Development, Marketing or Sales teams value having customer's opinions and ideas, so that they can accurately plan their commercial activities.
Enables truthful insights - The absence of external influences, like nearby observers or the risk of repercussions, help responses stay truthful and allow for whistleblowing without fear.
Collects results automatically - With a traditional suggestion box, an employee would spend time reading and collecting responses by hand. An online suggestion box can do this automatically so you can work on the suggestions faster.
The value of the insights collected – quantitative and qualitative – can give you a landscape of where you can make improvements and where there are potential cost savings.
Customers and employees will appreciate your commitment to transparency and openness. It provides reassurance that you care about their views and the overall customer experience (CX).
How can you use an online suggestion box?
You may want to consider an online suggestion box if you want to collect questions, ideas, comments, votes, suggestions, or requests from your employees or customers. Here are five use cases:
1. Employee feedback
When new changes have happened internally, you may want to check-in with employees on their thoughts. This is also useful to send at regular intervals, so that employees have frequent opportunities to share information as it happens.
Online suggestion box questions:
Take a look at our free, preformatted employee suggestion box survey template to see how to get to the heart of staff concerns.
2. Customer feedback
Customers are the ultimate users of your products and services and could become your brand ambassadors. They will also be the ones that want your exceptional customer service if problems arise. One way to hear their feedback – good or bad – is to supply access to an online customer suggestion box.
Online suggestion box questions:
What are we doing very well at?
If you were unhappy with us, what can we do to get you to come back?
Do you have any other comments, questions, or concerns?
3. Website feedback
As your business expands, your website needs to be refreshed to keep your business messages up-to-date and create an attractive shop-front. Your website is a core sales tool, so an online suggestion box on its performance can help you optimize it.
Online suggestion box questions:
Overall, how satisfied or dissatisfied are you with our website?
What parts of the website do you visit the most and least?
How did your website experience compare to your expectations?
Information collected can help you improve your website. See it in action with our free Website Suggestion Suggestion box template.
4. Product feedback
How do customers react to your products when they're launched? If you don't know, a product feedback suggestion box gives you vital intelligence directly from customers. Learn which product features work, or why a customer would buy the product.
Online suggestion box questions:
What problem would you like to solve with our product?
What is the primary benefit that you have received from our product?
What product features could you live without?
5. Market research
Market research can be the difference between a business decision being successful or not. However, getting more research resources can increase costs. An online suggestion box can source insights from target markets, and offer collaboration opportunities with the participants already talking with you.
Online suggestion box questions:
How to get more online suggestions
Incentivize input
You can introduce elements of competition or incentives to make a game out of submitting information. This can lead to more motivated participants and better, more accurate suggestions.
Some examples of incentives include:
Giving cash incentives to employees who suggest improvement ideas that are adopted and successful.
Covering an employee team's lunch cost if the team's new product idea gains the most votes.
Employees winning an internal award for innovation for frequently thinking outside the box and making valuable suggestions.
Communicate the opportunity clearly
When you're planning your communication strategy to gain feedback from a target customer segment, you can use a number of channels like email, social media or a newsletter. The messages on these channels need to explain what the online suggestion box is for, what happens to your information. And of course, it should connect you to the suggestion box via a link.
Be grateful for taking the time to submit information and focus on the shared benefits that a feedback method of this kind can provide to everyone.
Preserve anonymity
Remember to tell people if their responses are confidential. Confidentiality can also help increase response rates. Anonymous responses should hide information like names, email addresses, IP addresses and geographical location.
Anonymity also impacts the new GDPR regulations about data protection. Survey respondents must give consent prior to businesses collecting any personal data. Learn more about how Qualtrics solutions comply with GDPR regulations.
How to analyze and act on online suggestion box feedback
Reporting results
To make reporting instantaneous, integrated dashboards can distill information into easy-to-understand snapshots. At this stage, analyze the results and flag negative responses, using automated rules and set criteria.
Keep the conversation going and close the loop
Once you have results that highlight areas for improvement, you can choose to keep the conversation going before closing the loop.
If you want to keep the conversation going but the survey is confidential, you can enable two-way messaging. This keeps the identity of the respondent confidential, but provides a channel for both parties to investigate further. Alternatively, you could add a field requesting contact details, if respondents would be happy to be contacted for follow-up.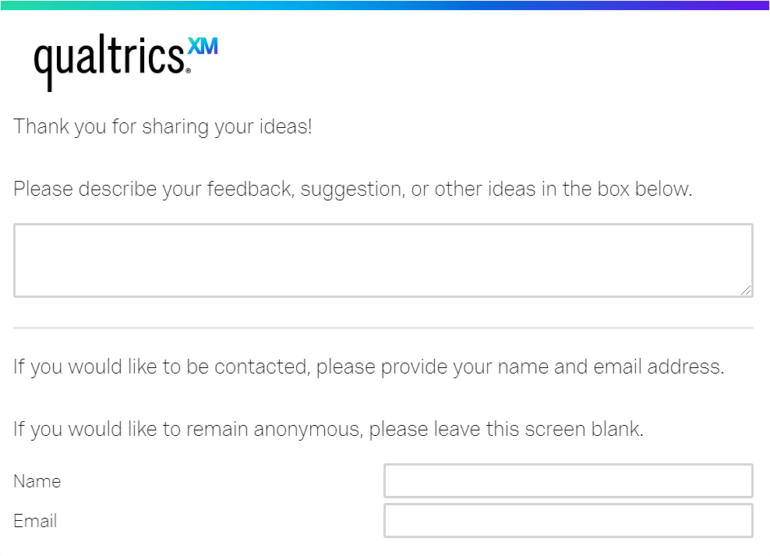 Where the responses collected relate to challenges, you can close the loop and confirm you are working on fixing them. Learn about the Seven best practices for closing the loop.
Improve internal processes
Set up internal processes to handle on-going ideas development or issue resolution. This could mean creating a ticket system, which routes to the right team member via helpdesk software and chat integrations
Where suggestions highlight challenges that need more development, bring people together to collaborate. This could be through brainstorming sessions, 1-to-1 meetings with managers or a quick poll.
Use our free tool
Disengaged employees cost organizations between $450 and $550 billion every year. An online suggestion box for employees can boost morale and improve the bottom-line.
Find out how you can evaluate, visualize, and analyze employee suggestion box data to get actionable insights.
Set up an online suggestion box today with our freel tool