Frequent employee feedback
Real-time signal, right when it matters
Why wait for your next quarterly engagement survey for people insights? Our real-time pulsing software gets you to the heart of employee experiences and trends — right when you need to know.
Go beyond traditional engagement and double-click on topics such as well-being and DEI without launching a new program
Enhance your pulses with more frequent touchpoints and optional sampling techniques to always reach the right people
Drive action via role-based dashboards that are automatically populated with the most recent and relevant insights
Maximise your response rates by automatically inviting employees to share their feedback at a specified cadence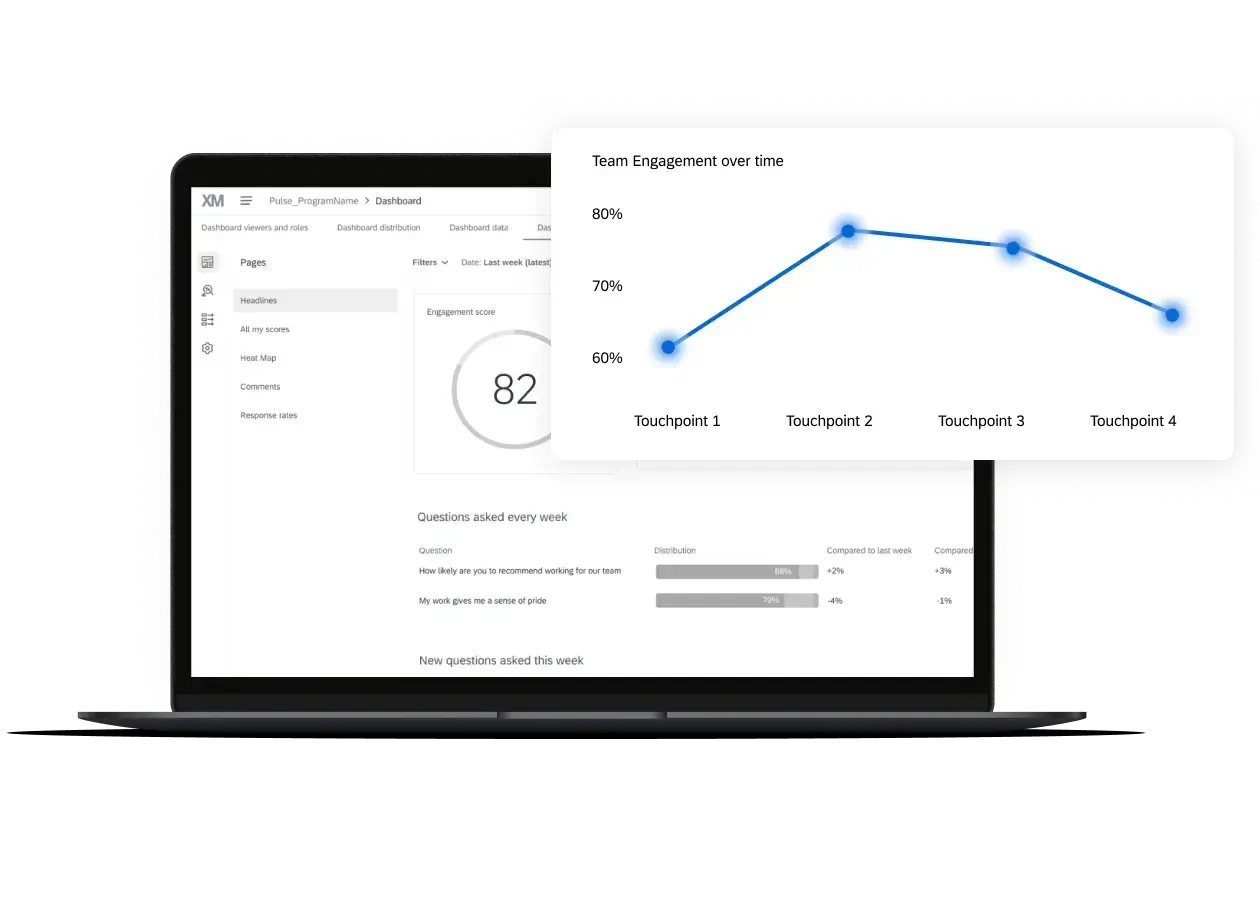 Enterprise-grade pulse survey software
Designed by experts, made for everyone
Say goodbye to complex, costly and time-consuming employee experience programs. Say hello to a friendly yet powerful platform that anyone can use.
Launch new pulse survey programs with both speed and confidence using a guided step-by-step set up
Access best-in-class I/O practices, pre-built methodologies, and a library of 300+ survey questions with built-in benchmarks
Keep employee data and metadata safe and up to date via seamless integration with your existing HR systems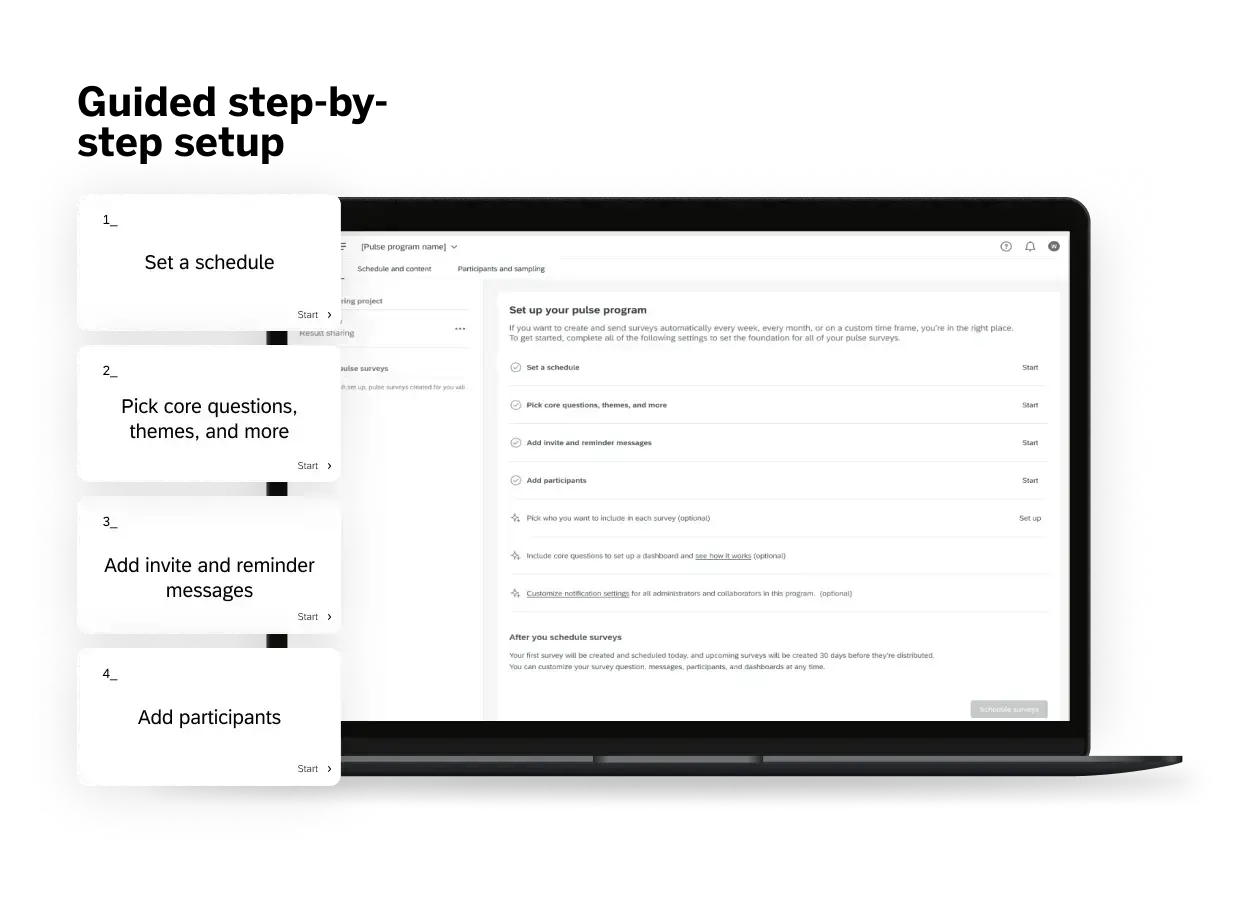 Article_
The ultimate guide to employee pulse surveys
Pulse surveys are becoming increasingly popular for employee feedback. Most people understand that they are shorter and more frequent than an annual engagement survey, but there is still confusion about what the term 'pulse survey' means, exactly.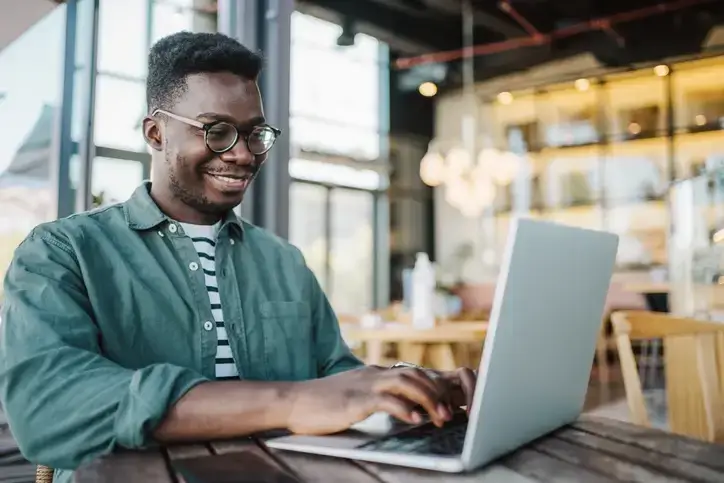 Adaptive capabilities
Stay one step ahead, every time
Whether it's a global crisis, an organisation-wide restructure, or an unexpected event, empower every department or team to quickly adapt without standing up a new EX program.
Empower frontline managers to close gaps using recent pulse survey findings and trends surfaced through Manager Assist
Generate new, detailed insights each pulse using automated question cycles so you never ask the same thing twice
Easily make changes to your pulse surveys — like adding timely questions — without affecting the entire program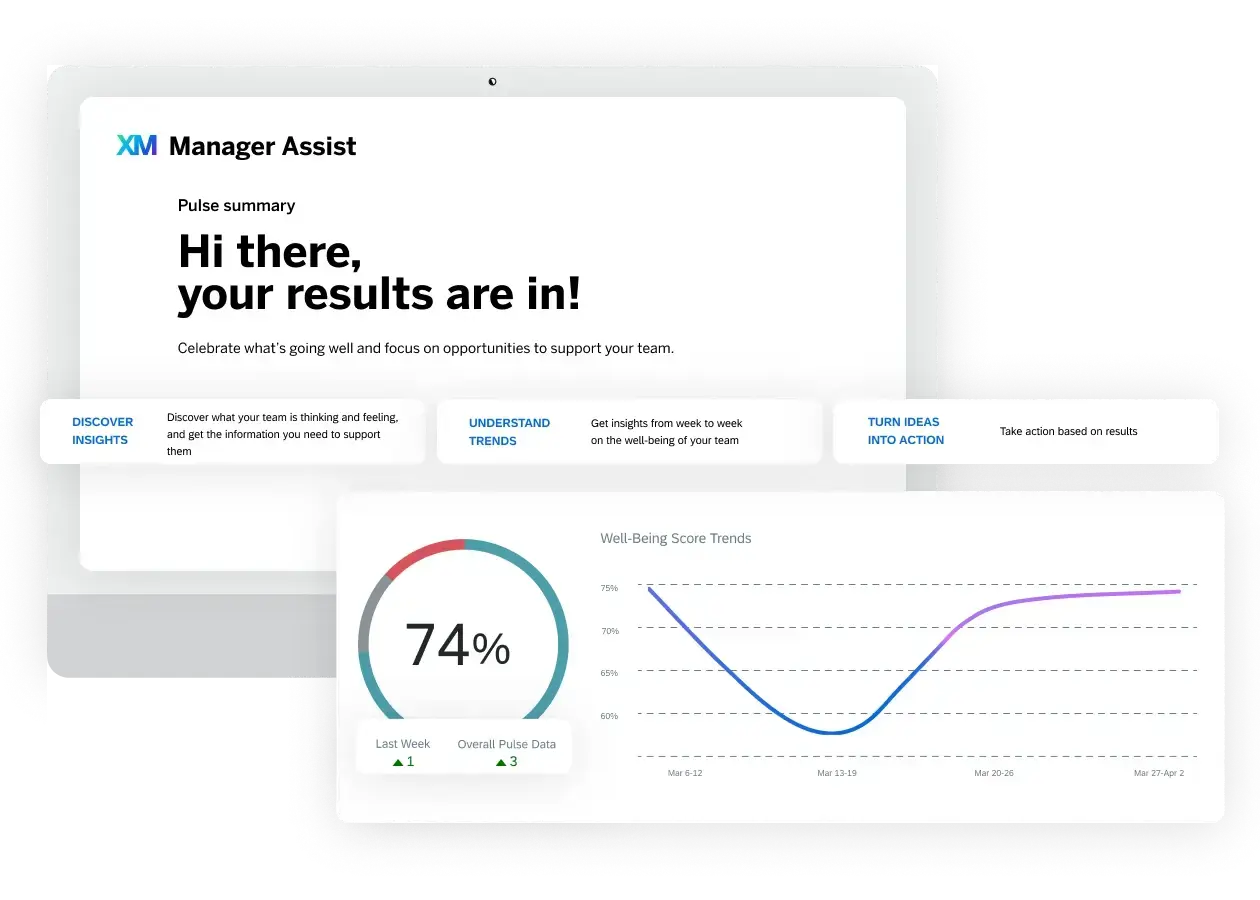 Ready to launch your employee pulse program?
More about employee pulse
Employee pulse surveys
are the answer to providing more frequent, agile, and actionable employee feedback to uncover timely insights and drive organisation impact. The pulse approach has become increasingly popular, not only because they are shorter and reduce the amount of time it takes employees to give their feedback, but also because they introduce a new dimension to results analysis: tracking over time. This provides an incredibly flexible and adaptable way to measure and improve employee engagement.
While full-scale employee engagement programs are an extremely effective method for delivering robust employee engagement insights, they can be limited in their flexibility and ability to capture frequent changes and developments in employee experience. With the rapidly changing nature of work, organisations can no longer afford to wait a year or two to gather employee and organisational data. Our research shows that employees nowadays want to provide feedback more regularly. In fact, 77% of employees want to provide feedback more than once per year.


Pulse surveys can be used to measure anything that matters to employees and the business, such as:

1) Helping maintain an early warning system for important business metrics
2) Measuring the effectiveness of action plans
3) Helping to understand the relationships with other important business outcomes that are tracked frequently, such as voice of the customer (VoC), performance, and turnover.




Our employee pulse survey software harnesses the power of the Qualtrics XM for People Teams platform, offering a step-by-step guided setup wizard, automated feedback distributions on a schedule that works best for your organisation, optional random and stratified sampling to mitigate survey fatigue, and auto-populated role-based dashboards with the most recent insights that surface trends over time.

Now, HR can spend less time building EX programs, and more time driving strategic action, without impacting, but enhancing other EX listening programs with more frequent touchpoints, quick feedback and deeper insights.