Back to business. The right way.
From small businesses to large corporations, no business has been immune to COVID-19. As things have developed, the conversations we have seen and been a part of are centering around how business will get going again. How do we bring back employees the right way? How and when should we engage our customers?
We are continuing our effort to help by offering these free trials for all companies. We hope this helps each of you get moving forward again, the right way.
Free Trial
Return to Work Pulse
---
Meeting public health requirements is just the start. Getting to the new workplace normal means employees' hearts and minds are back in business – with their top concerns addressed and logistical needs met. Return to Work Pulse is a free, fast way to accelerate better decisions on the timing and actions needed to reopen your workplace and re-engage employees.
RETURN TO WORK WITH CONFIDENCE
When and who goes back onsite?
How will employees stay safe?
What will our employees expect?
What is our successful re-boarding experience?
What facilities, technology and policy changes need to be made?
Quickly assess employees' concerns and confidence levels
Automatically summarise employee sentiment
Provide leadership with instant visibility into the needs and requirements of employees returning to work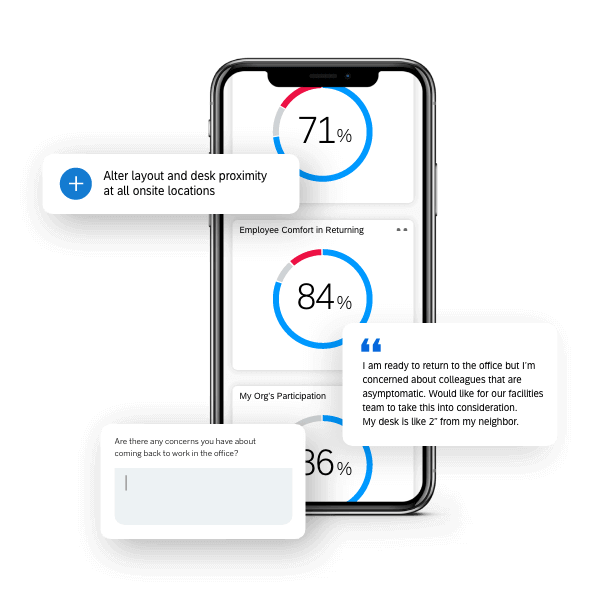 FULL ENTERPRISE SOLUTION
Back-at-Work Employee Experience Solution
---
Whether reinstating old norms or creating new ones you'll need to make adjustments. A continuous feedback loop for all teams re-entering the workplace will help you establish stability, productivity and resiliency in more teams, faster.
Ensure your employee re-boarding experience meets the needs of your organisational goals and your greatest asset – your workforce.
Ensure your employees feel safe and supported through the transition back
Deploy an on-going pulse that constantly surfaces changing needs
Surface employee experience gaps and automatically route recommended
actions to the individuals in the best position to make changes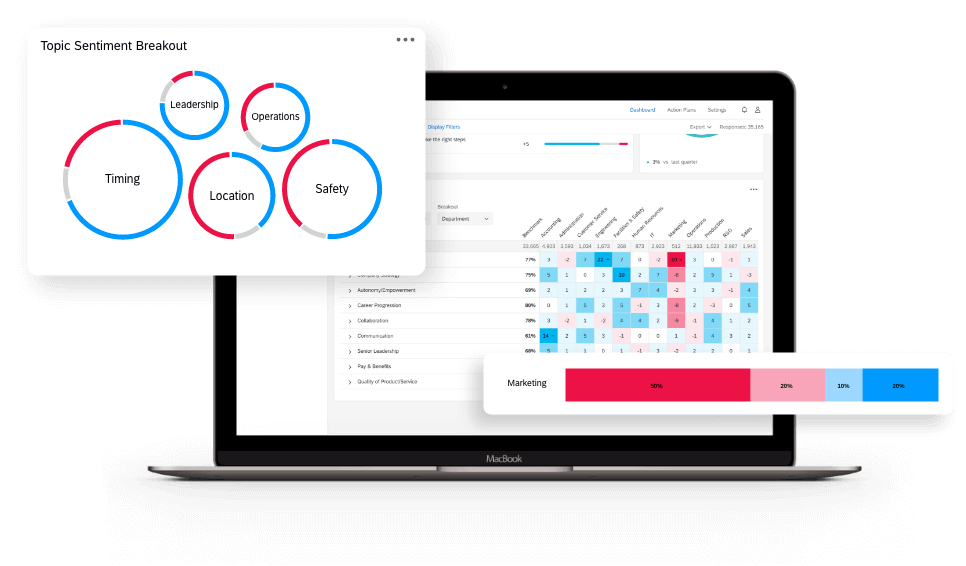 Additional solutions for
managing through COVID-19
---
Staying connected with your stakeholders, and acting quickly on their feedback is mission critical during times of uncertainty. In partnership with the XM Institute, we've launched a series of free trials for governments, businesses, and academic institutions—along with a recommended timeline of execution.
WEEK 10+ / ONGOING
ONGOING PROGRAMS
IMPORTANT INFORMATION
We hope you find our Here to Help Solutions useful. Our team of XM Scientists works hard to make them as convenient and effective as possible. That said, we have customers around the world with unique and complex needs and circumstances, so we can't guarantee these solutions are fit for your particular purpose or that they comply with applicable laws in your location. You should check with your own legal and other advisors when deciding the appropriate solution and implementation for your circumstances.