EMPLOYEE ENGAGEMENT SOFTWARE
The market-leading solution to
transform employee engagement
Get to the heart of what your people care about and build world-class employee experiences with Qualtrics' holistic and easy-to-use platform.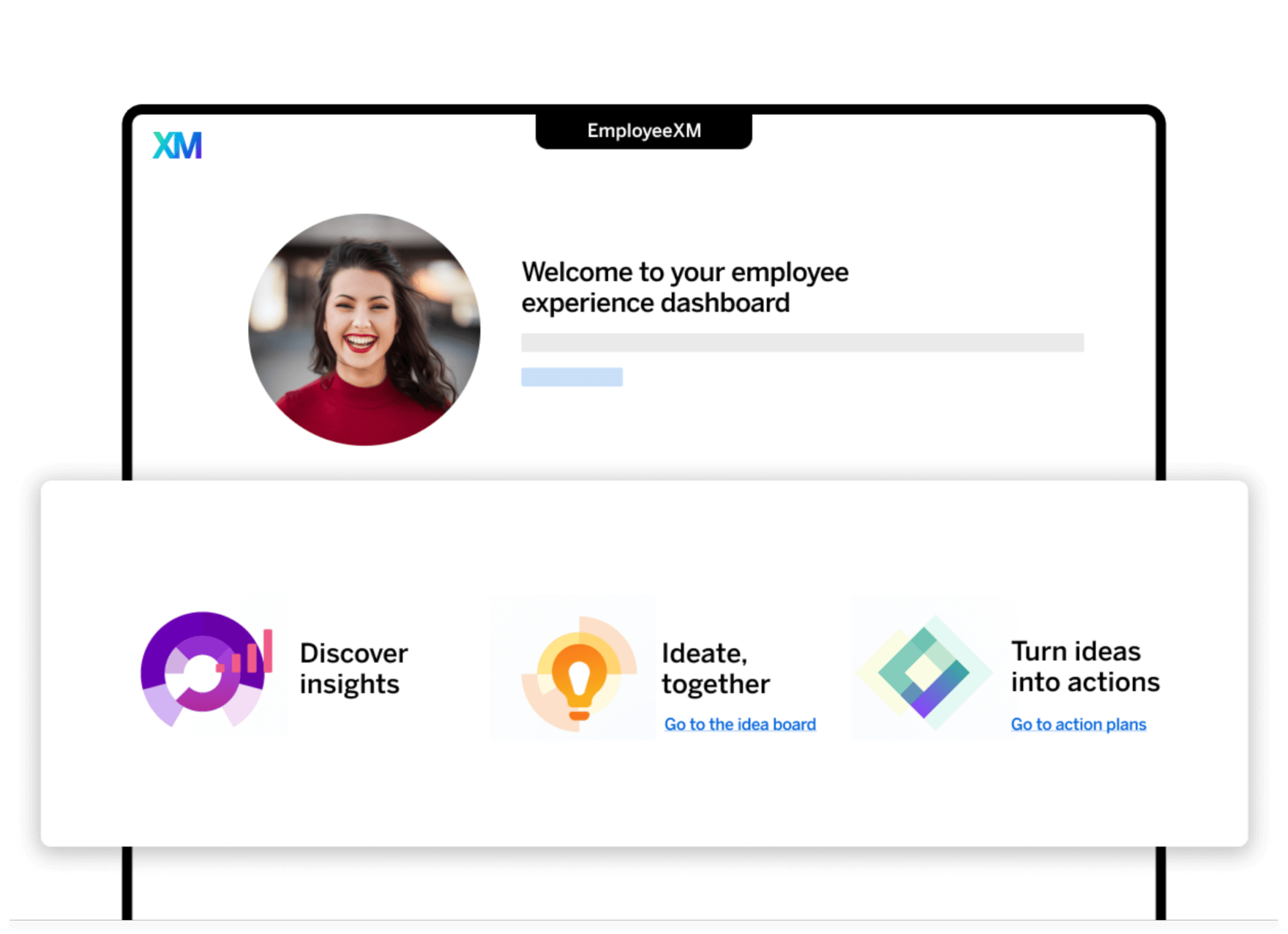 The world's best brands trust Qualtrics
to power their employee experience programs
---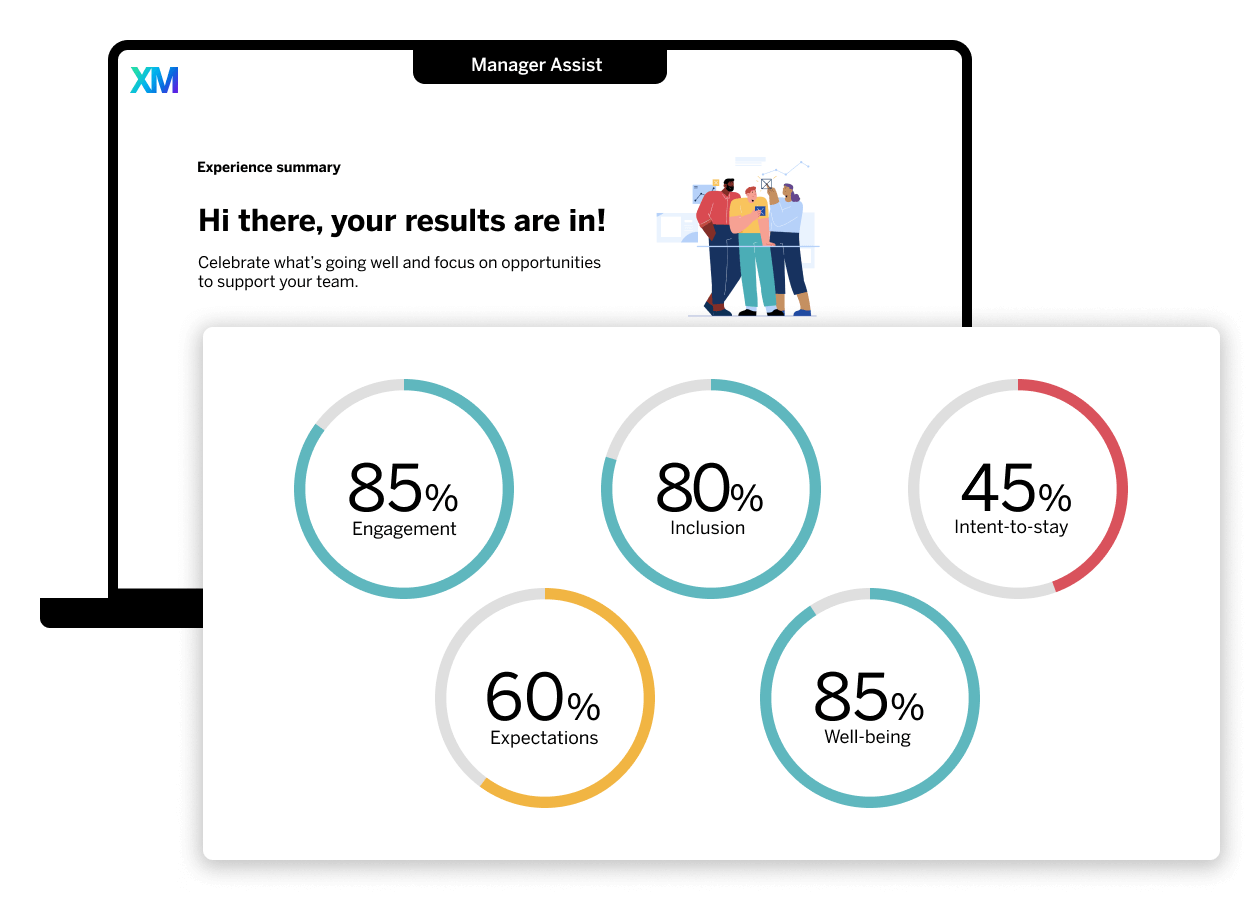 EMPLOYEE ENGAGEMENT LISTENING
Hear every
experience with our
proven approach
Create and deliver an engagement strategy that adapts to the needs of your people, workplace, and market. With Qualtrics, you can understand the end-to-end employee experience and capture continuous feedback on emerging topics at scale.
A complete view – Measure beyond engagement to understand metrics such as well-being and inclusion
Future-proof program – Our pre-built, flexible approach helps you build a program fast—and adapt as needed
Reduce survey fatigue – Flexible distributions and automated reminders to connect with your people the right way
Know where you stand – Full engagement library (300+ items) comes standard and is equipped with robust benchmarks
Decrease admin time – Automate and streamline people data reliability with built-in connectors for any HRIS
LEARN MORE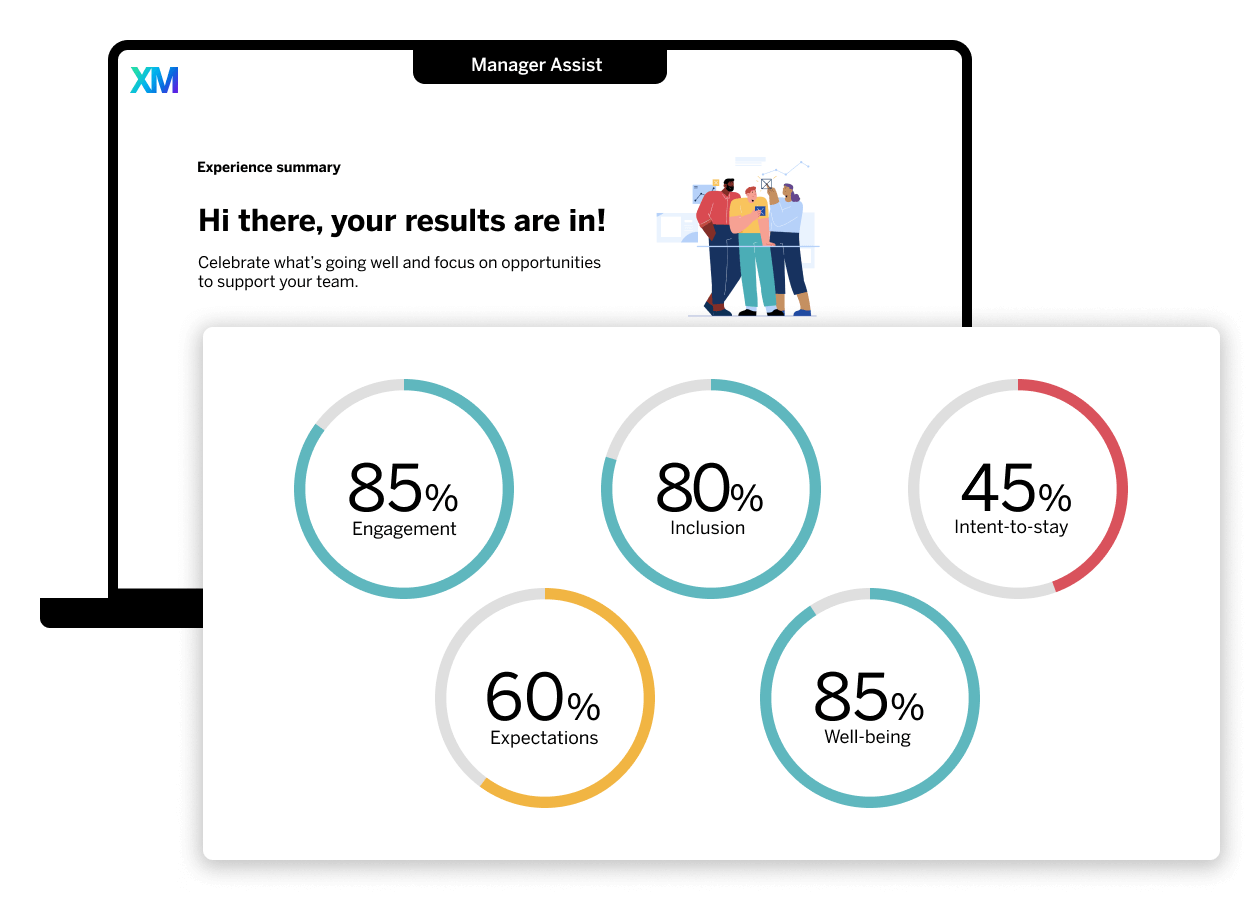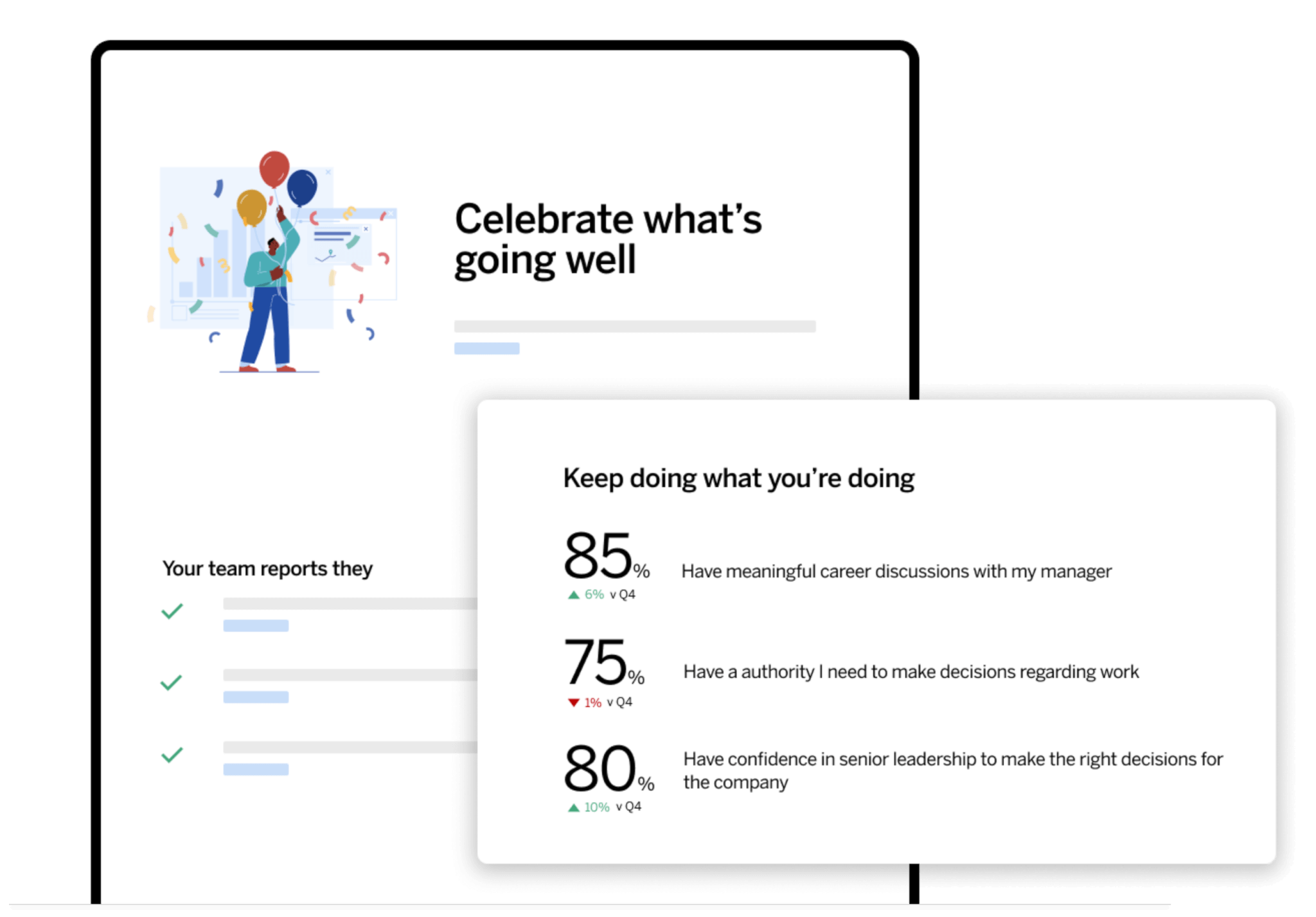 EMPLOYEE ENGAGEMENT ANALYTICS
Deepen understanding by focusing on the most impactful insights
Through advanced analytics, Qualtrics automatically uncovers the
most acute experience gaps so you can focus on driving impact. Plus, with feedback mapped to your organisational hierarchy, leaders and managers get access to personalised,
easy-to-understand insights that are actionable
and meaningful.
Real-time analysis – Automatically uncover employee groups with statistically proven experience gaps
Meaningful qualitative feedback – Advanced AI and NLP deeply understands employee sentiment of open-text comments
Tailored insights – Role-based dashboards help senior executives, people analytics, and managers know exactly where to focus
Confident decisions – Connected datasets across the employee journey offers predictive insights and impactful improvements
Maintain trust – Granular governance
controls uphold employee data confidentiality
and privacy
LEARN MORE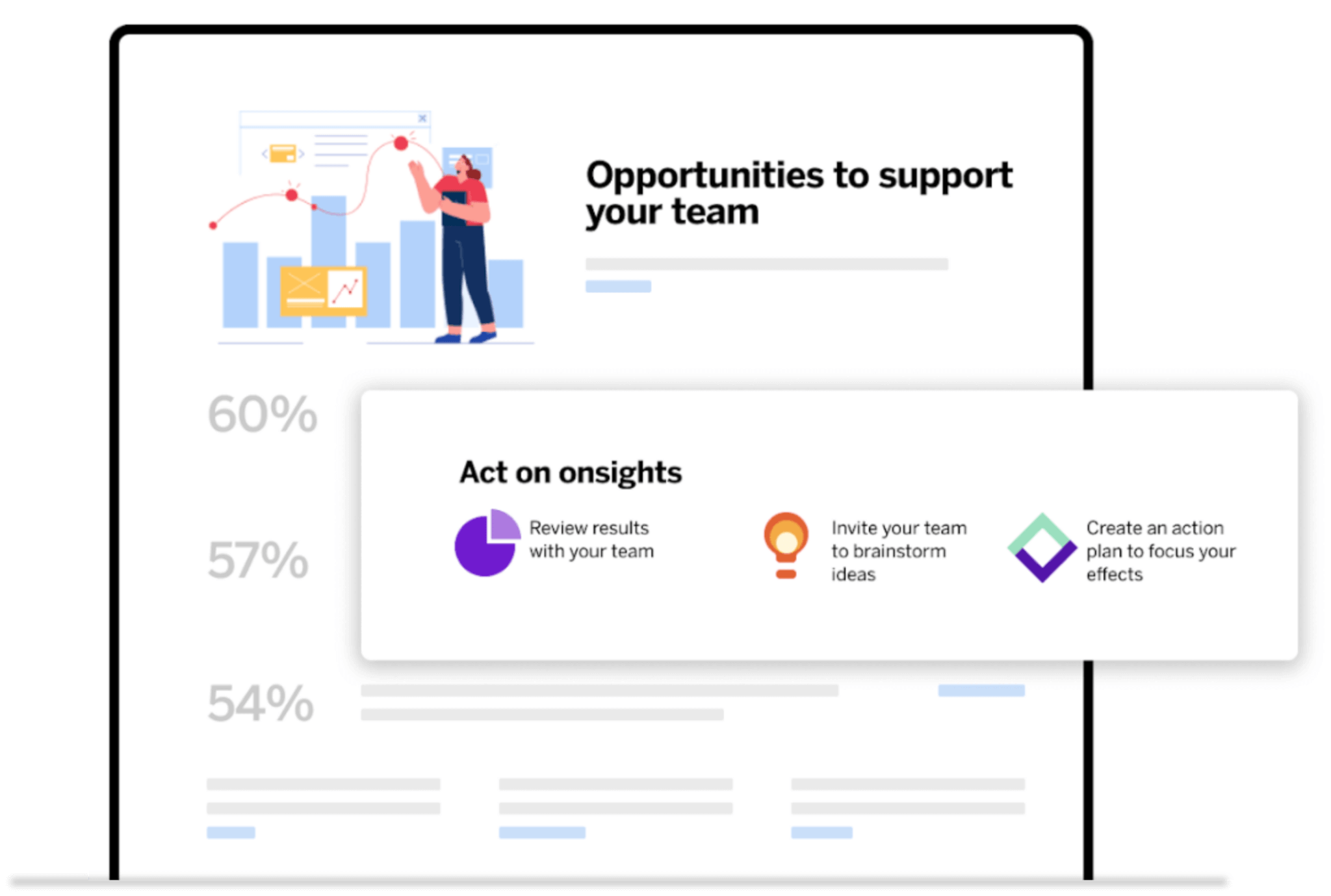 EMPLOYEE ENGAGEMENT ACTION PLANNING
Scale results by empowering everyone

to drive change
Qualtrics' comprehensive action tools— including, configurable action planning guidance, idea crowdsourcing boards, and reporting—have everything you need to make the process of taking action on employee feedback successful at scale.
Democratise action – Purpose-built workspaces empower executives to the frontline with actionable insights
Streamline results – Automatically deliver action plans based on organisational hierarchies
Helpful guidance – Use our IO-based best practice content, or bring your own, to accelerate improvement
Hear every voice – Crowdsource ideas
for improvement from employees to
support inclusion
Close the loop – Action plan reporting makes progress tracking easy and shares accountability with HR
LEARN MORE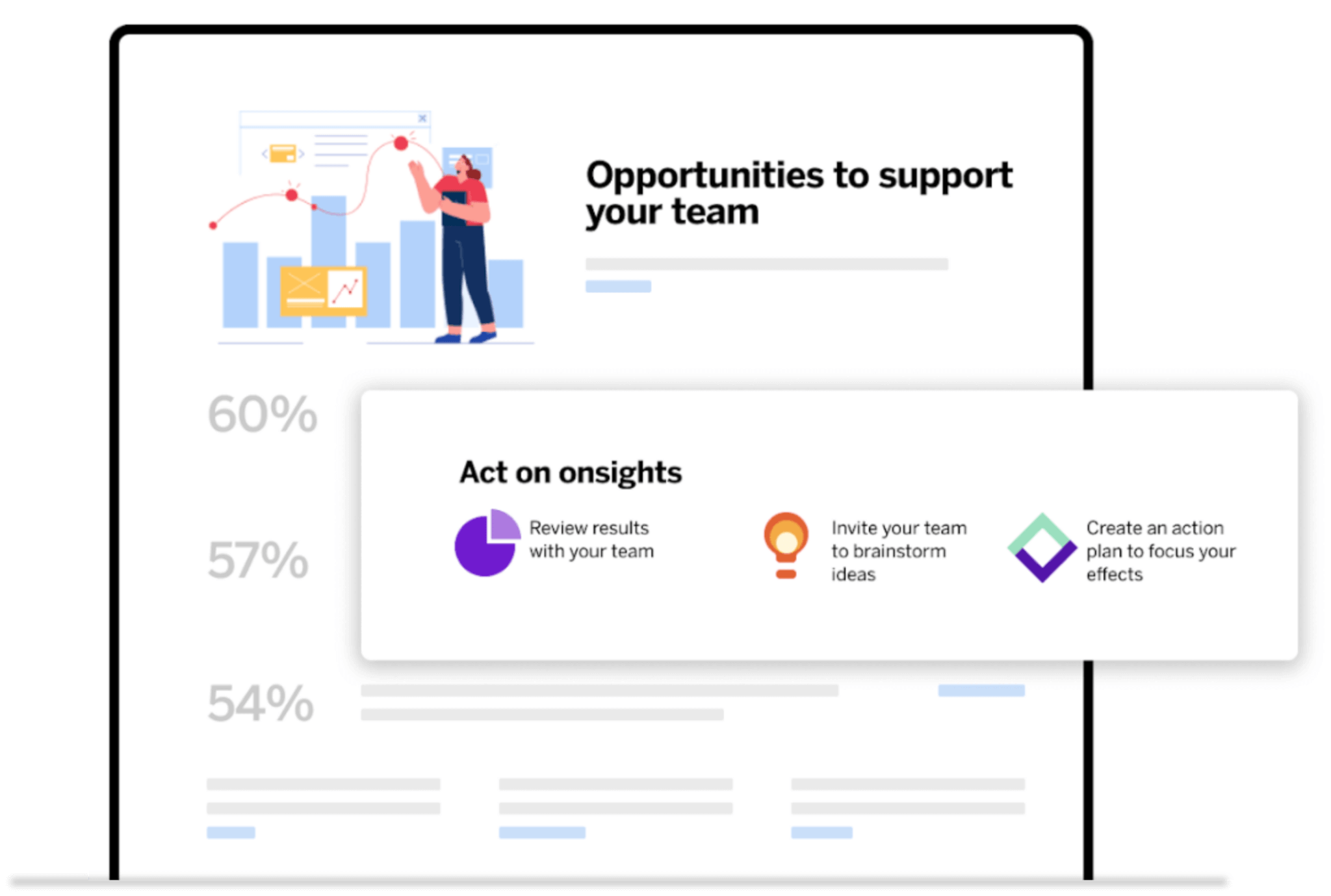 See how our
employee engagement
software works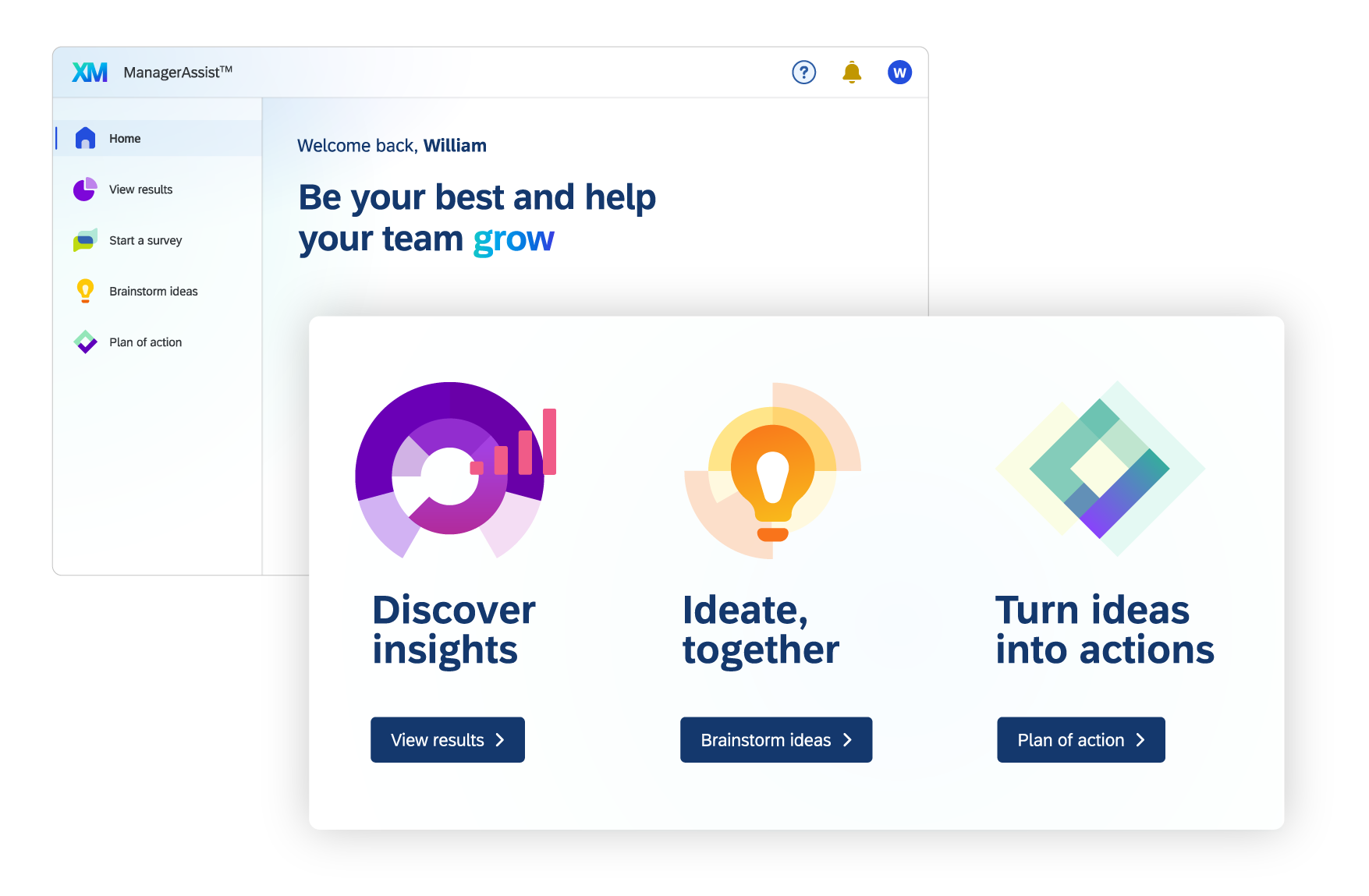 MANAGER ASSIST
Help managers build stronger teams
Qualtrics Manager Assist™ ensures people leaders can easily identify what's working well and guides them on where — and how — to take
immediate action to keep teams engaged, healthy,
and productive.
Featuring an all-in-one workspace with personalised team engagement results, narrative-based insights that automatically surface EX drivers, and built-in idea boards to crowdsource team suggestions for improvement, you can equip your managers with the tools they need to drive meaningful and employee-centric change.
Learn more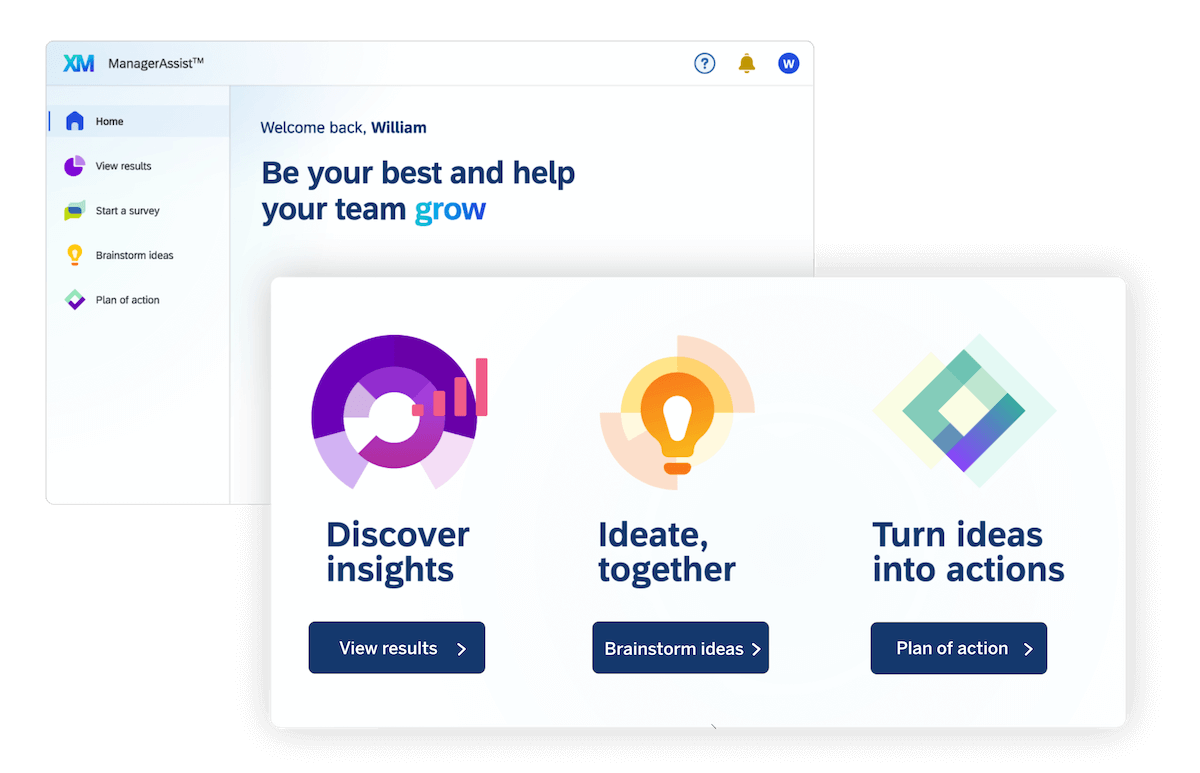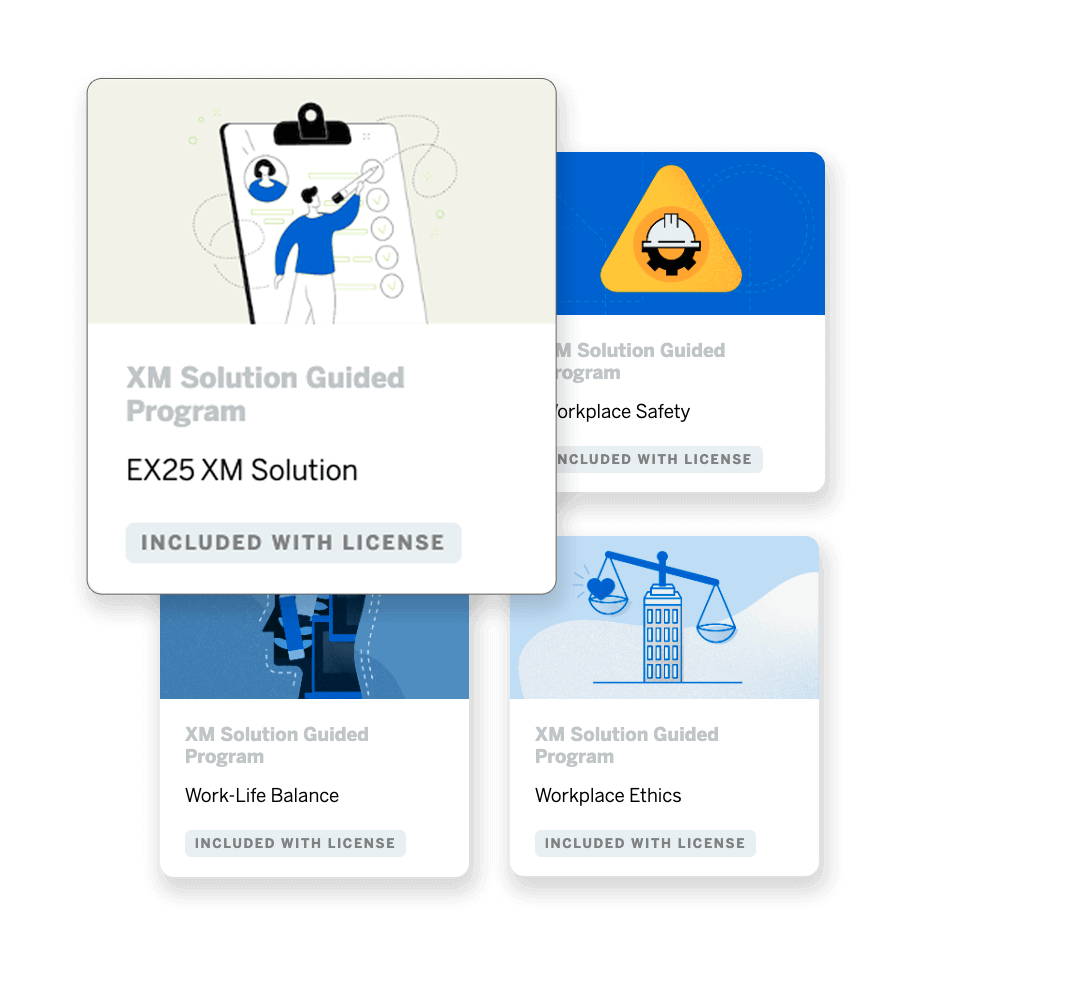 GET STARTED QUICKLY
Employee engagement expertise out of the box
Launch a world-class employee engagement program in no time, with Certified XM Solutions – pre-packaged expert content including surveys, workflow, automation and action planning built directly into the platform.
LEARN ABOUT XM SOLUTIONS
Employee Engagement Software FAQs
---
Employee engagement software (also referred to as employee engagement tools) empowers HR teams and people leaders to capture employee engagement data, uncover opportunities for new initiatives, measure the impact of manager action programs, and much more. It's an essential part of a HR team's toolkit.
Employee engagement is a measure of someone's attitude at work; how they think, feel and act towards helping their employer meet their goals. Employee engagement is a holistic way to measure employees' feelings toward their employer and role. Employee engagement can take into account satisfaction, happiness and commitment to helping their employer reach its goals. Highly engaged employees, coupled with the right skill set and proper role leads to employees and companies meeting and exceeding their goals. Employee engagement software is a proven driver of revenue, quality, productivity, and customer satisfaction. With only 30% of employees engaged in their work, it's more important than ever to measure and improve engagement. That's where we come in. With
Qualtrics Employee Experience software
, we make it easy for you to figure out which levers to pull to increase employee engagement — and we do it in real-time.
If you want to increase employee engagement, company culture and create high-performance teams, employee engagement software is vital.

Employee engagement software helps HR teams and people leaders to gauge how employees feel in real time. Most platforms have the ability to conduct comprehensive employee engagement surveys, analyse the results and provide detailed action plans and recommendations. You can also track employee feedback to help structure performance reviews and wider evaluations.
As mentioned, most employee engagement tools will offer surveys, engagement analytics (such as overall employee satisfaction), listening capabilities to capture and measure feedback,
and more.

Sophisticated solutions go a step further and integrate predictive intelligence and machine learning to uncover insights from employee feedback and sentiment, surfacing key topics and trends for you to tackle. As well as this, they'll come with preconfigured dashboards, allowing teams to filter and personalise engagement data for specific managers and/or teams.