Online Reputation Management Software
Understand and manage your online reputation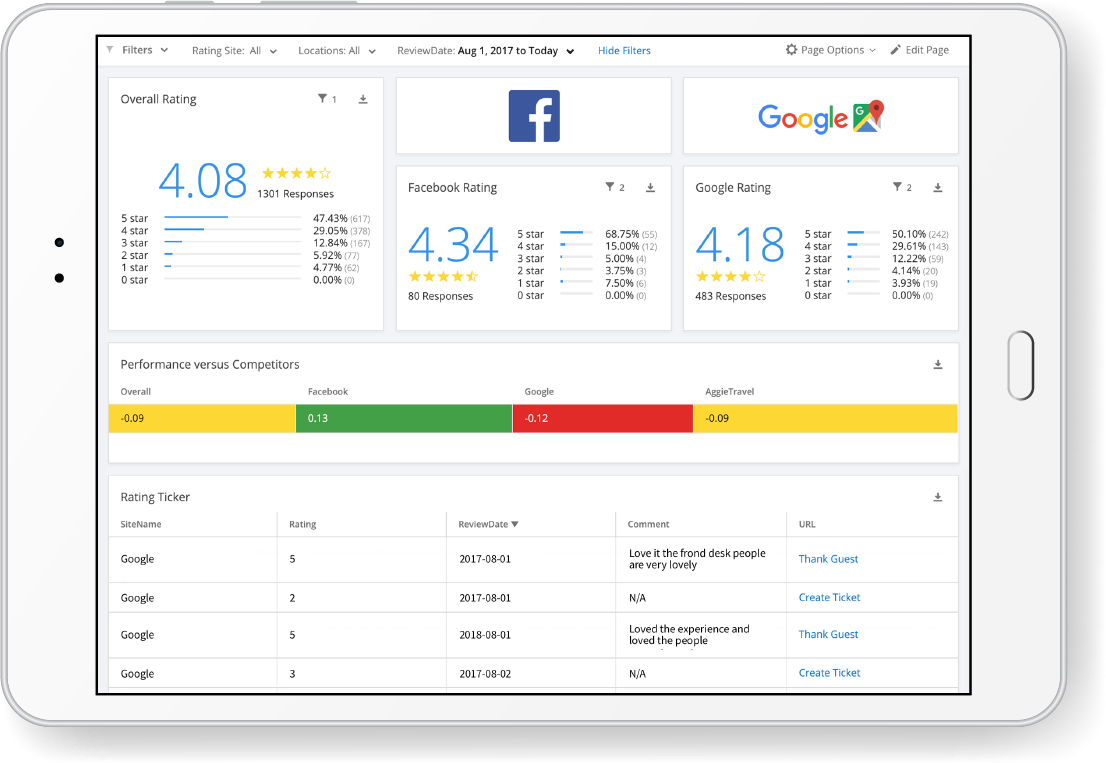 Online Reputation Management in action
---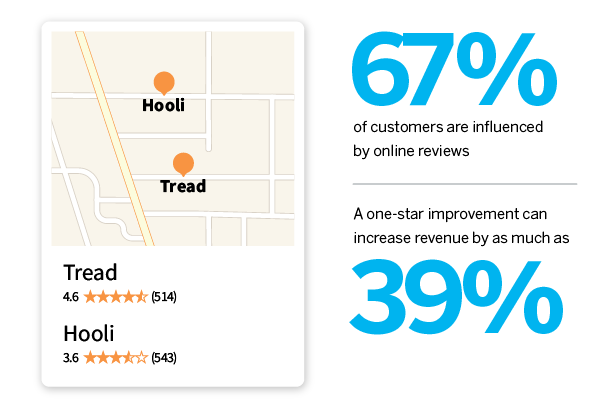 Your customers share their experiences on social media. And your potential customers use those reviews to decide if they want to use your services.
67% of customers are influenced by online reviews1, and a one-star improvement can increase revenue by as much as 39%2.
Qualtrics helps you identify trends in your brand's online reputation by pulling in social data from key sites automatically, proactively solicit positive reviews, and close the loop publicly with detractors.
1Moz, 2015 2Cornell, 2017
Amplify the authentic voice of your customer
Help your customers tell others about their experience by designing feedback surveys in a way that prompts users to post a review on social channels. Frequent reviews lead to better search ranking and ultimately, more foot traffic. By encouraging customers to review your products and services in the moment, you can effectively amplify the impact of their experiences.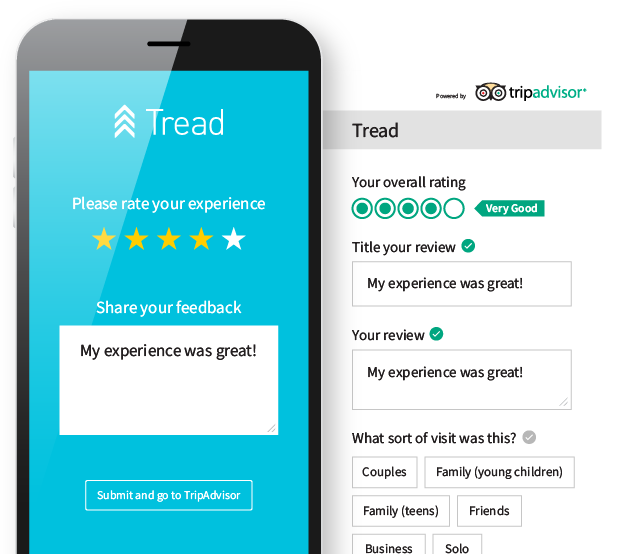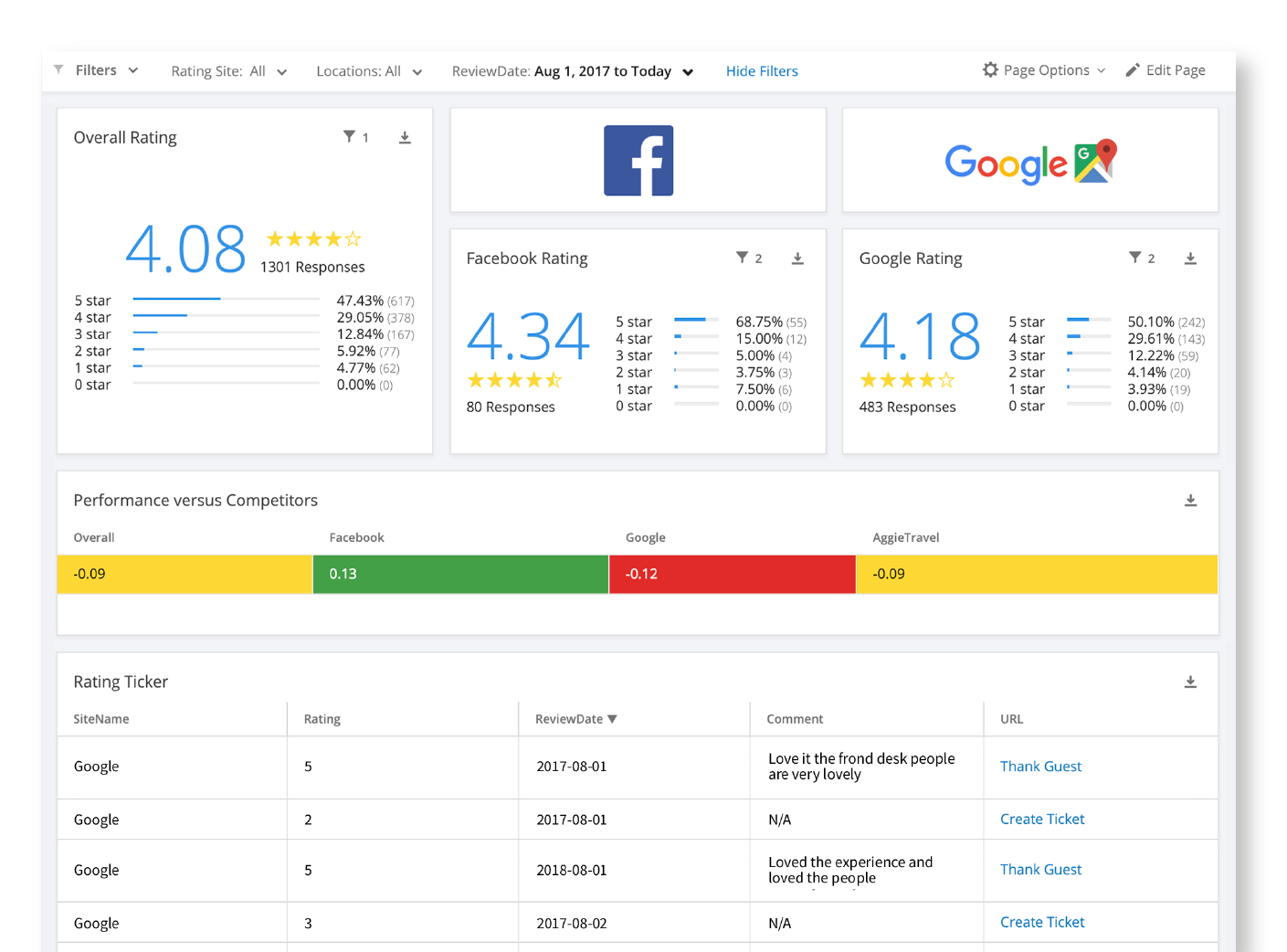 Get actionable insights across all digital channels
The most actionable insights are often hidden deep in your customer's social reviews. View key topics and sentiment in online reviews and dive into relevant verbatim responses for deeper insights using Text IQ to see what, in your customers own words, matters most.
Monitor and analyse key trends in your online reputation by location, see how it impacts your key customer experience metrics, and understand how you compare to the competition.
And, with your online reviews on the same platform as your email, SMS, voice, chat and other customer experience data, you can connect the dots between channels and get a bird's eye view across the end-to-end digital experience.
Ready to improve your online reputation?
Showcase world-class customer service
---
Responding to detractors goes a long way to soften the impact of a negative experience. With Qualtrics, now you can easily identify negative reviews and set up automated tickets with your internal teams to directly respond on the same platform to help solve the issue.
Your customer leaves an unsolicited online review on a 3rd party
site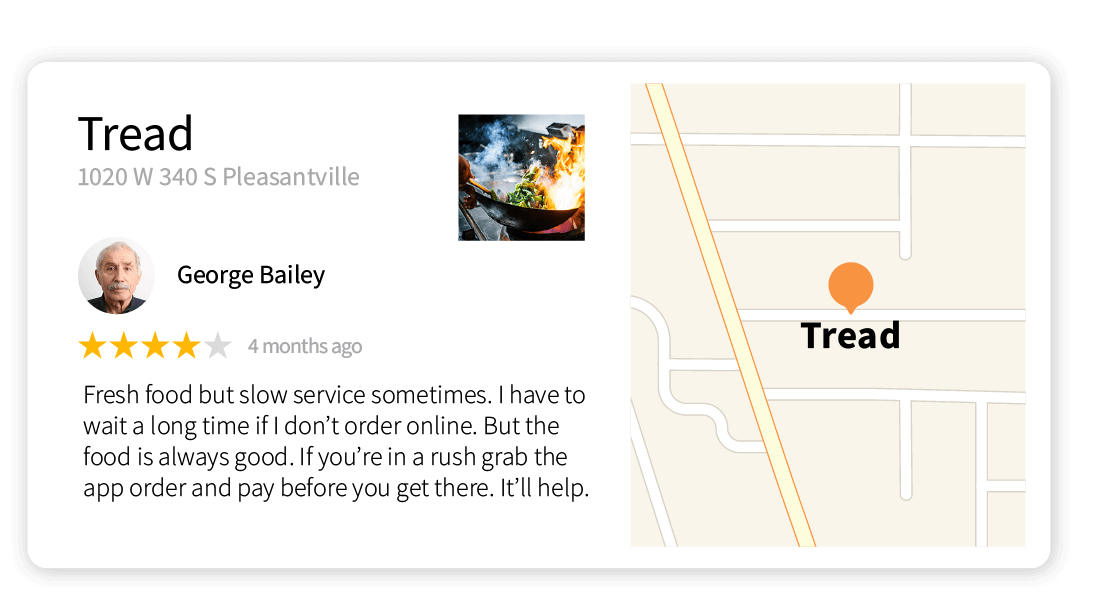 Qualtrics automatically pulls in the review from the review site and
allows you to take action from with the Qualtrics XM Platform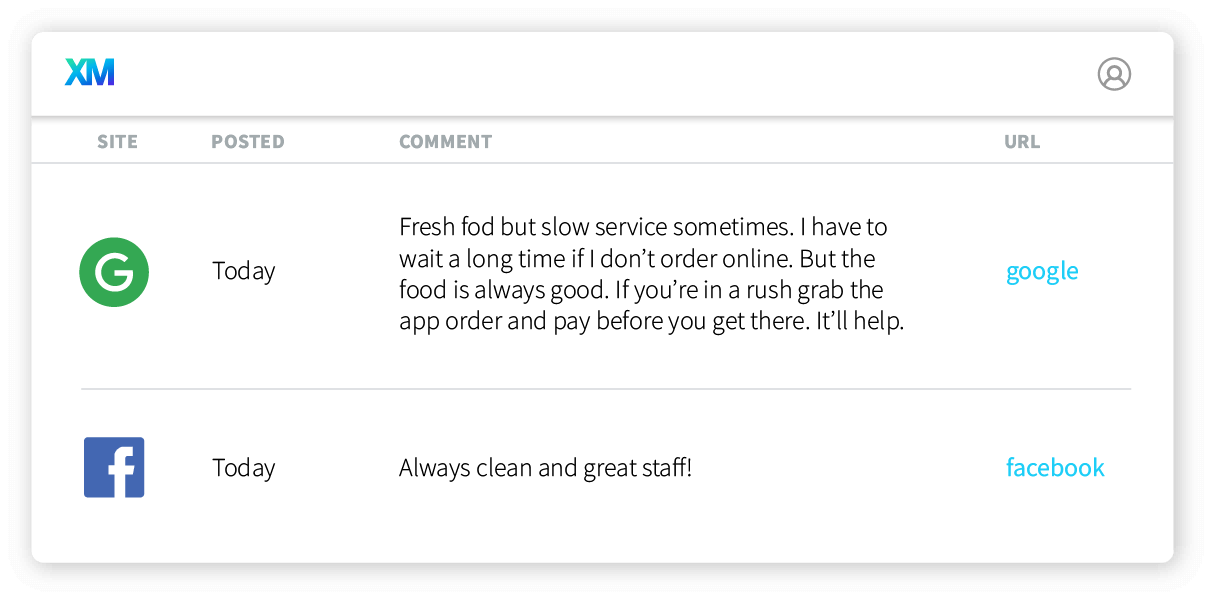 Qualtrics links you directly to the online review allowing you to
reply and close the loop with customers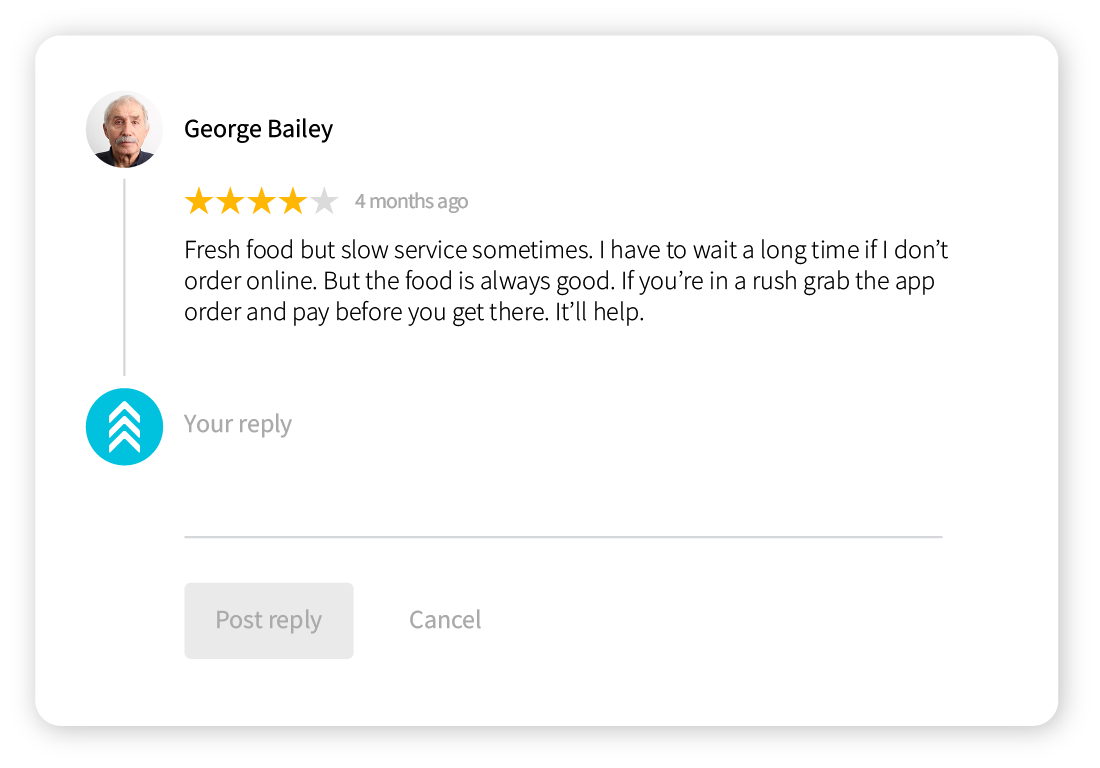 The top rated reputation management software
The crowd has spoken. Qualtrics is proud to be the XM pioneer and reputation management software leader in the top right quadrant on the #1 independent software review site.
Read unbiased reviews from real customers and compare for yourself.
Reputation management software FAQs
---
Reputation management software allows you to collate all the useful information about what consumers think of you in one place, and take action to encourage positive reviews. It can monitor all customer feedback provided via your digital channels (such as your website), social media and online review channels, comment sections, and news publications.
The software can collate all the feedback on your brand and present it in a dashboard view, with automation features to ensure the right action is taken if negative feedback occurs and to encourage further customer feedback.
There are many benefits to using reputation management software over handling your monitoring and management manually. These include:
Greater monitoring capabilities: Instead of your reputation manager monitoring customer feedback, social media, negative commentary, and any press coverage manually, your reputation management software can automatically detect and collate all the instances of your brand being mentioned online.
Always-on monitoring: Relying on manual sourcing of feedback will put you behind your competitors. Always-on monitoring means you're not missing out on key data.
Making the process smoother and easier: Automatically delivering your users opportunities to feedback in a way that doesn't disrupt the user journey can help you to gather larger quantities of feedback without manual input.
Simpler aggregation and viewing of data: Rather than keeping your feedback data in disparate platforms, your reputation management software becomes the hub and source of truth for all the data you collate.
Handling a crisis as it unfolds: your review management software can help you spot the cause of negative reviews and take action quickly through alerts and automated actioning.
The best review management platform is able to not only detect feedback but to allow you to expertly solicit positive reviews and close the loop with any detractors. Key features include:
Feedback survey design: Your reputation management tool should enable you to create tailored feedback surveys, designed to elicit positive reviews from your customers at just the right moment.
Key topics: Online reputation management software should not only source feedback provided about your brand but streamline the data by sorting it by key topics. Automatically uncovering any trends will allow you to spend more time resolving any issues, rather than needing to tag reviews manually.
Sentiment analysis: Reputation management is intrinsically linked to sentiment. Your review software should not only feature text analysis from all the feedback it collates but allow you to understand the sentiment behind your data – positive, negative, or neutral.
Location-specific analysis: Your reputation manager should be able to view not only location-specific data but be able to understand the key trends in that area for a more tailored response.
Monitoring of the end-to-end digital experience: Great reputation management software includes a wide range of channels and can tie in the data it collates to the communication channels you operate, such as email, SMS, voice, and chat.
Automated alerts and reporting: A good review management platform should automatically provide you with targeted alerts and sophisticated reporting to help your team to handle negative reviews quickly.
Quick loop-closing abilities: When a negative review occurs – even on third-party sites – your reputation management software should enable you to not only find the review but respond quickly and easily in the same channel to counter any negative response.
Competitor analysis: Being able to benchmark your feedback results against other brands' helps you to ensure you're able to keep up with the competition.
Customer support: Your reputation management tool should come with rapid and comprehensive customer support to ensure your setup and usage are optimised for your business needs.
Investing in a review management platform allows you to become more efficient at finding negative reviews and handling them effectively. Not only that, but you can easily find out why issues are arising and fix the source problem. Whether it's a difficult payment process or a product failure, your platform can highlight where work needs to be done quickly and easily.
Developing a reputation for not only responding and resolving issues but also fixing the source of the problem itself, can be the differentiator between your brand and competitors. Improving your customer service can help to drive loyalty and increase recommendations and further purchases.
Rather than expending time and effort on sourcing new business, resolving current customer issues can help you to develop resilient customer relationships that yield a high return on investment.
What is online reputation management?
Search for any brand online and you'll find a wealth of reviews, both good and bad. The impact of consumers' social media comments on a brand's products and services is huge, and companies are increasingly using online reputation management tool to monitor, analyse and respond to consumer comments in social media. The practice of reputation management involves putting the tools, systems and processes in place for brands to monitor what consumers are saying about them online, spot trends, identify areas for improvement and respond directly to customers to address any issues they may have. As well as responding to negative comments and taking control of the conversation around your brand in social media, online reputation management also allows brands to solicit positive reviews by encouraging happy customers to leave comments on social media, often combining it with their 
customer experience program
 to follow up with 'promoters' and asking them to share their feedback.