---
What is management development?
Management development is the process of developing the skills and competencies needed to perform in management positions, either in existing managers or those new to management. It may also be referred to as leadership development or executive education.
To look at it from another perspective, management development is a continuous, systematic process that helps employees reach their full potential by building on strengths, managing weaknesses, and exploring career development opportunities.
All of the following qualify as forms of management development:
Formal management development program offered by universities, colleges, or private training providers to train managers from scratch
In-house management development program developed by organisations
Informal learning experiences that occur on the job, such as through mentoring relationships with more experienced managers
The practice of management development originated in the early 20th century, when industrial organisations recognised a need to invest in human capital in order to compete effectively in an increasingly complex marketplace. HBR locates the origin of the term 'management' in a business context in the 1900s, when businesses grew large enough to require trusted individuals to mediate between owners and their many employees.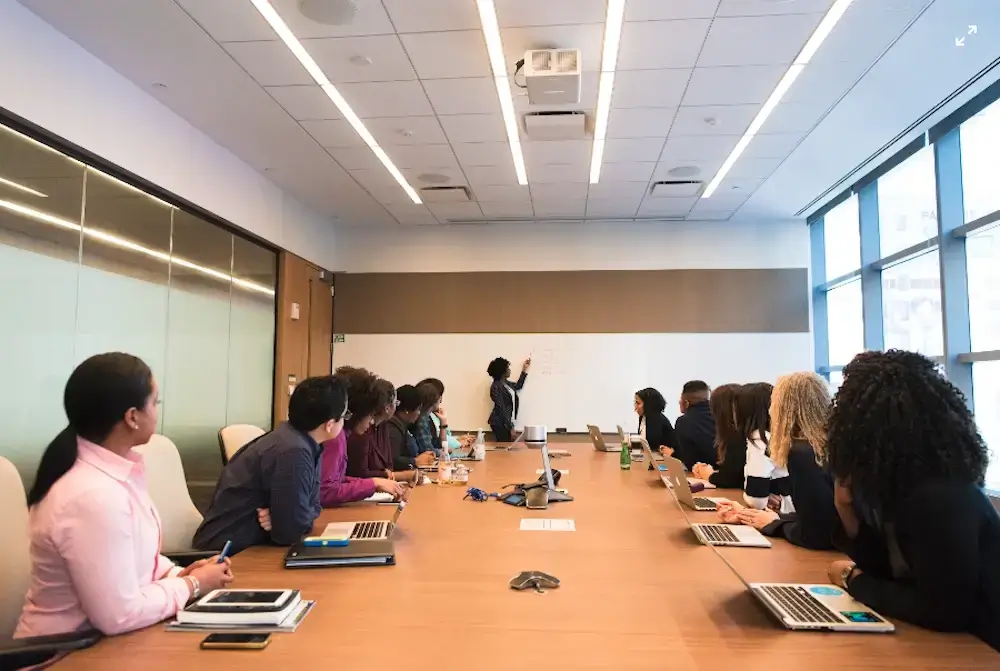 What are the benefits of management development?
Management development programs can be highly beneficial as part of a broader human resource management strategy aimed at making sure employees are prepared for future responsibilities and challenges. Here are a few of the benefits.
Grow your own management talent
The most obvious benefit of management development is that it provides competent managers for your business – home-grown ones who are well-integrated with your business and culture, rather than having to be hired in from outside. But there's much more to management development than that.
Upskilling employees
Whether or not it leads to career development, management development aims to help employees gain new skills and knowledge that will enable better performance and higher levels of engagement. This in turn will help increase organisational effectiveness as each employee grows in confidence, self-knowledge and ability.
Retain talent and reduce employee churn
Having a management development program in place provides the additional benefit of helping you retain talent. When employees can see development opportunities and a career path clearly laid out within the company, they may be less likely to look elsewhere for their next career step.
Build human capital
Management development contributes to your organisation's human capital. Human capital is the knowledge, skill, experience and competency within your organisation, and a management development program is a valuable way of enhancing it.
Stand out from the competitition
Although management development is certainly nothing new, it's by no means a given in every organisation, meaning that those companies who invest in management development programs may be placing themselves a step ahead of the competition. Research by CIPD found that only 40% of organisations had programs in place to improve managers' people skills, for example, suggesting that most companies have serious work to do. As many as 25% of managers had never had management training, according to People Management.
What happens during management development training?
Generally, the goal of management development is to help managers develop their own leadership style, so that they can apply it in their day to day activities, whether in managerial roles or more generally at work. It helps them consider how they will handle the challenges managers face, and how their managerial roles will contribute to work culture.
Management development programs are often (but not always) designed to improve managers' soft skills – personal qualities that can be applied across different industries and job roles, since they relate first and foremost to human experience or to the universals of business and human resources. Subjects covered during management development might include leadership, teamwork, communication, problem solving, and conflict management. Here are a few examples of the managerial skills new and existing managers might learn during a management development program.
Human resources management
This aspect of management development involves learning how to hire, train and evaluate employees so they can perform their jobs well. It might even involve a formal course that covers payroll procedures, employee benefits and compensation systems as well as specific training on legal issues related to working with employees.
Leadership
Leadership training is a form of management development that focuses on helping employees improve their ability to guide others, a crucial part of any management development program. Required skills such as delegating responsibility, giving feedback and encouraging others through positive reinforcement are all part of this skillset.
Conflict resolution
Conflict resolution is the ability to resolve interpersonal conflicts without resorting to aggression or violence – highly relevant to management development. Effective conflict resolution requires patience, listening ability and good communication skills. Most managers learn this skill on the job over time, but being able to learn it from experienced managers during a management development program can give new managers increased confidence in their own abilities.
Active listening
This is a communication skill that involves learning how to listen attentively without interrupting or judging, asking clarifying questions so that everyone knows understands the meaning and intent of what's being said, acknowledging other people's perspectives, and using appropriate non-verbal cues like eye contact, smiling and mirroring posture. In management development, there may be candidates who naturally have some of these skills, although they can be taught and learned by anyone.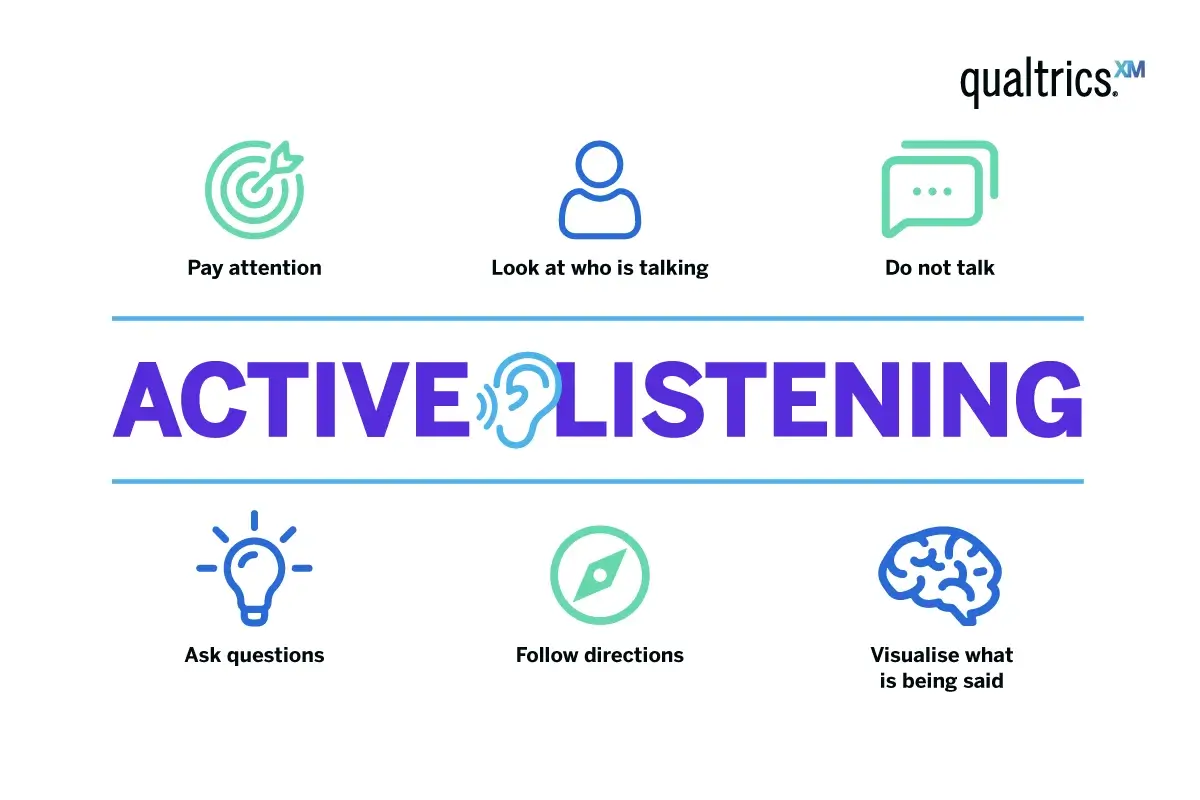 Decision-making
Skillful decision-making involves critical thinking, gathering information, analysing that information objectively, considering possible outcomes, weighing risks against benefits, then making an informed decision based on their analysis. On top of all this, an effective manager needs to be able to come to a decision under pressure and at speed.
Types of management development program
Management development programs vary according to their focus, content, length of time, location and delivery method (for example online, in person, or a mix). An effective management development program doesn't always need to be long or labor-intensive, provided it works for your organisation's needs. Some common types of management development program include:
General management training
Training designed for mid-level managers who may be new to an organisation or who will be managing different types of employees and want to enhance their existing skills. It's also suitable for employees taking on their first management role.
Development planning
This type of development focuses on helping existing managers develop their own career plans, often by reflecting on their managerial style and preferred aspects of the job.
Technical training
Technical management training provides specific skills for tech industry managers, who are required to have not only the traditional 'soft skills' of management but also hands-on technical skills, conceptual and theoretical knowledge to support their teams.
Organisational culture training
This type of management development focuses on culture, mission and values. It may involve helping managers learn about CSR, ethics, inclusion and diversity.
Management development methods
Management development programs typically involve training courses and instruction, either from a specialist provider or from more senior members of the organization. They may also include seminars, conferences and workshops that enhance management techniques and knowledge. On-the-job learning, mentoring, secondment and shadowing are all forms of management development that can be done as an alternative to, or as well as, a formal framework.
It makes sense to have multiple management training techniques in your management development toolkit, rather than relying on a one-size-fits-all solution. Here are some of the management training methods you could employ.
Academic training for managers
There's no shortage of management development courses offered by universities and colleges, and many larger companies either wholly fund or partially support their employees in further education, resulting in academically qualified professionals on their payrolls.
Management skills may be taught as part of an MBA program or organised by professional associations such as the American Management Association (AMA). These management development courses provide participants with information about business trends, leadership styles, organisational behaviour and other areas related to management during the educational process, as well as developing the soft skills and personal qualities of effective managers.
Mentoring
Many organisations offer informal mentoring programs for new managers or those who are interested in management development. Mentors are often older managers who have been successful in their careers and want to share their knowledge with younger people who are on a similar path. In mentoring relationships, the mentor typically focuses on helping the protégée (sometimes called a mentee) in acquiring knowledge or skills, while helping them apply those skills effectively in their current roles. The mentor helps the protégée identify personal goals and challenges as well as building their confidence. Mentoring relationships can last from a few months to several years depending on the development needs of the participants involved, and the time the mentor can offer.
Shadowing
Shadowing is an effective method for organisations who already have effective managers and management knowledge in-house, and want to develop more of their employees to the same level. It works through one-on-one guidance, where the employee who is learning follows the more senior manager during their working day. Shadowing can also be used to develop managers who are at the same professional level. They can take turns observing one another at work, then share knowledge and feedback with one another as a kind of peer-to-peer management development.
Secondment
A secondment involves an employee working in a different company or department for a set period of time before returning to their usual role. Management development secondments can be a useful way of getting managers out of their comfort zones and helping them develop new skills, gain experience and broaden their horizons. Secondments are often used in conjunction with other management development activities such as coaching or mentoring. They can be particularly useful for employees who have reached a plateau in their careers and need some extra support to progress further.
Building management development into your wider training and development program
Employee development and talent management is a natural starting point for any business looking to set up management development programs. After all, your existing talent pool is your primary source of future managers.
Management development as part of a wider employee development program means new managers who have experienced career development earlier in their journeys and are more likely to know whether management is of interest to them. The most highly competent are also going to be easier for you to identify, since you'll have been working with them throughout their employment, whether through informal coaching and support, self-directed employee development or a more formal career development program.
The tools and techniques you have already put in place for career development programs are likely to be equally valuable in management development programs. Personal development plans, online training resources and one-to-ones can all be co-opted when honing your employees' management skills.
360 feedback can be a great way for potential managers and their teams to reflect on the management development process. In 360 feedback, an employee asks their peers, their juniors, their managers and perhaps other stakeholders to offer professional feedback in order to help them develop. This is especially relevant for management development activities, since it reflects the views of those who will be managed as well as the people senior to the manager.
How do you select the right candidates for management development?
Management is a skill, and one that can be taught regardless of a person's personality type. That said, employees with natural leadership qualities tend to be more successful in management development training. Good leadership skills include:
Being able to motivate others
Having good communication skills
Being able to set goals and objectives
Delegation of tasks to others
Innovation and vision
Planning ahead
The ability to see different points of view and take them on board
Good interpersonal skills and networking abilities
A 'big picture' perspective on team goals and challenges
Team building abilities

How to measure the success of your management development program
If you want to improve your management development program, or even just evaluate the ROI it offers, you have to measure its effectiveness.
Your measurement should aim to answer these questions:
What was the impact of the management development program on employee performance?
How did it affect employee attitudes?
How effective was it in transferring needed knowledge and skills?
What were the costs, and how do they measure up against the benefits you've gained from your management development program?
You can use a range of methods to evaluate your management or leadership development programs, touching on both qualitative and quantitative measures of success. Here are some options to consider:
Gather participant feedback
Ask your participants about their experience with the program using a short survey. Make sure the survey takes place immediately after the course is completed, or use a pulse survey approach to gather feedback at appropriate touchpoints, such as at the end of a course module or seminar session.
Gather feedback from other stakeholders
Collect feedback from people who may not be part of the management development program but are in a position to perceive the results, such as line managers, team members, direct reports, suppliers and consultants.
Collect 'before and after' data
Ask your participants to reflect on their performance before and after the development program. You can make this data qualitative, asking them to explain their experience in their own words, or collect quantitative data in the form of scores on items like 'confidence at work' 'ability to listen' 'willingness to lead a project'. Collecting these scores before and after the program will give you the best results.
Evaluate learning outcomes
Assess whether employees have learned the specific skills they need on the job. The results will vary based on what was taught and how it was taught, but it's useful to know whether employees leave management development with something new they can apply at work. You might also consider evaluating whether they understand complex concepts that help them perform their jobs better or learn more quickly than before.
Look at wider EX metrics
Use metrics like turnover, eNPS and employee engagement scores to see if your management development program may have had an impact. You can combine this sort of data with qualitative feedback from employees that qualifies these results, asking them how they feel about the management development program and if it has impacted their decision to stay with the business, or if it has changed their perception of the company and their role.