---
Talent management definition
Talent management is the full scope of HR processes that attract, onboard, develop, motivate and retain talented people throughout the employee lifecycle.
It's a continuous multi-faceted process that permeates all kinds of human resources activities, from recruiting and hiring talented candidates to manage exit interviews and succession planning. That's why it's important for HR professionals to bear talent management principles in mind whenever they are setting HR priorities and even when carrying out routine tasks.
"All companies have a talent operating model, whether they know it or not," says Edie Goldberg, writing in Forbes. She compares the talent management process to the operating system on a device – something that contains and manages the whole system.
After all, if your organisation employs people, you will be doing some kind of human capital management, be it carefully planned or spontaneous and organic. Whether you have a formal talent management system or a talent management process that's chiefly a result of short-term decisions made over the years, it makes sense to think about whether your workforce planning could be delivering more value.
Why is talent management so important?
Talent management helps you make sure every employee – and every employee experience – meets their full potential. A talent management model gives you an opportunity to find out what makes your employees feel happy at work, motivated and engaged, and then to maximise those positive factors so that you're creating a great place to work and at the same time getting the very most out of your investment in people.
Talent management keeps great people coming into your organisation and flourishing throughout their careers, developing skills and interests and contributing in different ways. It helps you understand what makes some employees want to stay for the long haul, while others churn, and to reduce unwanted attrition as much as possible.
Managing talent also helps you balance your organisation-wide portfolio of skills and strengths, including being able to plan ahead for how different people will fit into different roles in the future as your company grows.
Does talent management really work? Absolutely. A study by McKinsey showed that companies whose employees said their talent management program was very effective had the highest ability to attract and retain talents and skills needed to realise strategies. They also did the best at improving overall performance through talent management.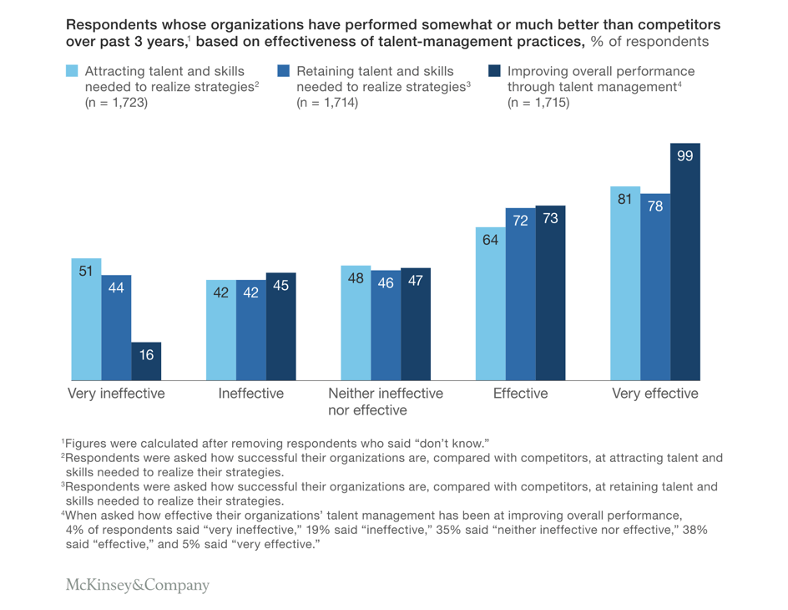 Aligning talent management with your business goals
You know you want to attract and retain top talent. But what defines top talent? At least part of it is a person's suitability for your company and its unique goals and challenges. The right skills and experiences for your company will depend not just on who you currently have on staff and what you do. It's also governed by where you expect to be in the future, and what you see as your top priorities for growth.
Even softer skills such as listening, communication and empathy will hold different kinds of value depending on the kind of organisational workplace culture you have, or the kind you want to build.
For all these reasons, it's crucial that your talent management strategy is closely tied to your business goals, and is developed in consultation with business leaders from across your company to make sure it connects with their plans and expectations.
Talent management: early career
It's well known that talent acquisition – i.e. attracting and hiring the most capable candidates for job openings – is an important ability for any successful business. But talent doesn't just arrive ready-made. There's also talent that develops over time, and professional potential in candidates of all kinds which a skilled recruiter can identify at the initial stages of the candidate's journey.
An individual's early experiences with your company set the tone for their entire career, and provide a valuable opportunity to learn what kind of first impression you're making and the status of your employer brand.
All these are excellent reasons for paying special care and attention to the types of experiences you provide at the start of the hiring process since this is a time when talent management pays dividends.
Candidate experience
The candidate experience spans the first stages of the employee journey. Discovering your company, applying for a role, undergoing the screening process, attending an interview, and negotiating a job offer are all part of the talent management process.
Building a strong employer brand is one of the key components of talent management at this stage, as it will help you to establish a reputation for treating people well and having a positive company culture. Employer branding must happen authentically through the experiences of your existing employees, who will help create your employer value proposition through their feedback and honest opinions.
The better your employer brand and candidate experience, the easier it will be to build a high-quality talent pipeline. Developing a standard process for talent acquisition is a great way to make sure the whole process is consistently good for every candidate. It can help things like post-interview or post-application feedback from falling through the gaps. And these details matter – candidates who receive timely feedback are 52% more likely to engage with an employer again, according to data reported in Harvard Business Review.
Onboarding
The first days and weeks in a new job are an intense learning curve, with employees forging new working relationships and getting to know how things are done. Making sure there is a talent management process to smooth the transition from new hire to fully ramped-up team member is a valuable step, as it will not only increase productivity and value in a new employee, but will also create a more positive employee experience.
Talent management: mid-career
Team members who have been with your company some time are usually the focus of talent analytics and professional development programs, as you aim to maintain their engagement and keep their work as satisfying and rewarding as possible. We are living in a post job-for-life era, so employee retention remains important throughout the entire employee lifecycle. Strategic talent management focused on identifying development opportunities can be important for adding meaning and value to an employee experience.
Organisations who are skilled at internal mobility, i.e. those who continue to offer value and meaning throughout the employee lifecycle through development-based talent management strategies, are able to keep them for around 5.4 years – almost twice as long as companies with lower talent management capabilities, according to LinkedIn. The same study found that employees who feel their skills aren't being put to good use are 10x more likely to seek a new job than those who feel that they are.
Employee pulse
Pulse surveys are an opportunity to learn about different aspects of the employee experience as they unfold. Surveying talented employees on a more frequent basis (as opposed to running an annual survey in isolation) helps you maintain a current view of the employee experience, and gives you more opportunities to course correct through talent management when problems begin to develop.
As well as providing up-to-date insights and the ability to take action promptly, pulse surveys help make sure employees feel heard and valued. Being consulted about their experience, and having the opportunity to feedback about things that matter to them, can help increase their sense of engagement and belonging at work.
Development
Employee development programs are close to the heart of any talent management strategy, since they aim to bring out the very best in your top talent and to make sure everyone in the business is working to their full potential.
A talent management system that harnesses digital technology and automation can help your human resources department, and your employees, to develop personalised plans and goals. Making talent management digital in this way helps employees to own their own development, since they can collect feedback via 360 development and receive personalised reports that are tailored to them.

Talent management: exit and succession
Employee turnover is inevitable, and in many ways it can be a positive milestone that offers both the team and the departing employee a fresh start. When the time comes to move on, whether to retirement or to new growth opportunities elsewhere, take the opportunity to gather feedback from the person leaving, as they will be in a position to give you a holistic view of their role and their experience of your workplace culture.
Succession planning
Succession planning goes hand in hand with the learning and development side of talent management. As you map out goals and future career paths with your employees, you can identify who has the right skills and personal qualities to step up to higher levels of responsibility in the future, and ensure there's never a gap at the highest levels of management and leadership when current employees move on.
Exit interviews and surveys
Developing an exit interview protocol for employees who leave your organisation is a valuable part of your talent management strategy. It can help you pinpoint the reasons for attrition and take action to prevent your best talent from leaving in the future. An exit interview with engaged employees can also give useful feedback about a 'completed' positive employee experience, as the person leaving reflects on their time in the organisation and the moments that had the strongest impact. You can then fold these positives back into your talent management model.
EX25 is here
Talent management hinges on employee engagement and other drivers of a great employee experience. Discover the 25 drivers that matter most and the methodology that brings them all together.