Qualtrics for Human resources
Empower your organisation to attract, develop and retain top talent
"Using Qualtrics we were able to create an incredible employee experience.
If we were just basing our decision making on benchmarking and anecdotal feedback,
we wouldn't have got it right." - Goldman Sachs
Qualtrics EmployeeXM makes it easy to conduct HR surveys at every point of the employee lifecycle. And with a holistic view of employee experience, your team can pinpoint key drivers of engagement and receive targeted actions to drive meaningful improvement.
Outcomes we deliver
Reduce unwanted and costly attrition
Increase employee engagement and productivity
Identify and develop top performers
Increase employee lifetime value
How Qualtrics HR surveys help you improve employee experience
BUILT-IN EXPERTISE
A proven, science-backed approach helps you plan, execute, and scale your HR survey program to drive measurable results.
HOLISTIC X + O VIEW
Eliminate blind spots with an end-to-end view of your employee experience data (X-Data) and your operational data (O-Data) across the full employee lifecycle.
FRONTLINE ACTION + STRATEGIC TRANSFORMATION
Empower every people manager with AI-recommended insights and actions that drive day-to-day improvements, and drive strategic transformation at scale.
CONTINUOUS EXPERIENCE IMPROVEMENT
From websites to mobile apps, voice-activated devices and chat services, gather feedback and insights through natural conversations at every touchpoint.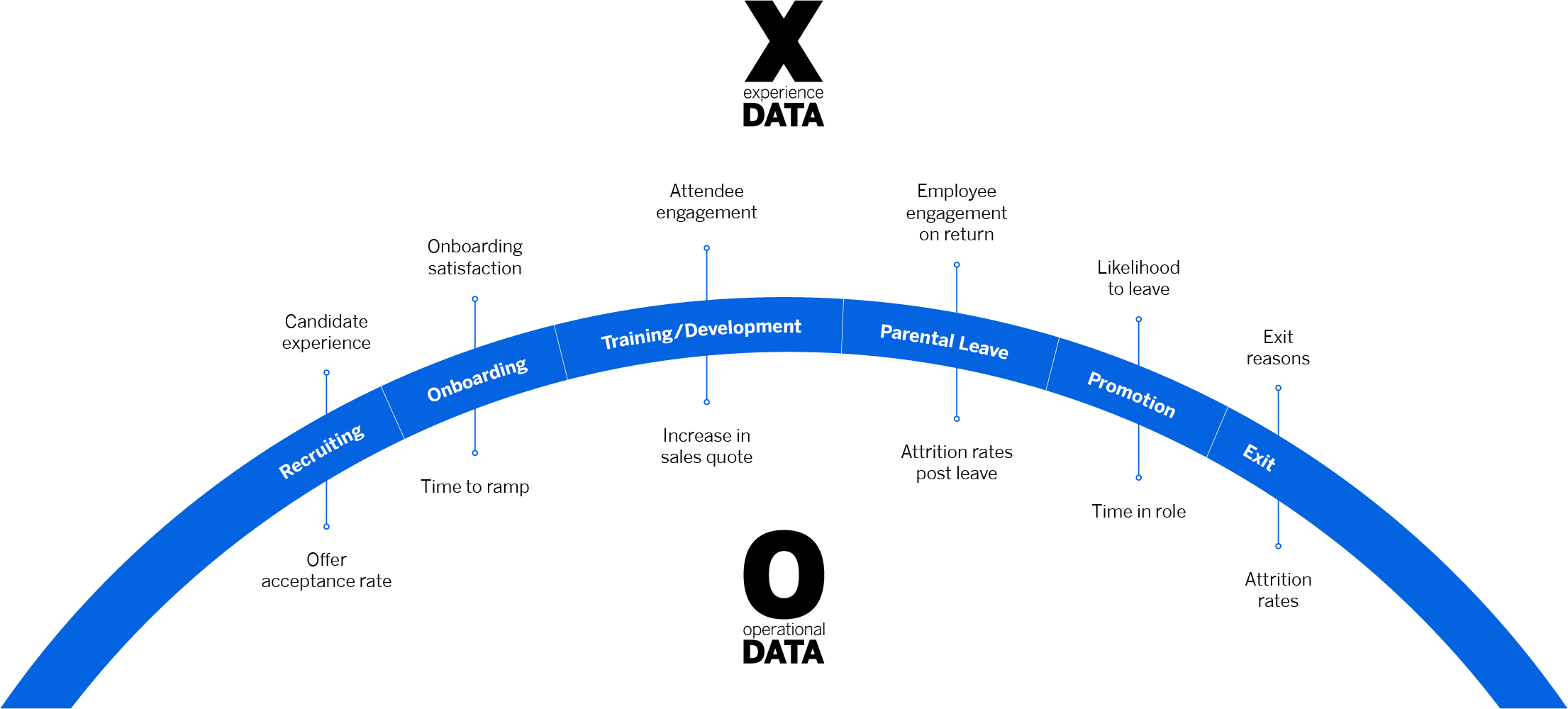 ---
See your organisation's entire employee experience like you've never seen it before. Qualtrics makes it easy to conduct human resources surveys at every touchpoint and connect insights gathered across the entire lifecycle—from recruitment to exit.
Employee engagement
---
Collect, analyse and act on employee feedbackusing annual or biannual HR surveys.
Reduce unwanted and costly attrition by understanding key drivers of engagement
See how your work impacts employee productivity and organisational KPIs
Enable managers to drive improvements by giving them clear, actionable insights
EXPLORE EMPLOYEE ENGAGEMENT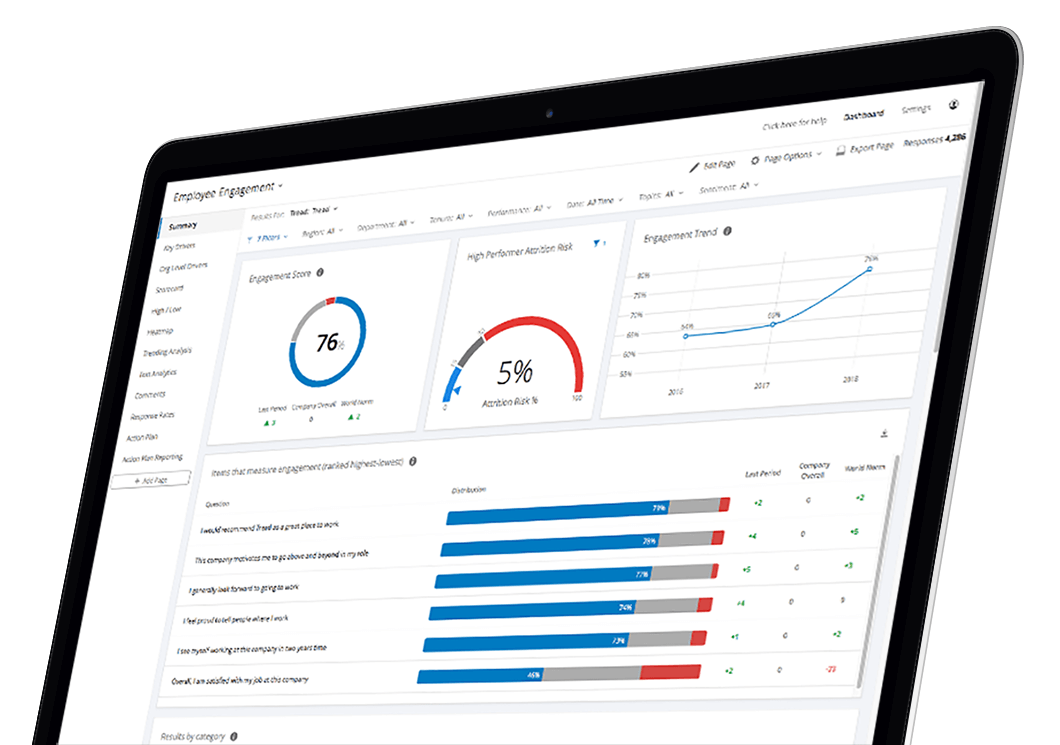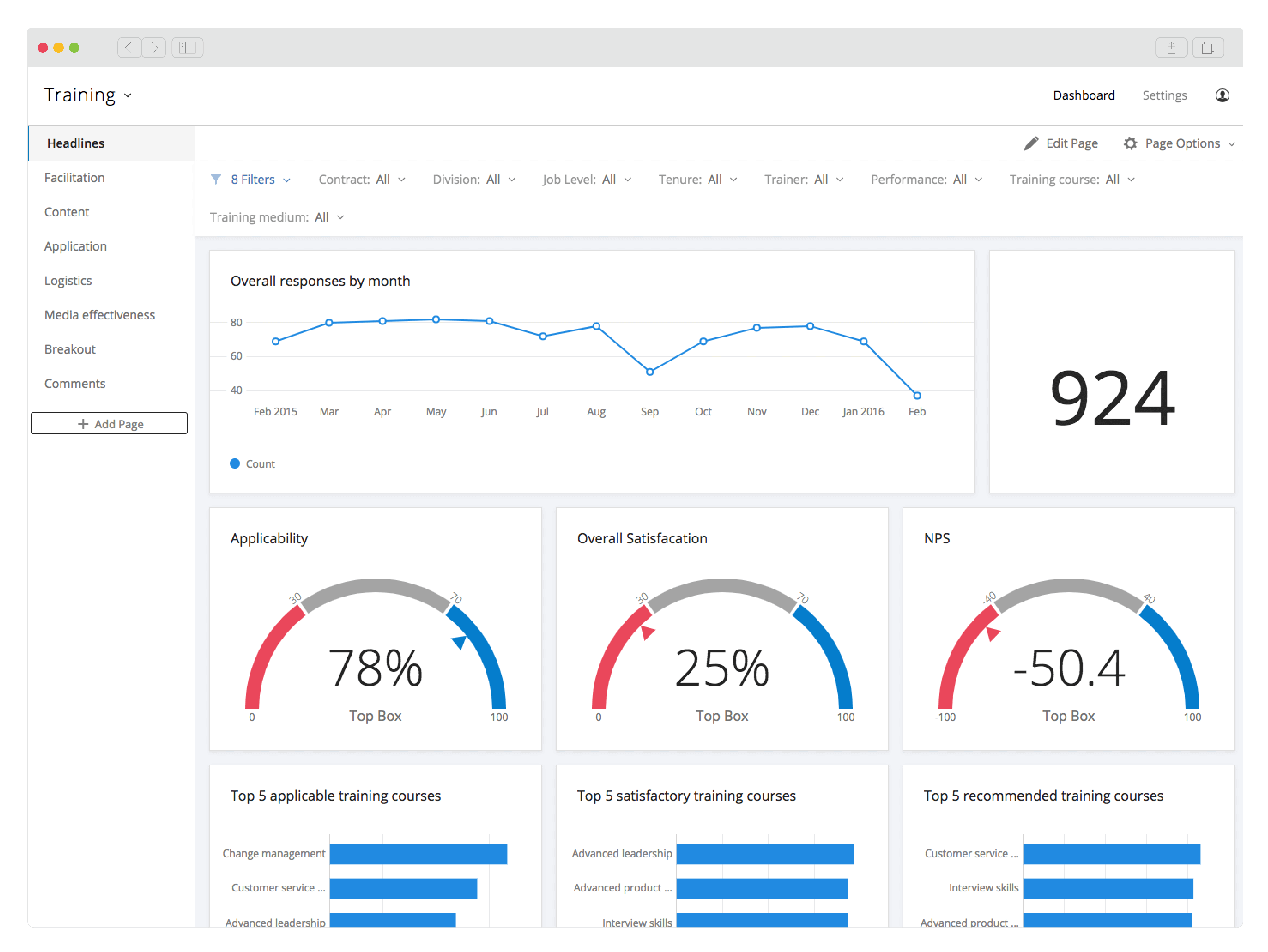 Training and assessment
---
Use HR surveys to improve internal training and development programs based on real-time feedback.
Understand the effectiveness of training and how courses are impacting key metrics
Link training history to performance data to gaugethe short- and long-term impact of training
Invest in training programs that deliver tangible results and drive up performance
MORE ABOUT TRAINING
Pulse surveys
---
Stay closer to your employees with fast, frequent HR surveys.
Identify even the smallest change in employee engagement and act quickly to improve experience
Monitor the impact of your HR initiatives, from diversity & inclusion to career development
Collect regular employee feedback on specific projects or workstreams
Explore pulse surveys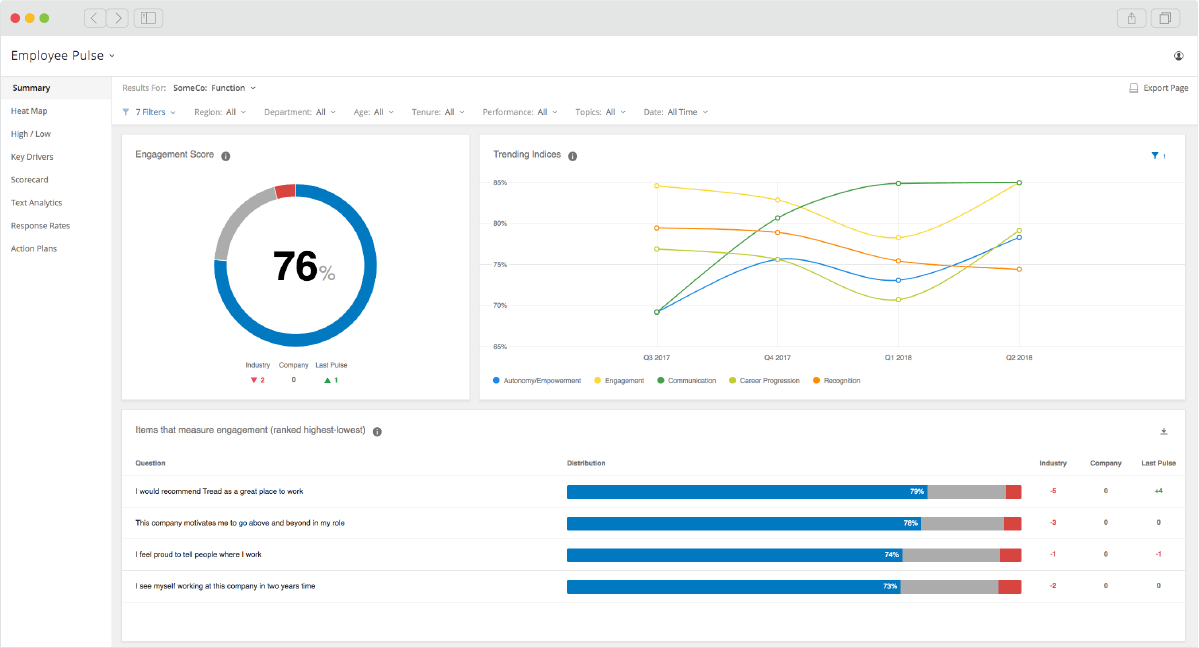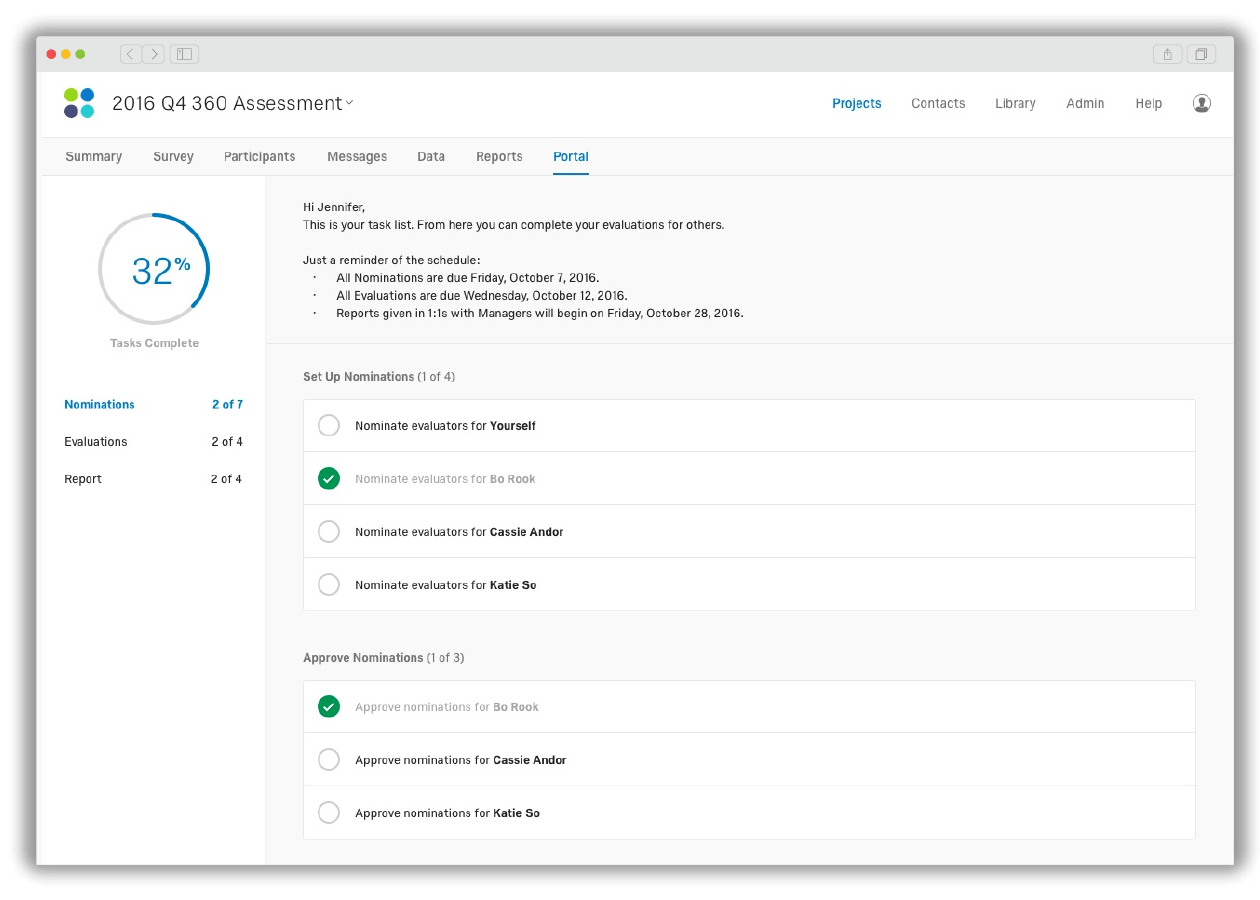 Multi-rater assessments
---
Launch 360, 180 and self-assessment HR surveys that improve employee performance and generate clear development objectives.
Create fully customised evaluations and have total control over who can be selected as a rater
Make it easier for managers to have constructive conversations with their team, based on 360 data
Give employees individual reports with clear objectives, and maintain raters' anonymity with confidentiality features as standard
360 Feedback Tool
Onboarding feedback
---
Discover strengths and weaknesses of your onboarding process with HR surveys triggered at key points in an employee's first 6 months.
Improve productivity and organisational KPIs by cutting down ramp time
Get new hires bought into your company's vision and ethos from day one
Prioritise improvements that have the biggest impact on key metrics like ramp time and productivity
Explore onboarding surveys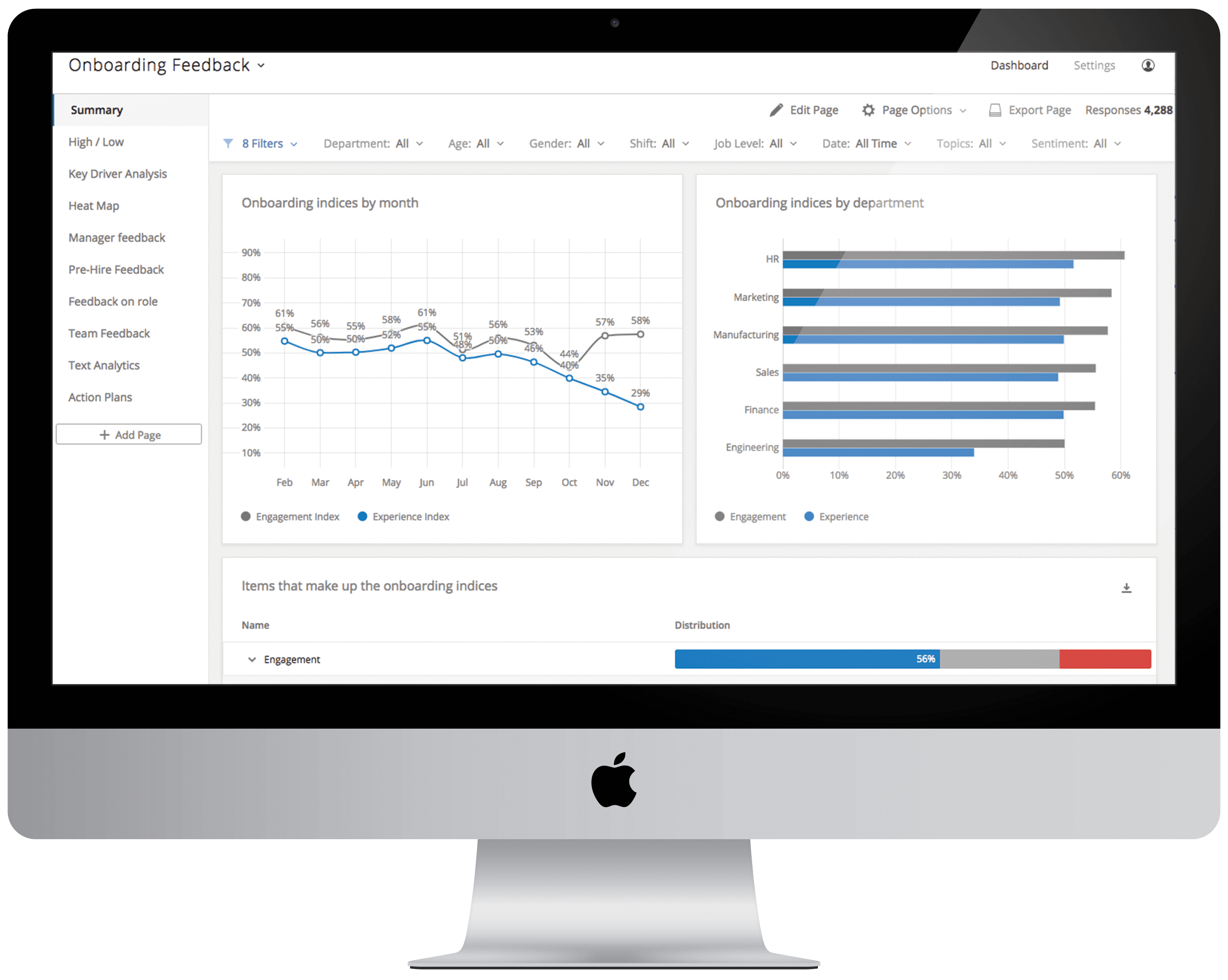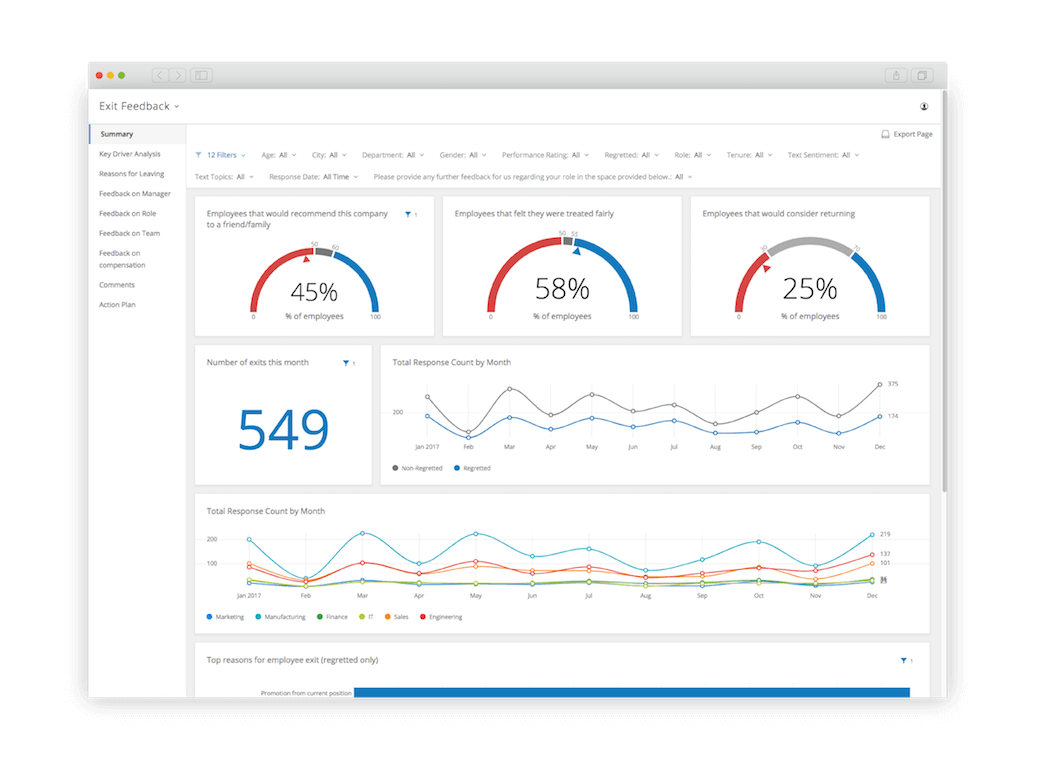 Exit interviews
---
Uncover key drivers of unwanted attrition and retain your best people with HR surveys at the point of an employee's exit.
Gather honest insights from exiting employees and see what you need to do to reduce unwanted attrition
Create real-time alerts for at-risk staff so managers can try to prevent them leaving
Drive company productivity by keeping your top performers happy and engaged
Explore Exit Interviews
Qualtrics improves both our efficiency and our human connection with customers. They've never been happier or more loyal.
Customer expectations are increasingly based on end-to-end businesses that manage complex experiences while hiding complexity from their customers.
Qualtrics' Flexible Service Model
We pair the unmatched Qualtrics XMTM platform with a robust ecosystem of XM Services experts to ensure success across every Experience Management journey. Qualtrics XM Services are available to help you succeed on your journey to experience management leadership through end-to-end service design, delivery, and ongoing success.
Advisory
XM Scientists
XM Institute
Tech Consultants
Deliver
Tech Consultants
Solution Architects
Program Architect
Support
Customer Success
Qualtrics Support
Technical Acct Mgr
Experience Basecamp
See how Qualtrics can improve the employee experience