---
Nobody likes criticism; we're hard-wired to rail against it. But when it comes to dealing with customers, criticism can actually be a fantastic resource. As counter-intuitive as it may seem, having a keen focus on customer complaints – both listening to them and acting on them – is how the world's biggest brands build lifelong customer relationships.
But to understand why and how we first need to understand what drives customer complaints, the dangers they pose, and what can happen if you choose to ignore them…
Customer complaints: Why they're so powerful
Customer complaints arise from the space between the experience buyers are promised, and the one they actually receive. If that 'experience gap' is analogous to a fault under the hood of your business's day-to-day operations, then customer complaints are the warning lights on the dashboard.
And, as with those warning lights, ignoring customer complaints is a surefire way to wind up in a sticky situation.
In our own research, we've found that only 13% of people will recommend a company with very poor customer service, and that companies offering a five-star service are 2.6 times more likely to garner repeat purchases than those with a 1 or 2-star experience.
Microsoft, meanwhile, found that 58% of American consumers will move over to a rival brand if the customer service isn't up to scratch.
What's important to note, though, is that customer complaints indicate problems that are usually much more widespread than they might initially seem. In recent research, ThinkJar found that only one in 26 customers will actually voice a complaint following a bad experience, and the rest will silently move on to a competitor.
"Only one in 26 customers will actually voice a complaint following a bad experience, and the rest will silently move on to a competitor."
In theory, then, there may be as many as 25 disgruntled customers per complaint – that's 25 people whose business you've lost without even realising it. Which makes listening to and acting on the complaints you do receive even more important.
Beyond all this, though, customer complaints are a powerful discovery engine. They're how you can learn what's not working – from the people actually paying to use your services. That's useful because it's often difficult to see the wood for the trees when you're in the thick of things; customers have an outside view of your operational efficiency that shouldn't be ignored.
Discover the power of active listening
Why is reputation management important?
As the oft-repeated stat goes, it's five times more expensive to win new customers than it is to keep existing ones. So it pays to look after the people who already do business with you as a priority. But by carefully managing your brand's reputation for customer service, you'll actually be able to affect the behaviour of both existing and new customers.
That's because your reputation is built by the former, and influences the latter. And this manifests in a couple of key ways:
Repeat purchases
Customers who complain and are then left out in the cold are pretty unlikely to do business with you again. But if you handle customer complaints efficiently and effectively, it's possible to not only salvage that relationship but build customer satisfaction and loyalty.
In fact, if your customer service is good enough, it can completely cover a poor purchasing experience. SalesForce found that, even if the company has made a mistake, some 78% of consumers will happily buy from them again if the customer service they receive is excellent. HubSpot backs that up, suggesting that a huge 93% will make repeat purchases from companies offering excellent customer service.
Those repeat purchases mean increased customer retention and a higher customer lifetime value, which can have a big impact on profit. Bain and Company state that boosting retention rates by 5% can mean a profit increase of as much as 95%.
Recommendations
eMarketer and Bizrates research shows that 98% of buyers turn to online reviews before purchasing. That's as close to 100% for the difference to be negligible, which means that online reviews form one of the most vital aspects of your reputation. Naturally, a positive review is the polar opposite of a customer complaint, so there needs to be a framework in place for being able to turn a negative experience into one that garners a positive review.
Great customer service – being able to listen to and handle customer complaints – is a core driver of recommendations. Our research shows that 94% of consumers will recommend a company with 'very good' CX.
How to handle customer complaints
When a customer complaint arrives, handling it quickly and with empathy should be a no-brainer. But how do you actually do that? How does an angry customer become one of your legions of loyal customers?
Here's a list of best practice methods for how to handle customer complaints effectively:
1. Listen like a superhero
Customer complaints aren't always direct. While some will come straight to your customer service reps over the phone or via email, a lot of complaints will happen on third-party review sites or social media. So you must keep your ear to the ground.
In the modern customer experience landscape, that means employing dedicated CX management software that can scour every touchpoint and analyse what customers are saying. The right platform can listen to and understand conversations happening across social media, live chat, review aggregators, and via the phone, and turn what it detects into meaningful insight.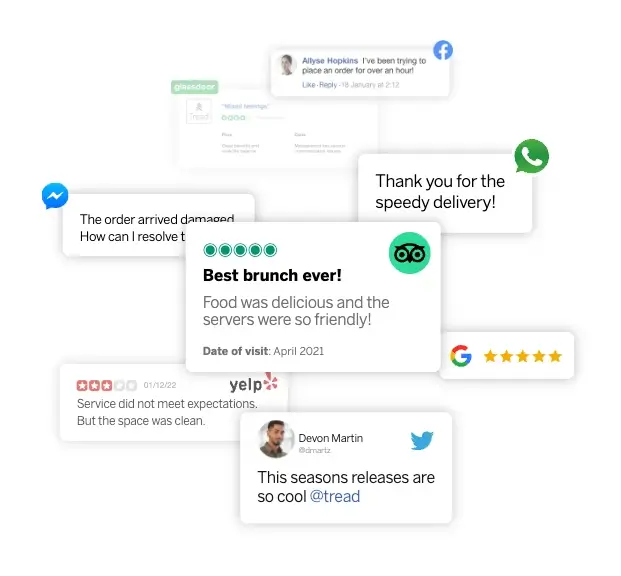 AI and natural language processing, meanwhile, ensure that the effort, intent, and sentiment are captured, and that unhappy customers are fully understood, no matter how they choose to air their grievances.
2. Empower your agents
Your customer service reps and support agents are your best weapon when it comes to handling customer complaints, but for them to do their best work, you need to give them the best possible tools.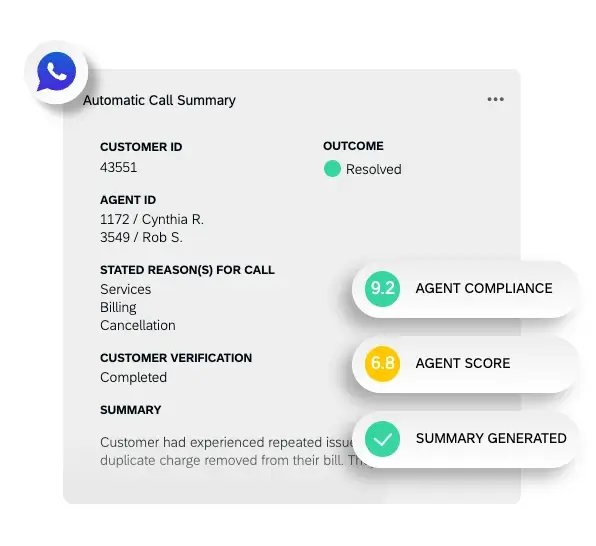 Contact centre software can help here, with AI-imbued suites able to understand conversations as they happen and react with both relevant prompts and real-time agent coaching. Script compliance scoring and automated post-work features can also help your teams spend more time doing what they're best at – handling customer complaints – and less time on the more laborious side of customer support.
3. Balance speed with empathy
Speed matters. Research from Harvard Business Review states that if you can deal with a customer's complaint in less than five minutes, they'll be willing to make future purchases with you. But, even without the surveys to back it up, it's obvious that leaving people waiting is going to cause you financial and reputational damage.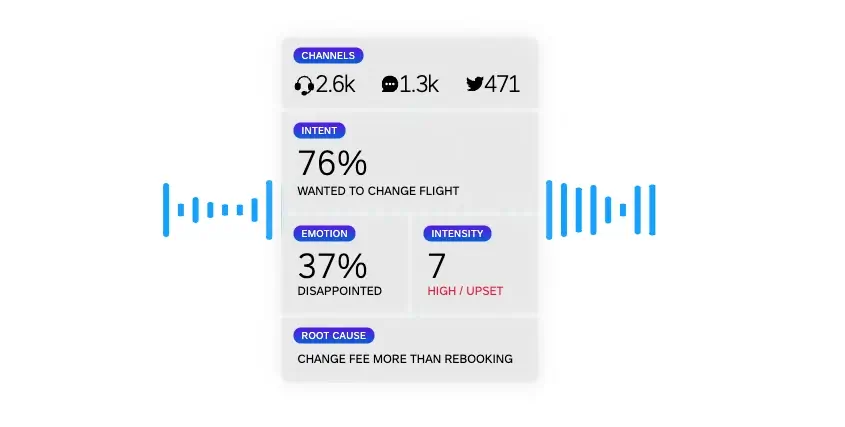 The overarching solution here is in ensuring that unhappy customers get through to agents quickly, but the way to do that is multifaceted. Raw telephone answering speed is one thing, but so is having systems in place to let some customers self-serve when they want to – freeing up support agents for those who don't. That's as well as having technology and processes in place to deliver automated responses where relevant, alongside auto-prioritising, is vital.
But what's more vital is that your approach doesn't focus on speed over and above empathy; each unhappy customer ultimately wants to feel listened to and understood. It's vital, then, to add contact center software that prioritises empathy – both via natural language processing and agent assistance – to your tech stack.
4. Build a culture of action
We've spoken a lot about listening to customer complaints and how agents can work their magic to increase customer satisfaction, but behind those individual tactics needs to be an overall strategy built on acting on the feedback you hear.
Every dissatisfied customer who comes to you with a complaint is an opportunity to learn about an experience gap, so why not use that to build a framework for improvement? If, for example, your CX agents (and your contact centre software) flag friction in your checkout process, that insight needs to be reported to the teams responsible for making changes to that system.
Those internal processes need to be interdepartmental and thoroughly baked into the DNA of your business, in other words – so that your business can analyse customer complaints and turn them into action.
Common customer complaints: Examples
Here's a quick list of some of the most common customer complaint examples, and what you can do to fix them:
Customer complaint: Product or service issues
Probably the most common customer complaint is around the quality of the product or service they've received. There is some degree of subjectivity to this, but generally, it's an indication that there's a gap between what was promised and what was delivered, and you need to work to close it. In the first instance, that might mean taking these complaints to product QA teams or looking at how feedback should affect the UI or UX of a digital product.
Moreover, though, the complaining customer should be offered some recompense – whether it's a replacement product, money back, or a discount on a future purchase – and a road to resolution that ensures they're happy to continue using your product or service.
Customer complaint: Long wait times
Customers left hanging on hold or in queues will leave the experience ready to leave negative feedback – so it's imperative that your wait times are as low as possible. You can manage this in a variety of ways, from pure manpower in the call centre to adding self-service options that can alleviate the reliance on phone or live text interactions.
The modern contact centre is much more than just a phone line. Customers want to be able to contact businesses in a variety of different ways, across touchpoints and without having to repeat themselves, so it's important to have contact centre management software that works the way they do. If someone wants to do something as simple as changing a password, they can – and should – self-serve.
Customer complaint: Lack of response
Those customers who prefer not to pick up the phone are just as important as the ones who do. If customers complain via email, for example, or using social media, they still expect a response – even if it's an automated one to assure them their message has been received.
The way forward is to ensure that your team is keeping tabs on every platform, and that you have a software solution that can capture and analyse any customer complaint from any channel.
Customer complaint: Poor buying experience
Upset customers can really love your products, but hate the process of buying them. That could be from a lacklustre instore experience, or it could be because of a sub-par checkout process. Whatever the case, a customer complaint about the experience is a red flag that needs to be actioned on. The best way to solve this kind of issue is to spot problems before complaints even arise.
Software that can track user behaviour and history can be really useful in identifying these pain points early. Qualtrics Experience iD, for instance, can build individual profiles alongside audience segments teeming with data around how customers are actually experiencing their interactions with your business – and show you where the problems are without waiting to be told.
Put CX at the core of your business
Every customer complaint offers potential for positive change and – down the line – even a positive review. But to make the most of each interaction, you need to arm your business with tools that can help you provide a truly reputation-building customer experience.
At Qualtrics, we know how easy is for dissatisfied customers to churn, and we also know the value of knowing what to do whenever you begin hearing recurring concerns. That's why we created XM Discover – our intelligent solution built for experience management.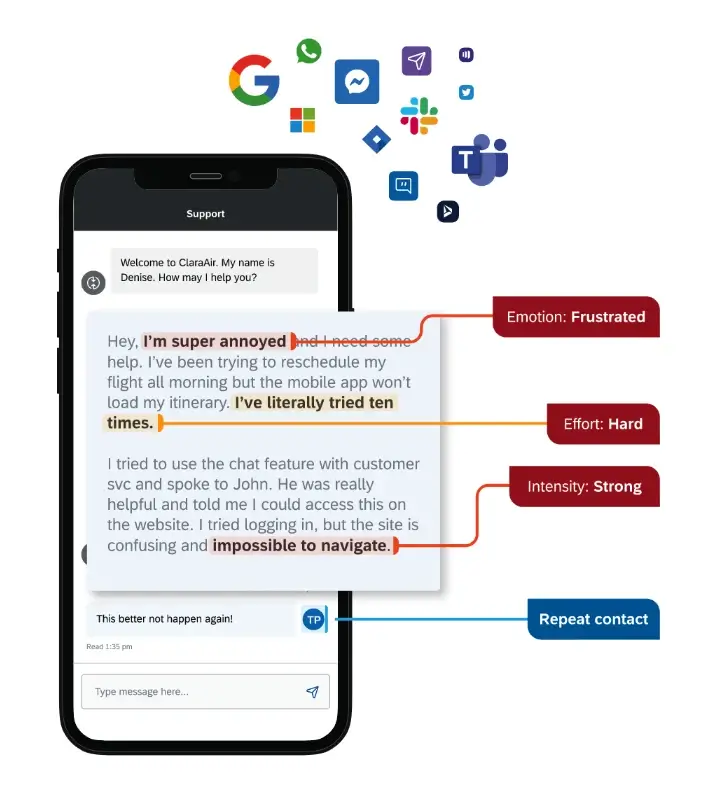 XM Discover offers conversational intelligence. That means it hears and understands what your customers are saying, no matter where they're saying it, or in which medium.
Across text, voice, and a multitude of touchpoints, XM Discover collates and analyses customer interactions to form a total overview of what's working, what's not, and – crucially – what you should do to close the experience gaps that cause customer complaints in the first place.
That's alongside live agent compliance scoring and coaching, automated post-call work, and a constant focus on boosting empathy in order to drive customer satisfaction.