---
Knowing and understanding how satisfied your customers are with your brand can help to determine their likelihood to return, future spend and willingness to recommend your products and brand to others. Improving it will result in a higher customer return rate, increased customer loyalty and a greater likelihood of a higher spend. With this in mind, it's in every business' interest to create meaningful experiences which satisfy the needs of their customers.
Get started with our free customer satisfaction survey template
What is customer satisfaction?
Customer satisfaction (CSAT) is the extent to which a customer's sense of "completion" has been met. Customer satisfaction is broader than pleasure, and it's more than enjoyment.
For example, when you have a great food experience at a new restaurant, you usually want to return. Positive experiences result in greater customer satisfaction, which leads to loyal customers and product repurchases.
Why measure customer satisfaction?
When looked at in context, customer satisfaction can tell you a huge amount about how you can improve your business.
Whereas a Net-Promoter Score can look at underlying likelihood to recommend in the long term, customer satisfaction is a relationship measure that can also be deployed in transactional moments — for example in-store, after a call, or when you receive a product.
It's more actionable because you are asking about specific moments, with valuable insight into how these perform.
See the whole picture
By asking about specific moments, you can compare touchpoints in the journey against each other, but there is even greater flexibility here to go deeper. While you can test different touchpoints entirely — for example a customer care vs a purchase interaction — you can also test different channels of the same touchpoint, for example, comparing customer satisfaction of purchases made in-store, by telephone and online.
By doing this, you can begin to evaluate precise moments in the customer journey and see what works, what doesn't and what you can do to improve customer satisfaction.
By then focusing on why customers feel the way they do, and why satisfaction is lower (or higher!) than what you'd expect, you can start to identify the actions you need to take to improve their experiences and better satisfy their needs.
No more guesswork on customer expectations and business actions
Identifying and taking action on key areas will have an economic impact and tangible benefits for your business too, because satisfied customers are more likely to return, spend and recommend to others, compared to unhappy customers.
By linking your experience data (in this case what your customers are saying about satisfaction) to your operational data (e.g. how much they spend, whether they become repeat customers, etc.) you can improve reporting quality and insights generation. You can see how improving the customer experience — making sure their needs are met and they are satisfied — at specific points in the customer journey boosts metrics such as loyalty, basket size and ultimately the bottom line.
Doing so makes operational decisions less risky because you already have information on what the outcome will look like.
How to measure customer satisfaction
So you know the benefits that measuring customer satisfaction can add to your business, but how do you do it? And where do you start? We've got a step-by-step guide for you to follow, with a few essential tips to get you up and running quickly.
Things to bear in mind before you start
Customer satisfaction scores are different for each business
On closer inspection, customer satisfaction is more than simply a way to make more sales. Customer satisfaction needs to be defined on a per-organisation basis. What does success look like? Do you want to aim for customers who mostly get what they expect and don't complain? Or do you strive to surpass expectations and give customers more than what they hoped for?
Each company must define its own goal for its CSAT score. In order for a customer to feel satisfactorily "completed," you must meet their needs – and you can't do that unless you know what customers expect from your brand. You'll also have to create a metric framework that helps you measure progress over time, your organisation's progress against industry best practice and the achievement of your enterprise objectives.
Creating a measurement framework for your customer satisfaction? Read the following article to understand your customers' satisfaction score in more detail.
What is CSAT (customer satisfaction score)?
Both customers that buy the product and those that use it are important
Let's unpack what we mean by "customer." There are two distinctions to be made:
The first distinction is using the term "customer" to describe the economic buyer. This is the person who has made the purchase but may not be the person singularly using it if at all.
The second distinction is the term "customer" describing the service user. The service user is not necessarily the economic buyer, but their experience as a service user may contribute to the economic buyer's opinion.
When we measure satisfaction, it's important to know specifically whose satisfaction we are measuring, because there are some situations where one type is more important than the other.
CSAT isn't the only metric to use
Customer satisfaction scores are useful – but they're only part of the bigger picture. There are more ways to understand your customers' drivers, views and needs – read our article below to find out.
How to measure customers satisfaction: 4 key metrics
Measuring customer satisfaction: step-by-step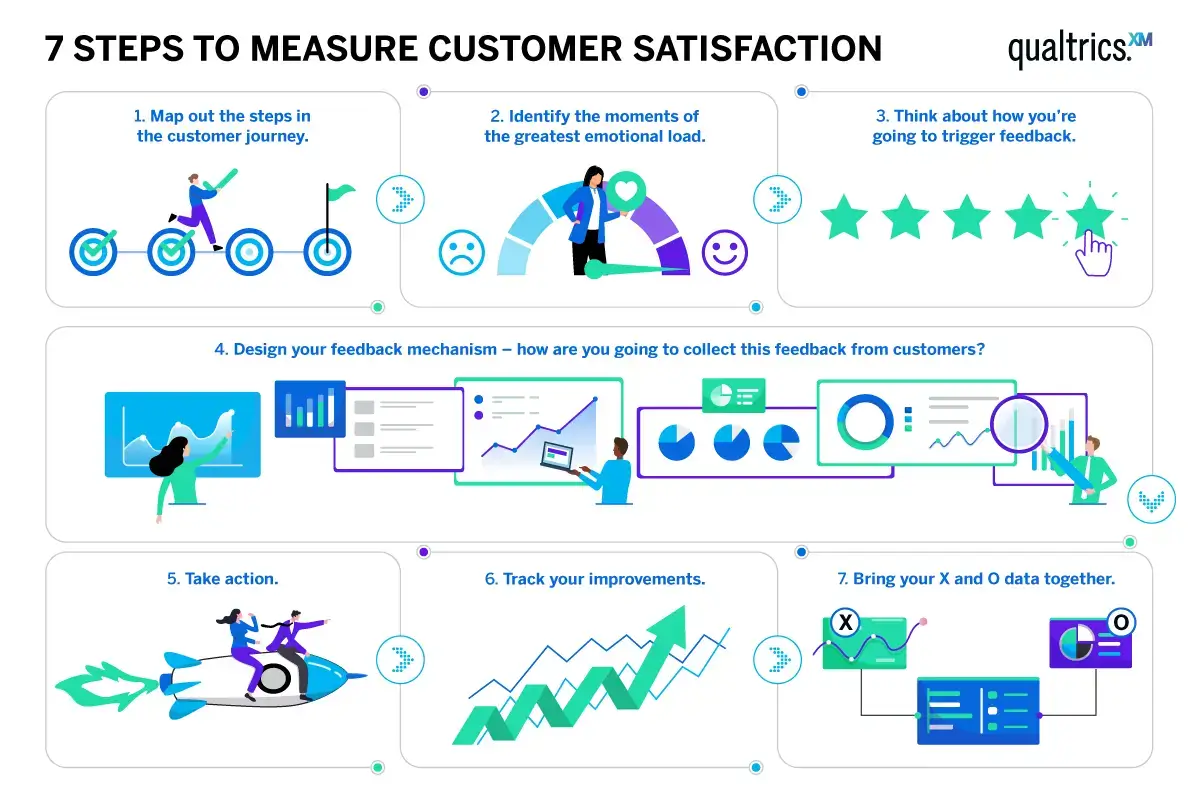 1. Map out the steps in the customer journey – think about the different touchpoints your customers will interact with throughout their journey.
2. Identify the moments of the greatest emotional load – the points in the experience that can make or break it for the customer. These are the moments the customer will remember at the end of the experience. Ideally, you want to delight them – read our article below to find out how.
Customer Delight: how to keep customers coming back for more
3. Think about how you're going to trigger feedback. Do you survey all customers after a purchase or upon a website visit? If you're collecting feedback, where will this data sit so that you can begin to analyze it?
4. Design your feedback mechanism – how are you going to collect this feedback from customers? Will you survey customers after all touchpoints? Where are you already collecting unsolicited feedback? You can collect feedback from a whole host of different channels – in fact CustomerXM® gives you a total of 27 channels and 128 different data sources from which to listen to your customers!
Here's a few things to consider as you design your customer feedback mechanism:
Make sure you put the customer satisfaction (CSAT) question at the top.
Below this, ask a series of driver questions (no more than 5) to allow you to dig deeper into the score that was given and understand what factors influenced it.
Below this, you can add a section for comments, but avoid making this mandatory.
Sample your customers for a representative view, instead of asking one person for multiple survey responses
5. Take action. Once you've created your feedback mechanism and you begin to record customer satisfaction levels across your specified touchpoints, it's time to identify action areas. A centralised dashboard is vital, so you can begin to listen, understand and act to improve the experiences along your customer journey all in one place.
You can take action by identifying the drivers that are influencing your customer satisfaction. Sometimes there may be an obvious outlier impacting your customer satisfaction scores, but there will also be times where determining what improvements can and should be made is a little less obvious.
This is where customer experience software plays a key role. A system of action that collects feedback, automatically analyses it and recommends actions to take to improve satisfaction can remove a lot of the legwork. Powerful statistical analysis will surface key insights and uncover gaps that otherwise could have gone unnoticed, so you'll know exactly what actions to take.
6. Track your improvements. Look for changes in customer satisfaction over time – is there an area that's less satisfying for your audience? Is there a driver that's causing this? You can do this with a rolling customer satisfaction (CSAT) survey, gathering feedback periodically. That way you can assess different factors such as seasonality, experiences in different markets or territories, or improvements to employee or product experiences are contributing to increased customer satisfaction.
7. Bring your X and O data together. Link the results of your CSAT survey to your operational data. By combining Experience data (X data) and Operational data (O data), you can see the economic impact of improving the experience for the customer will have on the business. Does it result in more renewals? More spend? Increased profitability? By doing so, you can start to see how you can have a considerable impact on your key business metrics.
Get started with our free customer satisfaction survey template
Creating customer satisfaction surveys
Proper timing of customer satisfaction surveys depends on the type of product or service provided, the type and number of customers served, the longevity and frequency of customer/supplier interactions, and the intended use of the results.
Depending on the need and purpose of tracking, you could use:
1. Post-purchase evaluations
Post-purchase evaluations reflect the satisfaction of the individual customer at the time of product or service delivery (or shortly thereafter). This type of satisfaction survey is typically used as part of CRM (Customer Relationship Management) and VOC (Voice of the Customer) systems.
2. Periodic satisfaction surveys
Periodic satisfaction surveys provide an occasional snapshot of customer experiences and expectations and are conducted for specific groups of consumers on a periodic basis.2
3. Continuous satisfaction tracking
Continuous satisfaction tracking is often part of management quality initiatives.
Benchmarking satisfaction as an NPS (Net Promoter Score) would be an example. You can baseline on post-purchase evaluations or a succession of regular customer satisfaction surveys (conducted daily, monthly, quarterly, etc.).
Customer satisfaction (CSAT) surveys: examples, definition & template
How to improve customer satisfaction
Understanding what drives customer satisfaction scores is essential if you want to successfully improve it. Here are some ways to determine what's driving your customer satisfaction and how you can use this knowledge to implement change.
Using driver questions in customer feedback surveys
Driver questions look to dig deeper into the key factors (referred to as key drivers) that influence a customer's perception of the experience, and consequently their customer satisfaction. The drivers will be different for every customer journey, and customers may place greater importance on some drivers than others, depending on what their values and needs are.
Driver questions help you to collect the data you need to analyse the different touchpoints along a customer journey. The resulting customer satisfaction scores also allow you to make comparisons of different channels. Only by asking driver questions will you be able to get granular answers and be able to take the right actions to improve customer satisfaction.
Driver questions best practice
Great driver questions ask about customer sentiment, emotion, satisfaction and expectations. For example, if you were buying a car, you might be asked "Did you feel welcome when you entered the dealership?" or "How satisfied were you with the payment plans offered to you?".
The best driver questions can be used to improve employee performance and coaching too. By asking customers questions about employee demeanour, knowledge and listening skills, customer satisfaction can be tied back to employee performance. In that instance, you can then look at the employee experience, and what actions you can take to improve employee performance to make the biggest impact on customer satisfaction and your business metrics.
However, it's worth bearing in mind which drivers are employee-related and which are situational. For example, a customer that's dissatisfied with a wait time might consider that a negative employee experience – but at peak times with issues outside of employees' control, this would be an unfair assessment.
Understanding the customer satisfaction bigger picture
CSAT scores aren't everything. Customer Effort Score and Sentiment can be leading indicators of where to focus and do additional analysis to identify drivers and potential improvement opportunities. The Customer Effort Score is used to indicate the degree to which a task is very hard / very easy and is best utilised for ranking and prioritisation.
By tracking these and a loyalty metric such as NPS, you can build wider Customer Experience metrics that help to flesh out the why behind customer satisfaction. These include:
Effort / Ease
Emotion
Effectiveness / Success (Ability to accomplish desired activity)
Our full guide to improving customer satisfaction levels can be found below.
How to improve customer satisfaction
Using tools to improve customer satisfaction
Tools such as Qualtrics® CustomerXM can help you to measure, analyse and act on your customer satisfaction scores.
By implementing a system of action and not just a system of measurement, you can find the story behind the data, and use it to improve the key moments of the customer experience, subsequently improving CSAT scores.
An example of what a CSAT scoring system looks like:

Customer satisfaction measures should be used to track across the entire journey and at key moments. By integrating with the tools your teams are already familiar with, the Qualtrics platform can help you to combine this with your operational data to drive actions and power your business decision making.
By constantly analysing customer responses, the Qualtrics platform will surface key insights and potential issues, and then recommend decisive actions you should take as a business to improve certain touchpoints in the customer journey, all in one platform.