Employee Experience
How to drive customer satisfaction with employee coaching
Your customers play a key role in helping coach your employees and has a win-win effect to help drive voice-of-customer change. Here's how you can use employee coaching to enable better customer experiences.
Employee coaching helps drive strong customer outcomes — this not only benefits your people but overall enables a better customer experience.
Coaching shouldn't just be between manager and employee, but in fact be a multi-way dialog: manager and employee, manager and team, and team members with each other.
In fact, working as a team can have big benefits to your business. By working to improve aspects of the customer journey, Mckinsey has highlighted that the pay off could be significant.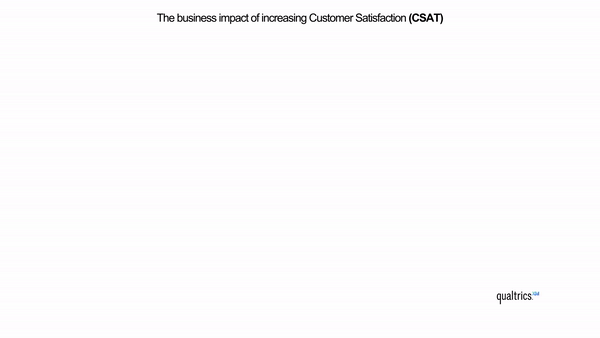 Manager and employee (1:1)
Go straight to the source and use voice-of-customer data in your 1:1 conversations. Starting off with a discussion on customer feedback can help to kickstart productive conversations. Although you'll want to focus less on score, and more on themes. Make sure you read both positive and negative customer comments.
What kind of questions should managers ask?
Managers should ask probing questions – not just about the score. For example:
"What do you think are your areas for improvement?"
"What do you want to achieve?"
This helps to guide employees to make the necessary changes themselves as well as agree that they're important.
Manager and team (1:team)
A great place to start is by having weekly meetings where employees read through customer comments. Reviewing customer feedback together as a team will help employees be engaged in the process.
What kind of questions should managers ask?
Managers should ask open-ended questions (ask don't tell) to make sure employees stay engaged. Discuss opportunities for improvement. Have employees come up with their own ideas.
Team members with each other (team:team)
One effective way to encourage employees to further understand the customer is to try role playing. The most effective way to do this by basing it on customer feedback, as well as manager/employee and manager/team coaching sessions.
Try assigning experienced employees to work with new starters.
It's also crucial to recognize positive conversations and results, and build this into recognition programs. Make sure you celebrate successes together.
What should my next steps be as a manager?
Follow-up, reinforcement and recognition track employees' progress in reaching agreed-upon action items, while also motivating them to reach (or exceed) their objectives.
The follow-up process should include:
Check on employee progress
Identify strong performances
Recognize noteworthy improvements
Share concrete examples from VOC surveys
Carry out team performance reviews
Embed leadership accountability
What else can managers do?
Here are 7 ways to drive customer satisfaction with employee coaching:
Make feedback part of the entire employee journey. That includes everything from recruiting, selection, hiring, onboarding to ongoing retention (just as you would for your customer's journey and moments that matter).
Make feedback regular and systematic and discuss improvements.
This is not a one-off event – you should treat it as a crucial part of your workflow cadence.
Organize your coaching soon after employee interactions with customers.
This keeps the learnings fresh and encourages continuous improvement.
Define service standards and/or behaviors from customer feedback themes.
For example, making sure staff follow up when they say they will. Then make sure to model these service standards.
Have non-customer facing roles review customer feedback.
For example, when there's feedback on the product. And make sure to recognize and reward. It's crucial to celebrate success.
Coach on the drivers you see from metrics.
For example, those you see from the customer care center.
Don't incentivize too soon.
Make sure that employees are motivated to get long-term results, not just short-term gains.
Improve Employee Experience by Empowering Your Managers