---
What is employee branding?
Employee branding is how you get your employees on side with your company values, vision, mission, and corporate brand. Once on side, your employees will genuinely and enthusiastically advocate for what you do — whether they're talking to prospective employees, customers, stakeholders or even each other.
Learn More: Improve your employee branding with our free survey software
And it's this kind of evangelism that separates the top brands from the rest. After all, in the light of a previously highly competitive recruitment market as a result of The Great Resignation, what current employees say about a company is crucial — not only for attracting talented future employees, but also ensuring ongoing success.
According to Glassdoor:
86% of employees and job seekers research company reviews and ratings to decide on where to apply for a job
The voice of the employee is three times more credible than that of the CEO when it comes to talking about working conditions in a particular company
86% of women and 67% of men in the United States wouldn't join a company with a bad reputation
So if you want to influence how your company is perceived, getting employees excited and enthusiastic about what you do, and engaged with the mission, are fundamental steps.
Why is employee branding important for business?
Better employee engagement
When employee engagement is high, customers are happy and there's a healthy return for the bottom line. In fact, highly engaged teams show:
21% greater profitability
41% reduction in absenteeism
59% less turnover
Excellent employee branding means a great working environment, well being, personal and career development, high employee satisfaction – and employee engagement.
Notice below how employee engagement compares global over the past few years as seen in our 2023 global EX trends report.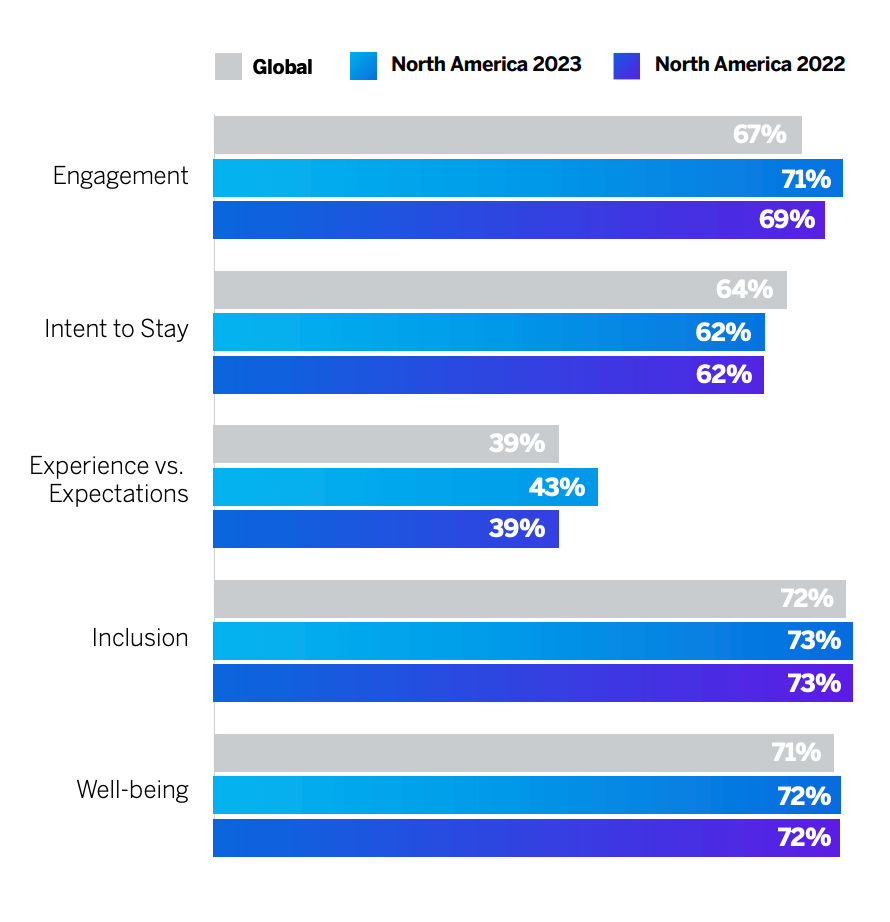 Bigger talent pool to recruit from
Enthusiasm is contagious. Talented potential hires hearing or reading about how great a company is will also want to be part of that action. Good employee branding efforts pay off when you can pick the best candidates from a large, talented pool of people who want to work for you.
Lower cost-per-hire
It's more expensive to recruit people if you have a poor brand reputation, and therefore also a poor working environment – at least 10% more per hire. When your employee branding is positive, your enthusiastic staff give employee referrals and recommendations that make people want to hunt you out, not the other (more expensive) way round.
Less employee turnover
When you've been able to select the best people for your jobs, chances are they are a good match for your company values, vision, mission, and employer brand. Good employee branding means that your company is employee-friendly, with cultures of belonging and team bonding that reduce the chances of your people leaving for better opportunities anytime soon.
Greater online presence
By encouraging employees to (genuinely) big up your company on social media and other online platforms, your company becomes more visible online, which in turn drives more traffic to your online channels.
What's the difference between employee branding and employer branding?
As we've said above, employee branding is based on the impression your own employees make about your corporate brand: what they say about it and how they behave.
Employer branding, however, is all about your organisation's image and reputation as an employer, demonstrated to current employees and potential external candidates.
Here's a handy table that sums up the differences between employee branding and employer branding:
| Employer branding | Employee branding |
| --- | --- |
| External engagement | Internal engagement |
| Manages outward appearances | Looks inward to how employees represent the brand and live its core values |
| Aims to appeal to employees | Aims to make employees appeal to customers, potential employees and the wider public. |
| Focuses on embedding the brand in the hearts and minds of customers and potential candidates and employees | Focuses on embedding the brand in the hearts and minds of employees |
| Works on securing an employee's contract of employment | Works on educating employees in 'the way of the brand' so they can be brand advocates |
| The organisation's PR agency or marketing team announces its own successes in internal communications and on the mainstream media | Employees share their own, lived work experience with external people on various media |
| Largely driven by business leaders and the HR department, who have their own agenda | Largely driven by employees who will really tell it like it is – whether positive or negative |
| Makes offers and promises during recruitment and hiring | Keeps the offers and promises made by employers to job seekers when recruiting and hiring |
| The employer controls the branding | The employees control the branding |
As you can see from the comparison above, while there is a difference between employer branding and employee branding, it's quite subtle.
But you can't have one without the other. If your employee brand is negative, you won't have a good employer brand. The two need to work together:
Use a strong employer brand to attract the best talent you can
Use a strong employee brand to make this great talent love the brand and willingly become brand advocates
How to do an employee branding strategy
Your company's performance can improve when you set up an employee branding program.
Use the following checklist:
✔ Do an employer branding audit
You've probably got some sort of employee branding strategy in place already, you just need to see what exists and where the gaps are. You can gather employee feedback using surveys, one-on-ones, focus group feedback sessions to understand how well your workforce understands your company's culture, vision, mission, and values. Social media searches and feedback from review sites and the company website are important aspects of the employer branding audit.
✔ Be clear on your unique value proposition (UVP)
Once you've done your audit, you'll have a good understanding of your brand and be absolutely clear about what your company stands for – its unique value proposition.
It should be:
Relevant to what your customer needs and cares about
Valuable – what you do really well
Different from the competition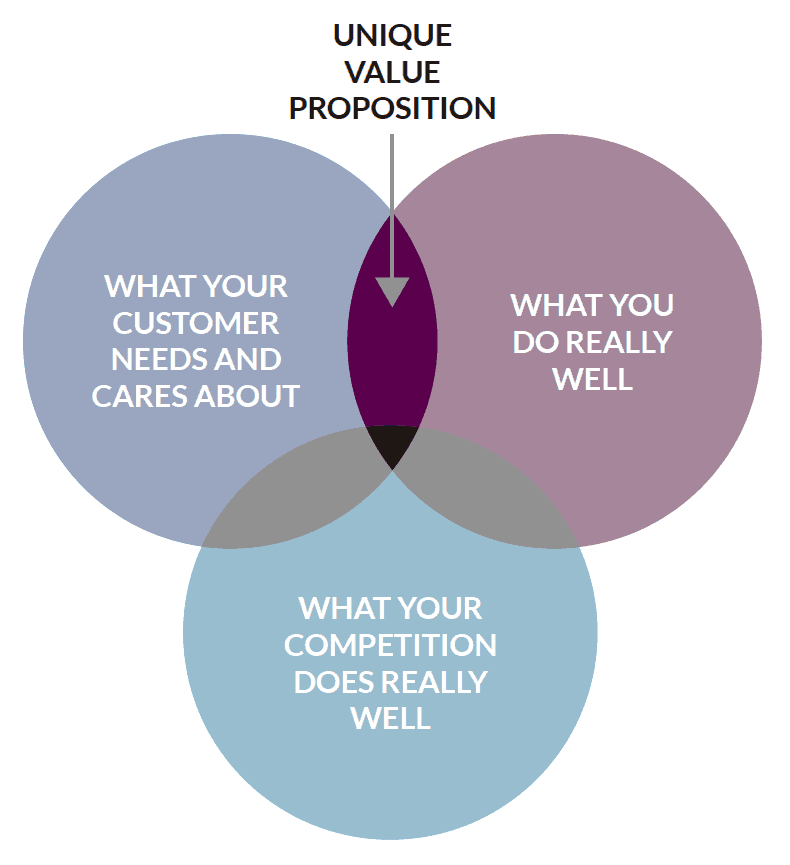 Image Source: Omnivert
Focus on your:
Company vision
Company mission statement
Company values
Company culture
Business needs
Make sure these chime with the three attributes, then decide what type of talented employees you need to attract to meet those objectives.
✔ Focus on diversity, equity and inclusion (DEI)
For example, you may have a great structure in place and support for diversity and inclusion. This can help your employer brand, as the strongest employer brands are committed to building and developing diverse, inclusive teams, because diversity is good for business.
Hiring candidates from different backgrounds and at different stages of their career grows your talent pool and brings a range of new ideas, skills, and experiences. A diverse company culture is more innovative, with each person able to bring a different perspective to the ideas that bounce around.
Employees from diverse cultures who speak different languages also enable a company to operate more globally, opening up new markets and client bases. Employee retention, performance, and morale improve in an inclusive workplace where employees feel they belong.
✔ Get existing employees on board
Your current employees are job seekers' main source of information about your brand, culture, company's reputation and values. So you need to make sure they are on board with your employer branding strategy and will advocate for your great employee brand.
Offer learning and development opportunities, incentives (financial or otherwise) for good referrals, organise open days and community events to help your brand ambassadors shine.
✔ Educate employees about 'the way of the brand'
No employee can be a brand ambassador if they don't know what the brand is, what it stands for, and how to communicate its marketing message. A company brand comprises many elements in addition to purpose, vision, mission and values. There's also:
Personality
Tone of voice
Language
Messaging
Story
Great brand ambassadors will: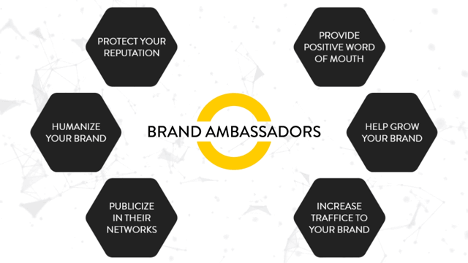 ✔ Align your employer branding with your employee branding
Whatever the brand claims to be externally, that must align with how the brand operates internally.
For example, a brand that's big on externally promoting work life balance loses credibility when you find out from employees that the workplace culture demands frequent overtime or company leaders encourage people not to use all their PTO allowance.
When employees feel connected to the brand as a truthful representation of their employee experience, they'll communicate that emotionally. A reputation as a great place to work, with happy employees is the starting point for a strong employee brand.
✔ Optimise your hiring strategies
A positive employee brand starts with job postings and the hiring process. Organisations that have a smooth onboarding process can boast an increased 52% retention rate of new hires, which reduces recruiting costs.
A great candidate experience is an essential part of your employee branding, because all new employees want to talk about is their new job, to family members, friends and previous colleagues. Make the experience a great one and you'll fill positions faster with top talent who'll jump at job opportunities with a company that has an excellent employee brand.
✔ Empower your people
If there's one thing that impedes employee happiness, it's micromanagement and feeling out of control. A good employer brand will instead have empowerment at its heart, and this in turn will increase employee satisfaction and demonstrate the company's unique employee experience.
Empower your employees to:
Share on social media: most employees have their own social media accounts on Instagram, Snapchat, BeReal, TikTok, Twitter, Facebook etc. By encouraging them to share company content and experiences on their personal accounts, you'll reach far more people exponentially than your content marketing team can.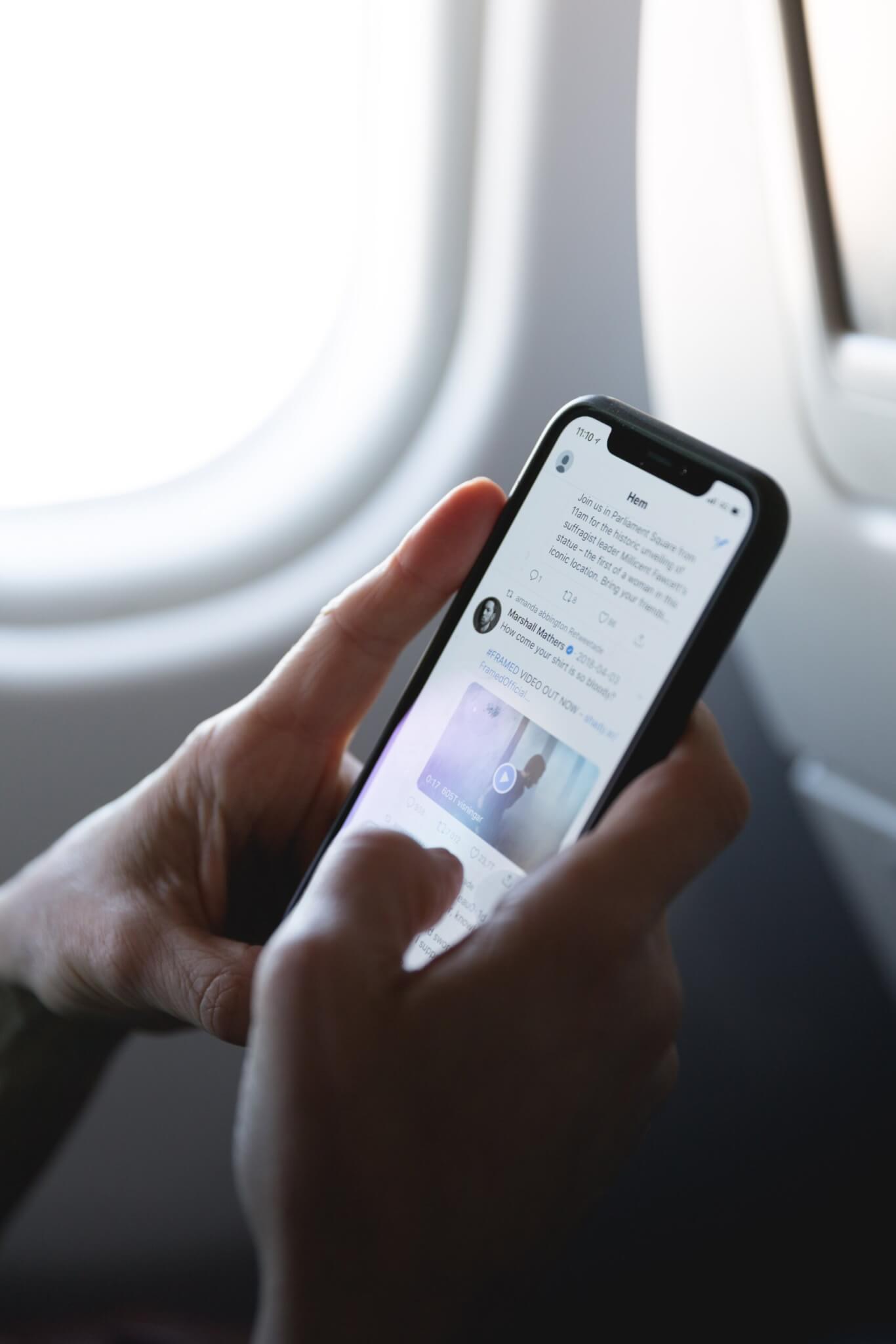 Produce content: Identify the best employees to write, photograph, tweet, and share content about your company and its events. This gives the authentic employee perspective and reach beyond the PR team.
Be their authentic selves: When your company embraces a culture of belonging, employees can identify as themselves, with their own unique take on their working experience. This authenticity, showing employees as real people enjoying real brand experiences, will make a huge difference to your brand's reach and reputation.
Zappos – a great employee branding example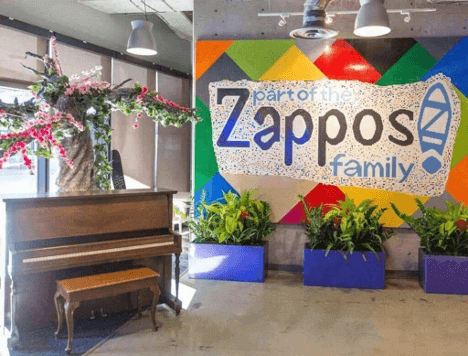 Zappos is often quoted as the gold standard example of exceptional employee branding.
Starting off as a shoe retailer, then branching into accessories and clothing, Zappos lives by 10 Core values that '…are more than just words. They're a way of life.'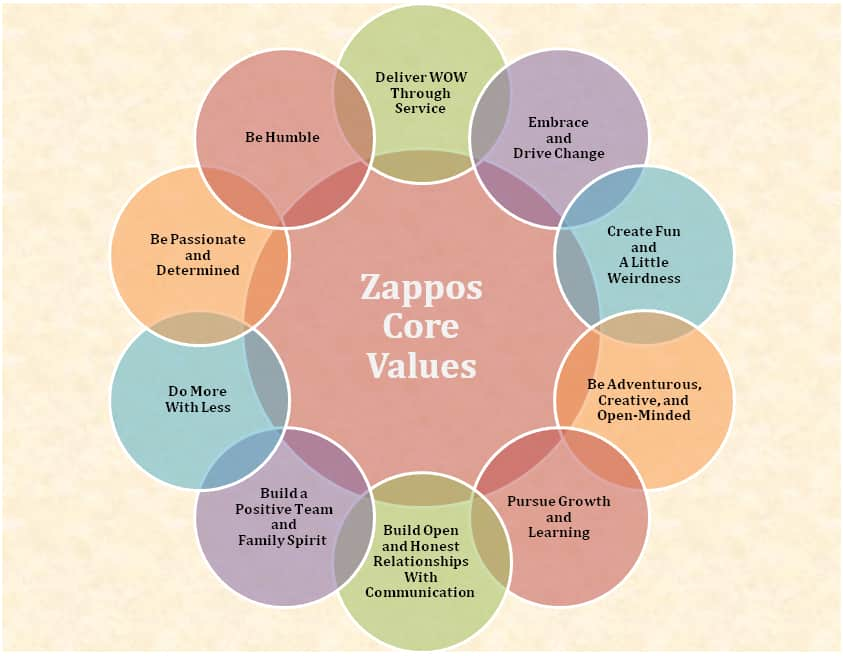 When Zappos hires new people, they undergo an onboarding process that ensures staff are aligned with who the brand is, in terms of their values and what they believe.
Zappos's process includes a 4-week training program to educate new hires about their:
Brand vision
Brand values
Behavior
How to represent the Zappos brand in the marketplace
Zappos employees then start work with the clearly-defined knowledge of what their employer's brand is about, and what the brand values are, ready to communicate it to their audience.
How Qualtrics can enhance your employee branding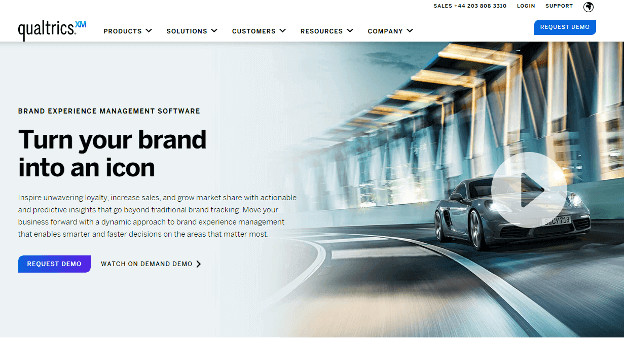 Turn your employer brand into an instantly recognisable icon for your company. Qualtrics BrandXM™ lets you:
See a holistic picture of your brand on one platform: Capture and act on real-time feedback from every platform – from advertising and social media through to customer experience. Qualtrics provides omni-channel listening across every platform to gather data and analyse it so you can understand how employees and customers experience your brand and your company. Integrate this with operational data from across the business to find out what's really driving your results.
Capitalise on fast-emerging trends: Quickly understand what your brand's next moves should be with advanced analytics and intelligence, built directly into the platform. Get to faster, better decisions with real-time data delivered in dynamically updated dashboards. Share insights across the organisation with powerful visualisations.
Act for maximum business impact: Demonstrate the real business value of your brand, uncover what strengthens it – and then act to drive increased loyalty and market share.