---
What is healthcare branding?
Healthcare branding is the development of a recognisable identity for your healthcare organisation that helps to shape perception by current and prospective patients and the wider world.
Healthcare branding is more than just the creation of logos, taglines, or specific brand messaging. It's about creating a meaningful connection between your mission, vision, and values and the people you serve – from patients and their families to local and global communities.
See how Qualtrics Patient XM drives healthcare brand loyalty
Why is healthcare branding important?
For healthcare organisations specifically, creating a brand identity through your marketing strategy and differentiated patient interactions is vital to patient loyalty, acquisition, and satisfaction.
Unlike other sectors, the element of trust inherent to the healthcare provider-patient relationship can be easily damaged or entirely broken by bad experiences leading to a negative perception of your brand.
Care and compassion are one of the main drivers of patients choosing their healthcare providers, with 60% believing it to be a "very important" factor in their decision. As of 2021, 55% of respondents to a Deloitte survey said that their trust in their healthcare providers had been damaged by a negative experience. Four out of five respondents said that after that experience, nothing could convince them to return to that same provider. It's not only the provider that suffers; 36% of patients skipped or avoided care options because they did not like the way they were treated by a provider.
Improve your patient experience with our free guide
The strategic value of building healthcare brands
The consumers targeted by healthcare brands require many of the same things they've come to expect from companies in other areas of their life. Convenience, easy access, and affordability are all considerations – but they alone are not enough. Empathy, quality of care, and the building of a trusting relationship are key. Healthcare isn't transactional, you need to develop trust and show you care – how you come across matters. This makes your brand strategy a vital tool for attracting and retaining patients. This strategy goes hand-in-hand with delivering on the brand promise in actual patient experiences and how your brand appears in the community.
Being able to react swiftly to problems with your brand perception – which can happen to even the most established healthcare brands – is key for ensuring your success isn't affected by a tarnished reputation. More than that, a brand strategy can help stimulate new patient acquisition and expand market share by encouraging patients to switch to your location, provider, or service.
What are the benefits of developing a strong healthcare brand?
The main benefits of developing a strong healthcare brand are:
Capturing greater market share: As the US population and local demographics evolve, opportunities to appeal to underserved or growing segments emerge. For example, the US population aged 65 and over will increase by 44% by 2040. An older populace utilises more healthcare, increasing the consumer pool – but the opportunity to expand your reach relies on having brand recognition and a great brand reputation.
Accelerating new patient acquisition through online ratings and word-of-mouth marketing: Roughly 80% of prospective patients use online reviews when choosing a new healthcare provider, and almost 75% will choose one physician over another because of negative feedback. When you maintain a healthcare brand that truly resonates with consumers, patients are more likely to promote your organisation via reviews, social media mentions, and more with effective brand marketing efforts.
Increasing loyalty: Your patients are looking for a healthcare organisation they perceive to be caring and empathetic. With healthcare marketing and patient experience targeted towards delivering on this promise, your brand will create moments that matter and resonate with those you serve.
Staying ahead of changing patient needs and emerging market opportunities: By listening and analysing what people are saying about your brand, wherever they're saying it – from the waiting room to the web and everywhere in between – you can pinpoint patient needs and identify emerging opportunities.
Improving the patient experience: Understanding patient intent and emotion across every touchpoint and delivering brand experiences that reflect that deep understanding can greatly improve brand perception and loyalty and customer lifetime value.
Healthcare branding examples
Humana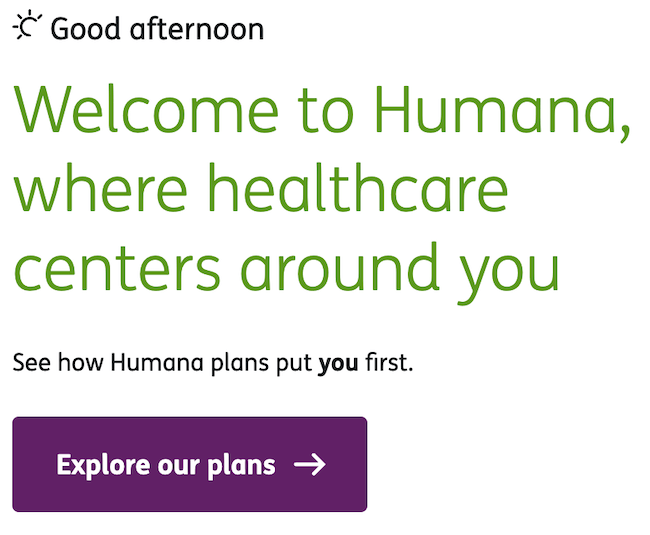 First impressions of this brand are helped by the name "Humana", indicating a human-first approach. The brand's website states "Good morning" or "Good afternoon" depending on the time, and declares "Welcome to Humana, where healthcare centres are you." This immediately helps to shape consumers' perception of the brand in a positive light. Humana was the world's third most valuable healthcare brand in 2021, indicating how this approach has worked successfully.
Planned Parenthood

The slogan "Care. No matter what." indicates the brand's commitment to helping all those in need and helps to highlight the brand's not-for-profit approach. The organisation's simple style and action-based wording ("Get Care", "Get Involved") aligns with its social justice and advocacy-focused social media channels.
Related: The Ultimate Guide to Patient Experience
MedTronic

Medtronic's slogan "Engineering the extraordinary" emphasises the technical nature of this healthcare brand's work, reinforcing the "tronic" part of the brand name. Though it primarily creates healthcare technology solutions that are not necessarily aimed at consumers directly, it reiterates its focus on a people-first approach with statements such as "Inspiring hope and new possibility in people all over the world" and its social media channels' focus on patient stories and experiences. As of 2021, Medtronic was the world's fifth most valuable healthcare brand.
Developing a healthcare branding strategy
No matter your stage of development, focusing on healthcare branding is key for all stages of a healthcare organisation's journey. Below are the steps to take when developing a sophisticated healthcare branding strategy that can adapt to patient needs and external market changes.
Perform market research
Understanding how your healthcare brand will attract patients and consumers in a competitive market means performing in-depth market research, understanding your competition, and pinpointing your brand position relative to those competitors. You'll need to explore your market demographics and their needs as well as the performance of your competitors within the market. Depending on what you find, you'll be able to tailor or evolve your brand identity to fit the needs of the market, consumers, and patients.
To do so, you could:
Conduct market research: There are several methods of conducting survey research for a predefined group of prospective or current patients that will help you get the answers you need.
Create or source a research panel: Test or research your potential brand position with a panel of appropriate participants.
Conduct secondary research: Unlike the primary research options available to you, this method allows you to take advantage of others' efforts to understand your audience, market, competitors, and more. This additional information helps you build a more concrete picture of the healthcare landscape.
Related: The Ultimate Guide to Market Research
Develop your brand identity
As a medical brand, you may not be providing healthcare services that are entirely unique – but your brand identity can do the hard work of differentiating your organisation in a shifting competitive landscape.
You'll need to determine:
Your brand offering: What need do you fulfil?
Your brand voice: How will your audience perceive your brand voice and brand personality – sympathetic, authoritative, clinical?
Your target audience: Who is your target audience, and why should they trust you?
Your USP: What differentiates your healthcare brand from the competition?
How your brand values are expressed: More than just existing within your brand identity, how will you seed your brand values into your patient experience? Each customer interaction in their journey should feel unified and create the same positive response.
Coordinate your healthcare marketing
Your marketing will likely cement your initial brand positioning and capture your place in the healthcare landscape. Each marketing campaign should work towards the larger goal of putting your brand above other healthcare organisations in patients' minds.
You'll need to:
Balance demand marketing with wider brand marketing: Be careful to balance short-term efforts to acquire new customers with the long-term effort to establish a strong presence and identity for your brand. There will likely be higher competition for performance marketing spend going forward – so strengthen your impact by focusing on brand strategy rather than just on immediate performance goals.
Consider how your patients and consumers will find you: From expanding your social channels to search engine optimisation, your marketing needs to meet your audience where they are to better attract patients.
Measure your healthcare brand's impact
Once you've created or honed your healthcare branding approach and executed it, you'll need to measure the influence you've had on your audience and the wider market. Even if you're an established brand, getting feedback from your patients as well as prospective patients is vital for providing a memorable experience that enables empathy (and trust) at scale.
It's advisable to:
Track your brand: How is your brand performing within the wider healthcare landscape? Brand tracking can help you to adjust your strategy and improve your results.
Request feedback across the patient journey: Evaluate how your brand is perceived and experienced throughout the patient's interactions. Using targeted website survey questions, for example, can provide feedback on single touchpoints.
Measure your patient loyalty: How loyal are your patients? What can you do to improve?
Understand drivers of patient satisfaction: What makes patients turn to your brand for multiple care options? What drives them to rave about you on reviews, or leave negative commentary?
Take action to optimise the patient and consumer experience
It's not enough to just track your healthcare branding efforts and their results – you need to also take action to improve the experiences that drive these results.
You should: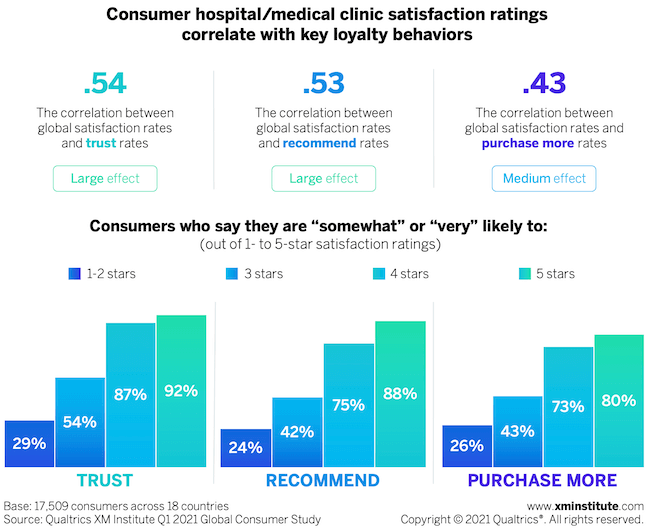 How Qualtrics supports healthcare brand strategy and execution
Your healthcare branding touches upon all aspects of the patient experience. By utilising brand strategy as a means of being reactive to and proactive for customer and market needs, you're able to put people first. Encouraging brand loyalty is about the quality of care you provide but the high quality of care is a basic expectation, not an optional extra. The human experience you can offer is what will make you stand out from the competition.
Qualtrics Patient Experience Management Solution collates wide-ranging insights and forms a system of action. Capturing feedback across owned and third-party platforms, analysing data, and initiating next steps helps you to improve brand perception, ratings, and patient trust.
This solution offers moves beyond reactive management of brand perception to provide predictive intelligence across the entire healthcare experience. Augmented by analysis of intent, emotion, and effort across the patient touchpoints with your brand, your ability to close the loop and swiftly improve experiences where necessary improves and becomes more streamlined.