---
What is a market research survey?
A market research survey is a way of getting feedback directly from the people who have the ultimate say in your organisation's success: your customers.
Unlike focus groups or interviews, market research surveys allow you to get detailed feedback at scale — from behaviours to overall experiences — and in a standardised format. Also, as the data is easy to process, you can quickly turn it into actionable insights.
Surveys are used to collect primary research, which means market research data that you collect yourself. The other type is secondary data, which is obtained from other sources, for example census data.
Surveys are among the most popular methods of primary market research, since they can be used to gather qualitative and quantitative research on market trends, and they can cover a huge range of respondents across your customer base. They're also a format familiar to many people.
Why use surveys?
Surveys are ultimately about understanding your target audience, but they can go beyond your customer base. They can be taken by anyone — employees, potential future customers, and even those who don't want to engage with your business (helping you to identify the ones that do).
However, a survey isn't a stand-alone solution. It can work alongside other survey methods, such as focus groups, field studies, observation, and market analysis, to help you get a clear picture of your market and decide what direction to take.
Low survey response rates? Learn how to increase them with our Survey Response eBook
But with all these different types of survey methods, and some being better than others in specific areas (e.g. data quality, collecting feedback), where should you start?
Survey research methods
To get the best out of each survey research type, consider what you can invest in terms of:
Time: How quickly do you need the survey research? Do you have time to conduct research?
Money: Do you have the budget to invest in research overheads?
Knowledge of analytics: Are you trained to interpret the collected data? If not, do you have a partner you can work with to get the insights you need?
Research expertise: Do you have clearly defined problems or challenges that you want to explore or understand through surveys?
Technology capability: Is your survey software up to the task of analysing the data?
Your audience's response: Is it likely that your audience will respond? What survey types (online surveys, etc.) would they be most receptive to?
Slow responses: Do you have a strategy in place to avoid low response rates?
Conducting market research surveys: best practices
Today's market research industry is advancing rapidly, thanks in part to new technologies which make it easier to conduct market research, and offer more power and sophistication when it comes to analysing your data.
Data-driven research is the standard across market research and other disciplines, and within the sector competition between brands is driving progress towards better and better market research tools. Beyond customer satisfaction, demographic questions and competitive analysis, today's tools can dive deeper into your data, unearthing key drivers behind trends and even providing aggregated data on emotions and attitudes in customer feedback.
However, none of these technological advances can replace humans. To conduct market research successfully, you need to be able to combine tech with insight, intelligence and intuition, especially when you're dealing directly with target customers, for example during a phone interview or when you're approaching existing customers whose relationship to your brand needs to be maintained.
As we'll see in this guide, market research can be used in a huge range of contexts, including brand tracking, customer experience research, employee experience programs, and of course product development. Whichever application you're looking at, it's essential to prepare thoroughly before sending out your surveys.
Make sure your research question has been formulated and agreed by everyone involved in the project
Develop a communications plan to maximise the chances of people engaging with your survey, including introductions, publicity, reminders and follow-up
Consider using pre-testing before you fully launch your survey to thoroughly road-test it and iron out any issues
Close the loop – after the study is complete and actions have been taken, let participations know how their contribution helped
Consider a research panel for future surveys, either one you've built yourself or one managed by a third party provider
What are some common mistakes with market research surveys?
With the right survey tools and appropriate support from your survey platform provider, everything should go smoothly, even if you're not an expert at doing your own market research. However, there are a few things to watch out for.
Choosing the wrong people to survey
Figuring out who you're going to survey in the first place may seem like an obvious first step and not one you need to spend much time on. But in fact it's possible to get it wrong, survey the wrong people and end up running a market research study with unreliable data. This is sometimes called 'sample framing error'
Getting your sample size wrong
If your sample is too small, you run the risk of getting a sample group that doesn't adequately reflect your target population. This can throw your entire market research survey off course. But if the sample is too large, you spend time and money on research that doesn't add significant value. Have a look at our sample size calculator to help determine the right sample size for your market research surveys.
Using the wrong kinds of analysis
Do you know your conjoint analysis from your T-test? Understanding the basic types of statistical tests you can use to analyse market research survey data is essential if you're not using a survey tool with built-in analytics. You'll need to match the kind of data you're collecting to the analysis method you choose in order to get accurate insights from your market research surveys.
Writing confusing survey questions
Survey questions aren't like the questions we use in everyday speech, or even like the ones we ask in formal writing. They need to be highly specific, include appropriate context, and be free of any kind of descriptive or persuasive element that might introduce bias. For a primer on writing great market research survey questions, see our guide to great survey questions
The different types of survey methods
You should choose your survey method based on your target audience, distribution capabilities, and the questions you want answered. For example, interviews are far more personal and explorative by nature, but they're difficult and costly to scale. Online surveys, on the other hand, have far greater reach and much more affordable — but you lose the opportunity to connect with respondents. Let's go through the different types and how you can use them.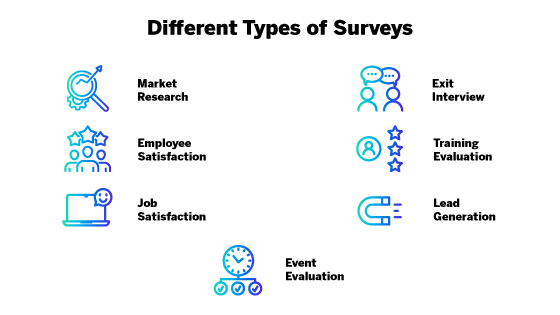 Online surveys
Online surveys are accessible to any participant across the globe, providing they have an internet connection. You can create online surveys using survey platforms and distribute them via email using a link, or respondents can go directly to the online survey and complete it.
Paper surveys
Paper surveys (or written surveys) are printed surveys filled in by hand. This method works well if respondents have enough time (and incentive) to complete the survey, and the researcher is happy to manually collect the data before collating and interpreting the answers.
Mail surveys
Mail surveys provide exceptional geographical coverage as they can be printed off and sent via the post. However, as recipients need to return the surveys for counting, it's recommended that you include a pre-paid returns envelope in the original envelope, otherwise you'll have lower response rates.
Telephone surveys
Telephone surveys involve asking respondents a series of questions over the phone. It's a popular survey method as it's convenient for researchers and doesn't require a lot of capital to do. However, researchers may need to invest time to set up interviews with participants and take notes during the process.
In-person interviews / face-to-face surveys
In-person interviews and face-to-face surveys are great opportunities to get more insightful and valuable responses from participants. You can quickly find out why they think and feel the way that they do, providing an unbiased view of a subject or issue. However, like telephone surveys, they require a lot of time to set up and gather data.
Panel surveys
Panel surveys use a pre-selected group of people as the sample, so that the research can be carried out quickly. It presents a happy medium between the speed and quality of research data.
Survey tools for your survey method
Based on the type of survey method you choose, here are the types of tools you need and can use for each:
Online surveys
A good internet connection is required for participants to access online surveys, though mobile devices data plans mean that most people can connect to the internet easily.
A good survey software platform is needed to give you full functionality and flexibility, so your online surveys can be customised and optimised. However, businesses can get more for their money with a survey software system that does more for the company.
For example, the Qualtrics XM Platform™ is a best-of-breed experience operating system for experience management. It brings all your operational and experience data together from across the organisation to help create and improve experiences for employees, customers, prospects and more. It automatically updates records, has an in-built analytics engine and can handle research projects, from start to finish, in a few clicks.
Paper surveys
All you need are paper, ink, pens and clipboards — but due to environmental and sustainability concerns, particularly paper waste and ink pollution, you may want to opt for a more digitised solution.
Mail surveys
For mail surveys, the resources and concerns are the same as with paper surveys — but the main difference is distribution.
Ultimately, you need a reliable postal service that can deliver to your target audience. It also becomes costly if you want to include international respondents.
Telephone surveys
As long as you have good connectivity and network coverage, telephone surveys are straightforward. That said, survey calls can last a long time, so if you plan to include international audiences, ensure you can afford the calling costs.
In-person interviews / face-to-face surveys
The only requirement for in-person interviews and face-to-face surveys is a venue to hold them in.
Panel surveys
These require participants to be available at the time of the research. Traditionally, third-party generated research panels are available as a service to companies that don't have access to the audiences they need.
What can businesses do with these types of surveys?
The surveys we explored can be used for four purposes in any business:
1. Market surveys
These help you understand who's out there, what they want, and how you can best meet their needs.
Market description surveys
Purpose: to determine the size and relative market share of the market. Such studies provide key information about market growth, competitive positioning, and tracking share of the market.
Market profiling / segmentation surveys
Purpose: to identify who the customers are, who they are not, and why they are or are not your customers. This is often a descriptive market segmentation and market share analysis. Find out more about customer segmentation and how to do it
Stage in the purchase process / tracking surveys
Where is the customer in the adoption process? This information shows Market Awareness – Knowledge – Intention – Trial – Purchase – Repurchase of the product.
This kind of survey helps you put yourself in the customer's shoes and look at your business from their perspective.
Customer intention – purchase analysis surveys
Purpose: Directed at understanding the current customer. What motivates the customer to move from interest in the product to actual purchase? This is key to understanding customer conversion, commitment, and loyalty.
Customer attitudes and expectations surveys
Purpose: Used to direct advertising and improve customer conversion, commitment, and loyalty. Does the product meet customer expectations? What attitudes have customers formed about the product and/or company? Learn how you can set up and run customer attitudes and use surveys.
Sales lead generation surveys
Purpose: Sales lead generation surveys are for
assuring timely use and follow-up of sales leads
qualifying sales leads (thereby saving valuable sales force time)
providing more effective tracking of sales leads
Customer trust / loyalty / retention analysis surveys
Purpose: Especially helpful for high-priced consumer goods with a long decision and purchase processes (time from need recognition to purchase), this type of study explores the depth of consumer attitudes formed about the product and/or company.
Salesforce effectiveness surveys
Purpose: A combination of measures that focus on the sales activities, performance, and effectiveness in producing the desired and measurable effect or goal. Often measured as a 360-degree survey completed by the salesperson, the client (evaluating the sales call), and the supervisor responsible for evaluating the salesperson.
Customer service surveys
Purpose: Akin to customer satisfaction surveys, customer service surveys instead focus in detail on the actual customer service that was received, the process involved in receiving that service, and the evaluation of the participants in the service process.
Customer service representative (CSR) surveys
Purpose: CSRs often exhibit frustration, burnout, and high turnover. Surveys focus on CSR retention, reducing costs, and increasing the quality of customer relationships.
Attitudes, burnout, turnover, and retention: CSRs hold attitudes that reflect on their job-related activities including:
the allocation of time
solutions to customer needs
how to improve their job
best practices
how well internal departments help customers
3. Product surveys
As part of product development, surveys help you find out what features, benefits and attributes appeal most to your customers, and how best to package your product, experience or service.
New product, service or experience concept analysis surveys
Purpose: Concept test studies are appropriate in the initial screening of new product concepts. Likes and dislikes about the concept and evaluation of acceptability and likelihood of purchase are especially useful measures.
Concept optimisation, demand estimation, and cost analysis surveys (conjoint analysis)
Purpose: Determines an optimal bundle of features and benefits, and estimates associated demand. This kind of survey develops market share estimates of market potential for the alternative potential products. Find out more in our conjoint analysis guide.
Habits and practices, or attitude and usage surveys
Purpose: Directed at understanding usage situations, including how, when, and where the product is used. Habits and practices studies sometimes include a real or virtual pantry audit. Attitude and usage studies are used to understand consumer attitudes towards the product category and to life in general. They also look at product and brand usage, including how, when and where the product is used.
Find out how habits and uses analysis fits into your product concept testing program
Product satisfaction surveys (attribute, features, promised benefits)
Purpose: Evaluation of the product's promised bundle of benefits (both tangible and image). Are expectations created for the product by advertising, packaging, and the product appearance fulfilled by the product?
Competitive benchmarking surveys
Purpose: A "best practices" study of "how does the market view us relative to the competition?" Competitive positioning analyses often compare the attributes and benefits that make up the product using multidimensional scaling. These analyses also include an evaluation of key competitors, looking at the same KPIs and attributes as product satisfaction surveys.
Sales forecasting and market tracking surveys
Purpose: Sales forecasting and market tracking studies can include expert opinion (experts estimate the market), judgmental bootstrapping (expert-based rules describing how to use available secondary market information), conjoint analysis (estimation of consumer intentions based on product attributes that are important in the decision), and intentions evaluations (consumer self-reported intentions of future purchases).
Price setting surveys and elasticity of demand analysis
Purpose: Price surveys estimate the elasticity of demand and show optimal price points, including prices too low or too high. Price surveys may estimate the demand for different product or service segments, or different usage situations.
4. Brand surveys
A survey can help you understand how consumers perceive your brand and what values and ideas they associate with it. You can explore what value your brand has and whether people would choose you over competitors in your market niche.
Brand equity analysis surveys
Purpose: What is the psychological value that a brand holds in the marketplace? Brand equity is a composite of brand awareness, brand quality, brand associations, and brand loyalty measures.
Advertising value identification and analysis surveys
Purpose: Advertising value analysis focuses on mapping the hierarchical attributes, benefits, and values that are associated with and portrayed by an advertisement. Means-end analysis is often part of this type of study. Explore means-end analysis in advertising.
Advertising message effectiveness surveys (media and message)
Purpose: Message effectiveness testing identifies the impressions, feelings, and effectiveness in moving the respondent to a desired goal (increased awareness, more product information, trial, repeat purchase).
Once you know the right type of survey to run, the next step is to write a survey that your respondents will love to take!
How to write a research survey (Free example templates)
Survey methods can be used to help collect data on real business issues and help you answer questions. Qualtrics supports customer surveys on every channel, at every journey stage to get you answers for more informed decisions.
We've put together a range of survey example templates that you can use for free to help you get started:
In addition, for large-scale research studies, Qualtrics offers market research services to help with everything from questionnaire design and survey methods, to implementation and analysis.