Exit Interview Survey Software
Retain your top performers with insights about employee attrition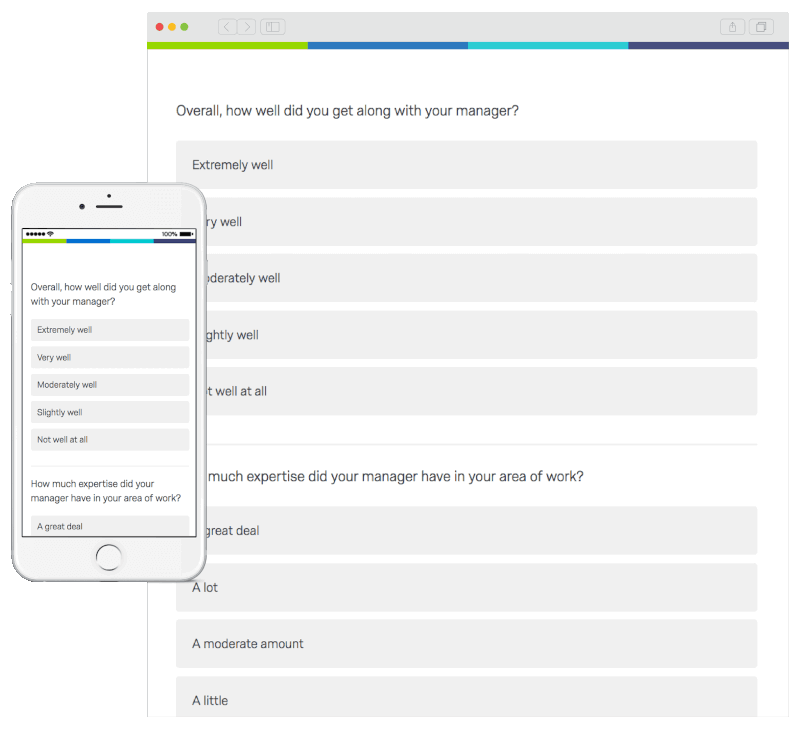 Over 11K brands and 99 of the top 100
business schools use Qualtrics
---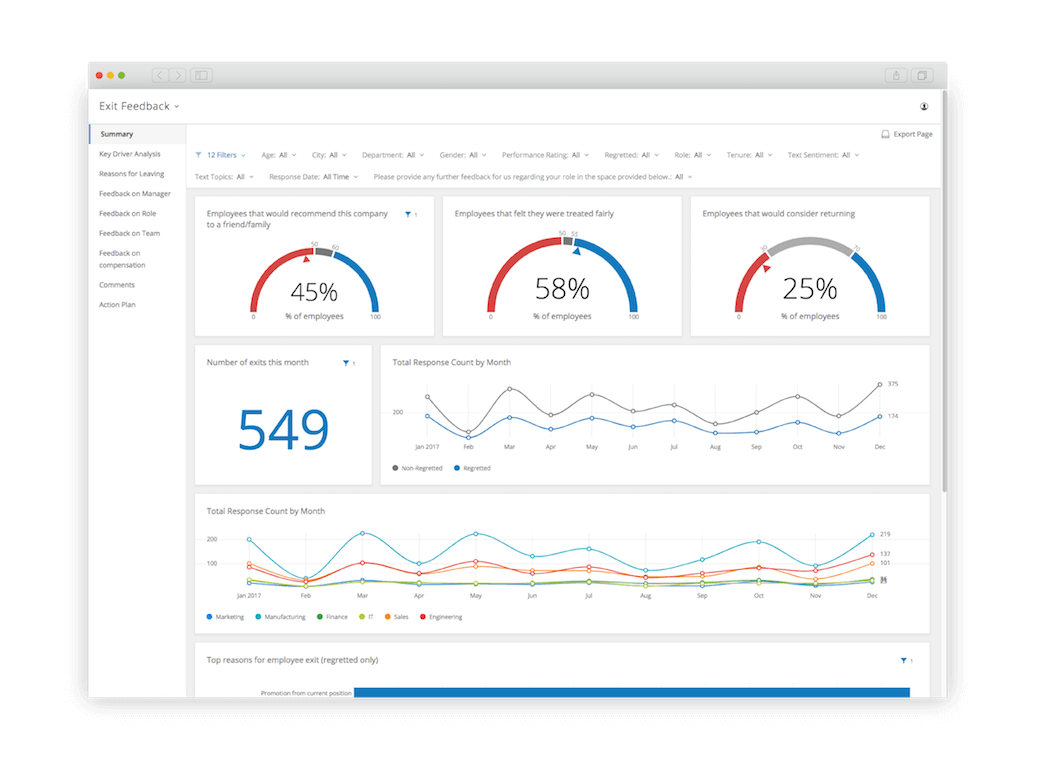 Understand why your top performers leave and drive actions across the organization to reduce unwanted attrition. With real-time employee exit insights, you have the data you need to retain top talent and build a happier, more engaged workforce.
Improve your unwanted attrition rate and keep hold of your top performers
Identify the key drivers of attrition and see where to focus your improvements
Create real-time alerts for at-risk staff and step in to prevent them leaving
Use feedback from former employees to drive improvements across the organization and employee lifecycle
Monitor the impact of your improvements on everything from engagement to the impact on the bottom line
The right data, always at your fingertips
---
Ready to go, straight out of the box
Get up and running quickly with a best-in-class employe exit program built directly into the Qualtrics XM platform. Want to customize it? No worries – with the intuitive survey and dashboard builder you can make changes in seconds, with no coding or IT support needed.
Never miss a beat
See all your data in real time with insights that are automatically shared with the people who can make the biggest difference. Now, when a problem arises, you can act quickly to improve the experience and retain your best people.
Insights with real impact
See everything you need to do to impact your churn rate with powerful, automated statistical analysis that finds the gaps for you. Plus, with built-in action planning tools, you can ensure your improvements continue to drive impact.
Turn your exit interviews into employee experience improvements today
The heavy lifting done for you
Automate your exit feedback with integrations into your HRIS system. Just set your conditions or employee milestones and employees will automatically receive a request for feedback at the time that's right for them. It means you can capture open, honest feedback with no additional resources, so your team can focus on turning exit feedback into improvements.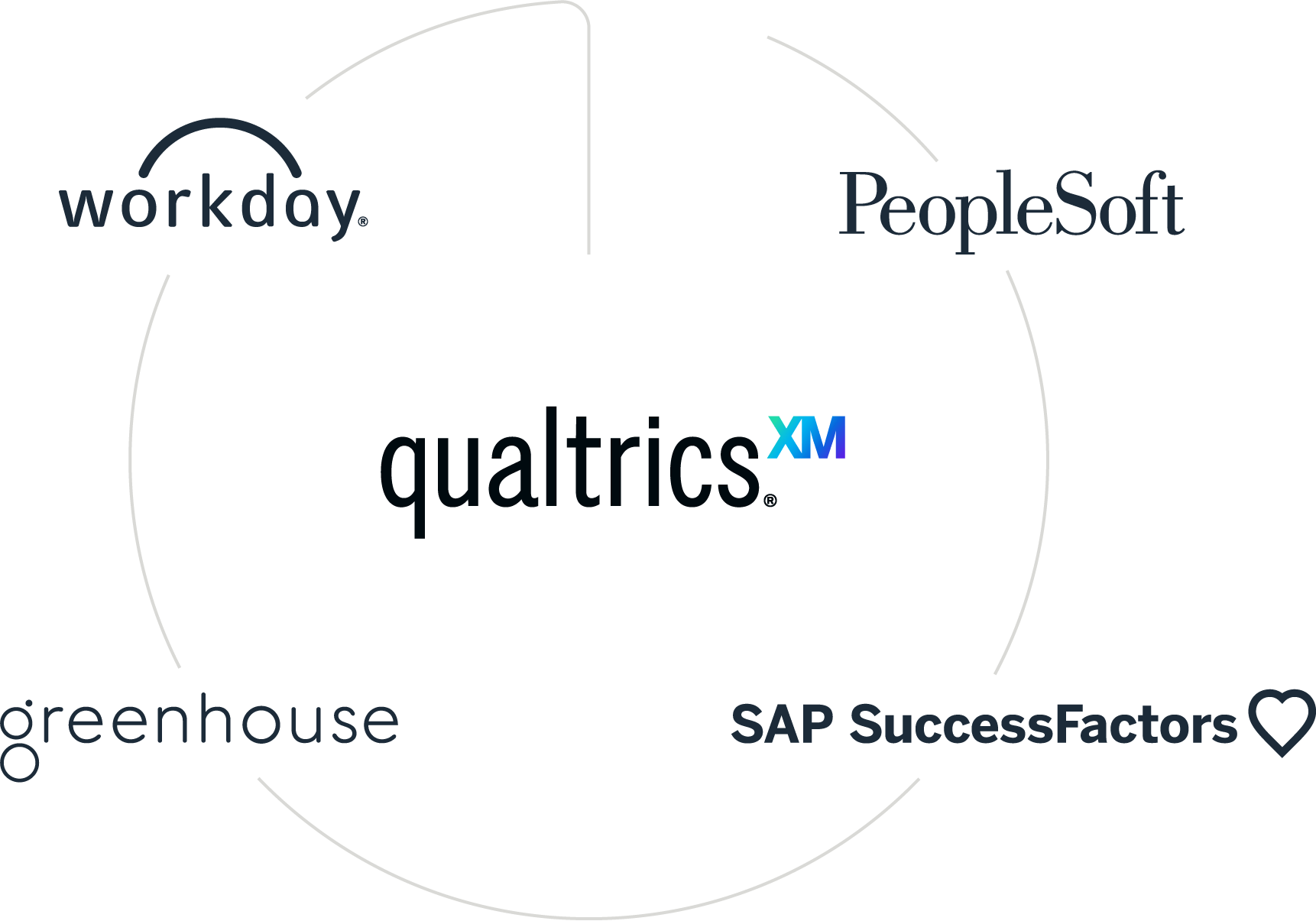 Intelligent analytics for employee engagement
Find insights in open text feedback with sentiment scoring and trending topics from Text iQ
Run detailed statistical models in a few clicks and get recommendations in plain English with Stats iQ
Create attrition risk alerts and step in early to prevent employee departure with predictive modeling from Predict iQ
Understand the impact of your improvements
Make connections between feedback at different stages in the employee lifecycle and understand which levers to pull, and when, so you can have the biggest impact on reducing attrition. With all your employee feedback on a single platform you can understand the impact of every interaction on the employee experience as a whole and how those actions impact your most important metrics.
It means you'll know the exact moment to step in to improve your attrition rate and make sure your best people stay longer.
What are Employee Exit Interview Surveys?
Employee exit and alumni feedback programs empower HR leaders to understand the key drivers of attrition and identify the areas to focus on to keep their best people. Exit interview software allows you to move away from face-to-face interviews towards a more data-driven approach, collecting all your exit data and feedback on a single platform to be analyzed. As part of the Qualtrics Employee Experience Platform, our employee exit solutions offer enterprise-grade, real-time, and actionable employee insights with intelligent text and statistical analytics. It means you can listen to employees across the lifecycle, compare your organization to employee exit benchmarks and identify the right actions to build a loyal, engaged and productive workforce.