---
If you want to improve your customer experience you need to be able to understand and adapt the customer journey you offer when someone interacts with your organisation. Whether their journey is entirely online, offline, or a blend of both, there are multiple journeys a customer might undergo.
Understanding the customer journey in depth helps you identify and take action on customer pain points and repeat what's working. By doing this, you will improve the overall experience that your customers have, which will have better outcomes for your business.
Outlining the potential customer journeys your audience might go through requires a process called customer journey mapping. This forms part of your overall customer journey management.
What is customer journey management?
Customer journey management is where businesses take a holistic view to customers' experiences with their brand, taking action to shape the journey audiences take to a desired end action.
Customer journey mapping allows this management to gain focus. Creating a customer journey map helps you to form a visual representation of customers' processes, needs, and perceptions throughout their interactions and relationship with an organisation. It helps you understand and drive the steps customers take – the ones you see, and don't – when they interact with your business.
It enables you to assess:
Insights – from your existing customer journey, how to understand it better
Impact – how to optimise budgets and effort for changes we want to make to the customer experiences
Issues/opportunities – Diagnose the existing customer journey
Innovation – where you might want to completely change the existing customer experience
Why does customer journey management matter for my business?
When carried out effectively, customer journey management can transform both your internal operations and your customer experience.
Knowing precisely where your customers interact with you and why – as well as how they feel about it – allows you to take targeted action. Customers will be more likely to engage, not only for one interaction but across their entire lifecycle with your brand, increasing customer lifetime value.
Your customer experience will be improved with journeys that are personalised. You'll have put yourself in your customer's shoes and adapted your strategy to reflect your customer's perspective – which in turn will create more memorable, positive experiences and increase your revenue.
Internally, you'll break down internal silos, empowering you to streamline services across departments because teams will know what is required from them to deliver the experiences that customers expect.
Overall, you'll develop a customer-centric culture and approach – which will pay dividends.
"Maximising satisfaction with customer journeys has the potential not only to increase customer satisfaction by 20% but also lift revenue up by 15% while lowering the cost of serving customers by as much as 20%"
– McKinsey, The Three Cs of Customer Satisfaction
Why is customer journey mapping important?
Customer journey mapping gives you deeper insight into the customer, so you can go beyond what you already know. Many brands see the customer's journey as something that is visible – where the customer interacts with the brand. But in reality, this is not true, and only accounts for a percentage of the entire journey.
Creating a customer journey map gets you thinking about the aspects of the journey you don't see, but have equal weight and importance to the entire experience. When mapping out customer journeys, you are looking for the moments that matter – where there is the greatest emotional load.
Example
If you're buying a car, then the greatest moment of emotional load is when you go to pick the car up because it's yours, after picking the colour, choosing the model, and waiting for it to be ready.
Ensuring these moments match your customers' expectations of your product, brand and service teams are key to helping you reach your business goals. Original research: The customer journeys that matter the most


The basics of customer journey management

Customer journey management involves the examination of journey data and taking subsequent action to improve the customer experience. When exploring and visualising customer journey data, we are assessing:

Customer behaviour
What is your customer trying to do?
Customer attitudes
What is your customer feeling/saying?
The on-stage experience
Who/what is your customer directly interacting with? (This includes various channels, such as TV ads or social media)
The off-stage experience
Who/what needs to be in place but which your customer is NOT directly aware of?
Example
So what could the customer journey map look like when starting the process of buying a car?
Customer journeys vs process flows
Understanding customer expectations, behaviour, attitudes, and the on-stage and off-stage is essential for successful customer journey management – otherwise, all you have is a process flow. If you just write down the touchpoints where the customer is interacting with your brand, you're typically missing up to 40% of the entire customer journey.
There is no single journey to manage. In fact, there are multiple. The best experiences combine multiple journeys in a seamless way to create a continuous customer lifecycle as outlined below.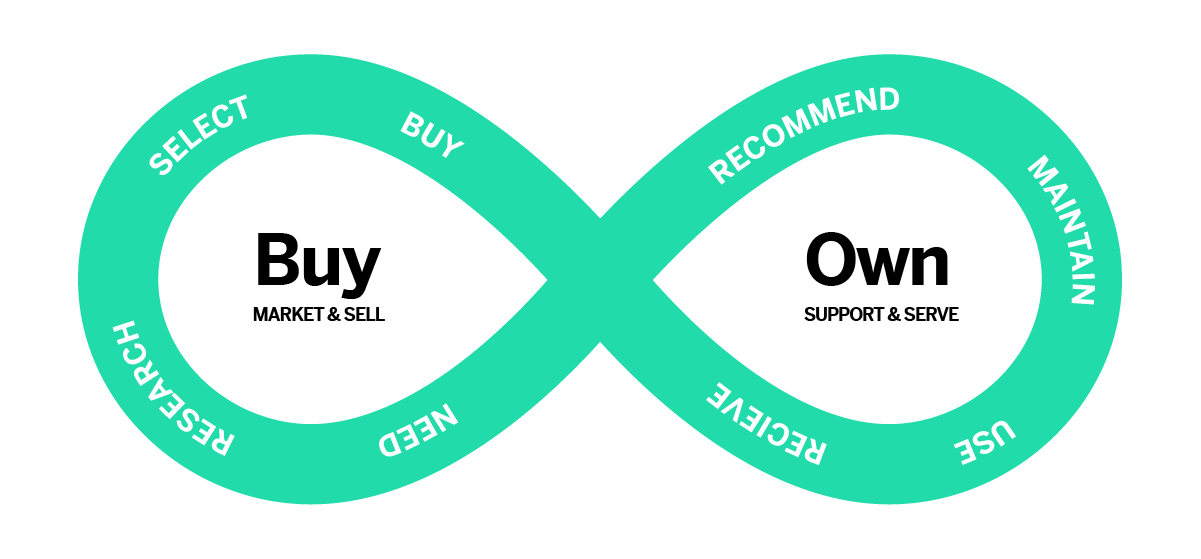 Download our free journey mapping template here
The customer journey management framework
The step-by-step process of customer journey management begins with the buyer persona.
Step 1 – Create a customer persona to test
In order to effectively understand the journey you need to understand the customer – and this is where creating a persona really helps. You may base this around the most common or regular customers, big spend, or new customers you haven't worked with before. This persona is beyond a marketing segment, but that can be a great place to begin if you're just starting out on the mapping process for your organisation.
What do you include? Start with these characteristics.
Name
Age
Job role
Family status
Professional goals
Personal goals
These personas help you gain a deeper understanding of your customers and can be derived from insights and demographic data, or even customer interviews. This works for both B2B and B2C business models, but in B2B especially you'll have multiple customers for each opportunity so it's recommended you build out multiple personas.
To begin, start with no more than three personas to keep things simple.
Step 2 – Choose a journey to map
Select a journey to map, then build a behaviour line. This might be a new journey, renewal, or fixing a product issue. You might also choose this based on the most frequent journeys taken, or the most profitable.
Step 3 – Work through the mapping process
Ask yourself the following:
Who are the people involved in this journey?
What are the processes or the things that happen during this journey?
What are the customer attitudes?
What is the moment that matters? Identify the greatest moment of emotional load.
What are your customer needs at this moment? How do their needs change if this experience goes badly?
How do you measure how effectively you are meeting customer needs throughout the journey?
Learn more about customer journey mapping workshops
Step 4 – Innovate
Once you've created your map, brainstorm ideas for how to improve the moments that really matter. These ideas don't need to be practical, but by putting together a diverse mapping team from around the business you can begin to filter through these ideas.
Then, test them.
Ask yourself: Is it feasible? Is it viable? Is it desirable? Don't ask can we do it, ask: should we do it? Then you can start to differentiate yourself from your competitors.
Step 5 – Measure
Use your journey map to decide on your measurement framework.
Who are you measuring? What are you measuring? When on the journey are you measuring it? And why? And finally, what metrics and KPI's are in place to measure this?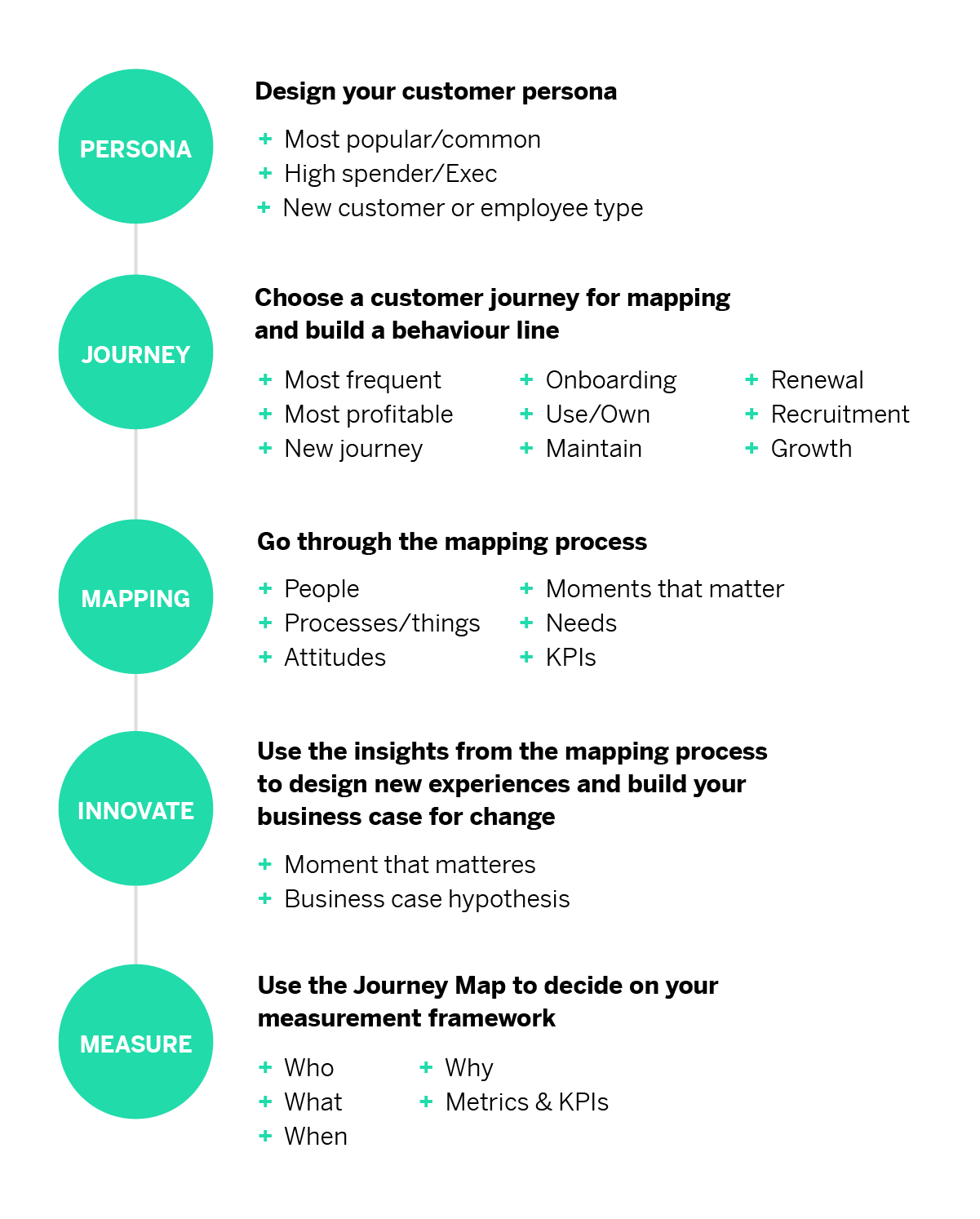 Step 6 – Take stock and take action
To improve the customer journey you need a clear vision of what you want to achieve and you need to make a distinction between the present and the future.
What is your customer journey right now?
What does the future state of your customer journey look like?
By understanding your customers' attitudes and needs at critical times in the journey, you can begin your customer journey management and make amends to better meet them – and develop contingencies to cope when these needs aren't or can't be met.
You'll need to orchestrate journeys using real-time customer behaviour to adapt your strategy as your customers make choices. Orchestrating a journey means taking dynamic action towards optimising your customer's experience, using real-time customer behaviour as informative data.
Step 7 – Improve your employee experience
Use a diverse customer journey management team to come up with ideas that incorporate experience from all aspects of the business. Improving the employee journey – by giving teams the tools to make a difference – can have a positive knock-on effect for the customer and improve their experience in those key moments.
What data do I need for customer journey management?
Your customer journey management process will require you to use several different data inputs to get an accurate picture.
To create a customer journey map that accurately reflects the truth of customer actions and intentions, you need to take into account both solicited and unsolicited data using customer journey analytics. Journey analytics include: customer needs, emotional highs and lows, and key metrics per step in the journey. This helps you to accurately start journey management.
Solicited data
Solicited data includes the customer feedback you gain when you conduct research through surveys such as Net Promoter Score (NPS) or ask customers for feedback on social media. This approach can be very useful for understanding your customer's point of view, rather than just making assumptions about how they think and behave.
However, this type of feedback presents a few issues:
You have to know when to ask for feedback: You might already have a journey in mind – but do you know all the routes a customer might take?
It's a snapshot: When you survey customers, you'll likely only get insights into their experience at that particular moment about a specific touchpoint
It's what customers say they think/will do, not what they actually think/will do: You're relying on your customers to accurately reflect their sentiment and intentions in their responses, which isn't always the case. You need to find the truth for effective customer journey management
Your sample size might be too small: If you're trying to understand how a relatively niche journey is doing, you might find that the number of customers who have not only taken that journey but are willing to respond with feedback is very limited. You can't risk survey fatigue by polling the same audience several times, so your insights are limited
You're only getting part of the picture: You will likely have several types of useful customer data on file, but these are often not considered as part of the process when creating a journey because solicited data takes precedence
You'll need to infer how customers feel to be able to accurately predict the actions a customer takes. To do so, you'll need to look at unsolicited data.
Unsolicited data
Unsolicited data covers everything your customers aren't telling you directly when you ask them and contextual data that you likely already collect on them, such as purchase history. It can be taken from various sources, such as your website and social channels, third-party sites, customer calls, chat transcripts, frontline employee feedback, operational sources, and more.
This type of data is nuanced, but it allows you to establish the truth of your customers' experience. Using real-time feedback gathering and natural language understanding (NLU) models that can detect emotion, intent, and effort, you'll be able to understand your customers' actions in a more profound way. Unsolicited data offers you a 100% response rate that better indicates what your customers actually think of each step in their journey.
Customer journey management tools
Customer journey management isn't just designed to improve the customer experience.- it can directly improve your business outcomes.
Being able to link customer and operational data to key touchpoints in a customer journey is transformative for organisations. Improving your ability to see unsolicited and solicited customer feedback data overlaid with touchpoints helps you to enact an effective customer journey management program.
With Qualtrics CustomerXM, you'll:
Design unique customer journeys based on the literal voice of the customer.
Automatically uncover sentiment in open text unsolicited and solicited data, finding key drivers of customer and employee experiences with iQ™
Create a common understanding of customers and their journeys throughout your workforce
Develop a customer journey management approach that has a direct positive impact on your business outcomes