---
Customer service automation is an effective way of encouraging customers to self-serve, thereby reducing the cost to serve and directing only the most complex queries to support agents.
However, there's a right time and a wrong way of automating customer service. Below, we discuss the ins and outs of the process and how you can optimise your business operations to fit.
What is customer service automation?
Customer service automation is the process of automatically resolving customer queries through the means of self-service resources, messaging, and web chat functions. The aim is to reduce the amount of effort spent with human-to-human interactions, resulting in a lower cost to serve and to get answers to customers quickly.
Examples of customer service systems include:
Live website or app chatbots guided by AI
Automated email output or responses
Interactive voice response (IVR) systems for customer calls
Self-service facilities such as knowledge bases, frequently asked questions (FAQs) pages etc.
Internal workflow automation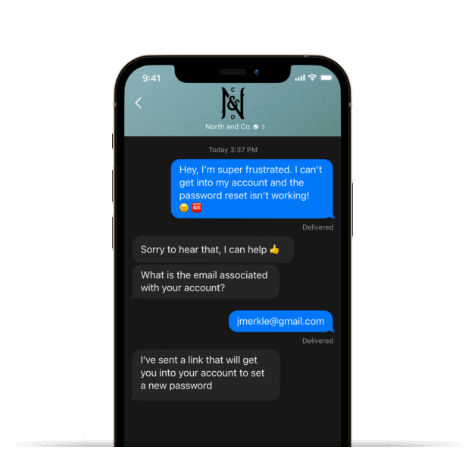 Automate your customer service today
What are the benefits of automated customer service?
There are significant business benefits to using customer service automation. We've highlighted the main ones below.
Your cost to serve is reduced
The average cost of customer service can be pretty high if you're consistently handling customer service tasks with phone calls to agents. Providing a human agent to your customers involves a lot of overheads: hiring, training, pay, office space, and more. Using automation technology reduces customer service costs by 20% – 40%, making it a vital part of optimizing your business.
You can service your customers as they prefer
The customers of today greatly prefer speed and efficiency over speaking to a human. With 89% of US customers expecting brands to have a self-service portal, there are customer experience expectations that businesses need to meet. McKinsey reports that 75% of online consumers expect assistance within a five-minute window; 73% of customers believe the time is critical in determining if they had a "good" or a "poor" customer service experience.
Customers also have preferences for the channel on which they receive help. In our 2021 global study from the XM Institute, we found:
51% of consumers prefer to complete interactions through online channels (self-service on a computer, self-service on a mobile, or online chat) rather than offline (e.g meeting with someone in person or talking on the phone)
Younger consumers are the least likely to prefer self-service through a computer
Indian and Thai consumers show the strongest preference for online channels, with Spanish consumers showing the least preference (64% vs. 37%)
Only 10% of consumers on average prefer to use chat through a computer – the least of all the channels
It's clear factors such as age and location can drastically change consumer preferences. With omnichannel experiences the expected norm, businesses need to get answers to their customers as fast as possible on the channel they prefer using. Providing automated customer service also reduces the pressure on customer service agents to meet unrealistic handle times.
Always-on customer support
Providing customer support through a call center can be limiting and expensive. Problems you might run into include:
Needing to cover all hours by running shifts 24/7, which is expensive
Limiting your customer service hours to working hours, hampering the assistance your customers can get
These scenarios are frustrating for your customers or expensive for your business. Automating customer service processes means you can direct customers to help without needing to have a human-led customer service function on call at all hours. Being always-on is necessary for the current age of digital-first consumer experiences, but it doesn't have to mean risking your bottom line.
You'll reduce human error
Creating customer service processes and workflows that are automated means that there's less chance of human error, and customers are directed to the right assistance faster. Rather than transferring customers from one customer service team member to another, you can initially guide them through a workflow that includes FAQs, a self-service center, an interactive voice system, and then onto a human support team member if needed. This filters out small problems and reduces the chance that human errors happen on the side of your customer service team.
You'll have a stronger customer feedback strategy
Customer service automation can help you to create a more effective customer feedback strategy, as you can collect feedback throughout the entire customer journey. From emails to chat to text transcripts, at each stage of the self-service process, your automated customer service software can collect data and prompt feedback through surveys on Net Promoter Score (NPS), Customer Effort Score (CES), and more.
Use our free customer service survey template
Drawbacks of automating customer service
Some issues need a human touch
If a customer is really not happy, encountering automated customer service systems might just tip them over the edge to give you a bad review. Sometimes speaking to a human being can help to mitigate the issue, so automation should be used to direct them appropriately to a human to suit their preference.
Some problems are too much for self-service
In the case of a complex problem, if the self-service options simply aren't sophisticated or fast enough at resolving the issue, customers will not be pleased. When calling customer service, US consumers said they'd be willing to wait for six minutes – but in reality, wait time is usually three times longer, meaning the original customer problem is now compounded with inefficiency. Human interaction can help to de-escalate this issue.
You need to be sure you're consistent across the entire journey
Customer service automation means there are more touchpoints that you need to align with your brand. Let's say you're in the luxury vehicle sales business; customers are expecting to be catered to with the usual high-end treatment they receive in-store, but If they suddenly find themselves with a customer service question and are met with an unhelpful FAQ page, they're not going to be happy. Consistent branding and customer experience is vital for the omnichannel approach to work effectively. Just because one support method might be automated, does not mean the experience can drop.
You view technology as the solution
Technology can make your life easier – but only when used in the right way. By automating customer service support at certain points in the journey, the main benefit is that not only will simple, everyday queries get solved quickly without having to call support, but it leaves your frontline agents free to work on priority issues that do require human contact. Not only will this minimise the cost to serve and the strain on your contact center, but you'll empower your agents to make a meaningful impact too.
How to automate customer service
Decide which basic services should be automated
First, you'll need to decide which customer service tasks and processes need to be automated. Ideally, these are the higher volume and less complex tasks that are not worth the time and expense of using a customer service agent.
Examples include:
Answering common queries that have a simple resolution – such as "How do I turn on my new product?"
Gathering and changing account details, such as passwords or customer demographic data
Triaging customer queries before they reach a customer service agent
Decide which customer problems require a customer service automation solution (and which solution is best)
You'll need to determine which automated customer service option is best for each problem or query that arises. It's not one size fits all, and customers should be able to easily navigate to the best solution for them. Simple problems – changing customer details, getting a refund, understanding how to use a product, etc. – can be solved with simple solutions. Difficult issues – customer complaints, health and safety problems etc. – need to have more human interactions built into the solution.
Here's an example of a problem and the customer service automation that could be used to solve it:
Your customer wants to exchange a product.
The customer looks online for detail on exchanges and finds an FAQ page.
The FAQ answer suggests either the customer initiates and sends an online form (which responds with an automated "Thank you for submitting" response), or uses the Live Chat function (which responds with an AI-enabled chatbot).
If the customer uses the Live Chat function and the issue is not resolved, they are directed to a telephone number, which has an Interactive voice response (IVR) system set up to triage the type of customer service call they're making.
They then speak to the right type of agent to facilitate the exchange.
Choose the right customer service software
Your automated customer service platform should be able to take your customer data and transform it into actionable insights to guide your workflows.
Key features should include:
The ability to build and utilise customer profiles and segmentation
An intelligent system to hold your customer data and trigger personalised interactions based on preferences and segments
Sophisticated dashboards with experience data (X-data) and operational data (O-data) streams
In-built feedback generators such as surveys
The ability to manage all digital support interactions, collect feedback and respond from all channels within one system
Customer effort, emotion, and sentiment analysis with text analytics and voice analytics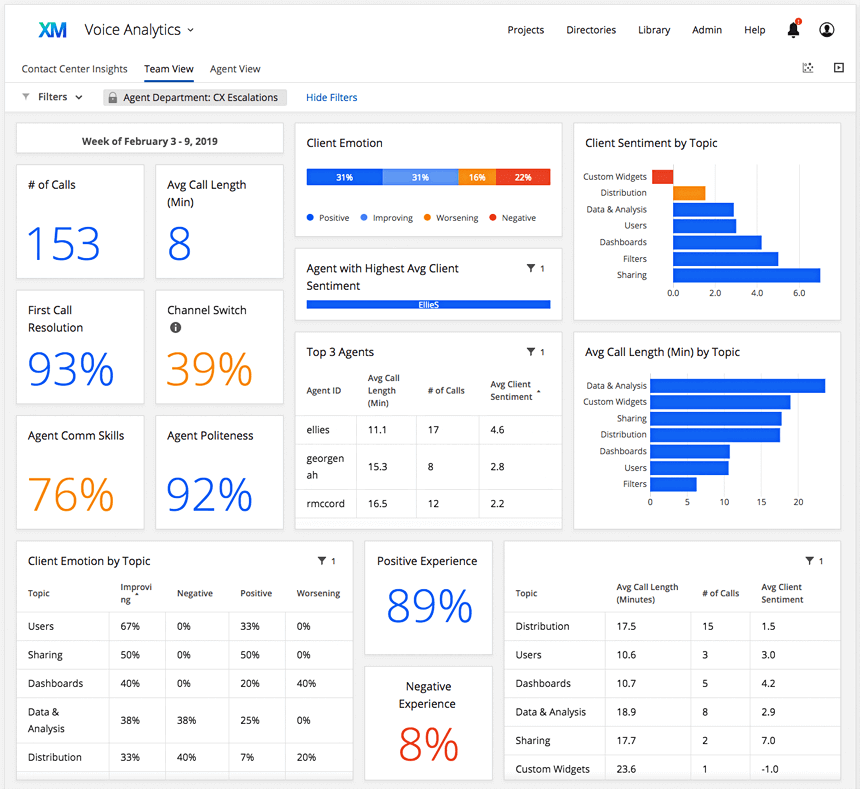 Predictive analysis
Automatic alerts for internal workflows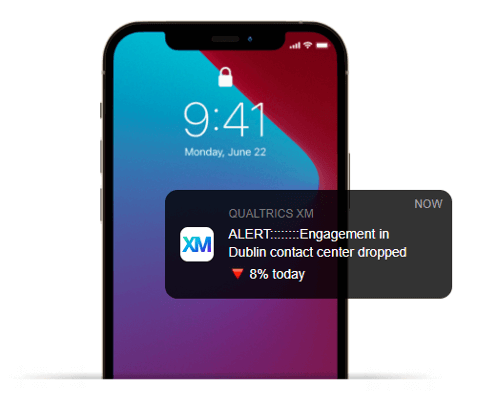 Update the customer journey and measure success
By understanding which problem requires which customer service solution, you will have already mapped out potential customer journeys. With the right software in place, you can start to chart and gather feedback on each stage in the customer journey, so you can adjust as you need over time.
Improving customer satisfaction with automated customer service
Here are our top tips on not only meeting customer service expectations but improving customer satisfaction with customer service automation solutions.
Ensure the customer always has the option to connect with a human representative
Ideally, your customer will follow the automated customer service system. However, sometimes, it's actually better and faster to give customers the option to bypass that route and speak directly to a human. Not everyone wants to self-serve, and providing this quick bypass can help to reduce frustration and improve their customer experience.
Gather feedback and take action 
Without gathering feedback and taking action, you won't know where problems are arising – and your customers won't see your customer experience improve. Always offer customers the opportunity to provide feedback during their customer service journey, and take note of where the pain points in your automated customer service system lie. Make sure your support team understands how customers feel and what issues they might have to deal with.
Update your customer service automation when appropriate
The more feedback you gather, the better you'll understand your audience and how they prefer their customer service. Your content, such as your FAQs, automated email responses, chatbots, and more are likely to need tweaking over time as customers use your products and services and their expectations change. Make sure your customer service automation is always fit for purpose, and your customer experience will remain attractive for consumers.
11 examples of companies delivering great customer service
Customer service software that serves you
Qualtrics XM provides customer service automation that drives customers from contact to loyalty. Driven by conversational analytics, built-in feedback generation, artificial intelligence, and more, it's simple and cost-effective to automate customer service and improve the overall customer experience.
Discover the four trends to track for the future of customer care.
Benefits Include:
Customer issue resolution at speed to lower churn and increase loyalty
The ability to engage with customers on any digital channel
Real-time X-Data gathering from live voice calls, chatbots, SMS, IVR, and many more channels
Real-time metrics and analysis with the option to share data instantly with agents, team leads, and more
Data-led insights with suggestions for customer experience improvements delivered to the right team members at the right time