---
What is customer engagement, and how is digital customer engagement different?
Customer engagement encompasses the relationship a brand has built with its customer. Every time a customer interacts with the company, it either strengthens or weakens the level of engagement a customer has with your brand.
Engagement starts at the moment a customer first encounters your brand, and continues across the whole customer journey. Ideally, a brand should proactively engage customers on the channels they prefer, delivering content and communications to increase the likelihood of a customer returning for further business..
The difference between general customer engagement and digital customer engagement is the channel on which it takes place. Customer engagement applies to all types of engagement, not just those that take place on digital channels.
Your digital customer engagement should form part of your general strategy for capturing your audience's attention across all the ways they interact with you, but focus on digital channels.
The digital channels you might use to reach your customers could include:
Email
Social media channels, such as Facebook, Twitter, Instagram, TikTok and more
Display advertising
Affiliate marketing
Organic search
Paid search
Mobile or app notifications
SMS
Live chat
Digital self-service channels such as FAQs and chatbots
Webinars
Each channel will require a different approach, but your digital customer engagement strategy should be able contribute to an overall appealing digital experience.
ebook: The Digital Experience Playbook
What's the difference between a digital customer engagement strategy and traditional methods?
Offline customer engagement often focuses on the customer experience in brick and mortar stores and strategies that focus on tempting the customer to travel to a space a brand owns.
With digital customer engagement, you're meeting customers where they are – on social media, on their email, and on their phones. The challenges are different, but when your digital engagement strategy is done right, you can guide a customer from their first encounter with your brand to a purchase in a matter of minutes.
In terms of ROI, there is an immediacy to digital channels that increases the chance of a purchase. Rather than a customer thinking of buying a product, traveling to your store, browsing, asking a customer service person for input, buying and then transporting the product home, you can suggest products that will interest them directly on channels that you don't own.
You can take data on their interests and promote relevant content, and once they're a confirmed customer, you can keep delivering them useful products and services that consistently build on that initial engagement.
There's also the opportunity to create a more encompassing experience. Rather than working across multiple channels in silo, an omnichannel digital strategy can draw on past customer interactions and create context for new ones on different channels. Customers can move seamlessly from an email marketing campaign to a social media channel to a product to a sale, with each engagement action tying into a wider personalised customer experience.
What is the ROI of a digital customer engagement strategy?
Investing in any strategy comes at a cost. However, with a digital customer engagement strategy, you're able to track and see the benefits of putting precious funding into outreach.
Here are some key areas where a digital strategy can increase your ROI:
Higher visibility and increased competitiveness
Your digital engagement strategy, when done right, can increase your visibility on channels such as social media and organic search. The more customers search for you, engage with your posts, recommend you to others and click on your advertising, the more competitive you become in your market and the more visible you are in the public eye. By having a digital engagement strategy in place, you're able to encourage these responses from your customers.
Higher levels of customer loyalty (and profit)
The Pareto Principle states that 80% of your profit is generated from 20% of your existing customer base. Even by targeting a small number of your customers across digital channels, you're able to increase the ROI of your efforts. Just a 5% increase in customer retention can mean a 25% increase in profit according to Bain and Company. Investing in the development of your customer relationships on digital channels can reap significant financial rewards and increase the loyalty of the customers you already have.
A more effective journey
An omnichannel digital customer experience will drive customers from digital channels you don't own to the ones you do. For example, if a customer is looking for a new washing machine, their journey might start on Google, but an effective paid search advert for your product will lead them to your website, which in turn puts them on the purchase journey. Customers you already have contact with who follow you on social media are more likely to see your posts, which in turn draws them to your social media channels and then onto your website for a purchase. With the right data-led strategy in place, you can effectively target customers and adjust the customer journey for them specifically.
Positive reviews and recommendations
Around 81% of customers trust recommendations from family and friends, particularly over recommendations from businesses. By encouraging customers to engage on digital channels such as social media, you can provide a forum for customers to share their experiences with others. Their customer satisfaction leads to more visible recommendations and reviews that will help to boost sales.
Examples of digital customer engagements
Here are some examples of digital customer engagement from well-known brands to illustrate how to connect with customers across digital channels.
Uber & Uber Eats
To keep customers engaged, you'll need to use digital marketing techniques that are informed by customer data. Your audience expects dynamic customer interactions that take into account their needs and preferences, and one brand that has managed to create great personalized digital interactions is Uber.
Through its Uber and Uber Eats apps, it's able to send push notifications to mobile users that are personalised and useful. Here are two examples: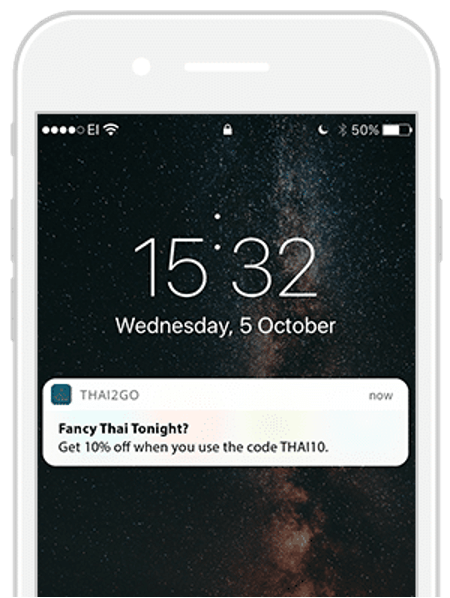 In this first Uber Eats example, the brand has used past behaviour data to understand that they frequently eat Thai food and might be interested in a money-off deal to purchase more of the same cuisine. There may even be customer data to show what day and time they are more likely to purchase takeout, which informs the timing of the push notification. The restaurants suggested will be based on the customer's location data. All of this creates a highly personalised experience for the customer.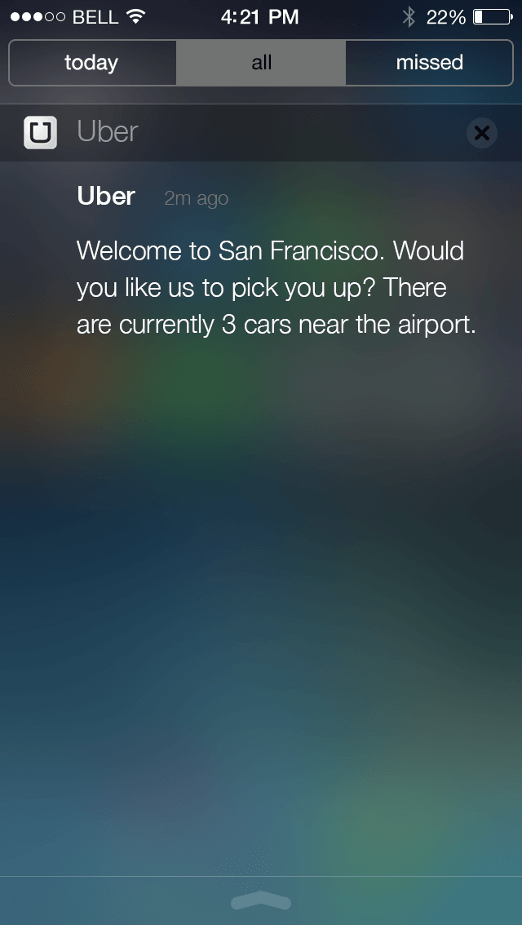 In this Uber example, the brand has used geofencing to detect when a customer has connected with a cell phone network in a new area. They're able to suggest sending cars to the airport for a pickup as a result. Proactively making suggestions that will be useful for the customer makes the individual feel cared for by the brand, increasing customer retention.
Whole Foods 
Rather than just using chatbots to triage and answer customer queries, Whole Foods is using this digital channel to encourage customers to reach out of their own volition.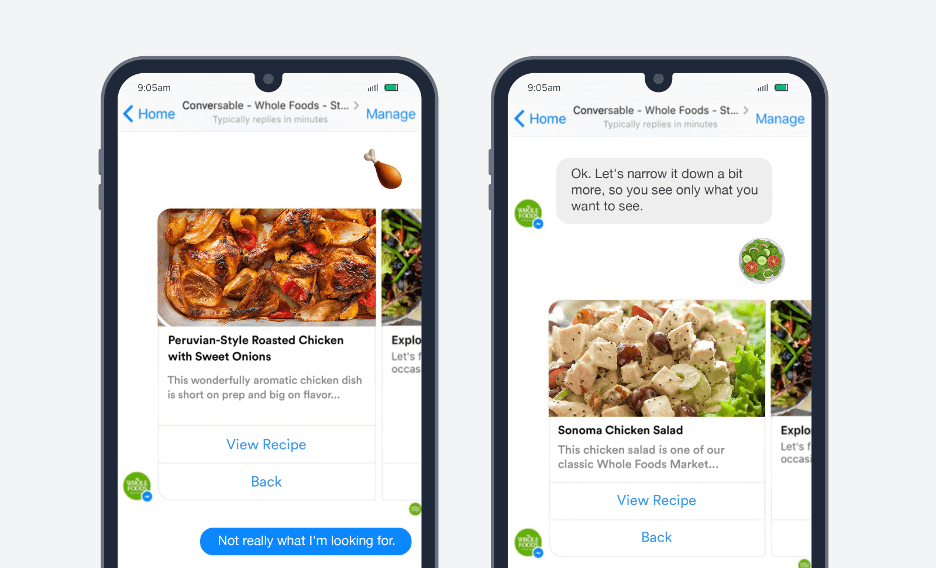 The Whole Foods Facebook Messenger chatbot responds to customers' emojis, words or stated ingredients to suggest meals. Providing customised recipes to each individual customer on a platform they use every day means that customers regularly interact with the brand without prompting, and without having to download an app or go to their website. Once they've found a recipe they like, they can click through to the Whole Foods recipe on their website, and from there, make appropriate purchases. The company is able to build brand awareness, drive customer behaviour and make sales by providing a personalised and easy-to-reach digital experience
Other great digital engagement examples
Spotify's "Made for You" music mixes with new songs in a similar style to the customer's existing playlist preferences
Nike's NikePlus Membership program, rolled out on their app, which provides rewards for completing workouts, offer personalised early access promotions and links customised music playlists on Apple Music
Jewellery brand Goldsmiths offering live chat with voice and video support for an upscale and personalised shopping experience
How can digital customer engagement be improved?
Here are some suggestions for improving your engagement across all your digital channels.
Prioritise digital engagement on the channels your customers actually use, not just the ones that provide the best ROI
HubSpot's 2021 State of Marketing report found that Facebook was the social media channel that delivered the highest ROI for brand marketing. However, you first need to establish which channels your customers prefer before investing your budget.
For example, are you a B2B brand whose customers are HR managers in small to medium businesses? Your customer might not be likely to look for B2B brand suggestions on Facebook – but they might be keener to engage when they are delivered a paid search campaign that answers their search query on Google.
Personalise the customer experience
According to Salesforce, 70% of consumers say that if a brand understands their individual customer expectations and needs, they will be more loyal. 71% of customers find non-personalised shopping experiences frustrating. By finding customers on the channels they prefer and making each interaction feel personal, you can encourage greater loyalty and repeat business.
Use a customer engagement platform that can optimise your approach
The customer engagement platform you use should be able to implement your digital strategy, monitor its progress and make suggestions for improvements based on data-led insights. Ideally, its capabilities will include:
Omnichannel control to engage with customers across multiple channels, with the ability to compile data on every interaction for a full customer profile
Intelligent customer journey implementation to direct customers further down the funnel automatically
Process automation to ensure that each team member – customers service agents, product developers, markets and more – is delivered the data or actions insights they need
Sophisticated reporting and analytics to create a comprehensive picture of each customer's experience with your brand
Creating loyal customers with Qualtrics
In a digital world, you need valuable insights that are actionable and automated to drive customer engagement.
Qualtrics CustomerXM is a customer engagement platform that helps you to proactively adjust the digital customer experience based on data-led insights. Hear every customer's voice, capture real-time feedback and uncover trends and patterns in customer behavior for unrivaled insights into your digital experience. Understand how to turn detractors into advocates and loyal customers with actionable insights across your digital customer journey.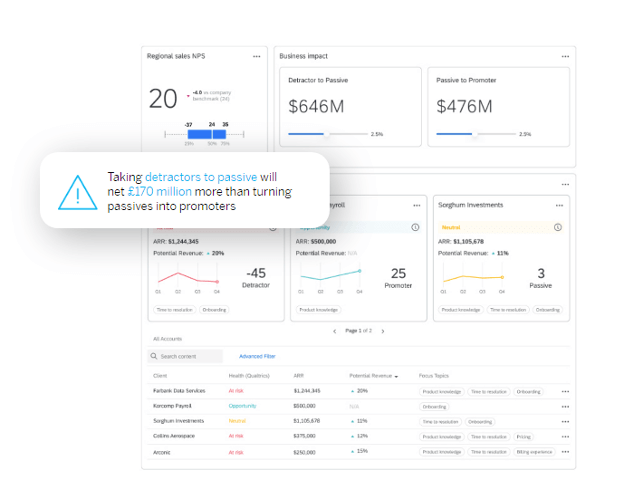 Improve customer relationships and build new ones with a tried-and-tested customer engagement model, supported by a platform with extensive capabilities.