---
What is frontline customer service?
When we talk about frontline customer service, we're describing the direct support interactions your team has with your customers. Just as in the battlefield, the frontline is your first line of defense; they're how you put your best foot forward when it comes to tackling customer issues, increasing customer loyalty, and creating repeat business.
In today's omnichannel business environment, your frontline customer service teams can interact with customers in a range of places and across a bunch of different mediums. A returns desk in a physical store is frontline customer service, for instance, but so is a customer support phone line, or a community manager on social media.
Even a self-service list of downloadable assets or information can be frontline customer service if it's what customers choose  to solve their issues.
Typically, frontline customer support is responsible for…
Greeting customers in physical locations
Triaging customer requests to other team members
Solving customer issues
Answering queries and questions about your product
Helping customers to self-serve where appropriate
With that being the case, your frontline customer service team members need to have incredible communication skills, demonstrate real empathetic thinking, and be able to solve problems quickly. They are, after all, the first people who interact with customers looking for help – so getting those first interactions right is extremely important.
Free eBook: The ultimate guide to customer journey mapping
Why is frontline customer service so important?
Every customer service touchpoint is a key battleground on which getting interactions right or wrong can have far-reaching ramifications – from customer lifetime value to your overall revenue, expenses and reputation.
Research shows, for instance, that 68% of consumers will happily pay more for products from brands that have amazing customer service, and 93% will make repeat purchases from them – while 89% are more likely to make repeat purchases after a single positive experience.
And those repeat purchases translate into long-term customer loyalty; almost 60% of consumers cite good customer service as a key factor behind their loyalty to a brand.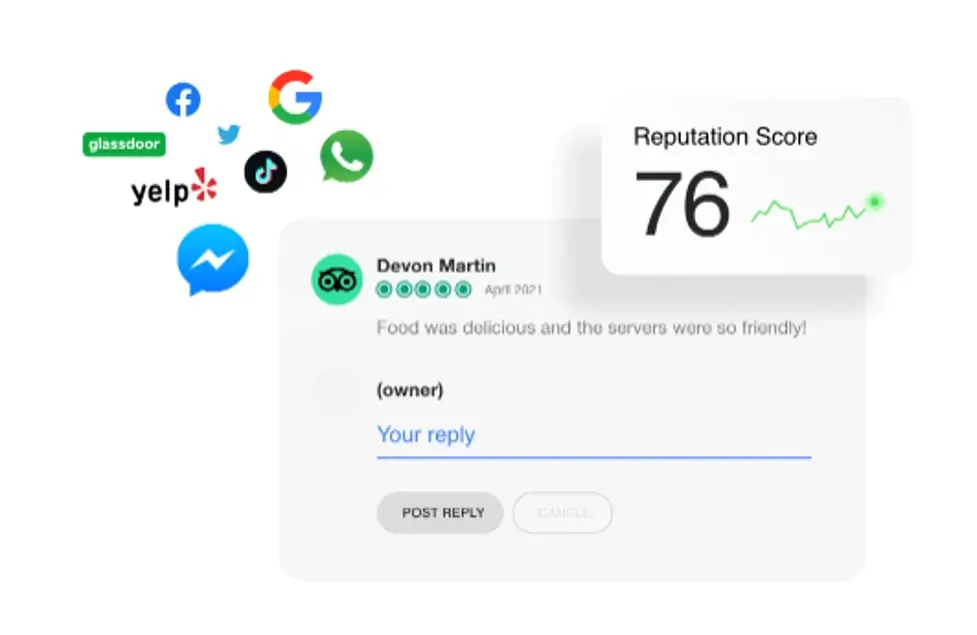 On the other side of the coin, miss the mark with your frontline customer service efforts and you'll soon know about it; data shows that it can take 12 positive customer experiences to make up for just one negative one. In our own research, we've found that only 16% of consumers who've experienced 'inferior' customer service are likely to trust that company – versus 90% of those who've had a 'very good' experience.
That all boils down to one key truth: excellent frontline customer service can help you keep customers, and that's important because – as the well-worn statistic goes – it costs up to 25 times more to win a new customer than it does to keep an existing one.
Benefits of good frontline customer service
Every time a customer interacts with someone from your business, they're opening a window of opportunity. Nail that interaction, and you might very well earn yourself a customer for life. Here are a few key reasons it pays to put customer service at the heart of everything you do:
Frontline customer service sets the tone
Often, but especially in physical locations, your customer service or customer support representatives will be consumers' initial touchpoint with your brand. So curating those interactions into memorable, pleasant experiences is a great way to start forming a strong customer relationship.
Great customer service can salvage a bad experience
If a customer had an issue with your product or service, or had an experience that hasn't met their expectation, then the pressure's on to turn that ship around. Well-trained, well-equipped, and empathetic frontline customer support can rescue victory from the jaws of defeat here.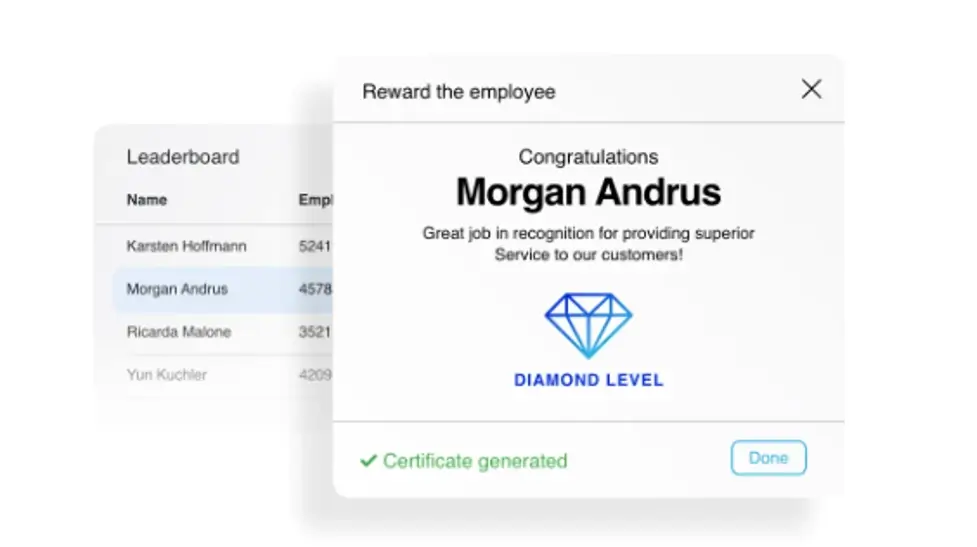 Positive interactions build a reputation
Some brands become famous for their amazing customer service. Just think about Apple's Genius Bar; it's well known that Apple doesn't mind replacing parts or even whole items if they're faulty, without making the customer jump through hoops to get the resolution they need. Positive word of mouth always follows those customer-centric interactions.
Customer service interactions can drive improvements
If your frontline customer service team is receptive to input from customers, then they can become a powerful engine for change within the business. Your customers' issues and faults are all potential areas for improvement – it's just a case of ensuring you don't lose those vital informational nuggets, and that you can pass them on to the right people.
How to improve frontline customer service
Improving frontline customer service relies on understanding how, where, and why customers want and need to interact with you. Sometimes it's digital – via online channels where the customer can largely self-serve – sometimes it's face-to-face in a physical location, and sometimes it's by speaking to an agent.
You might think these environments or situations are separate, but they exist as an end-to-end journey – one linked by a range of strategies designed to help improve the overall experience that every customer should receive. Here's how to improve each part of that pie:
Optimize the digital frontline
Frontline customer service in the digital realm often means self-serve solutions for issues, but it also means making each touchpoint frictionless. That means optimising the digital part of the customer journey, including your website, mobile, social media, and apps.
Digital customer experience software can help in a number of ways here. Firstly, the right tools can help you build a model of your overall customer experience, by monitoring experience data and behavioural heuristics and helping with journey optimisation as a result. So, if website users are struggling to checkout, or people are getting to your 'download' page without progressing any further, you'll know about it.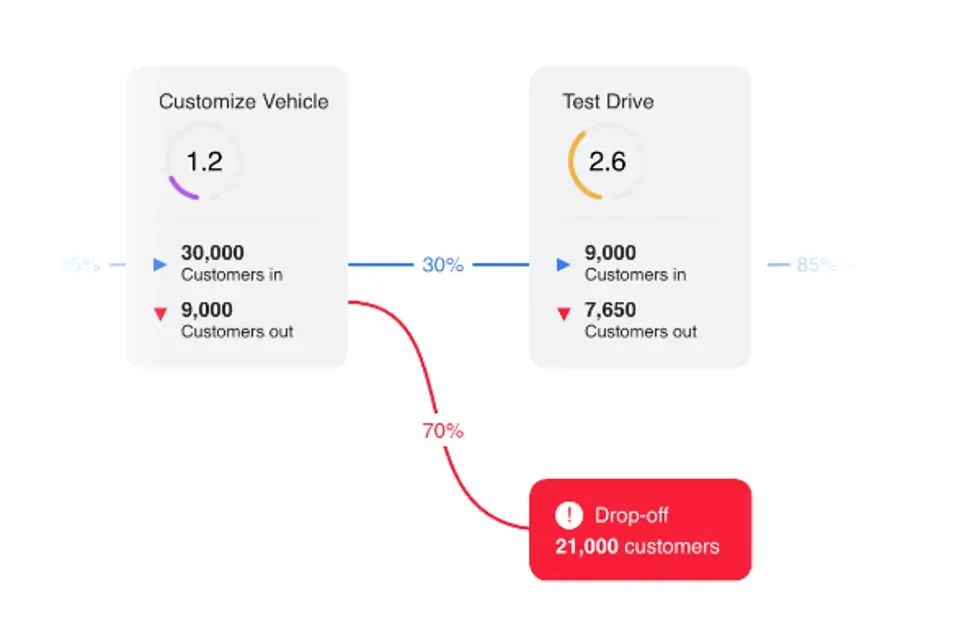 Beyond this, digital customer experience software can help you target specific segments with personalised journeys, and streamline self-serve and digital experiences based on real data and actionable insight.
Supercharge your on-location frontline
Maximising the impact of every in-person frontline customer service interaction means using the right tools to help you put three key tactics into place:
Design and automate your interactions
In-person interactions are, naturally, a bit tougher to framework and monitor than digital ones. Location-based customer experience software, though, can help you design interactions that are repeatable and impactful – and train for them – with automated next steps.
Build a record of past customer interactions
Without the right tools, you'll lose valuable information from every face-to-face. Success means being able to keep track of past interactions and surface customer histories so that you can offer them personalised experiences at scale.
Predict problems and fix issues before they happen
A customer experience suite capable of delving into all your customer data should also be able to use its analytics engine to surface predictions that allow your frontline customer service reps to squash issues before they even arise – and coach them on things you know are hot topics.
Deliver best-in-class customer care
Did you know that 90% of customers think it's very important or even 'essential' to get an immediate response to a customer service question? That puts a lot of pressure on your customer support teams, but if you have the right tools in place, you can ensure that the care you give your customers is second to none.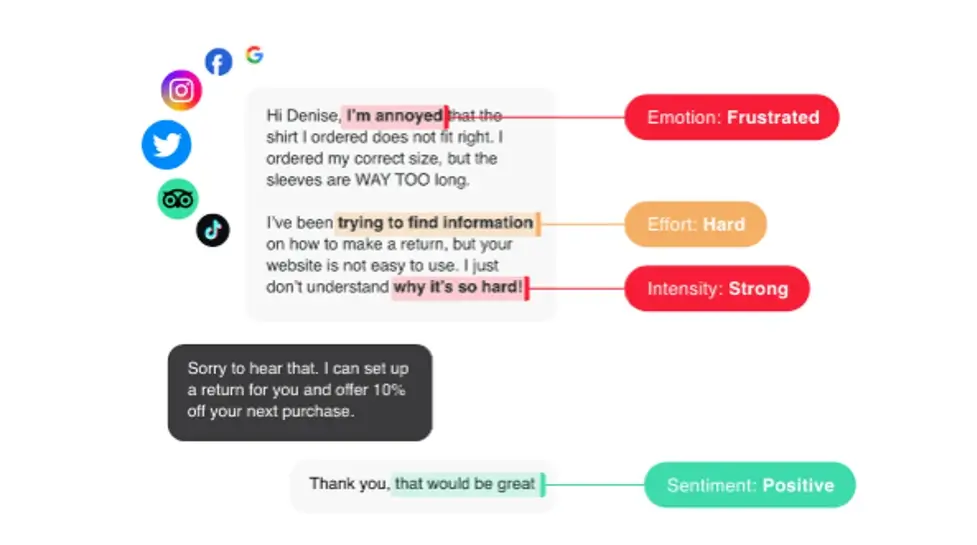 If you can listen to every customer – on every touchpoint – in real time, you can build a strong database of individual and segment sentiment. Better still: if you have tools that can turn all that information into insight, you can better prioritise messages and incoming calls. Similarly, if you can monitor every agent interaction (not just a sample) with intelligent insights, then you can empower your agents with the right training to effectively navigate any issue.
Understanding the relationship between CX and EX
Well-trained frontline staff who have all the tools they need are a powerful asset, so it's worth thinking about how improving the frontline employee experience can bolster the customer experience. With the right contact centre quality management tools, you'll be able to intelligently onboard, coach and reward frontline staff, ensuring that they feel confident to do their best work.
How Qualtrics can help
Understanding how to support and serve customers from the beginning right through to the end of every journey is vital. Frontline customer service lives across those three areas we've talked about, but every channel will have different use cases, each with its own nuances and needs.
That's why we created the Qualtrics XM™ for customer frontlines – an experience management tool specifically designed to tackle frontline CX from every angle. With Qualtrics™, you'll be able to surface points of friction and guide your teams in the moment, continuously improve your experiences to meet ever-changing customer expectations, and turn self-service into couldn't-ask-for-better service.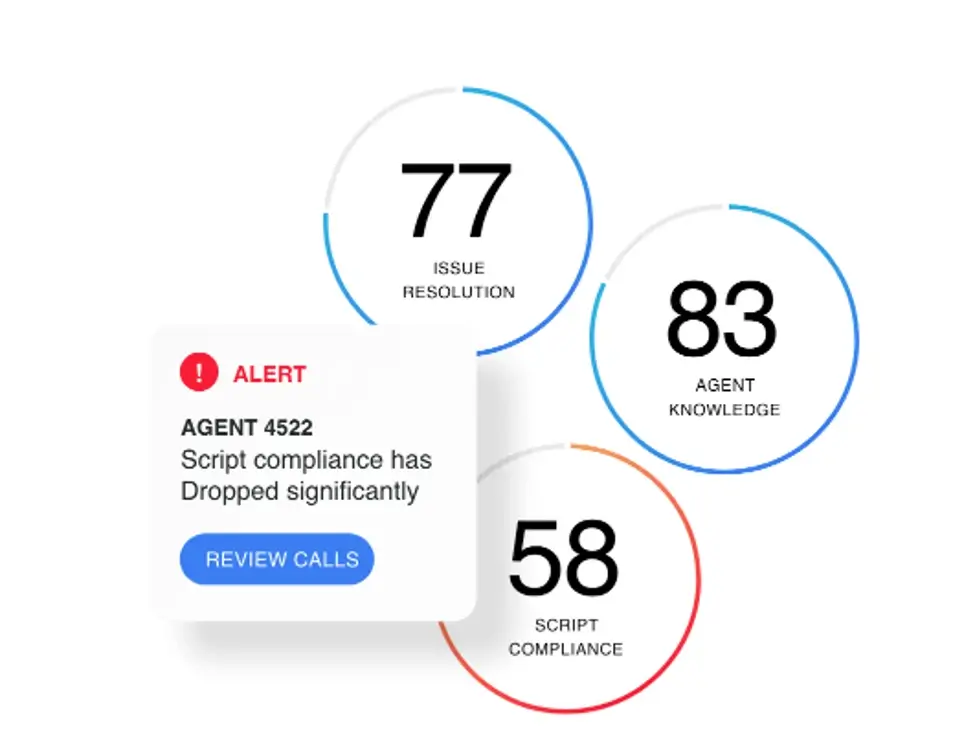 The best service comes when agents and staff are all empowered to make a real difference and make customers feel listened to – and that's exactly what Qualtrics XM for customer frontlines enables.