---
What is the student experience?
The student experience encompasses everything an education institution has to offer. Starting from when students research a course or campus, all the way to graduating and the post-degree engagement with the higher education community, the student experience is formed through the multitudes of touchpoints students have with their university, college or school.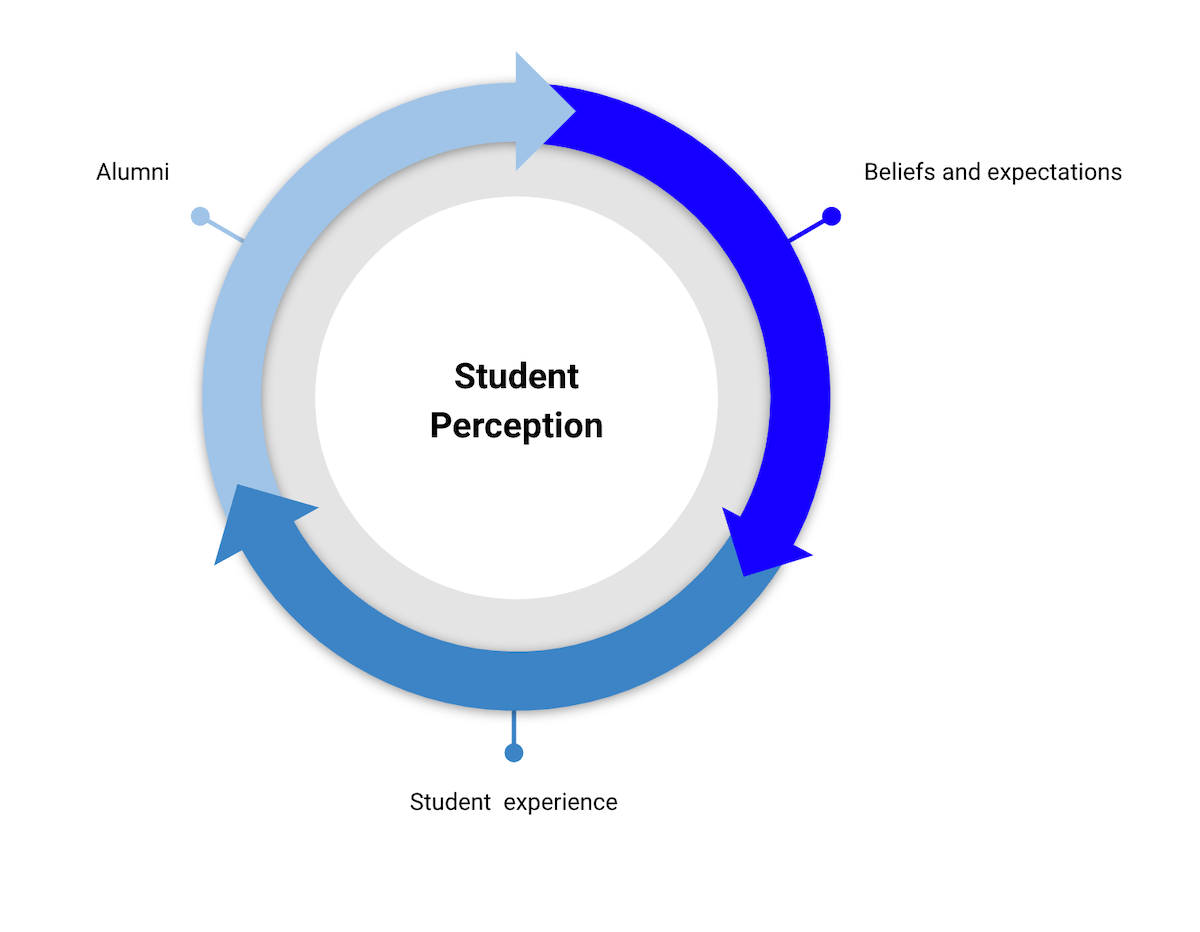 Free eBook: 2023 Education Experience Trends Report
What do students want from their experience?
For a long time now, students have looked at the data when deciding which academic institution to choose – costs, scholarship potential, course ratings, results and employment prospects after graduating have all been key factors in their decisions for decades.
But we live in a new world, one where a prospective student is looking for more than just good grades and a job at the end of their course. They're looking for a complete experience.
Comparison sites have caught up too, and prospective students can now compare everything from the quality of food on campus to the cleanliness of the accommodation and the range of upcoming events from sports and social clubs.
Why is the student experience important?
Academic institutions are becoming increasingly focused on monitoring the complete student experience and taking steps to improve it. They realise that student experience can directly impact a college or university's reputation, and its ability to attract new students.
Optimising student experiences can help:
Increase yield rates from application to admission
Improve learning outcomes by turning course evaluations into improvements
Drive advocacy from students from an improved campus experience
Boost alumni engagement
Gathering quantitative and qualitative data at every touchpoint
The good news for academic institutions is that they are perhaps better placed than almost any other organisation to start gathering feedback on desires for student life.
After all, we know that the younger generation is not just more willing to give feedback on the student experience, they expect to be able to do it.
They've grown up in a world where feedback is everywhere, and it's instantaneous. From an early age, they've been able to instantly like, share and comment on everything from their friends' Facebook posts to their hotel reviews on Tripadvisor and their videos on YouTube.
It's not a major leap then to get their feedback on the things that matter most for the student experience, whether it's their accommodation, their course, tutors or even the health and fitness facilities on their university or college campus.
But when exactly should you research the student experience?
Gathering useful data at every touchpoint
Every time a student has an experience with your college or university, there's an opportunity to gather data. Over time and with enough data, you can build up a map of the journey your students go through from application to graduation.
Likert scale survey example for the education industry.
Quantitative data might be the number of students using services, or the drop-off rates of students during application procedures. Qualitative data might be the opinion of your students on your college facilities or the support network you offer.
Journey mapping is a great place to start figuring out how students go through your institution's experiences. By understanding the journeys they go through and gathering all types of data at each touchpoint, you're able to identify pain points along the way and start prioritising actions to improve them.
The importance of technology in evaluating experiences
Gathering feedback can often be the easy part of evaluating the student experience. More complicated is the analysis of the data you collect to draw out actionable insights – and that's where technology comes in.
Analysing data to drive student success
Gathering data is the start – using it to identify where and how you can improve to have the greatest impact is how you start to craft student experiences that reap rewards. Student success can often depend on the experiences they have at their schools, extending beyond academic classes to encompass interactions with faculty, support functions, access to information and campus culture. Finding which elements matter most not to students in general, but to your institution in particular, requires statistical data analysis.
Why comprehensive data is vital for improving the student experience
When gathering feedback from your student population, you could find (for example) that your ratings for clubs and societies are low and your scores for accommodation cleanliness are in the mid-range. It would be easy to jump to the conclusion that you need to improve your clubs and societies offering.
But when you look at it as one data set with a tool like multivariate regression analysis – it may sound complicated, but it's just 3 clicks in Qualtrics – you could find that actually, a 1 point increase in your accommodation cleanliness score would have a bigger impact on the overall experience.
This is why analysing your research within the context of all feedback – not just looking at one particular aspect – is vital. Comprehensive feedback and data collection will help your students succeed because you'll not only understand what's happening, but why it's happening and which actions will have the greatest impact.
Analysing data as a cohesive whole
There's a whole host of analytical tools you can use to evaluate the student experience, from key driver analysis to multivariate regression and text analytics.
Each one has a role to play in identifying and prioritising improvements. The key to getting it right is to be able to analyse all your data together.
It's no use having course feedback in one system, accommodation feedback in another and comments on clubs and societies stored somewhere else. In a siloed system, it's almost impossible to identify which actions will have the biggest impact on students' experience.
When you collate that data, and bring it into a single system, you can analyse it as a complete data set and find the most significant drivers of the experience, both good and bad, as well as the impact of each one on the overall experience.
This lifecycle approach allows you to see the student experience as one, holistic journey and spot patterns in the data to really hone in on what matters most.
Using text analytics to understand students' motivations
To take it further, with text analysis you can dig deeper into different topics to spot themes, sentiment and trends to identify what's driving those scores. Research the motivations of your students as they move through the academic experience, from online campus registration to university services usage to course participation.
This allows you to do root cause analysis to really get to the heart of the issue, and start putting actions in place to optimise the experience for your students. Each college and campus will have different needs and resources – focusing on what makes a real difference is easier when students inform you of their experiences themselves, both in what they overtly say and in what they imply.
Developing excellent student experiences with Qualtrics
Measuring, mapping, monitoring and improving the student experience has never been easier with the Qualtrics Experience Management Platform™.

You can collect feedback at every touchpoint on any aspect of the student experience. Better yet, with a predictive analytics and intelligent system that constantly learns from your data, you'll get insights and suggestions for improvements that are directly connected to your student body's opinions. No more guesswork – just academic research and highly targeted action.
With numerous third-party integrations, you can bring all of your analysis under one roof without throwing out what's already working. Apply text analytics, sentiment analysis and more to pinpoint trends and create automated responses based on data-led insights.