---
Why is employee engagement so important today?
In every industry, engaged employees are essential for business success. When employees are connected to their organisations, feel empowered and are supported to do their best work in the right environment, they're much more likely to go above and beyond to deliver stellar results.
Put simply, employee engagement is how much an employee is committed to helping their organisation achieve its goals. And HR and people leaders know this all too well.
Yet, employee engagement is the exception rather than the norm. Globally, only 21% of workers say they are engaged at work, and the majority of disengaged workers cost their employers a staggering $7 trillion in lost productivity.
Start improving employee engagement today with EmployeeXM
It pays to implement employee engagement initiatives. Done correctly, they increase workforce productivity, growth and development, collaboration and retention. All of which are measurable business benefits (and outcomes) that contribute to ongoing success. Here's what every organisation can expect from a well-defined and effective engagement program:
Increased performance – Research shows that engaged employees are much more likely to help their company achieve its goals.
Higher employee retention – an engaged employee is 87% less likely to leave their organisation. This means reduced employee turnover costs for HR professionals having to recruit new staff, train them and wait for them to ramp up to 100% productivity.
Higher employee satisfaction – when your workforce is happy, it raises employee morale and enriches your workplace culture.
Increased revenue –highly engaged employees contribute to 21% greater profitability, and teams that score in the top 20% of engagement realize a 41% reduction in absenteeism, and 59% less attrition – better business outcomes all round.
A better customer experience – the same study found that high workplace engagement contributes to a 10% increase in customer ratings and a 20% increase in sales, which in turn can lead to… higher customer loyalty and customer retention resulting from highly engaged employees working harder and delivering more.
As a HR topic, employee engagement has been around for decades. But thanks to a steady increase in businesses' understanding of the value and depth of employee feedback and engagement, and its role in shaping successful companies, it has proven to be an enduring priority rather than a passing trend. Achieving and maintaining employee engagement is an essential investment, which is why employee engagement software is an essential tool.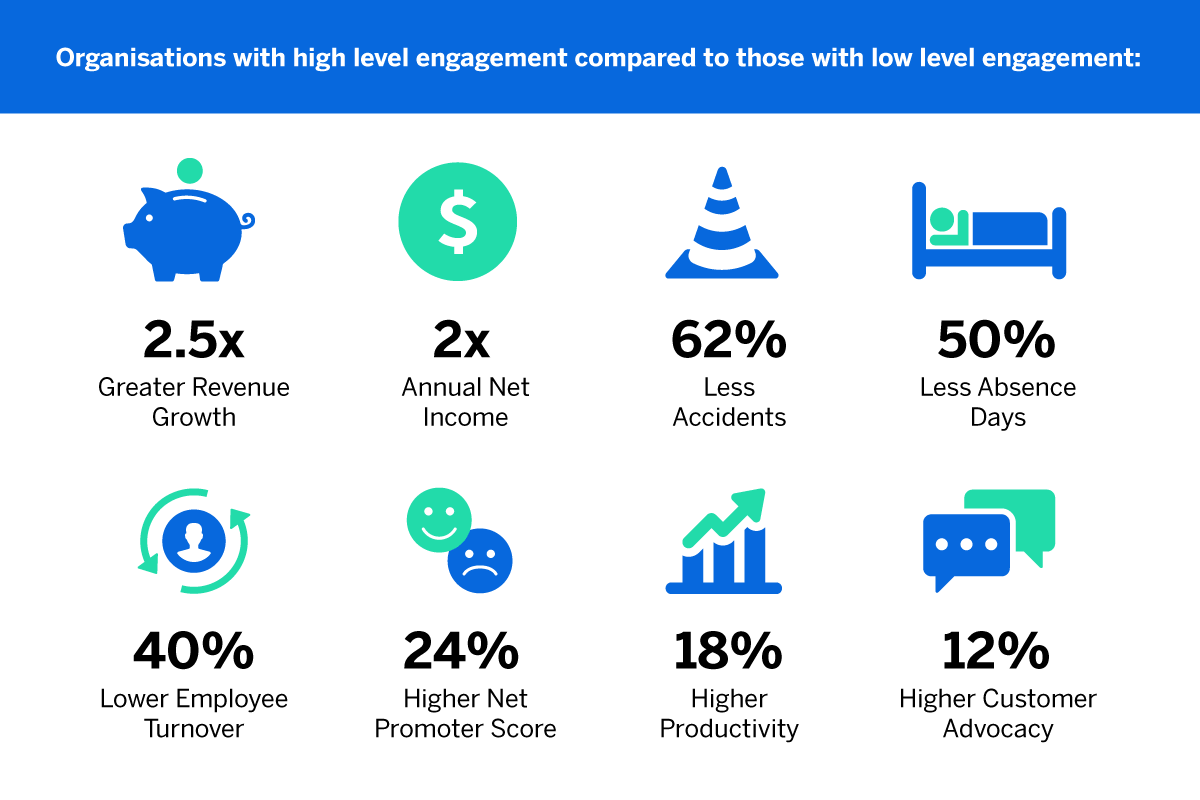 Employee engagement challenges in the future
While the value of employee engagement is recognised and understood, the working landscape is very different in 2022 and beyond. Research cites:
Post-pandemic shift in priorities
Poor business leadership
Lack of autonomy
Remote and hybrid working
The Millennial and Gen Z workforce are also demanding change to how they work: they want better work-life balance, improved learning and development opportunities, more well-being and mental health support, and for their employers to make a difference societally and environmentally.
With all of this in mind, it's critical that organisations have the right tools to act on employee experience gaps to improve engagement.
And at the heart of it all is employee engagement software.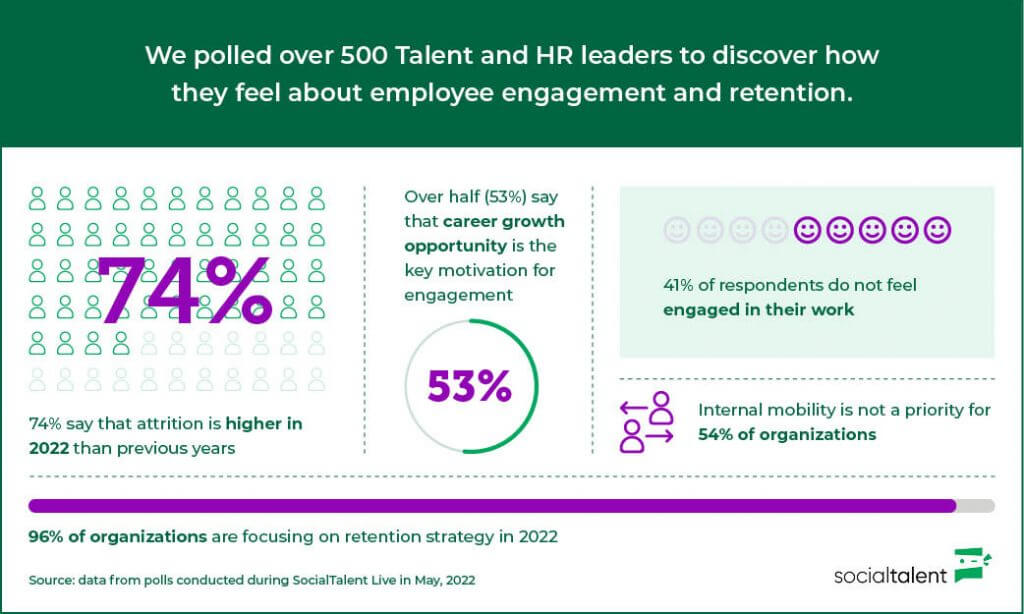 Image from SocialTalent.com
What is employee engagement software?
Employee engagement software (also known as employee engagement tools) empowers HR teams and people leaders to capture employee engagement data, uncover opportunities for new initiatives, measure the impact of manager action programs, and ultimately, engage employees. It's an essential part of a HR team's toolkit.
With the insights gained from employee engagement software, organisations can implement strategies to boost engagement levels of their employees.
A good holistic employee engagement solution does three fundamental things:
1.   Listen
By listening to employee feedback — how your people think and feel — across multiple channels and at different times, employee engagement software enables you to capture moment-by-moment data on how engaged employees are. With this kind of intricate detail, you can unveil more authentic employee sentiment — from how they feel about different aspects of the company and their role to where they want to see changes made.
2.   Analyse
A high-quality employee engagement software platform offers statistical and analytical tools to help you work with, assess and visualise the employee data you've collected to uncover critical insights. These insights can help you predict and plan for likely outcomes, such as an increase in intent to leave, and show you where you need to take action to increase employee retention.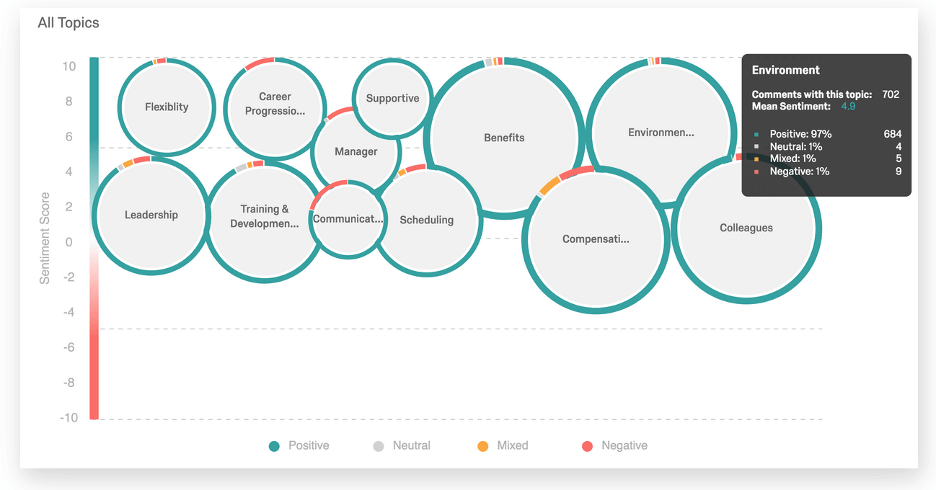 3.   Enable action
As well as listening and measuring, the best employee engagement software helps you to actively improve employee engagement as soon as issues are identified.
These tools provide advice and guided actions on what people managers can do, from  best practice guidance to recommended actions for specific areas. From these plans, your people managers might decide to implement employee reward schemes, coaching and development courses, or employee forums for the sharing of ideas.
All of this helps you to nurture a strong and inclusive environment while building a company culture that makes people feel like they're heard and understood.
Start improving employee engagement today with EmployeeXM
How can software improve your employee engagement program?
The right employee engagement software helps companies in several ways:
Efficiency and speed
One important benefit of using an employee engagement tool is the ability to save HR teams time and effort by automating and digitising most of the work involved in using employee experience data.
Gone are the days of designing, distributing, collecting, collating, and analysing data from employee engagement surveys manually. Not only was it time-consuming and unrewarding work, it was significantly more prone to error than a software solution that does the heavy lifting for you.
The capacity to gather real-time feedback and extrapolate engagement metrics is incredibly powerful, and top employee engagement software crunches the data and delivers results to dashboards and devices automatically.
Oversight and insight
Employee engagement software helps you 'join the dots' between different departments, teams, and locations to uncover trends, gaps, and patterns within your organisation. This is invaluable as companies scale and human oversight becomes more difficult. Employee engagement solutions offer leaders the ability to gain a birds-eye view of their organisation, and then drill down into the specifics, all using the same tool.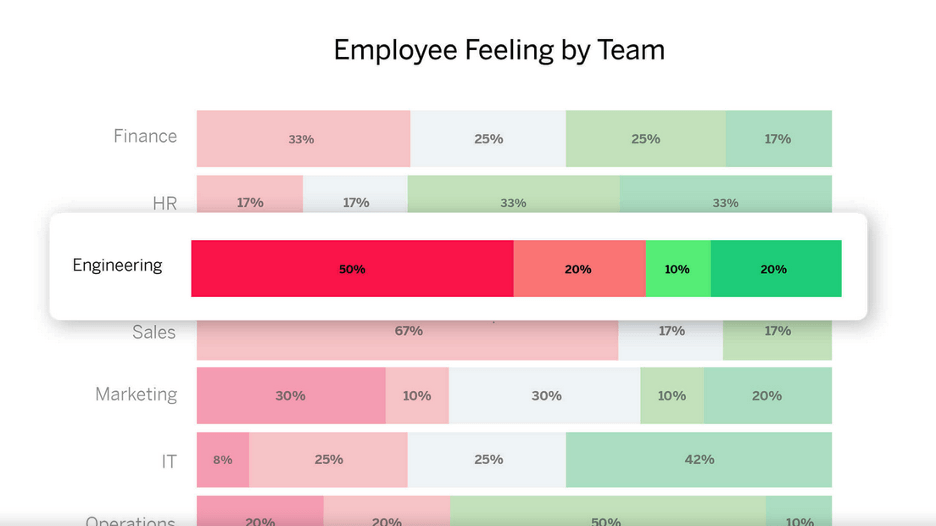 Prediction and strategy
Another key capability of employee engagement software is performing deep analysis and coming up with predictions and recommendations based on a company's employee data. The best employee engagement software solution will crunch the numbers for you and produce top-level insights and summaries that anyone can understand, via reporting and dashboards that can be widely shared within a company.
The standard capabilities of employee engagement software
Typically, most employee engagement software will include the following capabilities:
Employee feedback
Employee engagement software provides a valuable feedback communication channel between your people and leadership. Just as businesses want to know how engaged their employees are and what they can do to make things better, employees want to feel listened to and to see their feedback making a difference.
By providing an easy-to-access digital channel, employee engagement software allows individuals to contribute their feedback directly into a single source of truth, where they can feel confident it will be listened to and acted on if appropriate.
As well as improving the quality of what you collect, employee engagement software allows you to be specific about when you collect it. You can use these kinds of tools to collect feedback at the moments that matter across the entire employee lifecycle, from recruitment to development to retention and exit. This gives you a more granular and specific level of experience data, which allows you to uncover insights and make better predictions.
Employee experience (EX) and employee engagement surveys 
These are probably the most important part of any software designed for improving employee engagement. Surveys are one of the best-established methods for gauging levels of employee engagement and related factors like job satisfaction and company culture. Traditionally performed as an annual exercise, it's becoming the norm for employee engagement surveys to be run more regularly. Gather continuous feedback from employee surveys, pulse surveys, 360-degree feedback, peer to peer recognition, one-to-ones, and feed the results into your employee engagement system.
With the right kind of employee engagement survey software in place, you can run engagement surveys with minimal effort. This means you can afford to poll your people in more specific ways, for example designing a pulse survey to address a particular aspect of the employee experience or target those performing a specific kind of role in your company.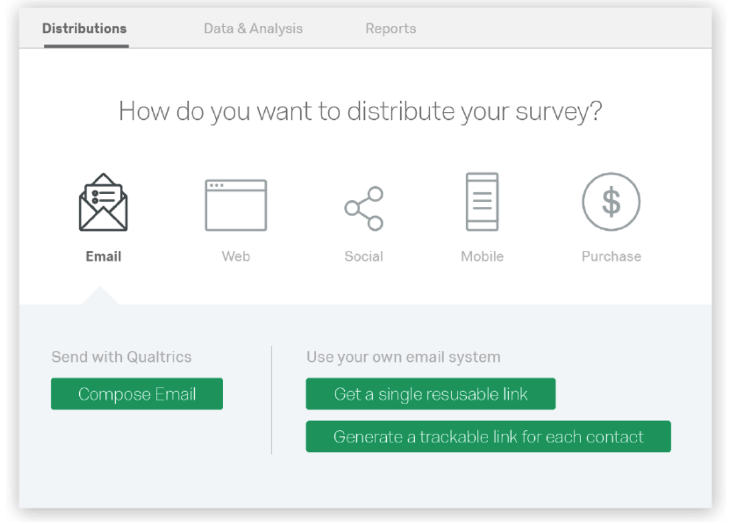 Continuous performance management tracking
A tool within your solution to improve employee performance. It tracks each employee's performance throughout their employee lifecycle from onboarding to exit. Performance management can be measured against whatever key performance indicators (KPIs) the company wishes to evaluate at any time.
You can use it to keep track of employee development and goals, giving both managers and employees a useful reference point for one-to-ones and coaching. As well as working on an individual level, this data can be analysed at scale to give you a clear perspective on your people's skills and strengths, and where you can make improvements in your company's overall wealth of skills, e.g. through hiring or training and development.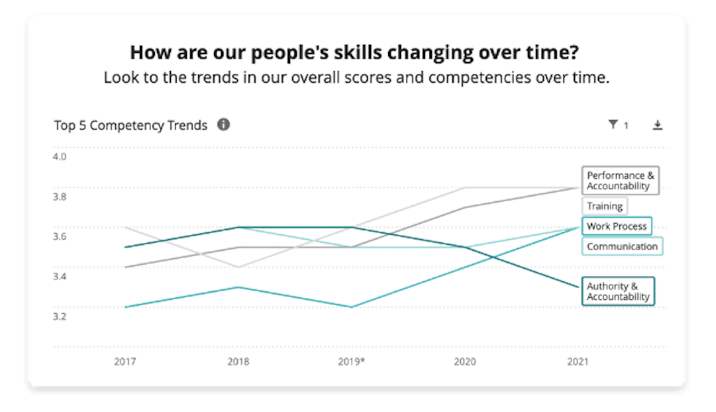 Top features to look for in the best employee engagement software
As mentioned, most employee engagement tools will offer surveys, engagement analytics (such as overall employee satisfaction), and listening capabilities to capture and measure feedback to ultimately drive employee engagement.
But sophisticated employee engagement platforms go a step further and integrate predictive intelligence and machine learning to uncover insights from employee feedback and sentiment, surfacing key topics and trends for you to action. As well as this, it will come with preconfigured dashboards, allowing teams to filter and personalise engagement data for specific managers and/or teams.
Seamless integration and a growing solution ecosystem
Employee engagement systems shouldn't just work in a vacuum. The best employee engagement tools integrate with other software systems, for example, via an API, so that your business data can be pooled for better quality insights and predictions. Systems that are an edge above have native support for third-party solutions and integrations.
Being able to combine engagement and performance data, as well as X-data (experience data) with O-data (operational data) will give you an incredibly detailed, holistic view of not only what is going on in your organisation, but why. 
Ease of use
Employees (and managers for that matter) won't bother to engage with the software if it's a pain to use. Employee engagement software should reduce friction and effort, not add to it.  Complex software might be powerful, but if you need a special qualification to use it, that lack of usability is severely limiting how well the software can perform for your organisation.
And even when it's easy to use, it will need to include notifications and nudges to encourage everyone to check in on a daily basis.
Automation
One of the biggest problems the best employee engagement software solves for companies is time and human resources. Take that capacity to the max by choosing a platform that produces actionable insights, by using automated actions and workflows to complete tasks for you. For example, raising a ticket, or when a certain set of conditions is met, or awarding a benefit when an employee excels in their work.
AI-powered functions
The best employee engagement software uses technologies like machine learning and natural language processing to enhance performance, power, and efficiency. With AI becoming established as a new standard in enterprise software, look for the most up to date tools that harness the power of AI.
For example, let's say you wanted to analyse employee sentiment across all the feedback you've received this month. Using an AI-powered text analytics tool, you could quickly crawl that data to identify key, recurrent themes (or topics) and statements. This then gives you an idea of what's most important to employees.
As well as this, you'll be able to:
Find insights hidden deep in your employee feedback system with predictive intelligence that applies artificial intelligence and machine learning to employee engagement responses in real-time
Spot themes and trends in open text feedback with sentiment and topic analysis
Find relationships between employee engagement outcomes with powerful statistical analysis
Spot problems early with automated at-risk alerts for critical issues like attrition
Flexibility and scalability
Your business is growing, changing, and improving all the time, and so should your employee engagement software. Look for tools that can be adapted to your needs over time by adding or removing features from your subscription.
Training and expert support
With the rise in the number of remote employees and hybrid workers, training is no longer a day in the office meeting room. It's now often on-demand, online, and can be bolted onto your employee engagement software.
Backed by great service
When your employee engagement software comes with a high level of customer care, you're more likely to get the best from it. Being able to access expert, responsive support when you need it means you can ask questions and make plans for how to use your employee engagement in new and creative ways, extending the value and return on investment you're getting from it.
Go beyond employee engagement with Qualtrics EX25
Employee engagement is just one piece of a larger puzzle, and engagement, as a single metric, is no longer sufficient. Today, it's all about employee experience.
In today's environment, leaders need to take a more holistic approach to gauging employee sentiment; one that includes well-being, DEI, sense of belonging, and sense of purpose.
Leaders need to be able to listen to and acknowledge employee feedback and leverage it to form new habits that improve the employee experience. The most successful companies are moving beyond measuring employee engagement alone to measuring the holistic employee experience on an ongoing basis – in a way that doesn't overburden their people.
Leveraging years of client research and multiple global validation studies, Qualtrics has developed the EX25, an industry-leading holistic approach to measuring and optimising employee experience.
Engagement, as a single metric, is no longer sufficient. We have created a new set of KPIs that simplifies the engagement metric and adds new measurements on inclusion and well-being. Our in-house team of organisational psychologists also identified 25 of the most impactful drivers for these KPIs, which include trust, safety, respect, and work-life balance. With EX25, organisations can holistically understand employee experience and where to focus to drive impact, without adding more burden to their employee listening program.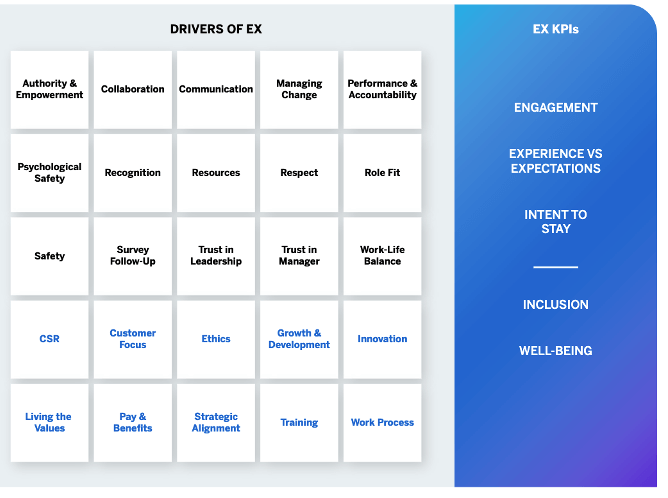 EX25 includes:
A program design guide that helps employers pulse survey their employees at the right cadence for them, so they can stay in tune with employees throughout the year while avoiding survey fatigue
A comprehensive library of scientifically validated items, including 5 KPIs to track employee experience and 25 drivers, critical topics that impact KPIs
Dashboard templates with analysis of employee feedback to help managers and leaders understand and address the top drivers of employee engagement across their teams
Benchmarks that show how your company's employee experience compares to others in the same industry
Expert-designed action guidance that helps managers to meaningfully improve on each experience driver.
EX25 is part of the Qualtrics Employee Experience Platform, a solution that's redefining how organisations approach employee experience.