---
Technology now governs every aspect of an employee's journey, from the moment they apply for a job to the moment they exit, and every moment of their employee experience in between.
Post-pandemic, technology and the digital experience is even more crucial and has the power to drive meaningful change.
The benefits of employee experience technology
When you implement a well-thought-out, efficient employee tech strategy, everybody benefits:
Your people:
Are more satisfied with their jobs
Are more empowered to make their own decisions
Collaborate more
Are more engaged
Find their workloads reduce
Have more opportunities for training and professional development
Deliver better service to customers
Tend to stay longer with the company
Your organisation:
Is more efficient
Is more productive
Has a better workplace culture
Gets a good corporate reputation for employee engagement (EX)
Delivers better customer experience (CX)
Strengthens its brand, and brand experience (BX)
Download our free employee technology experience playbook
How technology and efficiency are related
Great tech improves the way your employees carry out their tasks. This can take the form of speeding up existing processes or opening up more flexible ways of doing a job. Do an audit of your current operations and see where you could be more efficient:
Could you capture information, such as customer details in a simpler, more time-efficient way?
Has your document management got out of hand? Could you implement a better workflow?
Do you duplicate tasks, such as manually inputting already handwritten documents onto a computer?
Are your tech processes overcomplicated? Simpler processes, utilising cloud computing, mobile technology, and computer networking cause fewer IT headaches
Could you automate certain processes to save your people time?
Design streamlined processes with technology
Empower your employees by updating their tech and systems, and training them inefficient use of technology, such as:
Robotic process automation (RPA): this is using computer software 'robots' to handle digital tasks that are repetitive and rule-based such as copying and pasting, filling in the same information in multiple places, and reentering data.
Customer relationship management (CRM): this streamlines and manages customer interactions and relationships so that workers can easily access important personalized data for sales, service provision, and meetings
Tech to improve the employee experience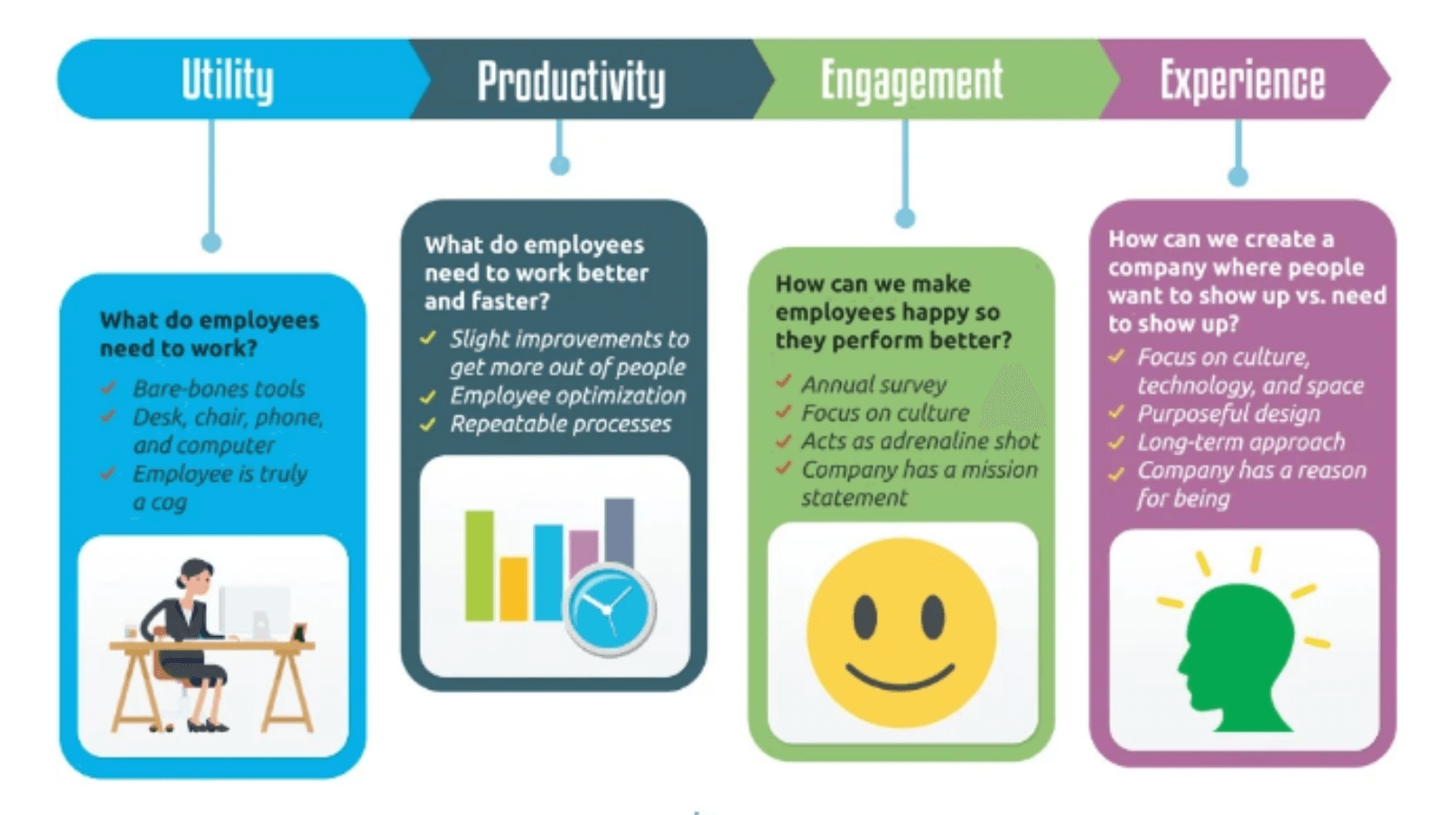 Image Source: The Future Organisation
When a new employee joins your organisation, their time with you will be governed by technology.
Employees interact with tech at many points during their lifecycle, as well as taking part in larger digital transformation efforts that your business may be undergoing. They'll undergo the following 'point in time' tech experiences:
Onboarding
Training and skills development
Benefits
Performance reviews
Expense management
Booking business travel
Shifting from an on-premises work tech environment to cloud-based remote working technologies
The foundational tech necessities for an employee of any job include:
Hardware: laptop, PC, tablet, mobile phone
Communication/collaboration tools: Slack, Asana, Trello, email
Intelligence and analytics tools
Workflow and automation tools
Meeting and presentation tools: Zoom or Microsoft Teams
Tech Support teams: on hand for everyday tech issues as employees use technology
There are also job function-specific tools. For example:
Human resources (HR) professionals need access to HRIS platforms
Recruiters work within an applicant tracking system on a daily basis
Project managers in IT need access to JIRA for monitoring ongoing projects
Empowering employees
"A low sense of enablement is the biggest risk for employees classed as the organisation's most talented. Talented employees can be more sensitive to barriers, yet suffer in silence.
"This lack of enablement prevents high performers from achieving their best, resulting in them becoming frustrated and potentially leaving the organisation." Research by Korn Ferry.
It's essential to enable your employees, especially high-performing talent, to be as productive and autonomous as possible – otherwise, they'll simply leave. The technology experience is an important part of the whole employee experience, which can be broken into four key experiences:
Organisational experience: how effectively people interact as a team and work together, and gel with their manager, their teams, and with the cultural expectations of the organisation
Individual experience: the personal experience of each individual in an organisation; their training, performance, development, wellbeing, and rewards
Transition experience: the workforce's experience as they move along the employee journey at key moments of transition, including recruiting, onboarding, exit, promotion, financial events, and organisational changes
Workplace experiences: how an organisation's internal processes, technology, and physical workspaces enable employee productivity
You need to give your employees the autonomy, digital tools, and freedom to be creative in all four key experience areas. Technology is important here – although it's company policy and culture that make the decisions to give freedom and autonomy, providing the tools to be free and autonomous is a technology decision.
Self-service
Self-service is another way to empower your employees, but it must be simple to use – your people shouldn't need to trawl through a manual or call up the IT department for help.
When self-service technology has simple workflows, and easy, mobile access, employees are more inclined to take ownership of their responsibilities.
How technology can assist HR and People Teams
Central to the employee experience is the HR department, with their remit of hiring (and sometimes, unfortunately firing) employees and helping get the best out of them at work.
It's important to demonstrate that your company is tech-savvy, as potential recruits judge a company on the technologies available in a potential workplace before deciding whether to accept the job or not. This is a clear case of technology impacting career decisions.
VoIP (Voice Over Internet Protocol) technology has slashed the workload of recruiters by:
Streamlining recruitment: Recruiters can easily communicate with candidates online by phone or video interviews, from anywhere – saving travel expenses ad shortening the recruitment process
Optimising the onboarding process: Onboarding must be a success if the new hire isn't to walk away, and conference calls, online meetings, training, file sharing and instant messaging can all be done over VoIP
Facilitating the management of remote employees: with the work from anywhere (WFA) trend set to become the new normal, VoIP includes video conferencing, presence monitoring to check employee availability, and call recording facilities for measuring employee performance and for future training purposes).
Human resources software such as our Qualtrics EmployeeXM™, helps your company to attract, engage and retain top talent. It:
closes experience gaps by gathering feedback across the entire employee lifecycle
automatically identifies the actions HR leaders and managers can take to improve the employee experience
makes it easier than ever before to improve the everyday experiences of employees
Tech tools that improve employee engagement
Introducing new employee engagement technology solutions can make your communications with employees more efficient, while still showing you care about and are interested in your workers as people.
Feedback
You'll only know how engaged your people are if you ask them. Make your workforce feel important, more than just a number, and heard with:
digital, mobile-enabled surveys
polls
reporting platforms
And when you use an experience management platform such as EmployeeXM™, gives you the full picture of an employee's experiences and clear actions on how to close experience gaps.
Collaboration
It's a rare person who works well in isolation, so you should do your utmost to facilitate co-working and collaboration. The basics are:
File sharing: Google Drive, Dropbox, and other cloud-based mass storage solutions are safe and easy to use
Project management tools: Asana, Jira, Basecamp, Trello… not only are these platforms great for coordinating shared tasks, they also have chat facilities to boost the connection between team members and share knowledge
Shared whiteboards: Slack is a great tool for brainstorming, sharing files, creating ideas, and sharing notes
Bring your own device (BYOD)
Companies are realising that employees are going to be glued to their phones anyway, so why not allow them to be used for work purposes? BYOD gives employees the autonomy to work how they want, where they want, without having to juggle work phone/home phone.
The BYOD approach is especially useful for…
Mobile learning
As employees find that their work is becoming ever more flexible, they're more inclined to use their mobile to undertake training at home or anywhere. It's important for employee engagement that learners have access to content and training at a time, pace, and place that suits them.
Capturing employee success
An important part of employee engagement is recognition. Being recognised for doing a good job, by your peers, your manager, direct reports give you a boost.