---
More than a year ago, we commandeered sofas and erected office nooks in our bedrooms as we hunkered down to work from home for what (we assumed) would be a few weeks, at the most. Now, many of us are still conducting conferences from our kitchens and leading teams dressed in sweatpants.
But as vaccines roll out and COVID restrictions are lifted, companies across the UK are working to bring employees back to the office — at least part of the time. But it's been awhile for a lot of people, and leaders will have to work hard to create an inclusive and comfortable workplace experience for all employees.
We now know many employees can work (and be productive) from anywhere, so as companies adapt to the changing workforce landscape, they'll need to find compelling ways to make the office a destination space where workers want to come together to be inspired, connect, collaborate, and innovate in-person.
Qualtrics recently asked over 500 workers in the United Kingdom what they expect the workplace will be like, what will have changed, and what they're looking for as they all come back into the office. Here's what they said:
Discover the results of this study in our infographic
The race is on to keep people engaged
The clock is ticking for organisations to create a compelling reason for their employees to stay at – or join – their company in a post-pandemic world.
An enormous 48% of employees in the UK say they are seriously thinking about leaving their current job.
For talent teams this number presents an enormous opportunity. Get your employee experience right and your organisation is in a prime position to attract the very best talent.
Employees believe working in-office will offer career advantages
For most employees who worked from home during the pandemic, it's likely their co-workers did, too. But as companies start welcoming employees back into the office, many on a hybrid basis, workers are presented with a conundrum. What are the consequences of working in or out of the office?
41% of employees think those who work in-person from an office have a career advantage over remote employees for promotions and raises. They cited visibility to leadership as the top advantage
49% of employees say they feel pressured to work in-person from the office, even if their employer is offering a hybrid or remote option
Employees prefer better work amenities to more office locations
The majority of employees are comfortable with returning to the office and working in-person alongside their colleagues, but people want flexibility when it comes to facility options, with many being open to consolidated locations or satellite offices.
62% of respondents say they'd be comfortable working in the same general office space as other colleagues, and 57% say they'd be comfortable working in the same enclosed space (conference rooms or desks next to each other)
61% of employees would support fewer office locations in exchange for better facilities and amenities in more centralised locations
53% of employees also say they'd be satisfied if their organisation opened more satellite offices for smaller teams
Most employees will be meeting co-workers for the first time in-person
Employees, especially younger age groups, have spent much of the pandemic communicating through a screen. And many are preparing to meet co-workers for the first time in-person.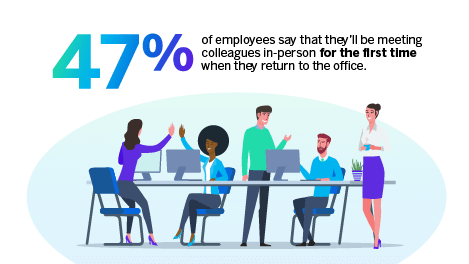 While nearly half of employees say they'll be meeting colleagues in-person for the first time when they return to the office, that number varies by age.
More than half (59%) of those aged 18-34 say they'll be meeting co-workers in-person for the first time, while 44% of those aged 35-54 and 31% of those older than 55 say the same
Going back and meeting people in-person will also surface other challenges.
The two most common things workers say concern them about seeing colleagues in-person again are the fear of being socially awkward and having to follow proper social etiquette again
44% of employees say they'll choose a "touchless" greeting when they see their co-workers, like a wave or friendly nod
Most employees plan to dress casual when they come back into the office
When the global pandemic sent everyone home, the only fashion that mattered was what people could see on the Zoom screen. Video filters became a substitute for makeup, slippers became the new dress shoe, and sweatpants became the slack of choice.
Now, after more than a year of working from home, employees will be looking to their leaders to set dress standards. But they'll have a hard time saying goodbye to a few things.
Ditching leisure wear, wearing makeup again, and getting routine haircuts are three of the top things that will be hardest for employees to change when they return to the office, they say
65% of employees agree that company executives set the tone for the dress code at their organisation.
51% of employees say they base their personal dress code on what their co-workers wear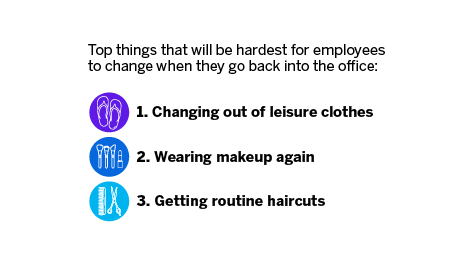 Though people still think you need to "dress for the job you want," comfort will be the biggest trend in the future of work fashion.
57% of employees agree with the saying: "Dress for the job you want, not the one you have," however
33% of employees say they plan to dress casual when returning to the office, tied with business casual (33%)
54% of respondents say that employees can be productive no matter what kind of clothes they're wearing, while 43% say that they would dress more casually if their office didn't have a dress code
Employees worked more hours than normal during the pandemic, will that change?
Working from home had its perks, but one in three employees say they worked longer hours because of the pandemic — and the burden fell mostly on young people, managers, and parents.
34% of employees say they've seen an increase in the number of hours they've worked per week, as a result of the pandemic:

53% of those aged 18-34 say they worked more during the pandemic, compared to just 27% of those aged 35-54 and 12% of those 55 and up

28% of individual contributors say they worked more, compared to 48% of managers, 55% of directors, and 82% of VPs. Only 39% of presidents and C-suite level executives say they worked more
42% of parents whose children live with them cited an increase in hours worked per week, compared to 14% of those without children at home
As companies and organisations welcome employees back to work, it will be important for them to remember how long it's been for so many. To create a safe and engaging physical and cultural workplace, leaders will need to listen to their employees, understand what they're saying, then take action to create and design a destination workplace that inspires, motivates, and draws people back in.
---

Share this infographic on your website
Learn more about Qualtrics employee experience management and employee engagement solutions