---
What is the patient journey?
The patient journey is the sequence of events that begins when a patient first develops a need for care. Rather than focusing on service delivery, the patient journey encompasses all touchpoints of a patient's healthcare experience–from locating healthcare providers and scheduling appointments, to paying the bill and continuing their care after treatment.
Examining the patient journey is essential to improving the patient experience. Not all interactions a patient has with your organisation are weighted the same. Gathering patient feedback and understanding perceptions all along the patient journey can help you to identify moments of truth: the touchpoints that have the biggest impact on patient loyalty.
Discover how Qualtrics can enhance the healthcare industry
The patient journey vs. the patient experience
Unlike traditional patient experience measurement, the patient journey looks not only at service delivery but also at the steps the patient takes before and after they engage directly with your organisation. It recognises that patient interactions with a healthcare system go well beyond the walls of the medical facility itself.
What are the stages of the patient journey?
There are several stages along the patient journey. When gathering patient feedback, you should make sure to capture insights at each of these stages.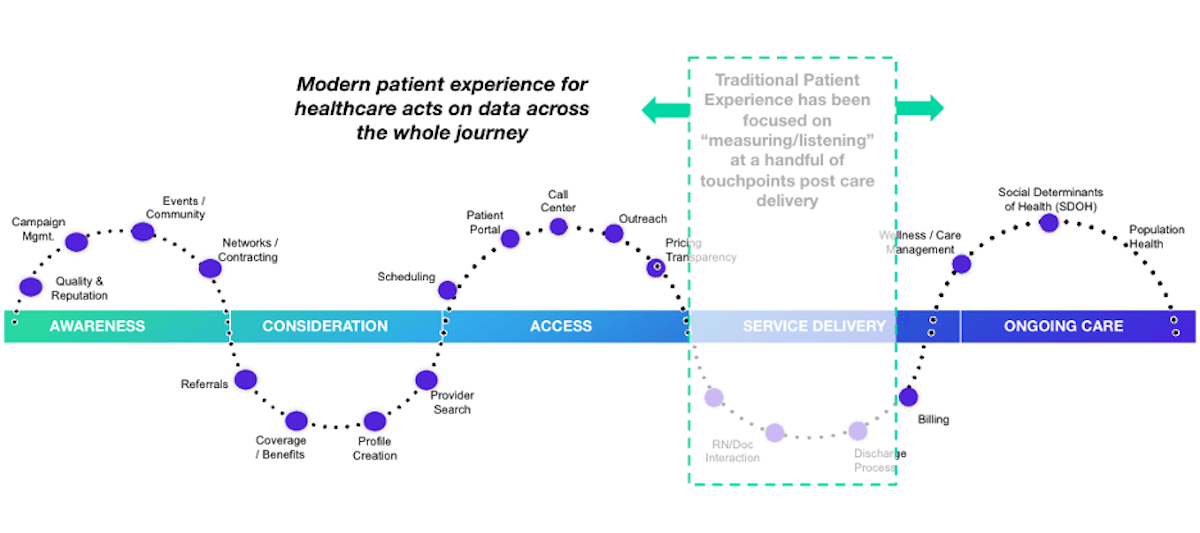 Stage 1: Awareness
The patient journey starts with awareness. In this stage, the patient identifies a need for care and begins searching for care providers. Examples of how patients learn about healthcare providers include online searches, review sites, marketing campaigns, networking, and community involvement.
Stage 2: Consideration
In the consideration stage, the patient weighs their options to determine if your health system can meet their needs. Factors patients consider include referrals, coverage and benefits, recommendations, access, and ratings and reviews. Often in this stage, patients interact with your website or social media pages or contact you via phone or email during this stage.
Stage 3: Access
The access stage is where the patient decides to schedule services with your healthcare organisation. Direct patient engagement with your organisation increases during this stage. You'll engage with patients in a variety of ways including phone calls, the patient portal, text messages, and emails as part of the scheduling and new patient acquisition process.
Stage 4: Service delivery
The service delivery stage relates to the clinical care provided to your patients. Encompassed in this stage are the clinical visit itself, check-in and check-out, admission and discharge, and billing. Traditional patient satisfaction measurement centres around this stage of the patient journey.
Stage 5: Ongoing care
The ongoing care stage of the patient journey involves patient engagement that occurs after the interactions directly related to service delivery. In addition to wellness and care management, this stage may address social determinants of health and population health.
What is a patient journey map?
The best way to utilise the patient journey to enhance patient experiences is by journey mapping. A patient journey map is a visual tool that illustrates the relationship a patient has with a healthcare organisation over time.
Patient journey mapping helps stakeholders to assess the patient experience from multiple perspectives. Journey maps provide a way to visualise the internal and external factors affecting patient flow and the different paths patients must take in order to reach their care goals.
What are the benefits of patient journey mapping?
Patient journey mapping can help you to visualise all of the steps patients take throughout the entire process of seeking, receiving, and continuing care. Creating a patient journey map is useful to identify pain points and gaps in care. Mapping the patient journey makes it easier to develop solutions that make a more seamless experience within your healthcare system.
Patient journey mapping benefits include:
Creating shared ownership of the patient experience
Refining your patient listening strategy
Aligning your organisation with a common view of the patient experience
Measuring gaps between the intended experience for your patients versus the actual experience
Identifying and resolving common pain points for your patients
Four types of patient journey maps
When creating a patient journey map, there are four types to consider. Each type of map has an intended purpose. You might start your patient journey mapping with only one type and incorporate the others as your efforts progress.
Current state
A current state journey map tells the story of what patients do, think, and feel as they interact with your organisation today. This type of patient journey map is ideally created using patient data and observational data.
The current state journey map is best for driving incremental improvements to enhance the patient experience.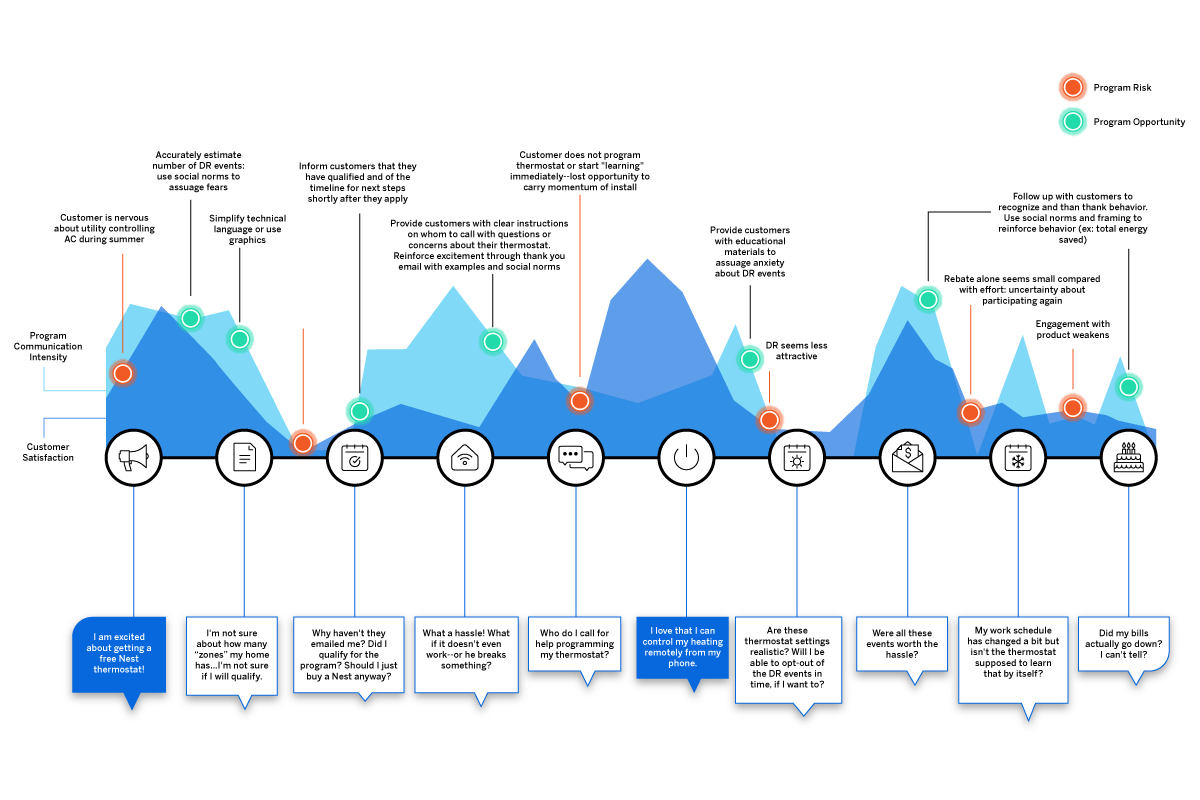 Future state
A future state patient journey map tells the story of what you want your patients to do, think, and feel as they interact with your organisation in the future. This type of map should capture the ideal journey you'd like to see for your patients.
The future state journey map is an effective tool to drive strategy, align teams, and communicate your visions for new services, processes, and experiences.
Day in the life
A day in the life patient journey map illustrates what your patients do, think, and feel today, within a specific area of focus. Patient personas are particularly useful when creating day in the life maps; these are discussed in greater detail below.
This type of patient journey map is intended to capture what your patients experience both inside and outside of the healthcare system. Day in the life maps are valuable to address unmet needs and determine how and when you can better engage your patients.
Service blueprint
A service blueprint is a simplified diagram of a current state or future state patient journey map. In the service blueprint, you add layers to illustrate the systems of people, processes, policies, and technologies surrounding each patient touchpoint.
For current state patient journey maps, the service blueprint can help to identify root causes of pain points. For future state, the service blueprint is helpful to visualize the systems or processes that can be put in place to support the intended patient experience.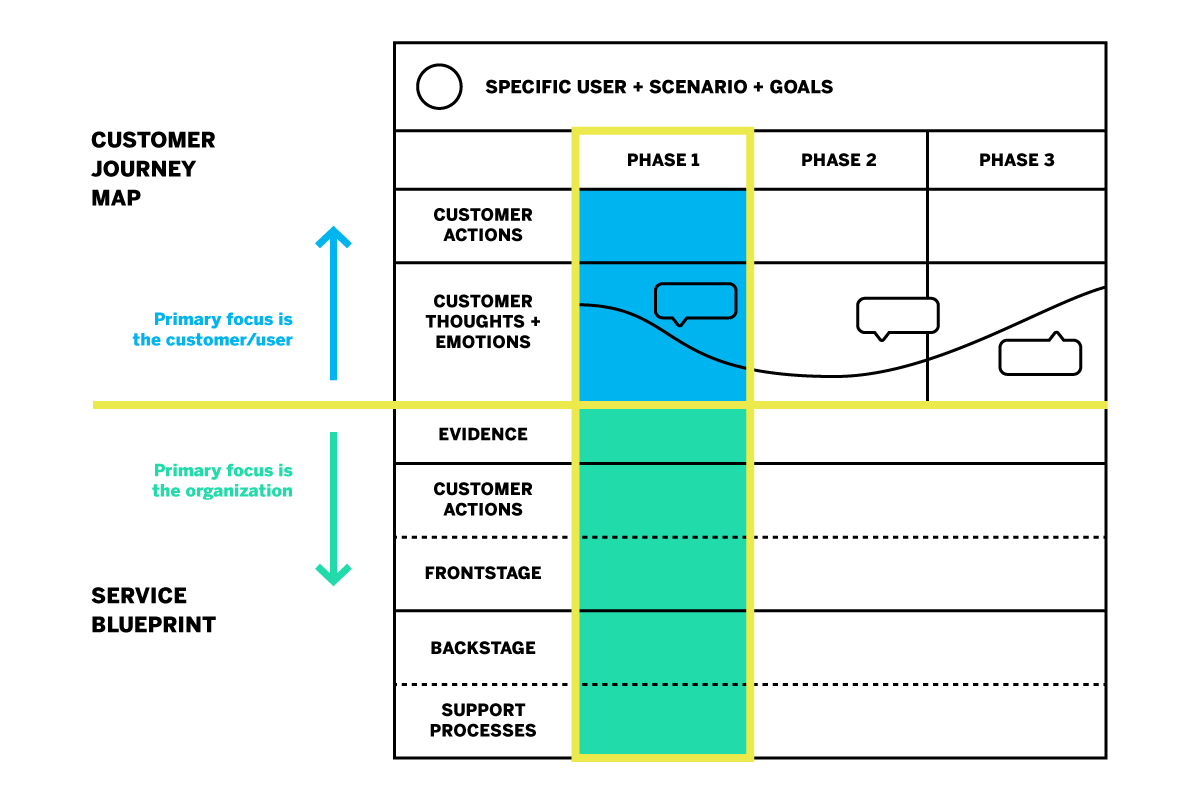 How do you create a patient journey map?
Now that you know about the different types of patient journey maps and their roles in driving patient experience improvement, how do you get started on creating your own?
The most useful maps are those which can expound upon each touchpoint of the healthcare journey with operational data, such as patient demographics, as well as real patient insights and perspectives. Using a platform that can capture this data will aid significantly in your patient journey mapping process.
Patient journey mapping: getting started
Before you get started, it's a good idea to engage individuals across all departments and include input from multiple stakeholders. Once you're ready, follow these steps to begin creating an effective patient journey map.
Identify your target audience
What type of patient journey will you be mapping? There may be varying patient journeys within your organisation; for instance, an oncology patient's journey will look very different from that of an expectant mother. The journey of a patient with health insurance will differ from that of a patient without insurance. To map the patient journey, you'll want to create robust patient profiles you can use to segment and track like-populations throughout the healthcare experience.
Establishing patient personas and segments
Not every patient will have the same healthcare goals. Creating patient personas based on behaviours and preferences is a good way to differentiate the needs and more clearly understand the perspectives of the unique populations you serve.
The ideal patient persona will include the following information.

Demographic information such as age group, gender, or location
Healthcare-specific goals, conditions, and treatments
Healthcare-specific challenges/pain points
Engagement patterns and expressed feedback
How your services fit into their life
Barriers to care
Specify a goal for the patient's journey
The patient personas you create will all have unique goals within the care journey. The patient has a specific goal in mind when they initiate contact with your organisation, whether it is treatment of symptoms, a diagnosis for chronic issues, or surgery.
Every interaction along the patient journey influences how successful the patient feels about achieving this goal. When mapping the patient journey, you'll want to consider how the various touchpoints affect the patient's ability to meet this goal.
Identify the patient's steps to accomplish their target goal
This step is about how the patient views their care journey within your health system–not about the actual processes and systems your organisation has in place. Effective patient journey mapping requires you to see how the patient navigates the journey through their point of view.
Omni-channel listening is a valuable strategy in this step of journey mapping. Listening to your patients across all the channels can provide a clearer picture of their perceptions and behaviours as they engage with your organisation.
Some steps the patient takes may not even include your organisation, but might still affect how they are interacting with you directly. For example, if a patient logs into their health insurance portal to check coverage for healthcare services, they are not engaging with your organisation but this is still a part of their care journey that may feed into their interactions with your organisation later on.
Uncover perceptions along the journey
Gather patient feedback along the touchpoints of the care journey to identify key emotional moments that may disproportionately shape attitudes. These insights shed light on what's working and what's not; they can also be used to highlight the moments of truth that contribute to patient loyalty.
Patient perceptions are an important piece of patient journey mapping; it will be difficult to drive action without them.
Additional tips for creating the ideal patient journey map
Patient journey mapping is a continuous process. Creating the map is the first step, but the true value is dependent upon maintaining the map as you continue to gather insights and refine processes.
This leads to the second tip: be ready to take action! You can use a patient journey map to draw conclusions about your patients' experiences within your organisation, but awareness alone will yield no benefits. The journey map is a valuable tool to be used in your wider improvement efforts.
How do you drive action using a patient journey map?
Once your patient journey mapping is complete, it's time to put it to good use. Here are five ways patient journey maps can be used to drive action.
Identify and fix problems
The visual layout of a journey map makes it ideal to identify gaps and potential pain points in your patient journeys. This will give you a better understanding of what's working and what's not. It will also help you to visualise where and how improvements can be made.
Build a patient mindset
Patient journey mapping enables you to incorporate more patient-centric thinking into your processes and systems. Use your map to challenge internal ideas of what patients want or need. Invite stakeholders to navigate the touchpoints along the healthcare journey to gain perspective.
Uncover unmet patient needs
By mapping the patient journey, you can build stronger patient relationships by listening across all channels to determine where experiences are falling short or where unmet needs emerge. This enables you to look for opportunities to expand alternatives, streamline initiatives, and create new, engaging ways for your patients to share feedback.
Create strategic alignment
Utilise your patient journey map to prioritise projects or improvement efforts. It can also help you to better engage interdepartmental staff to better understand policies and work together toward patient experience goals.
Refine measurement
Patient journey mapping is a great resource to use when defining patient satisfaction metrics and identifying gaps in how you currently gather insights.
How does patient journey mapping increase your bottom line?
Patient journey mapping can increase your bottom line by laying the foundation for improved patient satisfaction and higher retention.
Organisations across all industries are looking to understand customer journeys in order to attract and retain customers by gaining deeper insights into what drives the consumer experience.
As healthcare becomes more consumer-driven, health systems must similarly map the patient journey to improve the patient experience and boost retention. The cost of patient acquisition, combined with the fact that patients are willing to shop around for the best healthcare experience, means success depends on creating the most seamless patient journey possible.
The tools for success
For the most impactful patient journey mapping experience, you'll want the ability to link your operational and experience data to your journey map's touchpoints. Insights about what has happened at each touchpoint, as well as why it is happening, empower you to create experiences that meet patient expectations and drive up satisfaction.
Here are some best practice considerations as you develop your patient journey mapping strategy:
Create a shared understanding throughout your health system of how your patients interact with your organisation, and you'll know the roles and responsibilities of your different teams
Design a unique patient journey based on multichannel, real-time feedback from the patient
Consider the frequency with which topics emerge in feedback, as well as the emotional intensity behind them to zero in on what improvements can drive the greatest impact
Develop empathy and collaboration between teams, working together to achieve the same outcome
Drive a patient-centric culture by developing a shared sense of ownership of the patient experience
Connect your operational patient data with your patient experience feedback in one system
Leverage a closed-loop feedback system that triggers actions for immediate responses to patient concerns
Qualtrics' XM Platform™ is designed to support all of these actions throughout the journey mapping process.