---
Your product development teams are under pressure to improve existing products and services, create new ones or develop offerings to better suit customers. So, how can you improve your development activities to give you a better return on both time and investment?
In this guide, we'll help you identify which product development strategy is best for you to support your growth targets.
What is a product development strategy?
A product development strategy sets the direction and/or focus for new products or the steps to revise existing ones. This includes objectives and goals, funding, marketing and market penetration tactics.
For a visualisation of this, please see the below: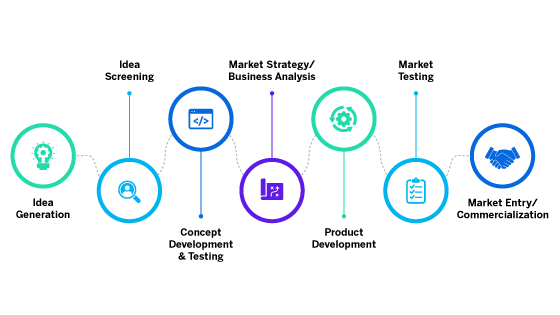 Through a product development strategy, organisations can gain a competitive advantage as the strategy helps to place products in the best possible position to succeed within the market.
Product development strategies are linked to corporate business strategies, such as plans for growth, profit, diversification and entering new markets. Also, while product development strategies are part of the new product development process, they are not the same.
What's the difference between product development strategies and the product development process?
The product development process covers product development stages across the entire product lifecycle, from idea generation (conceptualisation) and development, to testing and launching to customers.
A product development strategy joins up existing market and customer research data, and the marketing strategy and business strategy with the product development cycle, resulting in a high-level guide for activities.
Start empowering your product development strategies
Why use a product development strategy?
Well, as mentioned, a product development strategy can improve product sales, business growth, support moves to new markets, diversify the product portfolio and enhance the customer experience.
But there's more — for start-ups, a product development strategy lays the foundation for future activities, while for larger organisations with a more 'mature' product portfolio (and a suite of solutions that's difficult to 'change'), it helps them to identify new opportunities to leverage.
This is particularly useful when you experience a plateau in revenue sales and you want to evaluate next steps. So, whatever the scenario, a product development strategy is integral to the ongoing success of a product and its growth, which in turn benefits the overall business.
Now, if you're thinking about a product development strategy for the purpose of future growth, you should familiarise yourself with the Ansoff Matrix. This matrix will help you to work out the best route to product and business growth.
The Ansoff Matrix
The Ansoff Matrix, also known as the Product/Market Expansion Grid, is a matrix framework tool, created by Igor Ansoff. It was first published in 1957 in the Harvard Business Review, in an article called 'Strategies for Diversification', to discuss new product development strategies.
It helps companies to make strategic decisions, by looking at the various options and the associated risks. It shows four routes to growth – market development strategy, diversification strategy, market penetration strategy and product development strategy – that are placed in a 4×4 grid matrix.
This grid helps leaders see, at a glance, how useful each route is for their strategic aims: whether that's entering a new target market, creating a new product, or staying within their existing market and product base.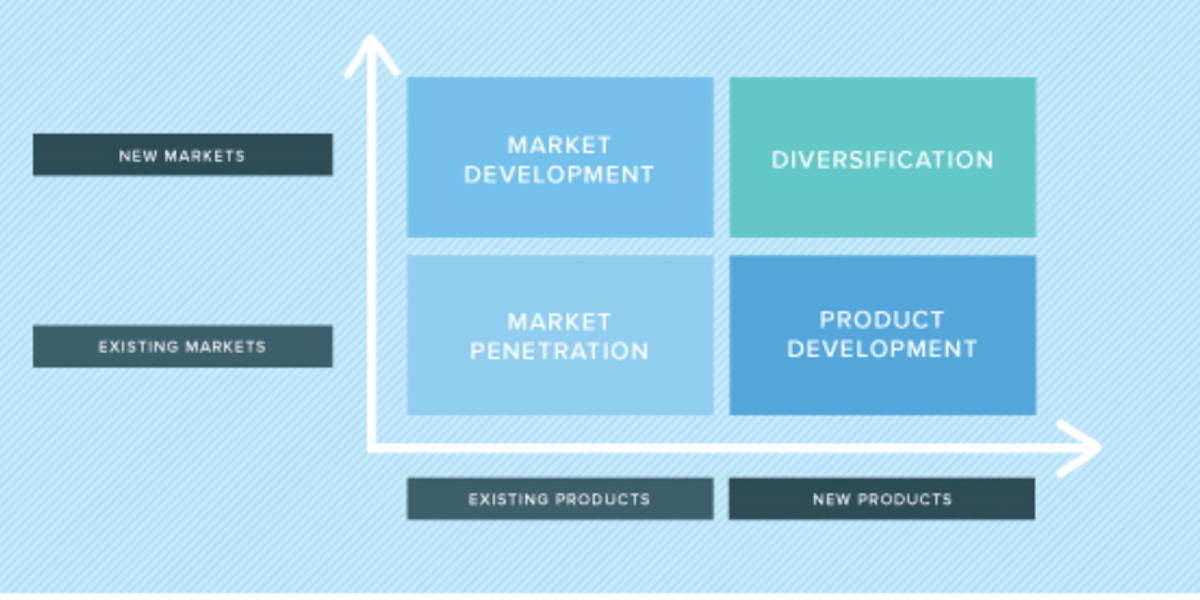 Image Source: Lightercapital
An additional takeaway from this model is that every time you move from one route to another, risk is increased. So, exercise caution.
The benefits of a product development strategy
As well as what we've outlined above, a product development strategy can also help in several other ways:
Avoid risk at the product ideation and conception stages
Your product development strategy can make use of the market research work you've already done. This eliminates the guesswork in understanding your market and the requirements at each stage of product development. As you do more research, or as your company grows, your strategy can also adapt with you to get the best results.
Help your existing products respond to market changes quickly
If you want your product and services to remain competitive in your market, using a product development strategy to measure if you have a successful product can help you monitor the progress of your growth. When you need to improve or change plans, you can be agile and amend your development strategy or adopt a new one to suit your new circumstances.
Decision support to remove under-performing products
Getting feedback on the success of your product's development journey can help you make time-sensitive decisions about overhauling offerings that aren't meeting the targets. This means that resources, like money and time, can be reallocated for better use.
Lead your development team towards a bigger bottom-line impact
A product development strategy gives a clear big-picture direction forward, so development team managers can lead cross-functional teams towards priorities that help achieve the end goal. More efficient product development can help enhance your products more efficiently, which has a knock-on effect on sales generation.
Proactive strategies vs reactive strategies
Another thing to consider is proactive strategies vs reactive strategies. Put simply, one involves upfront planning and predicting trends, whilst the other looks at how the market responds and acting accordingly.
"A good strategy includes a portfolio of product development strategies that are balanced to the demands of the situation a corporation faces."
– Urban and Hauser,  Design & Marketing of New Products, (1993)
Glen Urban and John Houser go one step further when, in 1980, they identified 9 product development strategies. They divided them into proactive and reactive strategies.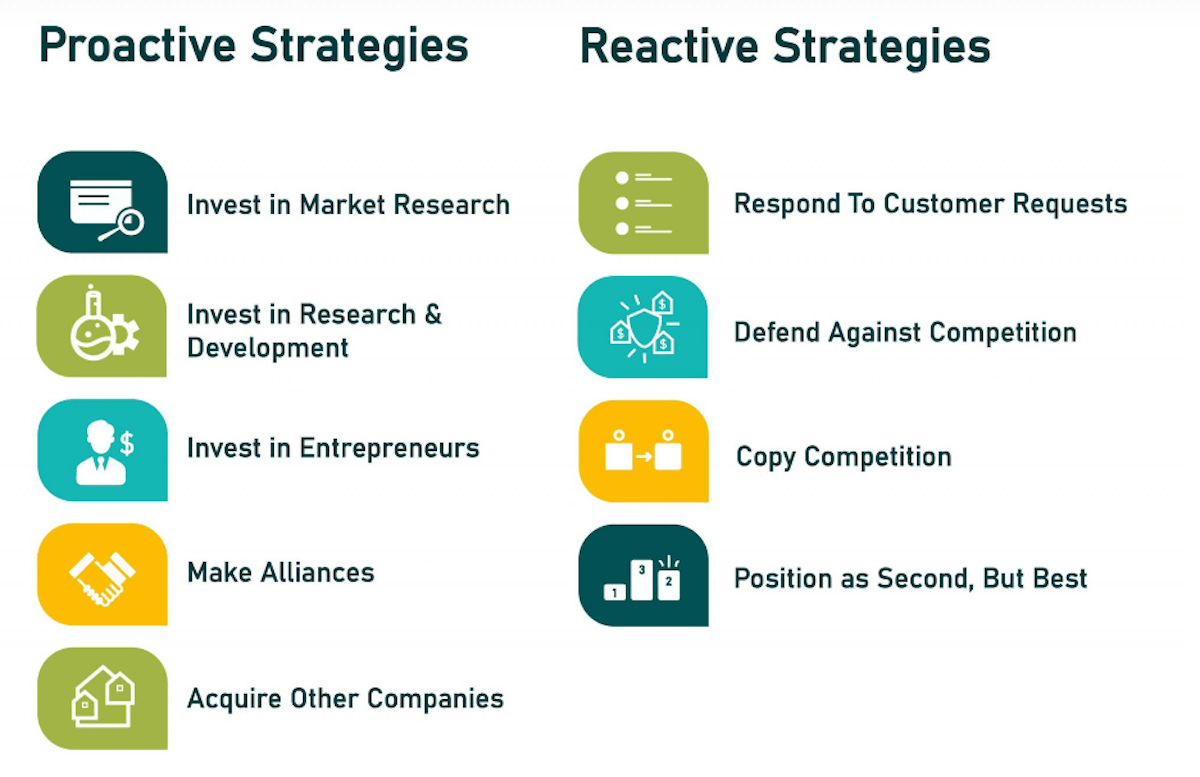 Image Source: Ralisware
Proactive product development strategies
The 5 proactive product development strategies are used when companies want to gain quick sales growth, either by selling high volume or by entering new markets.
These proactive strategies are:
Investing in market research – By investing in market research, data on trends, and market analysis, companies can find new or hidden opportunities to go for.
Investing in research and development – Through investment in R&D, products can be improved by new insights that can give the company an edge over its competition.
Investing in entrepreneurs – Supporting internal idea generation empowers employees to create product ideas, which could promise future revenue opportunities.
Making alliances – Joining an alliance of other companies enables companies to pool resources and technology, providing greater potential for making progress on products.
Acquire other companies – Gaining knowledge, expertise, and control over other competing products in the market through acquisition gives companies a lot of power.
Companies that use a proactive product development strategy usually progress further in product development, but companies must first have enough resources to develop new offerings in the first place.
Those that do can monopolise the market quickly by capitalising on unforeseen opportunities, leading to a degree of market protection. However, proactive approaches are often harder to implement and more costly.
Reactive product development strategies
Reactive product development strategies are used by companies that respond to changing market situations, sometimes under pressure.
These reactive strategies are:
Responding to customer requests – By taking note of customer feedback, companies are able to better adapt products and services to suit their current customers' needs.
Defending against the competition – Companies using this strategy may undercut prices or outshine the competitors that have the upper hand, to be more attractive to customers.
Copying competition – Companies may look at a new product that another competitor has entered into the target market and create a copied version to attract customers away.
Positioning as Second, but Best – Companies react to a new product that a competitor has entered into a target market by creating an improved version, which they promote as better.
Unlike with proactive product development strategies, reactive product development strategies are used when companies want to focus on their existing products and services.
The use of a reactive product development strategy would work where companies don't have influence over distribution, patents or market protection and resources are tight.
Reactive strategies are usually more affordable and easier to implement, but they lack the foresight and long-term opportunity that could manifest via proactive strategies.
Start empowering your product development strategies
Commercial examples of product development strategies
If you're wondering how you can deliver a product development strategy, let's explore some examples of companies deploying their own.
Changing an existing product or service idea
Changing an existing product can seem like the product teams are messing with the product concept, however, it can actually be a positive move for differentiating your product or responding to what the market wants. This willingness to move from one product to another can have significant gains.
For example, Nissan was the first car manufacturer to create an electric vehicle, the Nissan Leaf, in 2008. This was a direct response to high gas prices and customers' environmental concerns. Due to Nissan's early strategic positioning, it was the first to make sales and dominate the market. Nissan sold 400,000 Leaf vehicles, holding the title of best-selling EV in the United States until 2019 — a decade of dominance.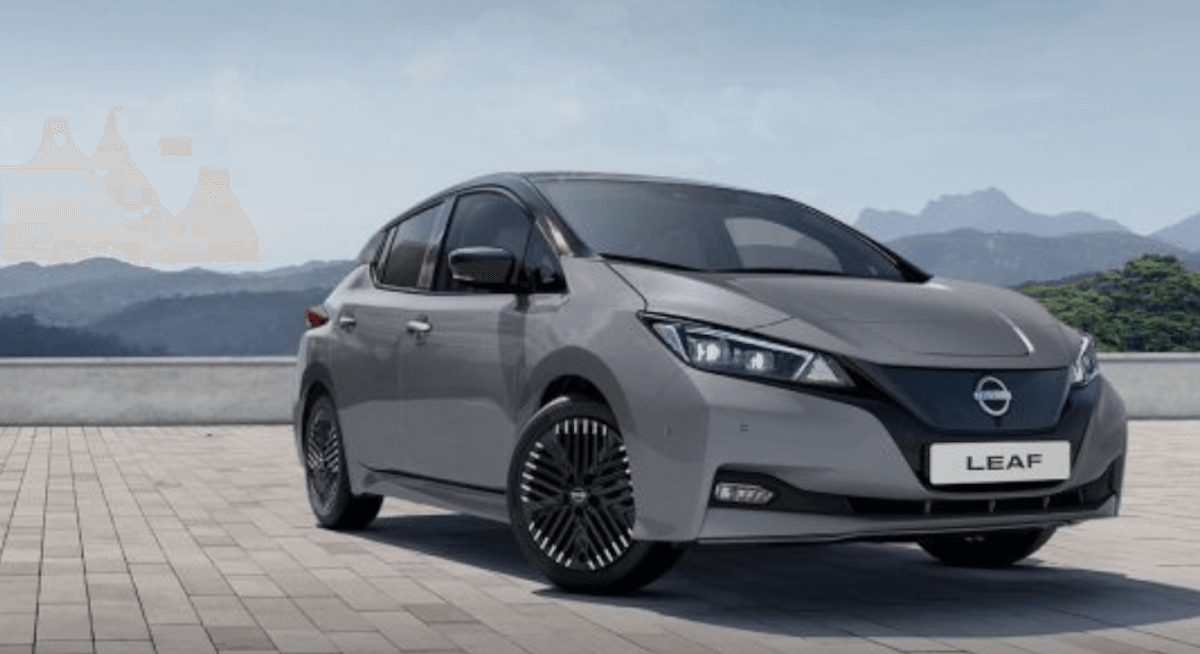 Image Source: Nissan
Create an upgraded or better version of an existing product
By creating incremental versions of a product that keeps changing, improving, and offering more, the market comes to expect better things from the latest versions. This motivates customers to buy the latest and greatest, solidifying your market position for the long term.
For example, Apple is famous for creating a buzz around its new iPhone releases each year – screens get bigger, cameras get better and more functionalities are added.
And, with a loyal customer base, Apple's iPhone products continue to be one of the most bought and sought after phone lines on the market. With each purchase, that loyalty deepens and Apple has a ready and waiting fan base that demands the next version.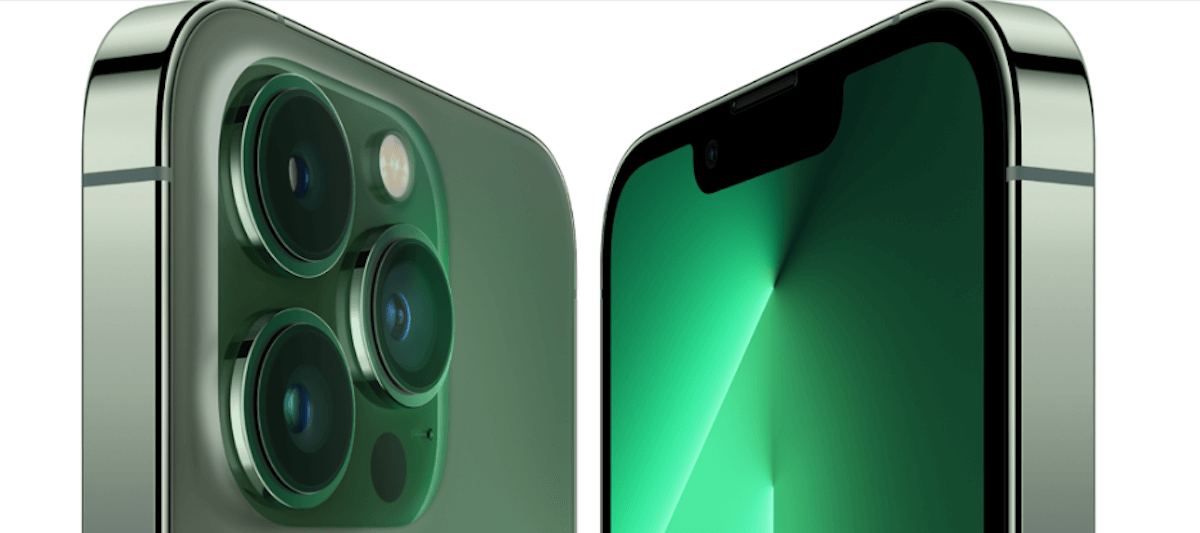 Image Source: Apple
Change your product to appeal to your market
When companies keep tabs on the needs of their market through customer feedback methods or research, it's easy to notice when customers' requirements change.
For those that listen, any change in market requirements is like a bright neon sign — and they act on it. They amend their products to suit new requirements, ensuring the market always gets what it wants and needs.
For example, Coca-Cola is famous for putting the needs of its market first and adapting its original Coke beverage to suit new tastes. As its market has become more health-conscious, Coca-Cola responded to its customers' new lifestyles by creating new variants with reduced or no sugar content. This led to Diet Coke and Coke Zero products that keep Coke in customers' lives while putting their health first.

Image Source: Coca Cola
Increase a product's value
If your product has more features and benefits, the market is more likely to choose your brand over another competitor selling the same thing. This is because the product offers more 'perceived' value and is considered a 'better deal'. Other things that increase value include lowered sale prices or variety.
For example, IKEA is well known for its consistent supply of sturdy furniture at a low cost. The company is able to provide these products as they buy and sell in volume in lots of locations, so the supply chain processes are able to offset higher costs. The company is also able to diversify by offering a variety of designs, which helps give customers design options. What's crucial is that despite IKEA's furniture coming at a low and accessible price, many of its products are top-notch.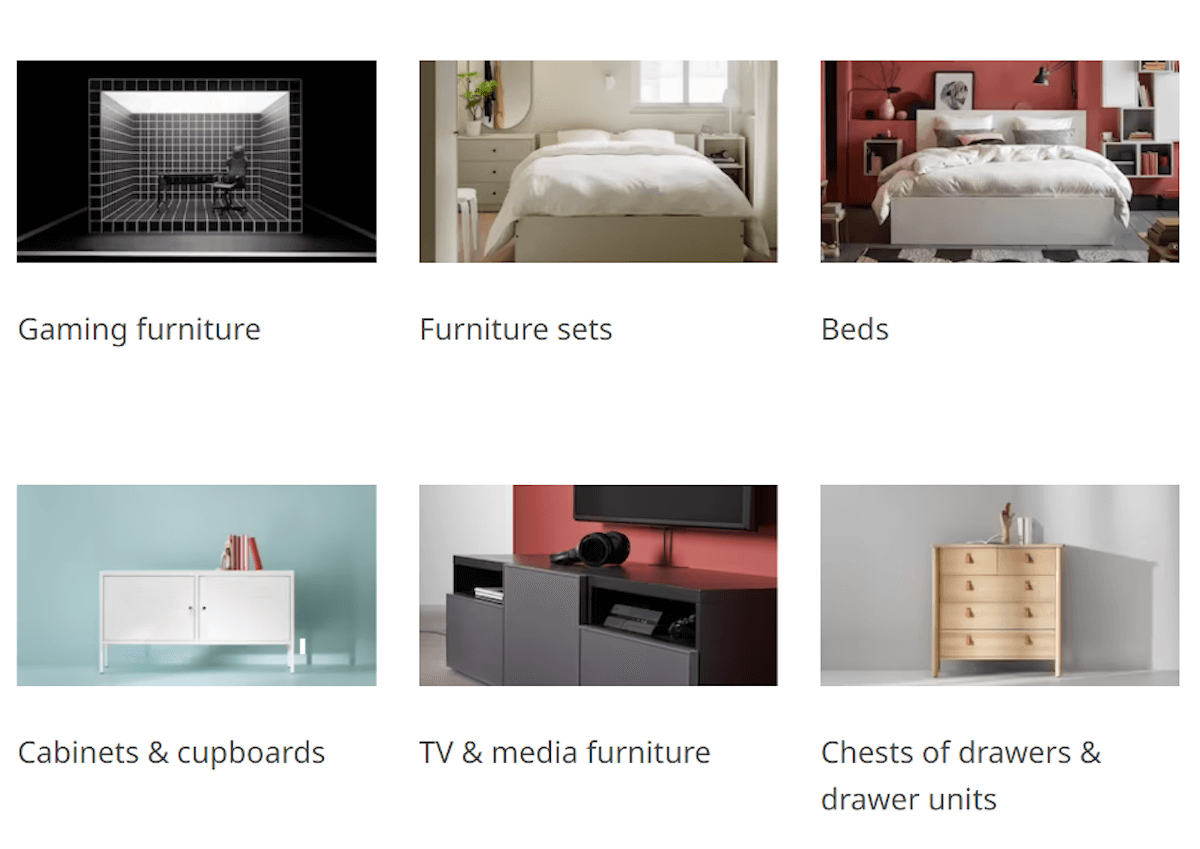 Image Source: Ikea
Offer products at a discount or on a trial-basis
Trial periods for products and subscription-based services can give your target market confidence to use and make them part of their lives. This onboarding helps to convert customers to your brand, which helps for repeat and follow-on business. These trials also are ways to make quality but expensive products appear cheaper by giving away an initial usage period for free.
For example, Netflix, Prime, Disney, and Amazon provide trials of their streaming services to customers to give them a taste of what broadcast content is available to consume. The hope is that as people enjoy a series of TV programmes or access movies during the trial, they will be less likely to remove the trial and continue to pay for the service at the full price.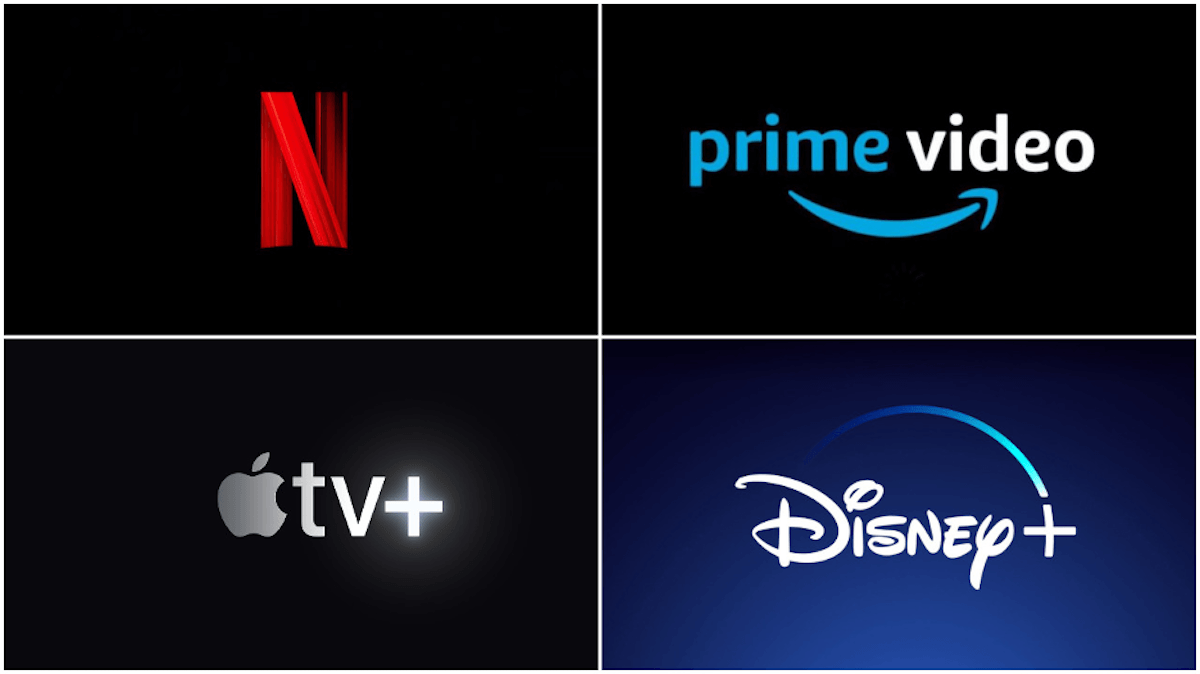 Images Source: Gamesradar
Specialise or customise your products
For customers that are looking for something right for them, a personalised product or service can make them feel like an individual and valued by the brand. This can help create a positive user product experience, which can lead to increased brand loyalty and further sales. The more unique and bespoke a product can be, over a 'run-of-the-mill' generic one, the more 'different' it will seem.
For example, Moonpig.com is a bespoke card creation company whose product development strategy is to supply customers with occasion-based templates that they can fill with bespoke names and images. This differs from the generic cards with non-personalised messaging that seems less 'special' in comparison. Moonpig.com relies on the market's desire to want to go the extra mile for their loved ones.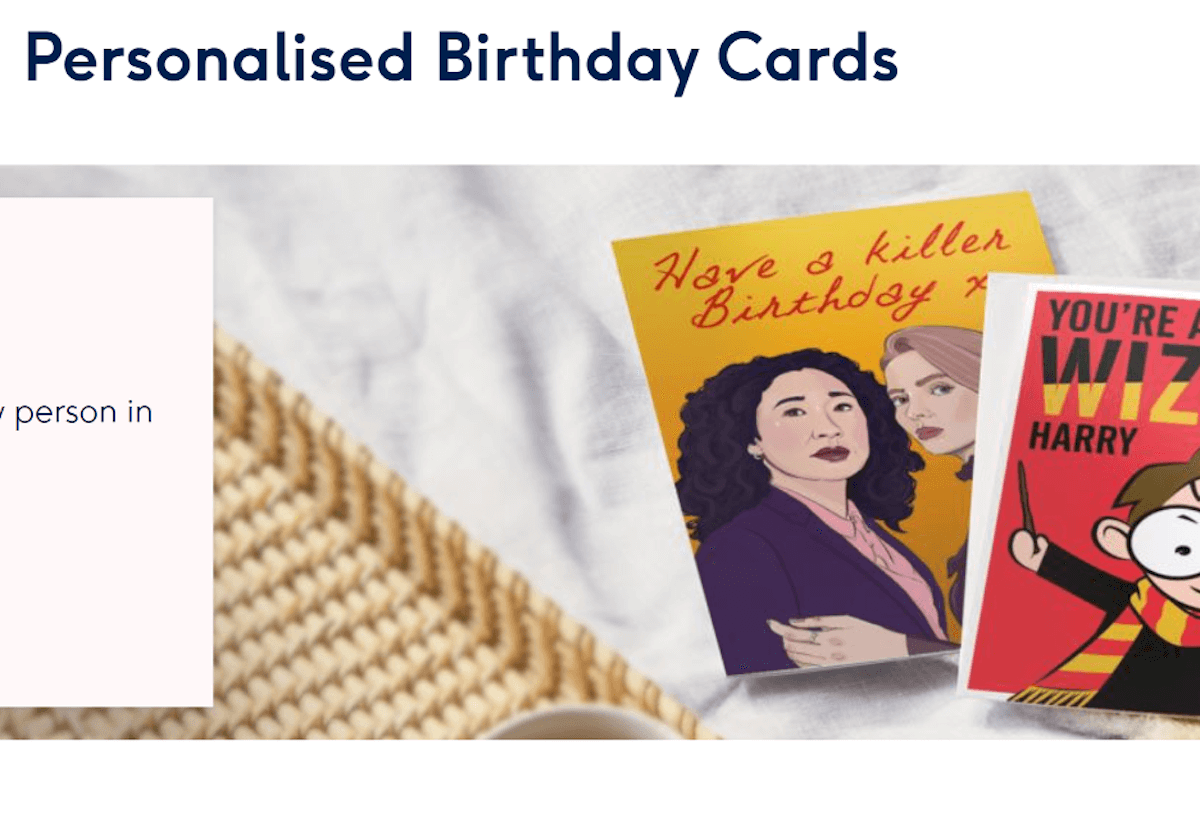 Image Source: Moonpig
Create package deals to entice customers
By creating product packages that give customers additional options, such as add-ons, you present them with better value for money. A package deal may provide a discount, which could encourage your target market to make more purchases, earning you more revenue than if they had purchased the original item on its own.
For example, technology manufacturing companies will often bundle laptops with mice, webcams, and other peripherals to increase the likelihood of purchase. As the bundles are usually cheaper than buying each item individually, the customer saves money in the long run while the business increases its sales. This strategy also works when organisations need to sell less popular products — by bundling them with the most popular items, they can quickly get rid of them, allowing them to make room for new stock.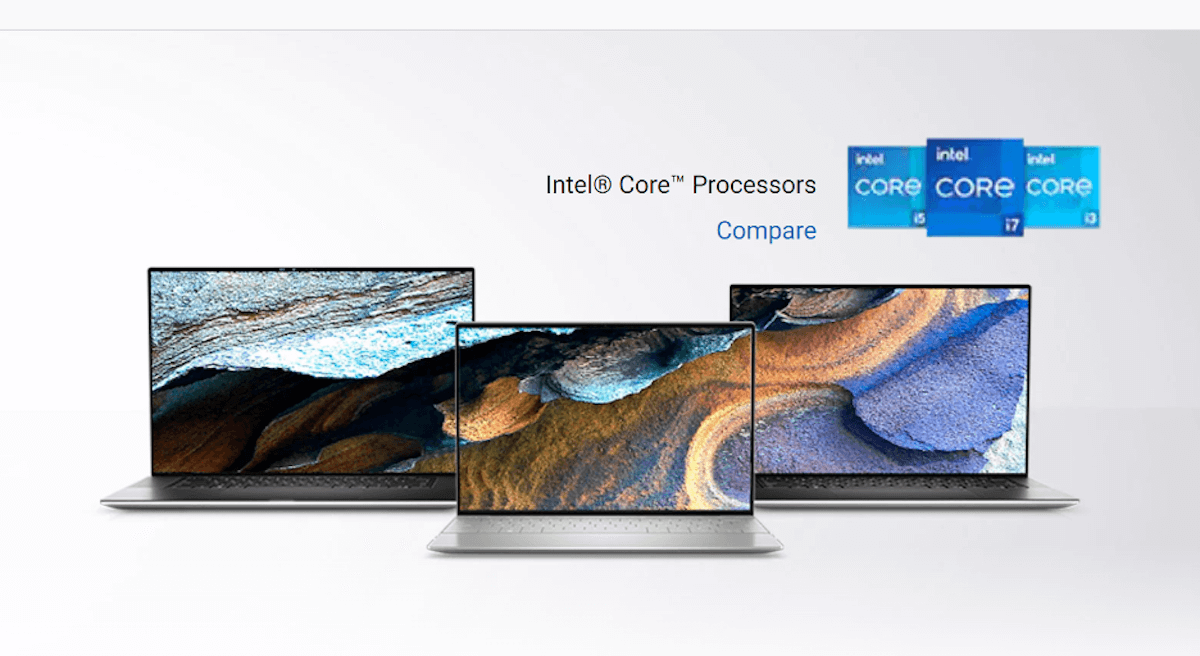 Image Source: Dell 
Create new product lines
Now, what if an existing product line has lost popularity and is no longer being purchased at the same volume? When companies have tried all other routes, a good product development strategy could help rebrand offers or help identify new ones.
For example, Gap started as a record store selling jeans in 1969, but when the owners faced bankruptcy, they had to make a change. They pivoted, changing their product line to apparel and clothing, restarting the brand and attracting customers in the process.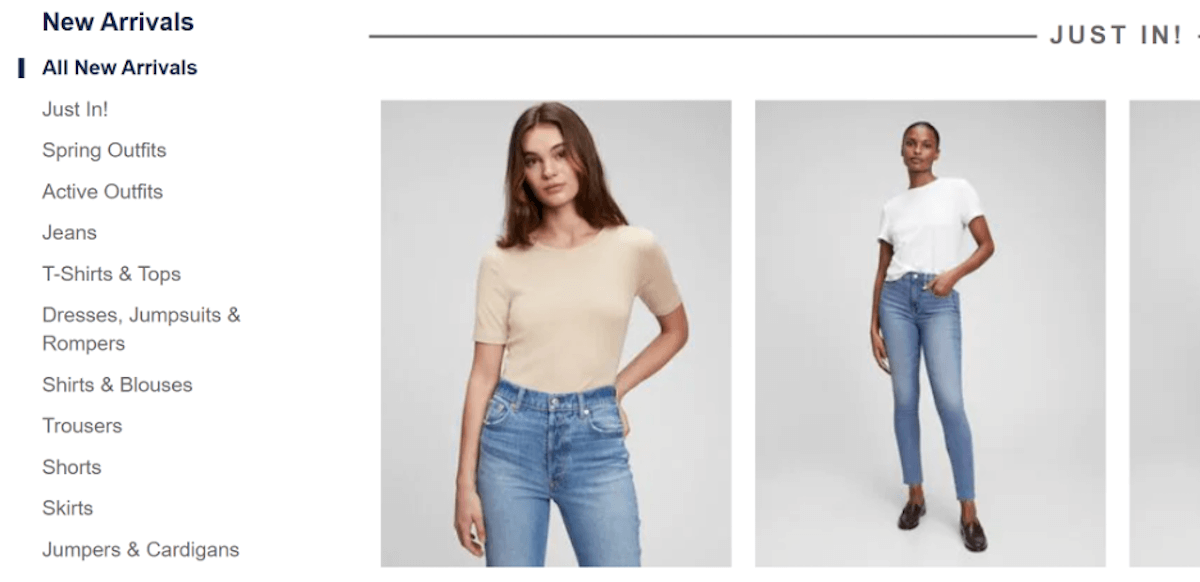 Image Source: Gap 
Look for new market opportunities
If a product or service isn't selling well in one market, consider selling in another or in multiple markets at the same time. This could mean geographic markets by location or different consumer markets by demographic. By entering into another market and altering products to suit, companies can reach and market to new, interested audiences.
For example, Amazon is a great example of a company that's pivoted and entered new markets. Originally, Amazon sold books in the US, but later diversified its offering to sell all manner of products globally. From clothing and home appliances to web services and Prime TV streaming, Amazon has captured interest from different audiences and markets worldwide.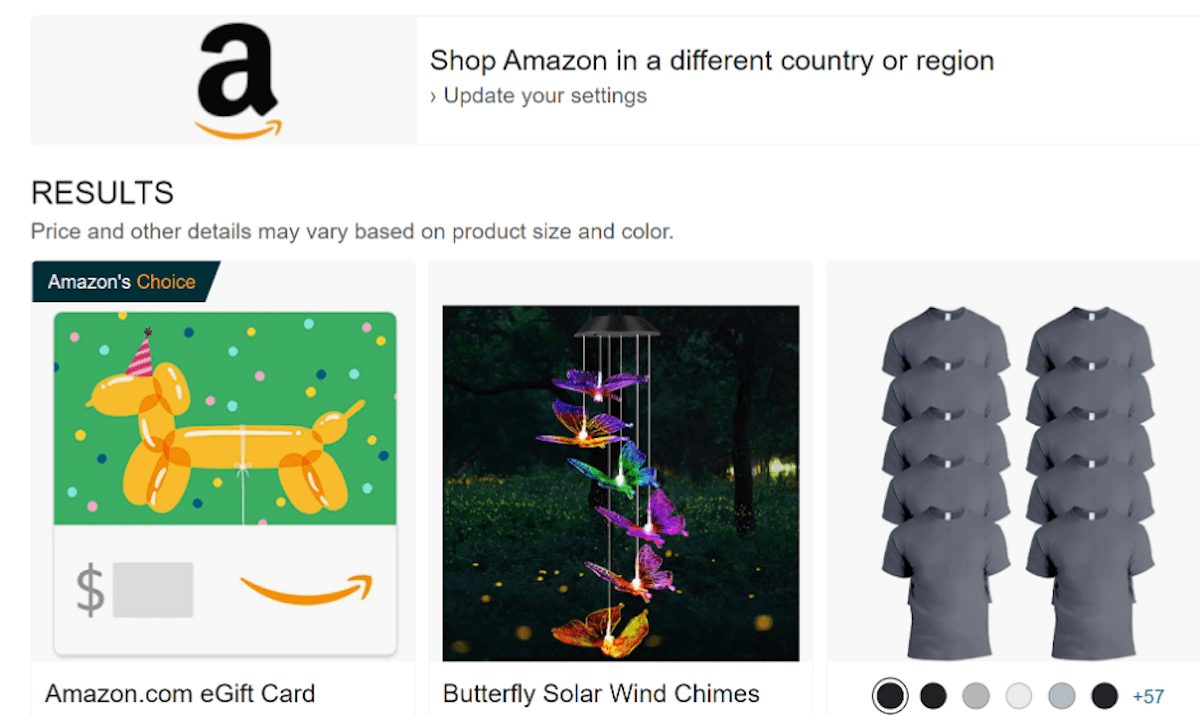 Image Source: Amazon
Measure your product development strategy
Unfortunately, there is no one-size-fits-all approach to creating a successful product strategy. However, what we can say is this: as you consider product development strategies, whether for growth, profit or new market opportunities, you'll encounter a lot of trial and error.
But what's most important is that you plan and alter that plan accordingly. Then, once you've developed and deployed your strategy — measure it. See what's working and working well and then replicate that success at scale.
With a defined vision and KPIs from the start, and consistent actions towards meeting them, you can see whether you've achieved your goals or if you're way off.
That's the key to success.
Here are some examples of brand success metrics and product success metrics that can support analysing your product development strategy success:
User behaviour towards their products and services (including how they're interacted with)
Revenue generated by-products (including monthly recurring revenue)
Customer lifetime value (CLTV or LTV)
Customer acquisition costs (CAC)
Retention and churn
Product Satisfaction (PSAT)
There are more KPIs to consider, based on your industry, products, and market, so planning your method for monitoring, capturing, and assessing data at the beginning is useful.
Make product research and development easy
Clearly, there's a lot to consider when it comes to your product development strategy, including the surrounding research and the data you collect.
So how can you keep on top of all of this and leverage the insights you collect so that you can make the right changes to drive business, product and revenue growth?
We can help.
With Qualtrics' product research and market research services, you have all the tools you need to create products that customers love and refine existing ones.
The Qualtrics product experience management software includes:
Want to find the ideal name for your new or existing products? With XM solutions product naming, you can quickly validate how your market feels about each name you consider.
Find out how to price your products for maximum profitability. Featuring a powerful survey design for pricing studies (with advanced logic and data visualisation) and conjoint studies, you can run all your pricing research on a single platform.
Validate your best product ideas with concept testing. Test every aspect of your product concept — from features and branding to messaging and appeal — to set your product up for success.
Then, use conjoint analysis to optimize your product configurations, including what packages and prices will have the greatest impact on your business.
This measures the experience of the product in the market, to understand experience gaps and identify, influence and prioritise your product roadmap, all with a system of action for everything from market assessment and concept testing to pricing and packaging.
Uncover deeper and more targeted data with Qualtrics Research Services and our network of partners. Trained experts help unlock time and cost savings, while flexible service options let you choose how much — or how little — support you need.
Use your complete product development strategy and your new product development process in a strategic way by combining them with a Qualtrics solution.