---
Why surveys?
Let's start with the basics before we get into online survey tools. Why surveys?
Surveys are much more than just a way to gather useful information and feedback. And they're much more than the sum of their 'market research' parts. Surveys are insight goldmines.
In a business environment, surveys are how you'll identify problems, discover a gap for new products, and carve out whole new markets. They're integral to running any successful organisation because, well… If you don't know what your customers think and feel, how can you serve them what they need?
Doing that has always been important, but more so now than ever. In times of economic uncertainty, customers are ever more careful about when and where they spend their hard-earned money or ever-shrinking business budgets. So surveys provide an edge; they're difference makers, delivering insights that fuel game-changing actions. Any online survey tool you consider needs to fully understand just how important that is.
There are four kinds of commonly-used survey models:
Face-to-face surveys
Telephone surveys
Self-administered paper and pencil surveys
Self-administered computer surveys
That last one is usually conducted over the internet using an online survey tool, which is what we're going to be talking about in this article – including the benefits, which online survey software suites to use, and what you should expect from your chosen tool.
What are online survey tools?
Online survey tools allow you to create and distribute surveys to your audience through various channels, such as email, social, text, and more. online survey software can be free or paid, with features that vary from provider to provider.
Typically, the best survey tools will allow you to compile a list of questions (or choose from a list of templates), segment your desired audiences, distribute and/or the survey, and collect responses securely.
With online survey tools, the job of analszing responses is automated; an online survey platform can aggregate responses and display them in useful, insightful ways that can immediately highlight trends and areas for improvement.
Rapidly collect, analyse and act on business insights at scale with CoreXM
The benefits of running online surveys
Surveys play a hugely important role in improving the overall customer experience. They're an essential tool in any business' toolkit because they provide a direct way to ensure that customers feel heard while also acting as a wellspring for insight.
Online surveys in particular are useful because they offer all of the above in a fast, automated, and low-barrier manner. Here are some of the key benefits of posing survey questions digitally…
Fast, cheap, and easy
Whereas paper surveys rely on sending and receiving things via post, and telephone surveys use a lot of manpower, online surveys can be sent out and collated automatically. That lowers the barrier to entry on your end, but also on the customers' end – they're much more likely to participate in something that only takes a few clicks.
All of the above makes online surveys fast and easy, but also really cost-effective; there's no need to spend money on printing, postage, or extra staff to conduct or collate each survey and response. There are even some free online survey tools that don't cost a penny to use.
Wider pooling
With digital distribution comes an unlimited sample set. When you don't have to worry about the cost of posting or making calls to far-flung markets, you can cast your net much further afield. That opens up the opportunity to receive feedback from a wider range of markets, resulting in a more complete, comprehensive understanding of what it is you're looking to research.
Rich media
Online surveys also let you share multimedia files like video or audio, which traditional surveys can't. That might be useful if, for example, you've created a new video ad, and you'd like to ask people what they think of it. Or you could use a video to quickly showcase some contextual product information in a way that's both engaging and more explanatory than static imagery.
Accurate results in an instant
Online survey tools can collate your results for you – automatically and without human error. Not only does that make them more cost-effective in terms of resources, but also quicker in terms of bringing insights to the fore.
That means real-time analysis and data that can be easily segmented or broken down by factors like audience age or location. That level of automation can help speed up the time it takes to garner insights that you can use to fundamentally change your business.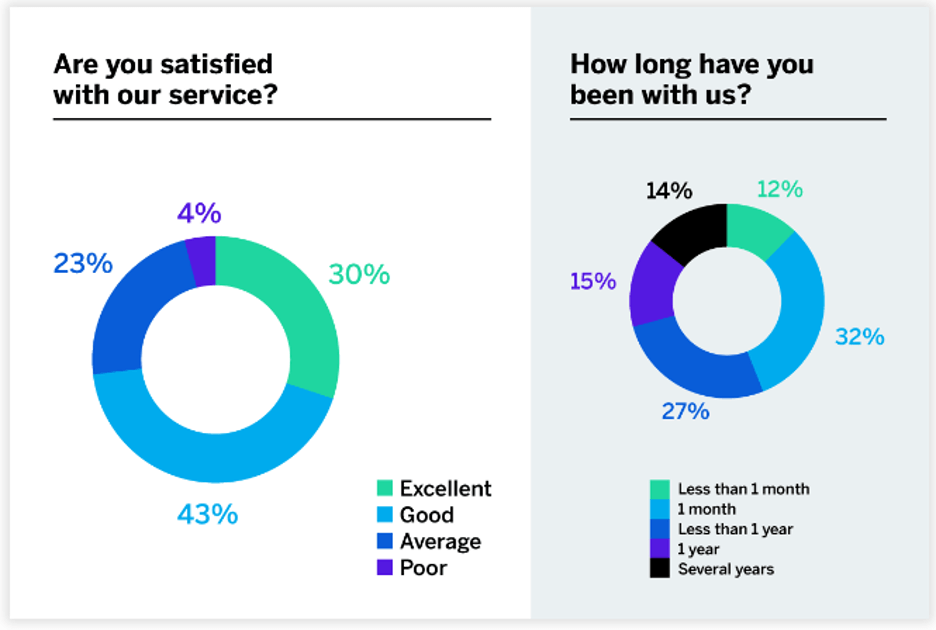 So, what can online survey software do for your business?
As the world shifts to more digital interactions and hybrid ways of working, it's becoming increasingly difficult for brands and businesses to capture critical insights. Online survey tools help to bridge that gap by providing an always-on method for extracting meaningful information and driving the right actions. Real-time feedback is no longer a nice-to-have for stakeholders. It is mission critical.
The question, however, is: how can online survey applications help your business? Simple solutions offer a tool to create and distribute surveys with minimal analysis, but enterprise-grade platforms surface insights at scale, across all your products and categories, while centralising findings and data-rich profiles for a 360-degree view of your most valuable segments.
Here, we outline just a few of the benefits of survey applications:
Reduce costs and time to insight
One of the biggest challenges for organisations is getting access to deeper and more meaningful insights faster. Across the globe, market research teams are increasing their investment in research technology to capture, analyse and use insights effectively. With the right online surveys, you can drastically reduce the cost of conducting research and get to critical insights faster.
Help you to achieve feedback at scale
Best-in-class survey platforms not only cut costs and time to insight, they also empower you to reach the right people. Now, you can get feedback from your target audiences in hours or days rather than weeks or months.
Engage your audience
As it says on the tin. Survey software allows you to customise and personalise your surveys depending on your target audience. Through more personal surveys, respondent engagement you can increase engagement and therefore response rates. In other words, more customers taking and completing surveys online. 
Centralise data to build profiles
Ever wanted to build a rich profile of your customers and prospects and integrate their feedback into your most critical decisions? Well, with tools like Qualtrics CoreXM, you can. While some survey tools allow you to distribute to select audiences, CoreXM goes one step further and empowers you to build customer profiles with a single data warehouse for every interaction. The result? Faster insights, lower costs, and higher response rates.
Improve data quality and consistency
Rather than using a variety of tools to create, distribute and analyse survey findings, a single survey platform can manage the entire process. Furthermore, enterprise-grade survey software are capable of connecting the solutions you already use, meaning you don't have to change any of your infrastructure to create data repositories with a holistic view of respondents and findings.
Empower anyone to carry out research
Most survey tools include drag-and-drop modules and other capabilities that make them easy for anyone in the organisation to use. This uses technology to incorporate advanced survey methodologies or complex coding. With everyone equipped with the right tools and standardised on the same approaches, insights are now on tap for every stakeholder and can consistently fuel any business initiative.
What key functionalities should you look for in a survey tool?
Now that you're familiar with the general benefits of robust survey platforms, the real challenge is identifying the key features you need. For example, do you need customisable reports and dashboards to highlight specific responses? Do you need built-in natural language processing to automatically analyse open-text survey options and surface important topics? Or what about survey optimization tools to ensure that you build the best and most appealing surveys possible?
Whatever your use case, here are the main capabilities you should look for when browsing survey sites:
Full customisation
For example, customisation options for delivering surveys to different devices, language options for international/regional surveys and the option to  and in different formats (like a chatbox)
Built-in analytics
If you want to analyse survey findings in real time and redistribute them to specific teams, you need built-in analytics. This'll also save you time and effort as data is analysed on the platform.
User-friendly dashboards
How will you present information to certain teams? The reality is that not everyone will need to see the specifics of the research study and are instead interested in the insights gleaned from it. With this considered, you need a solution capable of setting up different dashboards for teams so they can see the most pertinent information.
Smart automation and workflows
Rather than settle at just gathering insights, what if you could take action on them by utilising smart automation and workflows? For example, if you carry out an employee satisfaction survey and find out that employees would like better onboarding processes, what if your survey tool could automatically flag that to the appropriate teams and highlight the best course of action? The best tools, can.
Support options
Alongside survey technologies, some companies offer market research services to support you in creating and deploying research, as well as analysing findings so you can uncover insights and opportunities. These services are usually flexible, meaning you can request as much or as little support as necessary.
Templates
Some survey applications provide templates for you to get started, ensuring you spend more time capturing insights than creating the perfect survey.
If you're interested in a library of pre-built, expert-designed survey templates to help you get your research underway, check out our marketplace.
Integrations
Rather than using separate disparate tools for your market research, some survey tools are designed to work alongside — or integrate directly with — existing solutions. This enables you to continue using your current infrastructure but bolster it with new research capabilities.
Qualitative and quantitative capabilities
One of the most powerful capabilities offered by the top survey tools is the ability to carry out both quantitative and qualitative research in the same platform. This includes everything from simple quantitative surveys to including open-text responses and video feedback.
AI-powered insights
What if you want to pull insights directly from feedback you've received and assign topics so that you can perform sentiment analysis and truly understand how prospects, customers and employees feel? With tools like Qualtrics Text iQ, you can read all of your survey responses at scale, analyse them, and then uncover deep, meaningful and actionable insights. Utilising machine learning and native language processing, Text iQ uncovers trends, brings the most important topics to light, and integrates information into reporting functions for easy tracking.
Three of the best survey tools available
Ok, now that you know what to look for, it's time to have a look at our pick of the best options available when it comes to both paid and free online survey tools.
Google Forms
While it may not have the most robust feature set in the online survey tool world, Google Forms is a great starting place for people unsure just how much functionality they need. That's because it'll capably handle the basics completely for free.
With Google Forms, you can create custom, branding surveys dressed in your company's colours, with embedded media, templates, and the ability to export responses straight into Google Sheets for easier analysis. As a jack of all trades, Google Forms is one of the best free online survey tools around.
SurveyMonkey
Surveymonkey is a great online survey tool that offers hundreds of templates and, with a paid subscription, unlimited survey questions, and responses. As TechRadar put it in their review: "SurveyMonkey offers 13 different question types, which includes just about everything you could want.
"In addition to basics like short answers and multiple choice questions, there are rating scales, interactive sliders, hierarchical drop-down menus, and image-based questions." Better still, everything works just as well on mobile as on desktop.
Qualtrics
Now used by more than 16,000 brands, and supporting more than 1 billion surveys a year, Qualtrics empowers organisations to gather invaluable customer insights and take immediate, game-changing action – with zero coding required.
The Qualtrics survey tool makes it easy to get answers to your most important marketing, branding, customer, and product questions, with easy-to-use tools that can handle everything from simple customer feedback questionnaires to detailed research projects.
But that's just the start. With Qualtrics, you can also leverage listening tools to capture feedback from more than 125 other data sources, including online reviews and social media sites. With that, you'll be able to break down silos, understand customers, and run targeted research like never before.
Qualtrics boasts drag-and-drop simplicity — even for the most advanced surveys — so you can create questionnaires that fit your exact purpose, and utilise built-in intelligence (powered by iQ) to get higher-quality data.
Looking for something super in-depth? Expert market researchers and survey designers can implement custom programming, giving you total flexibility over question types, survey design, embedded data, and any other variables you need to incorporate.
Qualtrics' survey software puts all the resulting information at your fingertips, making it easy for you to access, measure, and examine data that are critical to your organisation — and its success — without you having to jump between systems.
The Qualtrics CoreXM solution and how it compares with others
While there are so many survey apps to choose from, few survey companies deliver a solution that is as seamless, scalable and easy to use as Qualtrics CoreXM.
Qualtrics CoreXM is a survey application by over 16,000 brands, designed to empower you and everyone in your organisation to capture insights and take action.
It offers hundreds of customisation options, powerful analytical tools through the iQ suite, and great mobile support. It also provides advanced automation, integration, dashboard and reporting.
And if you're still not sure, we've compared CoreXM with some of the best survey apps using G2 Crowd, a leading peer-to-peer review platform. It allows users to compare the best business software and services based on user ratings and social data.
Here are the results:
Qualtrics CoreXM vs. SurveyMonkey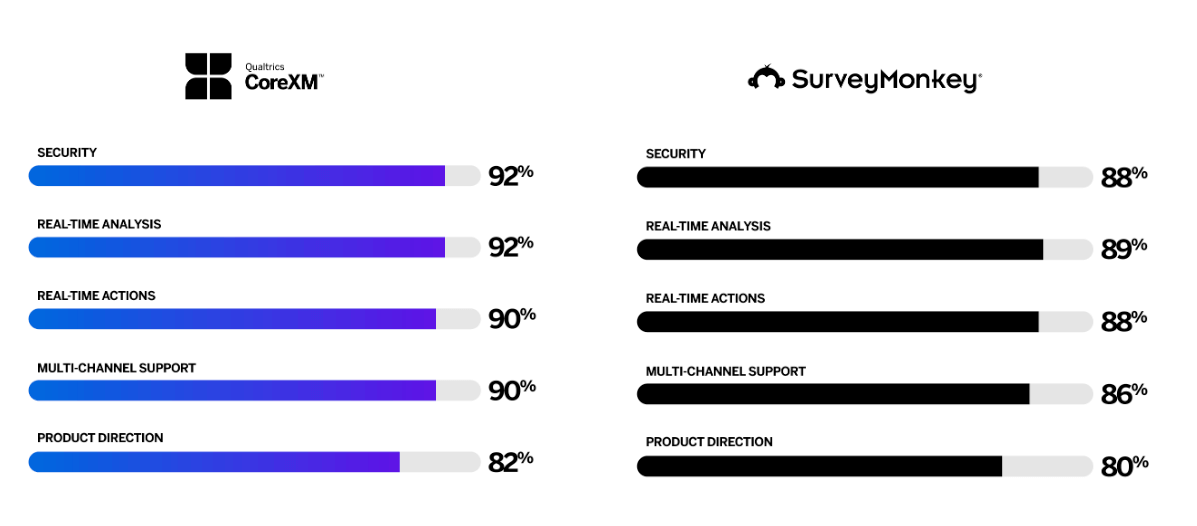 Read the full review here.
Qualtrics CoreXM vs. Medallia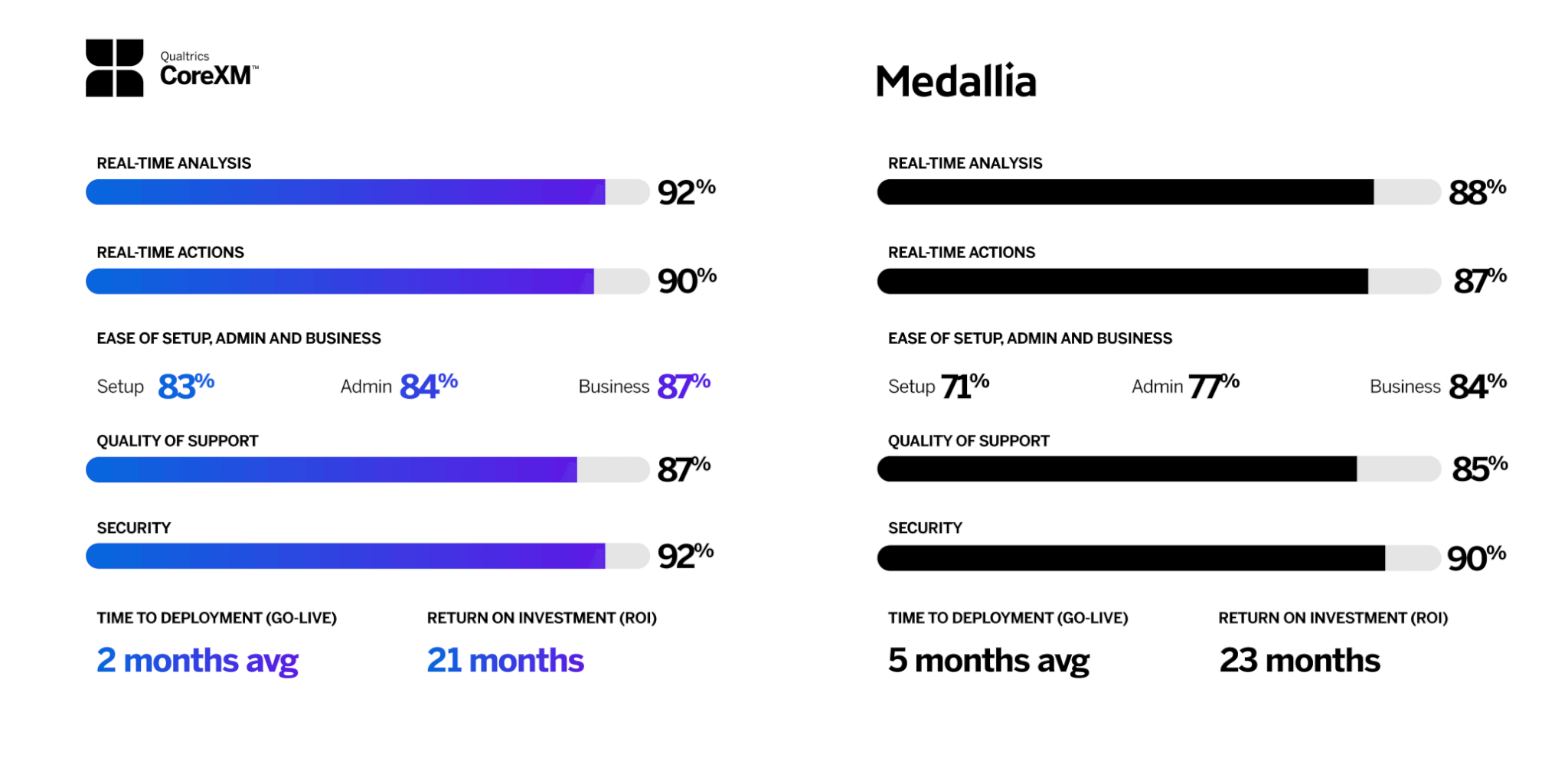 Read the full review here.
Qualtrics CoreXM vs. Alchemer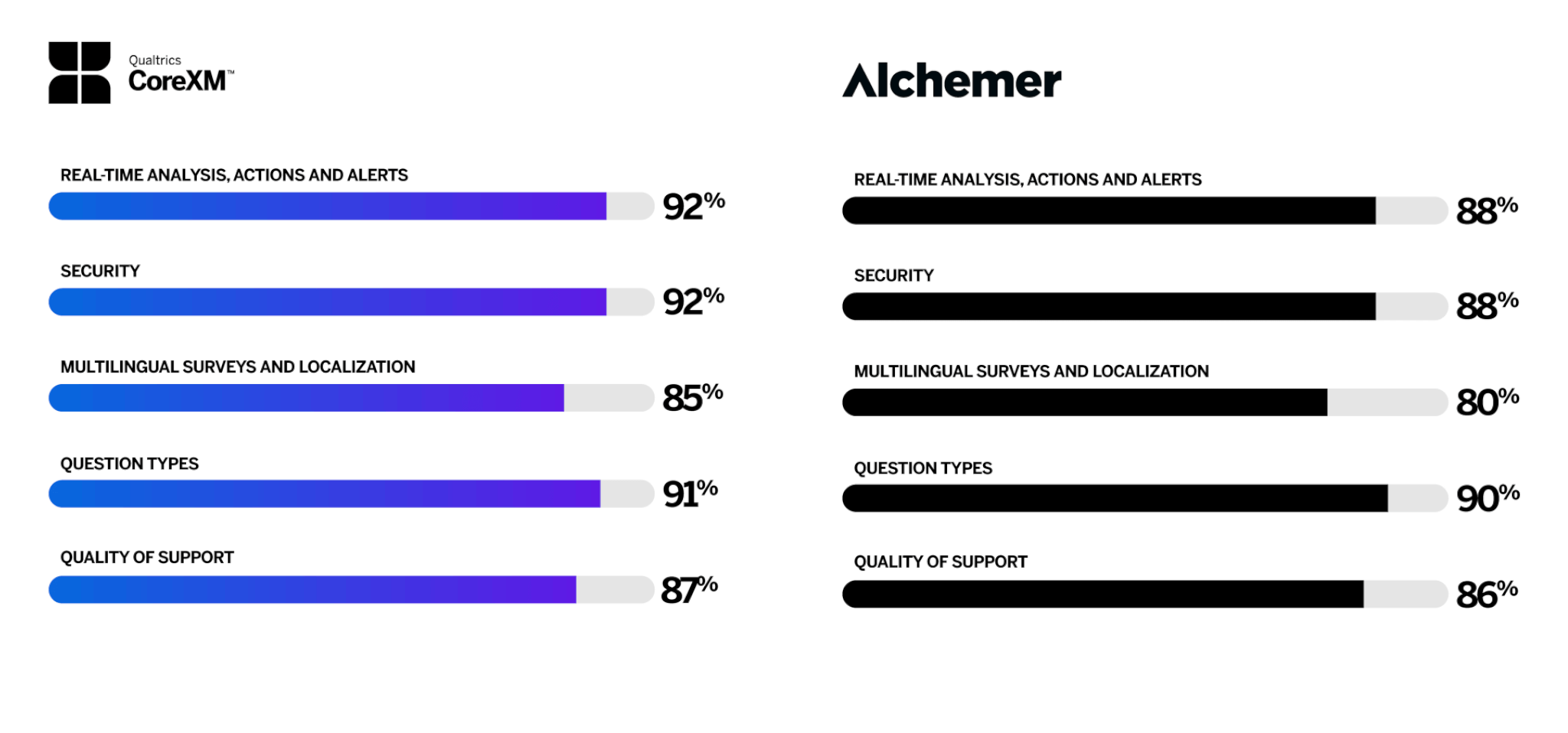 Read the full review here.
Qualtrics CoreXM vs. Glint

Read the full review here.