---
What is social media analytics?
Social Media Analytics is the process of examining data about social conversations to understand and use it.
This type of analysis includes tracking conversations and measuring campaigns. It also involves figuring out how your social activities are influencing your business results. Brands that are best at customer experience often combine social media analytics with customer commentary from surveys, ratings and review sites, call centre, agent notes, and other customer feedback to get a complete picture of the customer experience.
Companies that are serious about improving customer experience use data from social media analytics tools because they provide a vital view into how consumers really feel about the experience. The insights help them make improvements to the customer journey and guide their business decisions and strategy.
It should be noted that for some people social media analytics is focused on the operational metrics associated with their social media channels. For campaigns and strategies run through social media, it's common that marketing professionals will analyse their social media metrics – focusing on conversion rates, follower counts, and impressions. And whilst this form of analysis is helpful, all it shows is what happened, not why it happened – which is where listening to conversations happening with or about your company on social media can be invaluable.
Try Qualtrics CustomerXM for Digital
Why do you need Social Media Analytics?
Social media analysis goes beyond counting likes and shares. Even counting replies, comments and link clicks isn't enough. Although these are important KPIs, deep social media analysis shows you why certain Facebook posts get a lot of engagement, or what people keep Tweeting at you about. It tells you which products are pictured on Instagram more often than others.
It is a glimpse into how your customers actually feel about your company, products, and services. Analysing social media data can provide insights into product strategy, the customer journey, and brand reputation online. It is not just about the numbers, but rather what's driving those numbers.
And, because social channels are increasingly being used for customer service, social media analytics has become vital for measuring how well you are serving your customers (social customer service). You can examine response times, first contact resolution times, how well bots are resolving concerns, the average handle time, and team performance on KPIs for your customer care agents' interactions with customers over social media and messaging. With more social media users now than ever – more than half the world – using social media to understand your customers' relationship with your brands is vital.
This information allows you to spot trends and make predictions that inform your overall strategy for customer experience and business outcomes. And given that only 43% of businesses have centralised cross-platform analytics, it's something that can help put you ahead of your competitors.
Other benefits include:
Proven ROI for your brand strategy: Analysing all social media data – plus add-ons like review monitoring or digital customer care data – helps you understand your customers' needs and preferences so you can build an effective brand strategy.
Make more strategic business decisions: You can see clearer paths to success when you've got in-depth analysis of how your customers view your brand and interact with your platforms.
It should be noted that "social listening" often encompasses "social media analytics" within the social media management market.
See how social media forms part of Qualtrics CustomerXM for Digital's analysis
Social media analytics vs social media data
How does this type of analysis differ from social media data?
Social media data is the information you collect from your social media channels that shows how many users interact in some way. For example, you might have numbers of likes and shares, mentions, impressions, clicks, or new followers in your social media data.
Social media intelligence is similar to analytics, but it usually refers to the way in which you monitor your channels. It might refer to the technological solution or method you're using to gather your social media data. Social listening is the process of learning about your audience. It incorporates social media data.
Social listening is more encompassing than all of these other processes because it not only tracks data and draws insights, but it can also relate them to other areas of the business such as financial outcomes.
Social media analytics as part of customer experience management
Your analysis of social media should form part of a wider effort to understand your customer experience and brand awareness.
More than tracking conversion rates, open rates, likes, shares and more, understanding how these channels serve your wider business purpose is key for progress. A social media analytics tool should be able to illuminate pathways for you to improve the customer experience and inform business, brand, and product strategies. It should gather insights you've collated across social media into a single platform and analyse them so you can easily understand the steps to take next.
What should your social media analytics tool include?
There are many social media analytics tools available, but there are some key elements to look out for when deciding on what tool to use.
Analysis of multiple social media channels
Your analysis ideally will show how consumers feel about, and interact with your brand, offering insight into how that impacts your brand. For example, if your consumers are complaining on Twitter, what is the impact of losing them as a customer, and influencing others? How does that affect your brand identity and business objectives?
If your social media analytics tool can't listen to all the social media accounts you're running, it won't provide you with a full picture of your social media presence, including underlying trends and sentiment.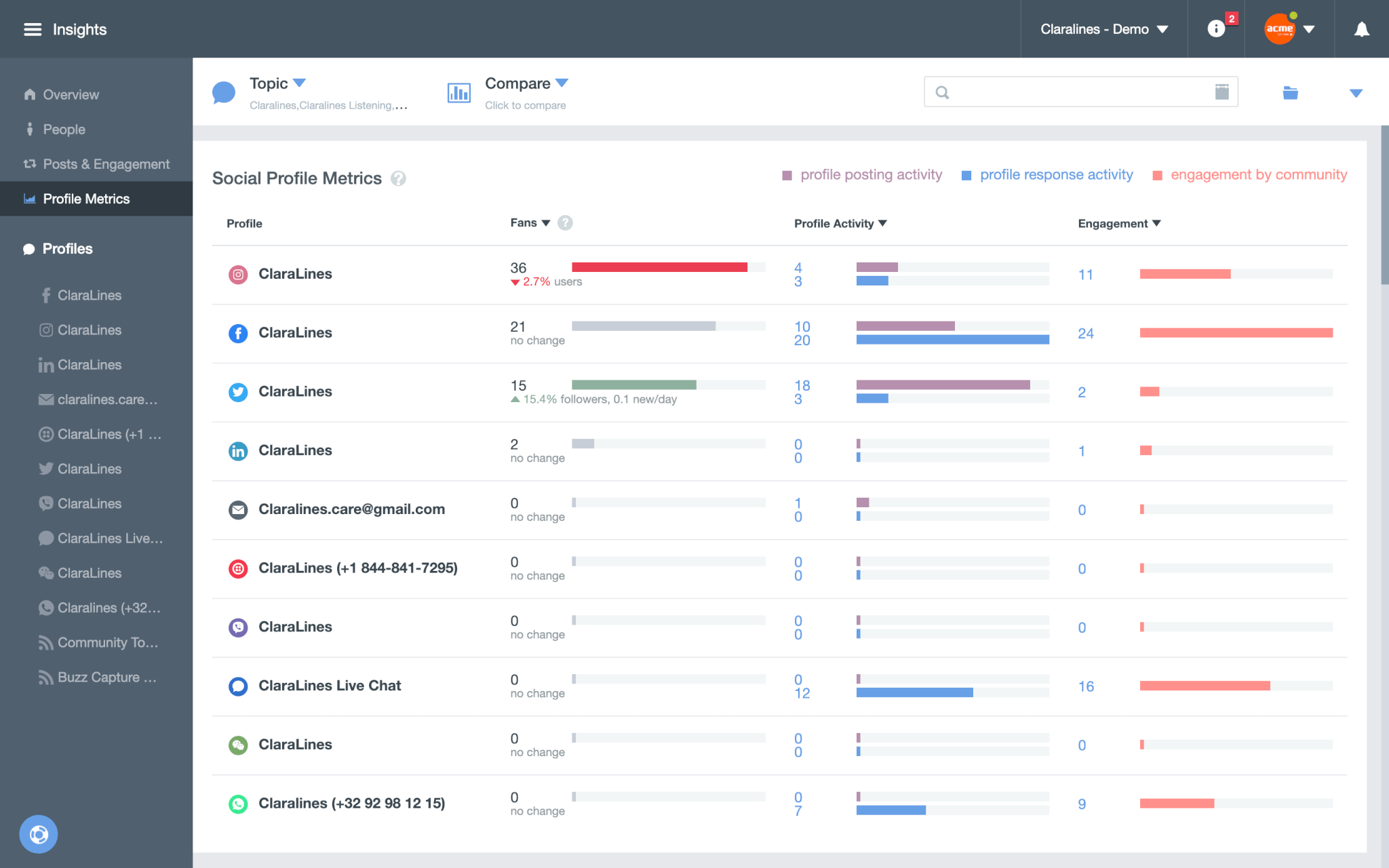 Dashboards and visualisation
Your social media analytics tool needs to represent the data it analyses in a way teams across your business can easily understand. Communicating your insights should be simple and easy – meaning your tool needs to be intuitive to use and easy to manipulate.
Sentiment analysis
Can your social media analytics tool perform complex sentiment analysis on your data? Sentiment analysis can help you understand how your audience demographics really feel about your brand. Rather than just relying on social media data points such as likes and shares, it can analyse comments for customer emotions.
Social media analytics tools with natural language understanding and machine learning built-in can identify the relationships between your social media activity and customers' prior or subsequent behaviour, meaning you can gather critical insights about the customer journey. As much of the content on social media is unstructured data, having a tool that can parse this information and accurately draw insights automatically is key.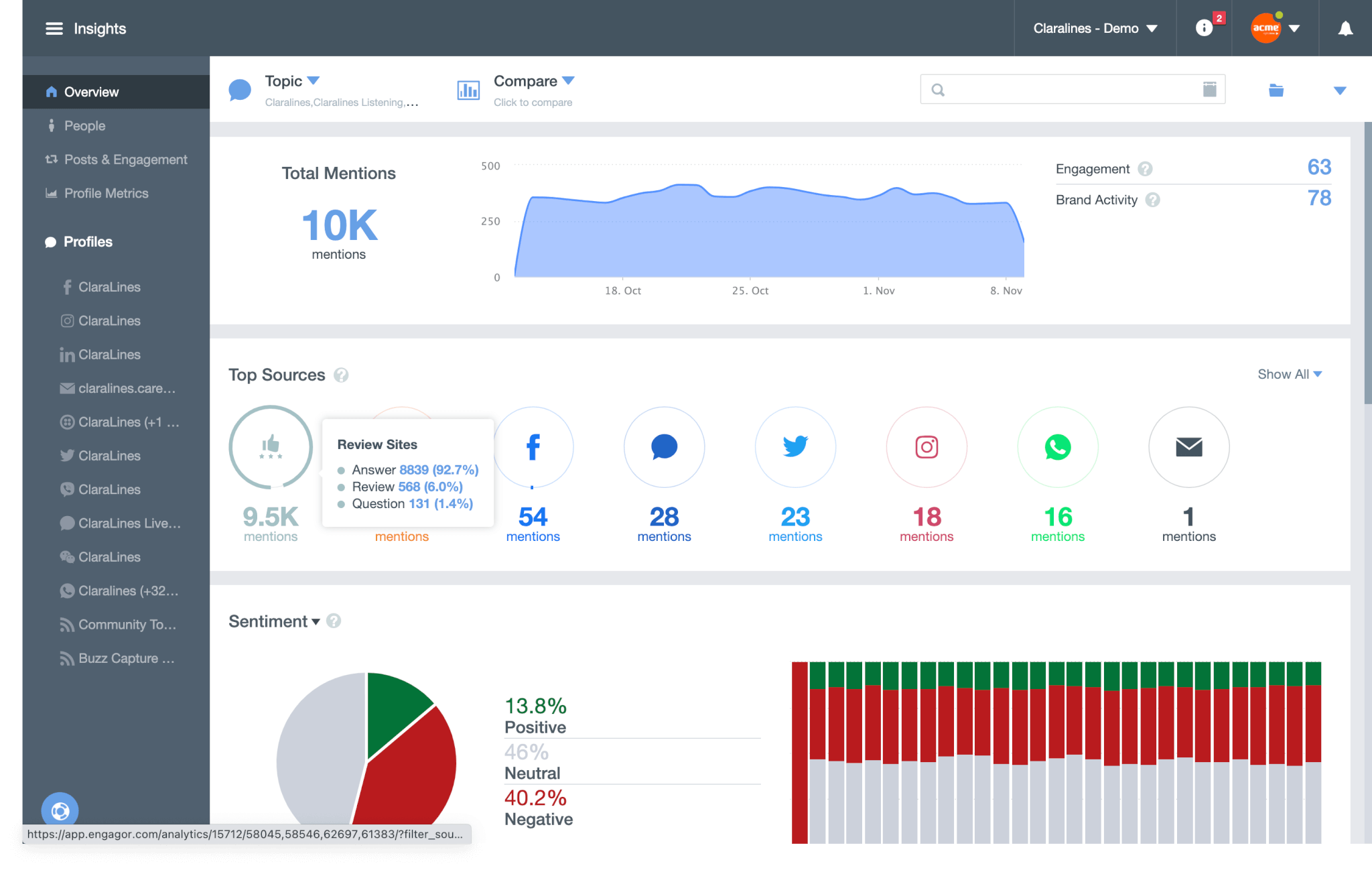 Emotion Analysis and Effort Scoring
The social media analytics tools you use should also augment the number of ways you can analyse what customers are saying. Adding effort scoring – how difficult it is to do business with you – capabilities provides businesses with a leading indicator of customer loyalty and churn. Being able to score dozens of emotions provides further insight into customers' feelings about the customer experience. Granular emotion analysis, effort scoring, and sentiment provide businesses with a suite of leading indicators into how your brands and business are perceived by your customers.
Segmented data
Your social analytics tool should be able to drill deeper into your social media audience through segmentation. Identifying how your customers feel about and interact with your brands – and where they do – can guide social media strategy, as well as overall brand or product strategy to bolster sales.
Overlaying information across business areas
Whether you're tracking web visitors with the help of Google Analytics or using multiple platforms to monitor social media metrics, your social media analytics tool should be able to pull in all the relevant data from across your business.
Operational data
Your social media analytics tool should be able to pull in your own data to show you how your social data relates to other operational metrics such as sales, web traffic, and more. Your social media analytics tool needs to be able to include your operational data for a deeper understanding of your target audience and their habits.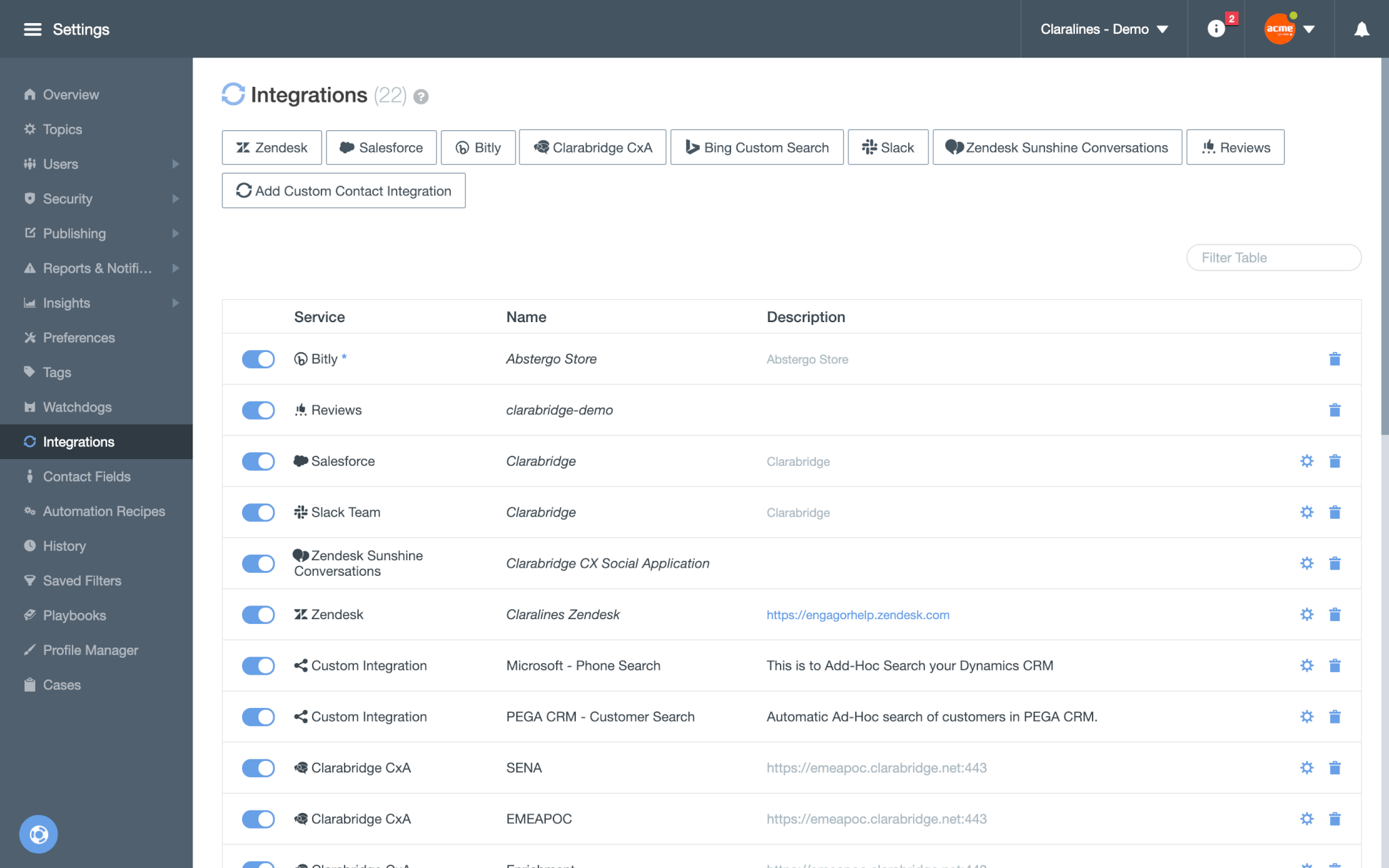 How to track social media performance with social media analytics tools
1.   Gather your social media statistics, operational data, and more
Whichever of the available social media analytics tools you choose, your first step is to ensure it is canvassing data from all the available and relevant sources.
2.   Set benchmarks
Having a benchmark helps you to see where you can make improvements, and to compare yourself to your competitors. These benchmarks aren't just for social media performance – they're to chart the efficacy of your social media campaigns in business terms as well.
3.   Generate a social media analytics report
Creating a social media analytics report should be a simple process with the social media analytics tool you've chosen. You should ideally have options for regular reporting, one-off reporting for specific campaigns, and real-time insights on a customisable dashboard with flexible reporting options. This will give you the most chance of pulling the best insights out of the data you've collected.
4.   Search for trends and customer behaviour
Your social media analytics report is a powerful tool for understanding where to invest for the greatest returns. You should be able to find insights into customer behaviour and identify emerging trends in social data. Tracing your customers' journey from your social media channels to the buying process should be clear to your team.
5.   Take action to improve your social media performance
Ideally, your choice of social media analytics tool will be able to give you actionable insights or automate these actions for you where appropriate. Whether it's updating your customer experience on your social media platforms, reducing customer effort when transitioning from social media to your website, or ensuring that you close the loop on customer queries, you need to take steps to improve with the insights you now have.
6.   Share and repeat your analysis
Once you've enacted these steps, you'll need to take regular benchmarks and generate reports to ensure that you've progressed. Social media trends can be leading indicators of customer needs and wants, so ensure that you can share social media insights and repeat your analysis for the wider business.
Connect the dots with omnichannel customer feedback
Use Qualtrics to advance your social media analytics
In addition to tracking the volume of mentions and other forms of engagement, Qualtrics CustomerXM for Digital gives users access to industry-leading text analytics.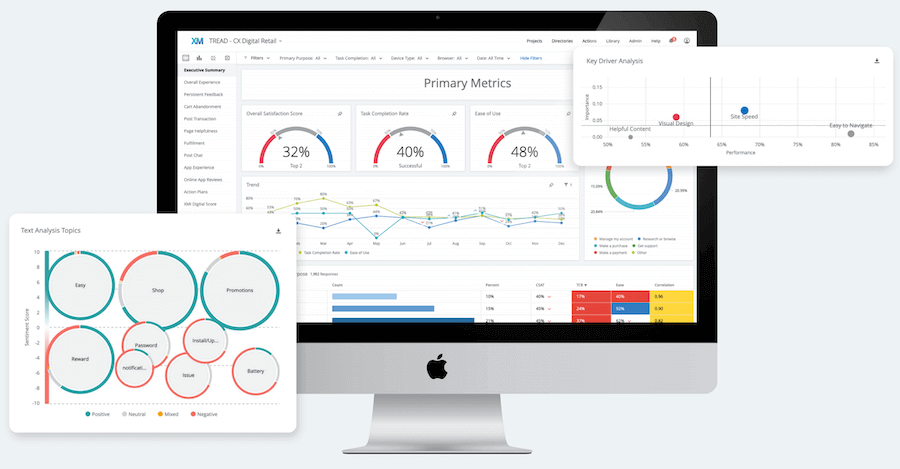 This social media analytics tool looks at everything written about you on social so that the topics and the root causes of all social conversations are revealed. It also provides you the ability to understand your global audience. You'll know what channels your customers are using, what they're saying, and how you can and should react to their voice.
Marketers use our CustomerXM for Digital product to monitor campaign performance and attribute spikes in customer social mentions to areas of your business. You can review the social interactions between customers and your staff and automatically score those messages for NLP enrichments like sentiment, emotion, and effort. And, you can pull all this data into a single platform so you can easily access the insights key to improve the customer experience.
Contact center, social media, and CX leaders use Qualtrics CustomerXM for Digital to monitor how their brands are performing online and how to best impact brand strategy.
No matter your role in the organisation, to build a good customer-focused strategy, you first need to understand your customers. Qualtrics gives you the social media analytics to do just that.