Remote Work Pulse
---
The Qualtrics Remote Work Pulse helps you understand if your organisation is prepared for a remote workforce, and if your employees have what they need to succeed in this new environment. There are three things every organisation must do immediately, and the order you do them matters.
First
ask employees
if they
are okay
---
+
Ensure your employees feel safe and supported
---
Next
ensure that
employees have
what they need
---
+
Understand the resources and information employees require for their work
---
Act
quickly to help
employees stay
productive
+
Enable employees to feel productive and be successful
1
Upload list of employees
---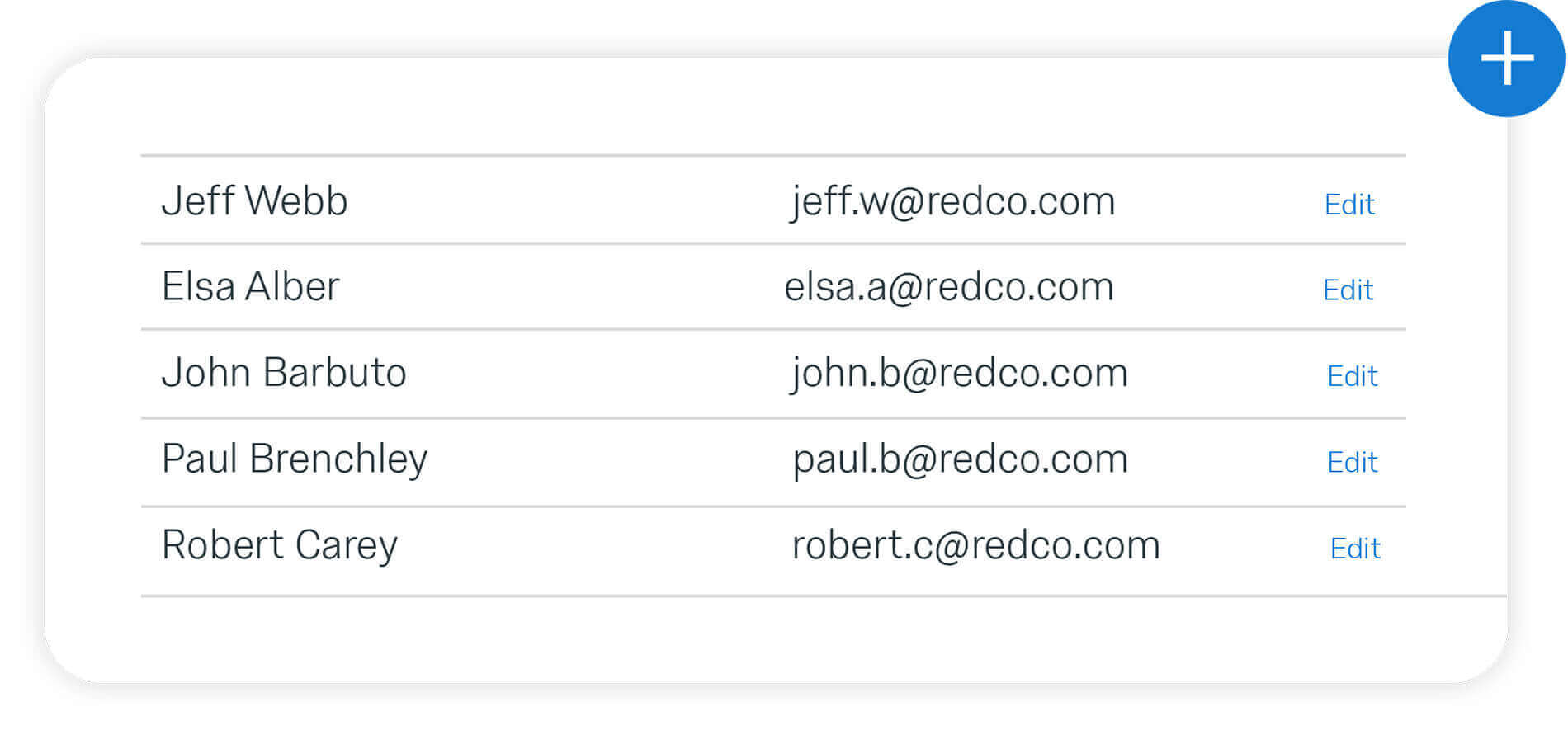 2
Employees respond to a simple, one question pulse
---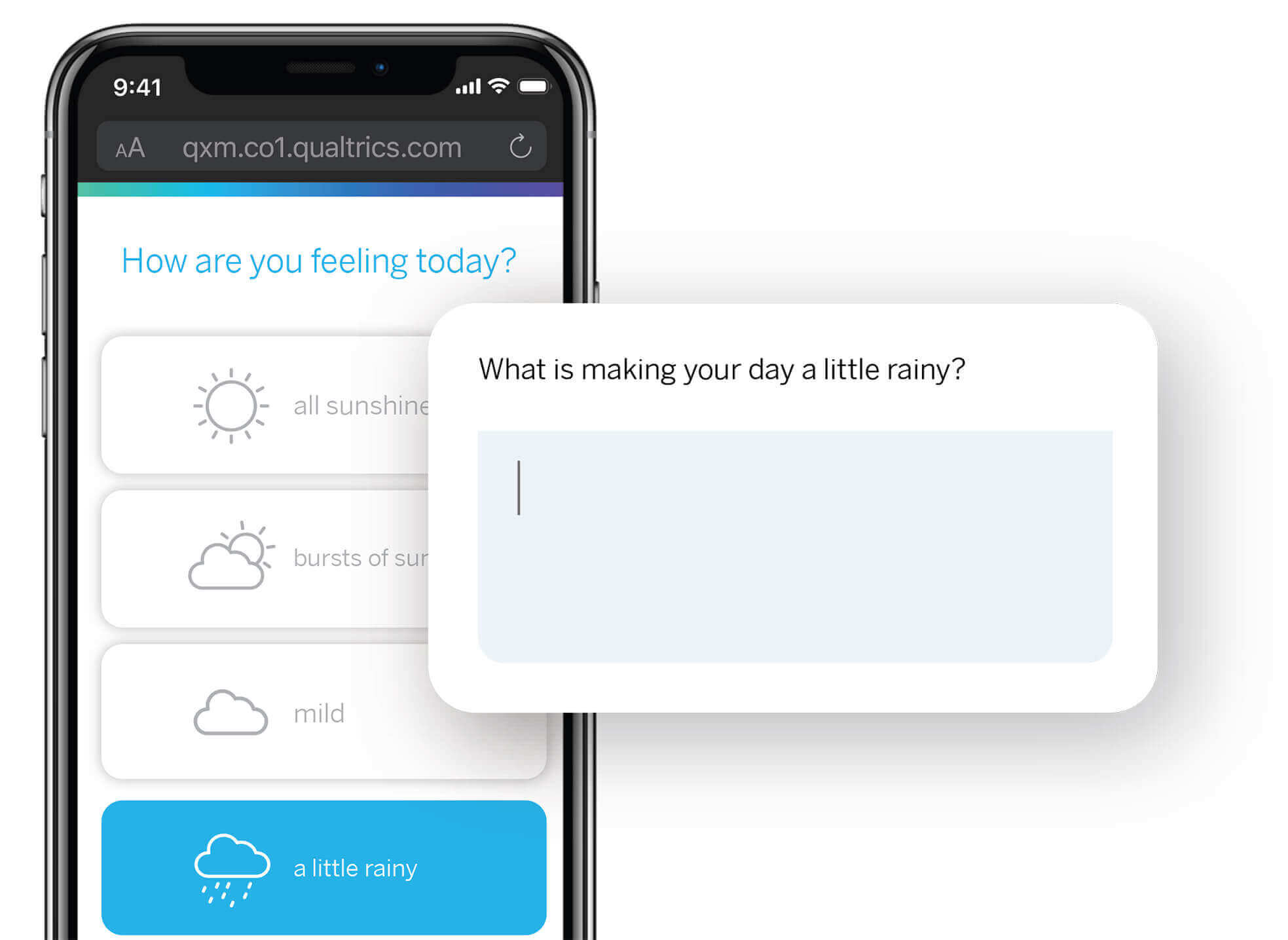 3
Follow up with a full assessment to surface employee needs and identify productivity challenges
---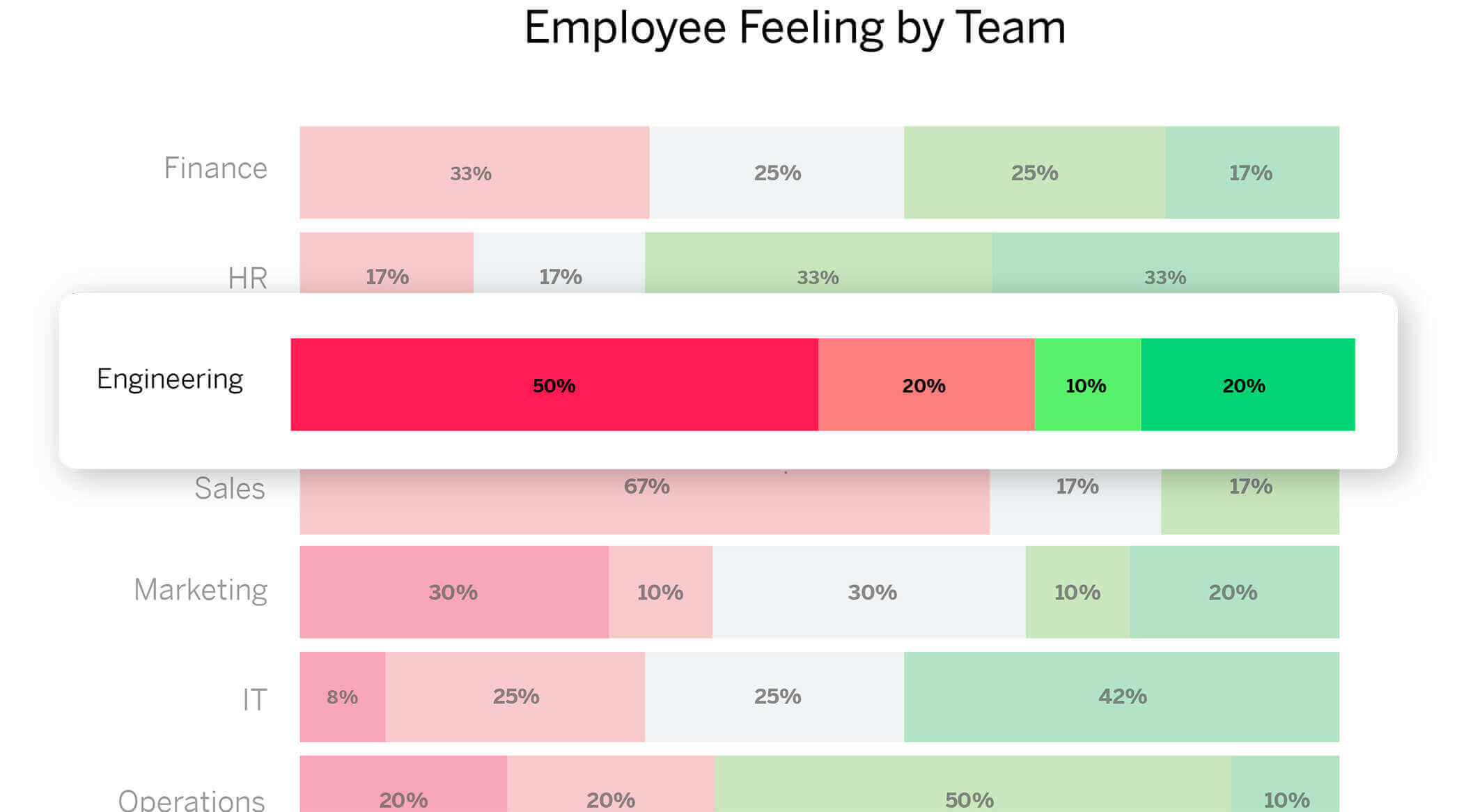 4
Instantly summarise feedback and
take action in real-time to improve
well-being and drive
employee engagement.
---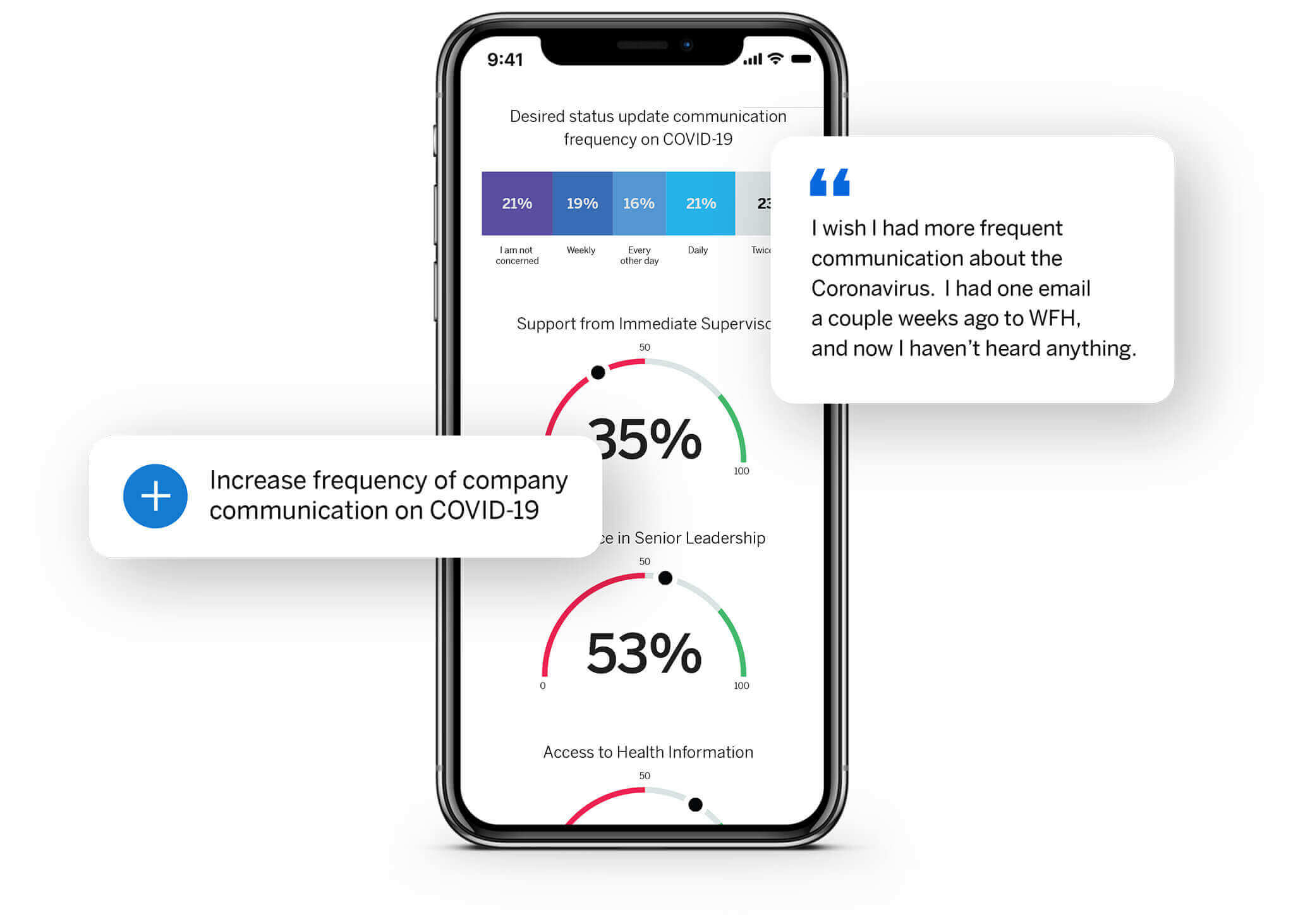 Additional solutions for
managing through COVID-19
---
Staying connected with your stakeholders, and acting quickly on their feedback is mission critical during times of uncertainty. In partnership with the XM Institute, we've launched a series of free solutions for governments, businesses, and academic institutions—along with a recommended timeline of execution.
WEEKS 6-10
FREE SOLUTIONS
WEEK 10+ / ONGOING
ONGOING PROGRAMS
XM SOLUTION / EMPLOYEE
Return to Work Pulse
Qualtrics Return to Work Pulse helps you quickly and confidently understand how and when your employees should return to the workplace. Whether teams have been working from home, staying off-site due to temporary business closures or staying home due to health concerns, Return to Work Pulse helps address each employee's unique needs to make a safe and positive transition back.
Assess employees' concerns and confidence levels with, pre-configured questions

Automatically view critical sentiment from unstructured responses via pre-built report

Use real-time employee sentiment to make plans for your organization and employees as you transition back to the workplace
XM SOLUTION / CUSTOMER
Frontline
Connect
When it's tough to get insights from customers directly, go to the people who know them best - your frontline. Quickly get a sense of what's going on with customers and what are the most important actions to take to retain them. As the situation evolves, keep a pulse on how customers are responding so you know what to do next. Learn More >
Get insights from frontline employees on customer issues

Identify and retain at-risk accounts through automated actions

Deliver recommended actions at scale directly to employees
XM SOLUTION / CUSTOMER
Customer
Confidence
Pulse
These are uncertain times for your customers, and building confidence and trust with them is more important than ever. As you move your business forward, get continuous feedback on what they need, and take rapid action to meet their evolving preferences so you can build the confidence they need to keep doing business with you. Learn More >
Continuously monitor and quickly adapt to evolving customer expectations

Confirm that your response measures are effectively communicated and understood

Capture key insights to take targeted action on the most helpful solution
XM SOLUTION / CUSTOMER
Digital
Open Door
Keeping communication lines open with your customers is more critical than ever. Quickly stand up a digital open door to ensure you always have an open, two-way line of communication with your customers. And optimize digital experiences to meet evolving customer needs.
Learn More >
Deploy an always-on website listening post

Easily communicate guidance, available support, and updates to service

Improve the digital experience to meet changing customer needs
XM SOLUTION / EMPLOYEE
Remote + On-site Work Pulse
Whether you're supporting a remote workforce, or protecting the health of essential on-site employees—it's never been more important to check in with your people and respond to their needs. Keep employees connected, enabled, and feeling safe amidst the COVID-19 crisis with Remote + On-site Work Pulse. Learn More >
Quickly assess workforce morale and well-being

Understand employee needs as they adapt to changing work environments—whether remote or on-site

Identify what matters by geographic location and team—and prioritise actions to take in response

Reduce the impacts this disruption can have on culture, employee safety, and productivity
XM SOLUTION / HEALTHCARE
Healthcare Workforce Pulse
Frontline healthcare workers and those who work within healthcare systems, hospitals, pharmacies, and clinics are facing unprecedented challenges associated with the rapid spread of COVID-19. This Healthcare Workforce Pulse is designed to help healthcare organisations stay connected with their frontline workers during this challenging time. Learn More >
Identify and respond to healthcare worker safety concerns

Identify and prioritise support, resources, and supplies needed for healthcare workers to do their jobs

Enable better communications and facilitate resiliency of frontline healthcare workers
XM SOLUTION / B2B
Supply
Continuity
Pulse
Many businesses are facing the challenge of maintaining delivery of products and services during this time of disruption. The Supply Continuity Pulse helps you understand if your suppliers expect to meet delivery timelines and helps you identify areas to optimise Business Continuity and Recovery Plans. Learn More >
Understand your suppliers' business state and their confidence in meeting your business needs

Learn what factors are affecting supplier confidence or ability to fulfill contractual commitments

Identify what help suppliers need to meet current orders and mitigate future risks
XM SOLUTION / EDUCATION
Remote
Educator
Pulse
As higher education institutions shift to a remote learning model, staying connected with your frontline teaching staff is more critical than ever. The Remote Educator Pulse is a companion to the Remote Work Pulse to help you ensure that faculty are prepared to deliver remote learning programs, while connecting you to their ongoing experiences so you can drive continuous impact. Learn More >
Determine overall health of students, and if they are to participate in remote learning

Identify blockers to remote learning and key areas of investment needed

Keep an ongoing pulse and act in real-time to keep students learning and thriving
XM SOLUTION / EDUCATION
Higher Ed
Remote Learning
Pulse
Colleges and universities are facing the difficult challenge of keeping students safe, while minimising disruptions to teaching and learning. The Remote Learning Pulse helps academic institutions with remote learning readiness, and to identify areas for continual improvement.
Learn More >
Determine overall health of students, and if they are to participate in remote learning

Identify blockers to remote learning and key areas of investment needed

Keep an ongoing pulse and act in real-time to keep students learning and thriving
XM SOLUTION / PUBLIC HEALTH
COVID-19 Dynamic Call Center Script
A dynamic call center script that supports public health organisation staff to deliver accurate, up-to-date information to callers about COVID-19. It also includes automatic reporting showing caller trends, patterns and gaps in information requests. Learn More >
Rapidly enable public health staff to respond to incoming calls regarding COVID-19

Direct citizens to the right COVID-19 resources based on their responses

Automatic reports that outline caller trends and where information gaps exist
XM SOLUTION / PUBLIC HEALTH
COVID-19
Pre-screen &
Routing
An online, guided COVID-19 pre-screen questionnaire to identify high-risk citizens, provide recommended actions, and collect information from visitors about their current symptoms and circumstances. Additionally, public health organizations can then route visitors to the most appropriate resources. Automatic reports identify visitor demographics and gaps in current information availability. Learn More >
Reduce congestion on public health resources with online questionnaire

Automatically route at-risk citizens to available COVID-19 resources

Automatically direct citizens to the information they need based on their answers
XM SOLUTION / MARKETING
COVID-19 Brand Trust Pulse
In this time of intense uncertainty, brand trust is evolving rapidly. The COVID-19 Brand Trust Pulse helps assess consumer trust in your brand, and prioritises actions you can take immediately to earn and maintain that trust. Learn More >
Understand rapidly evolving consumer sentiment

Benchmark your brand against the most important drivers of trust

Prioritise actions that build trust during the COVID-19 crisis and beyond

See results in days, not weeks
IMPORTANT INFORMATION
We hope you find our Here to Help Solutions useful. Our team of XM Scientists works hard to make them as convenient and effective as possible. That said, we have customers around the world with unique and complex needs and circumstances, so we can't guarantee these solutions are fit for your particular purpose or that they comply with applicable laws in your location. You should check with your own legal and other advisors when deciding the appropriate solution and implementation for your circumstances.