---
What is brand equity?
What really defines brand equity is the additional value that having a recognisable brand name adds to a product offering. So, what is brand equity? It's that perceived quality that comes from brand awareness and reputation. It is a fierce driver of brand loyalty, and it can even determine the price – so building equity should be a key part of any good business strategy and marketing mix.
Other words that are used to describe brand equity are 'sway,' 'good standing,' or 'commercial value'. Brand equity is also often linked to brand recognition, as a customer must be aware of the brand name initially, but it differs because brand equity emphasises the added value that the brand name provides to the product.
Let's take a look at an example. Pharmacies have many different varieties of Paracetamol available to buy. Some versions are pharmacy-owned brands, while others hold a recognisable brand name that the brand-owning company created.
Each Paracetamol product may have identical ingredients and produce the same outcome when used. Yet, some branded products may hold a stronger 'standing' (brand equity level) in the minds of the consumer. This higher level can be an influencing factor in the customer's buying decision, meaning companies that own these brand-name products can gain an advantage in sales performance.
The brand-owning Paracetemol company, for example, can further capitalise on brand equity if it raises the purchase price of its product. The cost of production for a brand-name version and a generic non-branded version remains the same.
However, as the customer opts to pay extra for the branding in addition to the base product itself, the brand-owning company increases its profit margin and gains a stronger market share in the pharmaceutical industry.
Free eBook: The ultimate guide to building a world-class brand tracker
Components of brand equity
Brand equity is created as your customers become increasingly and more personally aware of your brand. They must first know that it exists, then form positive or negative opinions of it through their own interactions, and finally, arrive at a subconscious value they associate with your brand.
In that way, when you create brand equity, you're adding to your overall brand health.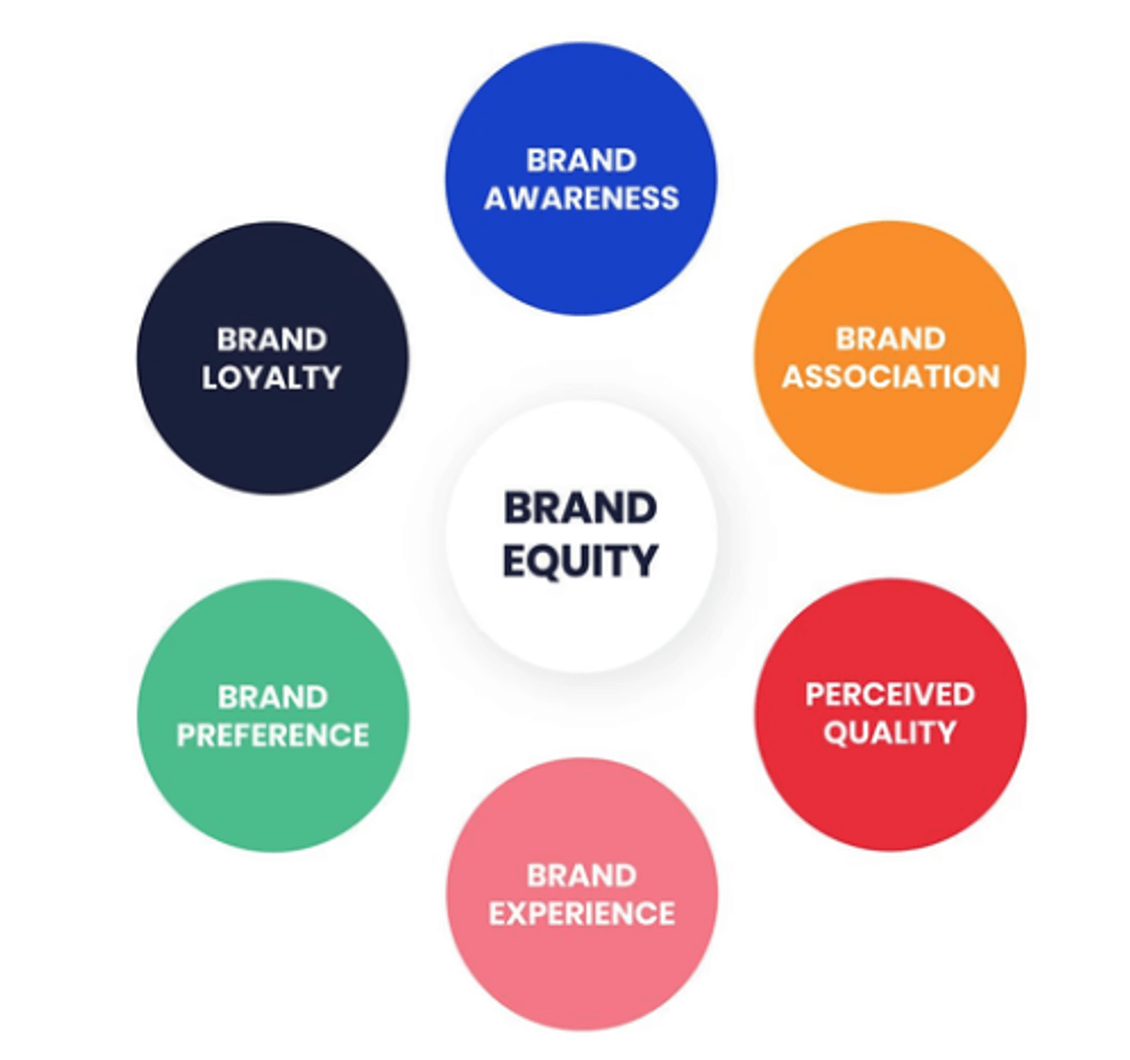 1. Brand perception
Brand perception is what customers believe a product or service represents, not what the company owning the brand says it does.
"Marketing managers spend 70 hours a week thinking about whatever product they are marketing, but the consumer is spending seven seconds," says Professor Ravi Dhar of the Yale School of Management.
Those seven seconds in which a customer forms an impression of a brand can be influenced by marketing campaigns, slogans, or desired brand association, but at the end of the day, a consumer's perception of a brand is something they create themselves.
This can happen during the following sub-stages:
Brand recognition
Brands have recognisable features that identify a product as belonging to a certain brand. An example would be the advertisements of McDonalds, which feature a specific logo, a consistent brand ambassador, and a love-it-or-hate-it catchy jingle.
The visibility of a brand has a large impact on our opinions – when a brand becomes a household name, the perceived value is higher. Consequently, the brand carries higher brand equity.
Brand awareness
Being aware of what the brand stands for (its unique selling point) can provide a level of familiarity and transparency that can impact a customer's perception of a branded product.
For example, knowing the ins and outs of an iPhone and the Apple product range would provide more certainty and comfort when faced with an iPad over an Android phone. While brand recognition is about features, building brand awareness relies on the customer understanding more about your brand's products, brand values, and brand image. Brand awareness is deeper than recognition, in other words, and it goes hand in hand with brand association – i.e. 'I associate this brand with X characteristic'.
2. Positive or negative effects
The way a customer perceives a brand can directly impact their actions towards it. Their reaction will be subjective, and could be based on several factors:
Customer experience:
The positive user experience of a branded product can create a favourable impression of the brand. (You may now understand why Apple has so many Apple stores, where you can handle and use its full branded product line – and why they come preinstalled with easy-to-win games. Angry Birds anyone?)
Quality:
The brand name is associated with a good supply chain, reputation, and trust level. LEGO Group has topped the list of the most reputable companies in the world repeatedly based on its performance across several reputation markers (products, governance, leadership, financial performance, how innovative they are, and their "citizenship").
Customer preference:
Would a customer use the branded product themselves? The success of the sale relies on whether this brand represents the customer's beliefs and values, and could easily feature within their life now.
Preferences could be because of more emotive reasons: UK cereal organisation, Kellogg's, was launched in the 1920s and engaged children with strong brand mascot characters on their packaging. Hence, customers who have grown up with Kellogg's breakfast cereals will have strong associations with childhood and home.
When consumers react positively to a brand, they may buy the product and recommend the brand on social media, leading to increases in the brand-owning company's reputation and bottom line. When a brand is perceived negatively, the customer's reaction may be to boycott products, downplay, or criticise the product to others, which could lead to the opposite effect.
Managing brand equity is a driver of brand loyalty, then; people who make positive brand associations when they think of your company are more likely to become repeat buyers.
3. Resulting positive or negative value
The return from the effects of a positive or negative brand perception falls into two categories: tangible and intangible value.
Tangible value is a result that can be easily measured and is often physical in nature. An example of positive tangible value is increased revenue due to a greater number of sales. An example of negative tangible value could be a decrease in company stock price value as a result of a loss of confidence in the product's ability to sell.
Intangible value is a result that can't be tracked or replicated easily and isn't physical in nature. Positive intangible value could be gained with greater brand awareness and goodwill or through word of mouth. Negative intangible value could be the perception of a brand as dangerous or as being in bad taste.
Why is brand equity important?
Managing brand equity is a hugely important part of any company's success because it represents the overall value and reputation of the brand.
Having a positive brand reputation makes it easier for a company to attract new customers and retain existing ones, since customers are more likely to choose a company with a strong brand reputation, and are also more likely to pay a premium for products or services from a well-known and trusted brand. Brand equity can also differentiate your company's products or services from your competitors. So investing in building and maintaining strong brand equity can help you increase your chances of long-term success – but how do you calculate the ROI of your brand equity efforts?
As with any ROI calculation that looks at a single part of brand-building efforts, it's tricky to attribute exact growth to exact measures. Ultimately though, the most important thing is to look at industry trends to see the value that a strong brand can create. Branding, and brand value, represent some 20% of the value of the entire S&P 500, while 77% of consumers are likely to refer to certain items by brand names, rather than product names.
Consistent presentation of a brand, meanwhile, can increase revenue by 33% – meaning that time and money spent on building your brand equity can pay big dividends.
In general, strong brand equity leads to increased customer satisfaction and loyalty, the ability to demand a higher price, and a greater share of voice across every channel and platform, all of which can help drive revenue.
The benefits of developing your brand equity
You can develop greater market share: In some saturated industries, your brand needs to stand out and appeal to customers through your unique selling point or distinct branding. Developing your brand equity will give you a competitive edge in the marketplace. When you can be remembered by a customer at a point of sale, then you have given yourself a greater chance of successfully selling your product.
You can charge a price premium: The price premium – also known as relative price – is the percentage that a product's selling price exceeds or falls short of a benchmark price (in this case, the market average for a product). When you have better brand equity, you're able to charge more for the product and increase your price premium percentage over the market average. This can be a good overall metric to measure your product's financial performance.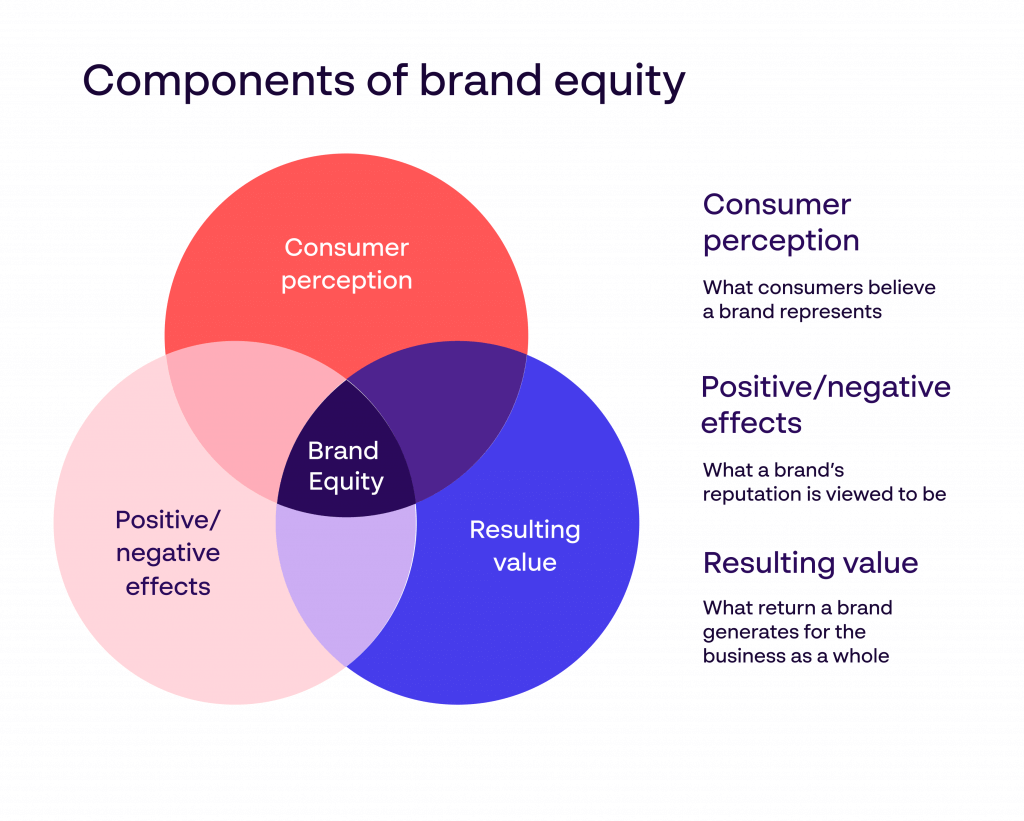 You can extend your product line easily: When you have a high level of brand equity, customers will be more likely to continue their business with you and be the first to try any new products and services. You could ask your community of customers for testers at the product development stage, or launch directly into the market for customers to buy.
You have a greater impact as a company: With your increased revenue and market dominance, you may find yourself in a powerful situation. You can use your high brand equity to form new partnerships, look around for better supplier rates, or be considered worthy of a 'seat at the table' with other large brands. This could open the door to collaborations, business ventures, or investment opportunities that would otherwise not be available to you.
Company examples with positive and negative brand equity
Some products or services fall in and out of positive or negative brand perception, which then creates corresponding positive or negative actions and value results:
The Coca-Cola Company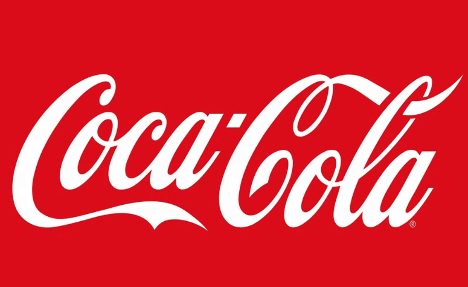 The Coca-Cola brand is worth an estimated $271 billion and sells in every country of the world (aside from Cuba and North Korea!).
It is consistently adapting to suit its customers' lives, with past products offering label personalisation for younger audiences, creating Christmas advertising featuring a Santa in a red suit to welcome in the holidays, and past taglines emphasising positive experiences: "Make it real" (2005), "Open happiness" (2009) and "Taste the feeling" (2016).
Great brand equity means that a company can add to its product range within the brand, safe in the knowledge that customers will trust the brand enough to try the new products. Coke was able to do this through product expansion – and today they own over 20 brands.
WW (formerly Weightwatchers)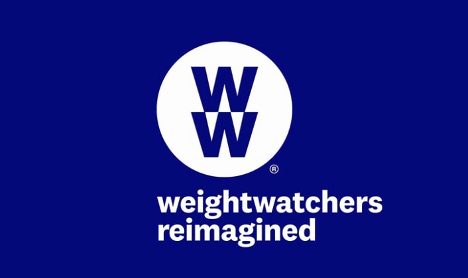 A word of caution to those of you that think changing your brand is easy. There have been some examples of companies that have faced backlash and negativity when trying to make a positive change.
In 2008, the dieting company then called Weightwatchers rebranded to try to focus on general wellness and self-care, by dropping the word 'weight' from their name and adding the tagline: 'Wellness that works'.
While WW was reacting to the changing times, a backlash against their changes caused negative customer experiences and took its toll on their share price. To restore their lost brand awareness and recognition, WW soon changed its approach and became 'Weight Watchers Reimagined'.
How to measure brand equity
There are three core brand equity drivers that you need to track when measuring brand equity: financial, strength, and consumer metrics:
Financial metrics
The C-suite will always want to see a positive balance sheet to confirm that the brand is healthy. You should be able to extrapolate from the data market share, profitability, revenue, price, growth rate, cost to retain customers, cost to acquire new customers, and branding investment. You can use solid financial metrics data to demonstrate how important your brand is to the business and secure higher marketing budgets to continue growing.
Strength metrics
Strong brands are more likely to survive despite change and deliver more brand equity. You'll need to track awareness and knowledge of the brand, accessibility, customer loyalty, retention, licensing potential, and brand 'buzz'. Also, monitor social media and survey the public to get a picture of how your brand is known and loved (or not).
Consumer metrics
Companies don't build brands; customers do. You must track consumer purchasing behaviour and sentiment toward your brand. Track and measure brand relevance, emotional connection, value, and brand perception through surveys and social media monitoring. The right text analytics software that can interpret open text comments is particularly useful to gather sentiment and suggestions.
Measuring brand equity is an ongoing challenge. The aim is to make practical changes that fuel positive associations for your customers, measure the change, and then repeat the process.
How to build brand equity
Brand equity is the value of your brand for your company. It's based on the idea that a recognised brand that's firmly established and reputable is more successful than a generic equivalent. It's also based on customer perception: customers will tend to buy a product they recognise and trust. When a brand is recognised and trusted to the point that the customer recognises it and feels a deep psychological bond with it, your brand equity is valuable indeed.
So how do you build positive brand equity? What are the practical steps you can take to garner high brand equity and that greater sense of perceived quality?
Here are four brand management tactics that can help shape your ongoing brand equity model:
1. Build greater brand awareness
You need to make sure your customers recognise your brand identity when they're looking for goods or services, and that they perceive it in the way you intend. There are several ways you can do this:
Using the same logo or image to ensure your branding is consistent
A heart-warming story behind the brand
Keeping the brand in front of your market
Providing ongoing value
Keeping in touch via email or newsletters
Tap into social media and share more – blogs, tweets, Facebook groups, Instagram photos
Word of mouth, positive customer experience, and targeted marketing all help you develop greater brand awareness.
2. Communicate brand meaning and what it stands for
Consider how well your product meets the needs of customers — not just the physical ones, but their social and psychological needs as well. A company that produces a useful product, and genuinely commits to social or environmental responsibility will attract customers and employees who share those values and who will be sufficiently connected and enthusiastic to be advocates.
IKEA, for example, has invested in sustainability throughout its entire business operation: 50% of its wood is from sustainable sources, 100% of its cotton is Better Cotton standard and 700,000 solar panels power its stores. With feel-good eco-credentials like these, spending a Sunday afternoon assembling an IKEA flat pack seems more of a pleasure.
3. Foster positive customer feelings and judgments
When customers have a positive impression of your product, they're more likely to become loyal customers and pass the word on. Judgments are made about a brand's credibility, capability, quality, relevance to need, and superiority over the competition, so it's important to maintain the integrity of all these things. Positive feelings can be excitement, fun, peer approval, security, trust, and self-respect, to name a few.
A brand that can maintain positive judgments and feelings is a winner. For example, the iPad: did you think you needed one before you saw one and appreciated its capabilities? For many of us today it's our computer, gaming console, TV, radio, alarm clock, mobile bank, and messaging service… we love our iPads.
4. Build a strong bond of loyalty with your customers
Brand loyalty is a powerful, yet very difficult, aspect of brand equity to attain. Loyal customers are customers that have formed a psychological bond with your brand. They make repeat purchases. They may feel like they're part of a community of fellow consumers.
They will act as your brand ambassadors, inadvertently selling your products for you through social media, online forums, and even physical events. Establishing a brand equity connection that borders on customer evangelism is an invaluable part of brand management.
Build a brand customers love to reinforce brand equity
People shop more with brands they've had great experiences with. In fact, some 73% say that the customer experience is an important part of their future purchasing decisions. Customer satisfaction breeds customer loyalty, referrals, lifetime value, and positive brand equity. So really, the best way to build brand equity is to employ a brand strategy that puts customers at the heart of your business.
Technology can make this daunting task easier by automating the jobs that enterprise-scale makes impossible to do manually, intelligently monitoring what customers are saying, and finding parts of the customer journey that are currently letting your customers – and your brand ,by extension – down.
In other words, the right technology under your belt can help you manage and measure brand equity, build brand loyalty, and improve consumer perception.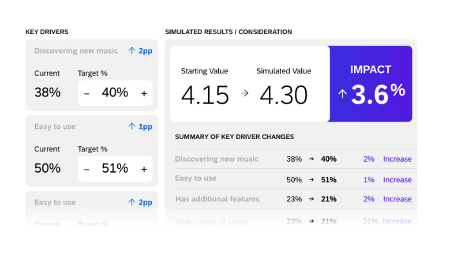 Software like Qualtrics Brand Experience Management platform can turn your customers into fans by listening to feedback across every touchpoint as well as intelligently monitoring the customer journey on a person-by-person level to identify gaps in their experience that need closing.
BrandXM™ knows which parts of those experiences are hurting your brand – the ones that drive negative brand equity – and which ones are helping it flourish in the minds of consumers. And, crucially, it can proactively suggest exactly what to do to quash the former and squeeze even more from the latter.
By working 24/7 to deliver best-in-class customer experiences, you'll create positive brand associations and boost your brand's perceived quality. And that's what powers a brand's equity and grows market share at the same time.