---
What is the meaning of "marketing effectiveness"?
Marketing is often seen as a "must-do" action for brands, but measuring your marketing effectiveness can be difficult to pinpoint. Often, brands rely on metrics such as engagement to measure success, but don't evaluate whether these metrics accurately reflect success for their business in particular.
Understanding your marketing campaigns' effect on brand perception, sales, and growth is vital for forward planning. There's no use dedicating resources and time to marketing strategies without tracking and analysing how those strategies affect key business metrics. Even if you believe your marketing provides value, only 60% of marketers feel they're able to prove the ROI of their efforts.
To determine your marketing effectiveness, you'll need to calculate how great of an impact it makes versus the amount of budget, legwork, and time it requires.
See how Qualtrics CustomerXM can help you determine ROI
Why is measuring marketing effectiveness important?
The more effective your marketing efforts, the better your results – engagement, brand positioning, sales, profit – will be. Ideally, there will be a direct correlation between the amount you invest in your marketing team, budget, and campaigns, and the business results you experience as a result.
Measuring marketing effectiveness helps you to figure out the value of your marketing team to the business. Rather than making assumptions about marketing campaigns and their impact on your business success, you can use data-led insights to see what works and plan your next course of action.
Successful examples of businesses that measure marketing effectiveness
Geox
Italian footwear brand Geox revamped its data analysis to gain a deeper understanding of where business growth could be attributed. Using Google's Search Ads 360 platform and their raw social data, they examined precisely what conversion rate their paid social campaigns had, and what effect their social strategy at large had on potential sales.
As a result of their data collection and analysis, they created a cross-promotion strategy. Potential customers that viewed paid social campaigns were then shown paid Search ads, and those customers were then served paid social posts. This connected strategy led to a 6% increase in the brand's return on their ad spend and reduced the time spent on campaign management by 30%.
Heineken
Beer brand Heineken used data analysis to get a better view of customers' preferred digital channels and their beer consumption, relating the two for a more effective, integrated approach to sales with marketing in mind.
The brand found that many of the marketing activations they put out on "traditional" media channels were likely being missed by their target audience, in this case, viewers of the Heineken-sponsored UEFA Champions League. Eight out of 10 viewers watched the league using at least one digital channel such as online live streams or social media, with one in six using digital exclusively. Of these digital-using customers, many were only "light" or occasional buyers of beer, meaning that there was an opportunity to target this specific audience for UEFA Champions League matches.
Across 2018 and 2019, the brand ran a digital-focused "Drinkies" sales campaign in Amsterdam, targeting consumers directly and offering cold beer and snacks for delivery within 60 minutes. Sales of Drinkies had a direct uplift on the days when matches occurred, particularly when the Ajax home team played, and the number of new Drinkies customers increased. The combined effort of the UEFA sponsorship marketing campaign and direct-to-consumer sales meant that marketing effectiveness was both proven and effective.
Measure your brand awareness with our free survey template
How to measure marketing effectiveness
To measure marketing effectiveness, you'll need to understand what success looks like for your particular brand, which metrics to use, how to gather the right data and how to generate insights that lead to action.
Determine your success metrics
Unless you know the end goal for your marketing – or what you believe is marketing "success" – determining efficacy is difficult.
Ask yourself: what constitutes success for your brand? Is it:
Pinpointing the end goal for your marketing allows you to more accurately evaluate each marketing strategy for its impact. Rather than focusing on the typical metrics for that strategy, your marketing will be measured against your brand's particular idea of success.
For example, brands typically use engagement as their measure for the success of their social media marketing – but if higher sales are your goal, what bearing does engagement have on conversions? More than 50% of marketers use keyword rankings and organic traffic as their key measurements of SEO success – but what is the end goal of increasing keyword rankings and organic traffic?
Gather your data
Data will be the backbone of your analysis of marketing effectiveness. From outlining benchmarks to solidifying your KPIs for each marketing strategy, you'll need to gather expansive and timely data for accurate insights.
Tips for data-gathering include:
Cast a wide net: Include business-owned data and third party data where possible for the most in-depth understanding of lead generation and conversion-drivers
Collate and analyse data with one tool: Rather than using disparate programs for analysing your data, collate data under one system to avoid unhelpful data silos
Analyse for insights
With benchmarks and KPIs in place and data gathered, your next step is to analyse this data for insights on which actions drive success and which fail to drive ROI.
Optimal marketing uses a number of strategies to capture your intended audience and drive lead generation. Each type of marketing will need to be evaluated for its lead generation capability and its impact on your success.
The following queries might help you to determine your marketing effectiveness:
Content marketing
How much content do you need to produce and serve to customers before they convert? How responsive or engaged is your audience to your content, and how does this relate to sales?
Social media marketing
What social engagement do you create with your efforts? How many of these turn into leads?
Search engine optimisation
How many leads do your SEO efforts drive through your website?
Pay-per-click (PPC) marketing
What is the ROI on your marketing spend for PPC? What share of wallet do you have when compared to your competitors?
Account-based marketing
Given the high level of effort for this strategy, is it worth the time and resource expended? Would other strategies be more effective?
Earned media/PR
What brand awareness results are you seeing? Is the high cost worth these results?
Email marketing
Are your emails directed at the right audience, and do they convert? How many marketing leads become qualified leads?
Point-of-purchase marketing
Is this approach selling further products and extending your customer lifetime value, or is it putting off customers and leading to churn?
Implement action
Once insights have been generated, your marketing management should focus on repeating or augmenting the actions that drive success. Replicating strategies that are worth your marketing expenditures – and continually evaluating for success – should be the main focus for your marketing executives.
Related Article: The Ultimate Guide to Brand Marketing
Strategies to improve marketing effectiveness
Blend brand campaigns with short-term promotional campaigns
According to research outlined by the Institute of Practitioners in Advertising (IPA), relying on shorter-term, engagement-focused campaigns is not as successful for business improvement as using a single brand-building campaign. A 60:40 ratio of brand building to short-term marketing activations, they found, was the best blend for year-on-year improvement, though this varies by business category.
Test and track campaigns
It's important to trial your campaigns, and track the results you see against your benchmarks over time. It's recommended that you test your campaigns before you launch advertising to increase the ROI of your marketing efforts, and track the impact of your marketing strategy in real-time by comparing live results with predetermined indicators of success.
The tools you use to plan, execute and review your campaigns should have this functionality, helping you to avoid spending unnecessary budget and replicating unsuccessful campaigns.
Use a more sophisticated attribution model
Your marketing attribution model will need to be sophisticated to accurately diagnose where your marketing effectiveness lies. Data-driven attribution that utilises machine learning to figure out which touchpoints on the customer journey will give you a better understanding of where credit is due for conversions.
Evaluate your brand strength
If your marketing effectiveness is low, you may need to take a step back and evaluate your brand as a whole. Are your products and services accurately represented by your brand identity? How are your values reflected authentically in your marketing? Do you have a consistent voice that is reflected in your customers' experience?
Repackaging your products and services might lead to better results if other changes to your marketing strategy don't improve your marketing effectiveness. Consider your brand strategy and how it relates to your digital marketing.
Consider your customer experience
If your marketing activities are bringing in solid leads but conversion rates are poor, it may be that your customer experience is falling short of customer expectations. Great marketing performance on individual platforms won't necessarily translate to marketing effectiveness for ROI, particularly if your customer experience leaves something to be desired.
Your marketing strategies need to dovetail your efforts to capture your audience's attention with memorable experiences. You'll need to use data not only for tracking but for customer personalisation as well. Marketing efforts that utilise data for personalisation can be worth five to eight times the ROI on marketing spend, and can increase subsequent sales by 10% or more.
How Qualtrics raises your marketing effectiveness
Measuring marketing effectiveness can revolutionise how you conduct your business, saving you time, resources, and money being spent ineffectively. However, you need the right tools to help you understand which marketing investment is worthwhile.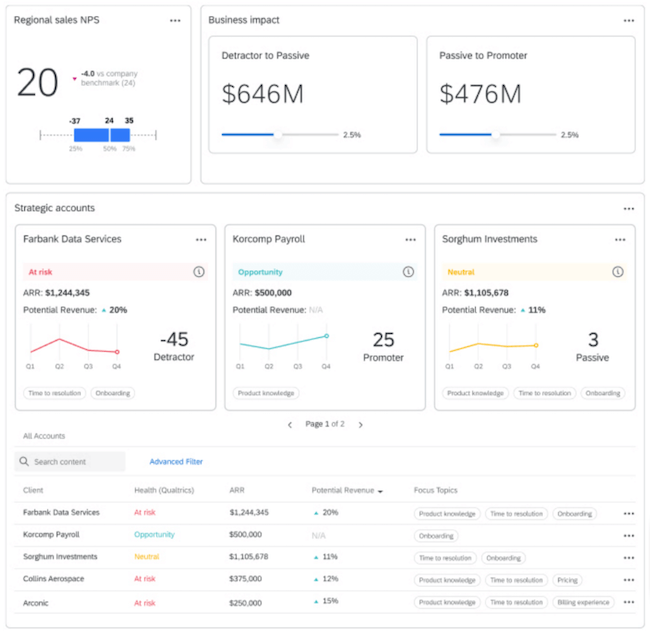 Qualtrics CustomerXM™ can help you determine effectiveness through sophisticated analysis and data-led insight generation. With detailed attribution modelling, you're able to see how your customer experience and marketing efforts relate to your vital business outcomes.
Instead of relying on marketing leadership to determine the next steps on every action, The Qualtrics XM Platform™ is able to generate data-led insights and suggest the next steps in raising your marketing ROI. With drag-and-drop integrations, you're able to deliver insights to multiple teams at the right time to steer actions in the right direction.