---
What are customer insights?
Customer insights are indicators that show whether your business's overall customer experience is in good shape, or if things need a tune-up. Insights you gather from your customers will usually derive from a mix of feedback and data science – this can be direct or indirect, solicited or unsolicited, and quantitative or qualitative.
Together, this customer data paints a picture of behavioural trends that shape metrics like customer satisfaction, customer sentiment, and customer loyalty.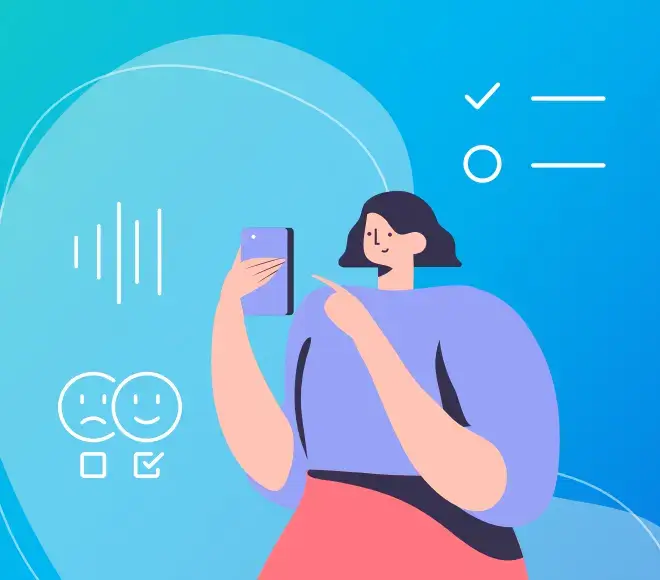 Collecting and analysing customer insights lets you understand where experience gaps and pain points lie, and arms you with the knowledge you need to take proactive steps to improve every step of the customer journey.
Consumer insights help find useful answers to a variety of key questions like:
Are your customers happy?
Are they likely to recommend you?
How is your customer support experience?
Is the entire customer journey seamless?
Are your products landing as they should?
How can you boost customer retention?
How can you drive down customer churn?
Watch a limited release of the X4 Summit 2023 sessions on demand
What are customer experience insights?
Customer experience insights are observations that focus on the interactions your customers have with you throughout their buying journey. So that's the insights you glean about everything from the process of learning about you online, to how effective your customer support is.
'Customer insights' as a term by itself can mean a couple of different things, so when we add the word 'experience', we're clarifying that we're not talking about demographic-related insights to do with the makeup of your customer base. Instead, we're talking about customer behaviour and the customer interactions that happen all along the sales funnel.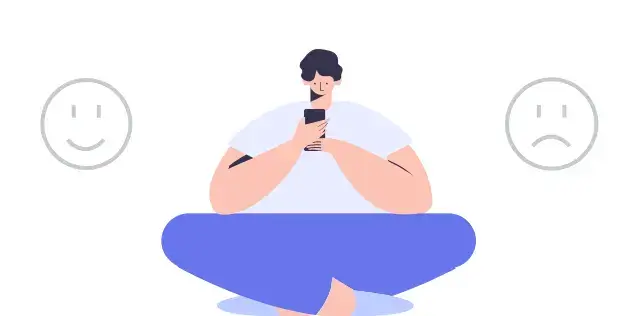 Think of it like this: if someone has collected a bunch of 'customer insights', they may be talking about the customer experience, or they could be describing insights they've gathered about the age or location of their customers. 'Customer experience insights' as a term, lets us know that we're focusing on those all-important interactions and touchpoints.
For our purpose, we'll be using the term 'customer insights' predominantly to explore what you can learn about the customer experience.
Why are customer insights important?
When you collect feedback and data and turn what you've gathered into actionable insights, you're learning what it's like to be one of your customers – and you're understanding what actions you need to take to make things better for them.
By analysing customer feedback and discovering deep insights, you'll be able to:
Make positive changes to your products
Improve the buying experience
Deliver world-class customer support
Enhance your existing market research efforts
Learn what your target audience expects from you
Maximise customer lifetime value
That's a more vital practice now than ever because customers expect much more from the brands they choose to do business with. In fact, customers expect brands to listen to and act on their feedback on a near-constant basis.
Recent research shows that 91% of consumers say they are more likely to buy from a brand that hears their needs, while 76% would happily fill in a short survey when they visit a website for the first time if it helped them get a more personalised experience.
To that end, there's real danger in failing to listen to customer demands, but even more in not proactively seeking out that insight.
Some 96% of consumers won't proactively complain; they'll just make their exit from your brand silently, leaving you wondering why your customer churn is growing. So employing a mix of surveys, feedback requests, and customer experience analytics tools is crucial.

Importantly, not enough brands are doing their due diligence here. Bain recently found that while 80% of organisations think they're delivering a fantastic experience, only 8% of customers agree. Luckily, there are a bunch of ways to close that gap between assumption and reality.
Examples of customer experience insights
Customer experience insight: Account setup process is broken
Source: Customer experience analytics suite
If you're using a CX suite that can track and understand the minutiae of the customer journey, it might flag that a number of customers are falling short of setting up an account all at the same step of the process.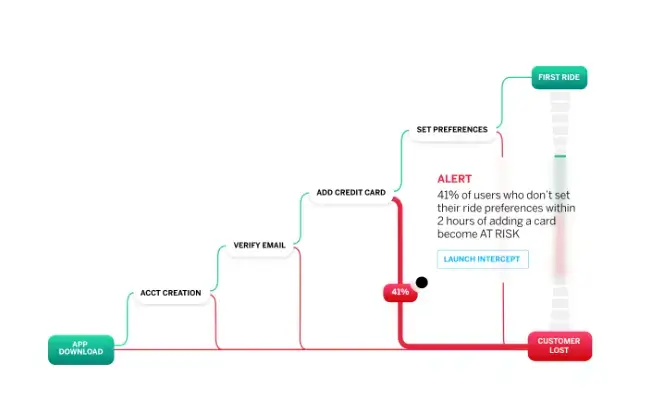 This indirect, quantitative feedback is an actionable insight: you'll know that something in that process is causing issues and needs to be fixed. Maybe it's a UX/UI issue, or maybe it's a more technical back-end problem with your site or app's architecture.
Customer experience insight: Billing process contains errors
Source: Contact centre call
Your contact centre is a customer experience insight generation machine, but you'll need the right software solution to be able to pull those insights out from all the calls, emails, and live chats happening at once.
AI-powered contact centre suites with natural language processing can scour all these interactions and find common issues that need to be flagged to those who can fix them. In this instance, you might learn that there's a duplicate billing issue affecting a number of people. Ignore that insight, and you run the risk of losing those customers forever.
Customer experience insight: Product is hard to use
Source: Third-party review site
Feedback about you isn't always directed at you. Sometimes it happens in conversation on social media, or on a third-party review aggregator. Monitoring all of these external sources is a huge job, so it's vital that you're using tools that can scour the web for you on a 24/7 basis, analyse their content, and flag any issues that show emerging trends.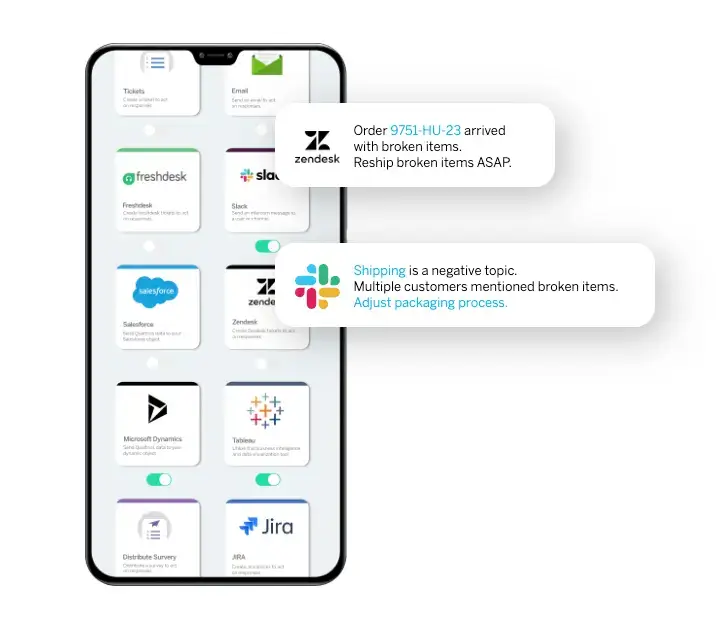 Here your listening suite might find that a higher-than-average percentage of customers are finding your product too hard to navigate since your latest UI update – causing you to consider rolling things back in order to keep them onboard.
How to gather customer experience insights
Customer insights can come from a huge range of places, but pulling useful information from the multitude of data sources and voices can feel like finding a needle in a haystack without the right processes and tools in place. Here's how to sort the signal from the noise:
1. Listen to everything, everywhere, all at once
The first part of the insight-gathering process is to ensure that you're able to capture everything customers are saying about you, no matter where they choose to say it. Not all feedback will come directly to you, so it's important to use tools that can marry solicited, direct feedback with unsolicited and indirect opinions from around the web – and generate experience insights that unify everything.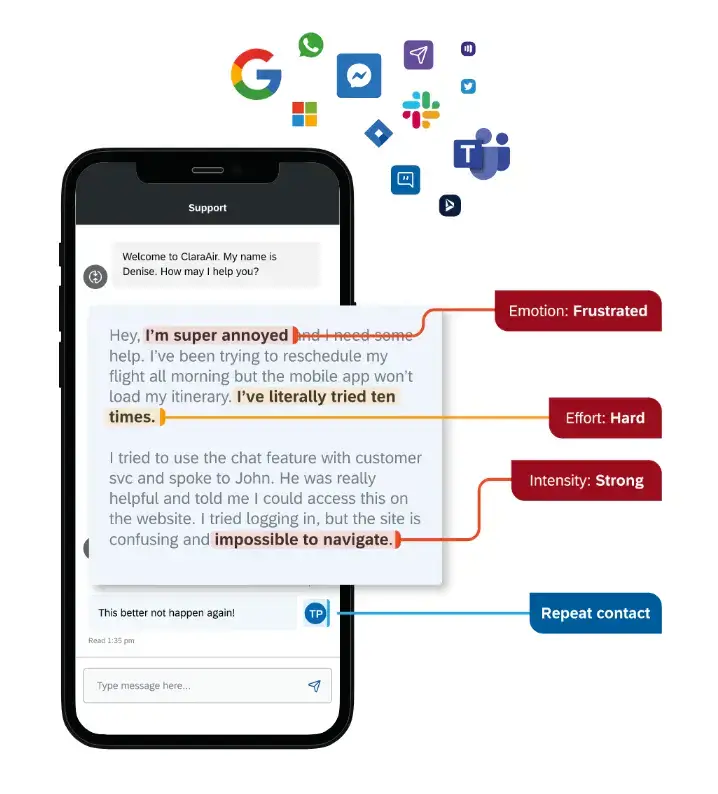 This kind of customer data is priceless, but it's impossible to gather manually. Instead, you'll need a customer experience management tool that can understand sentiment, effort, and intent across social media, emails, phone calls, third-party review sites, live chat, and SMS – and automatically group trending concerns into insights.
2. Ask for regular feedback
Direct solicited feedback is a fantastic way to gain a deeper understanding of how customers feel about their interactions with you. Not everyone will be willing to provide detailed answers to survey questions, but any written feedback you do gather will contain a wealth of useful experience insights alongside acting as useful market research opportunities.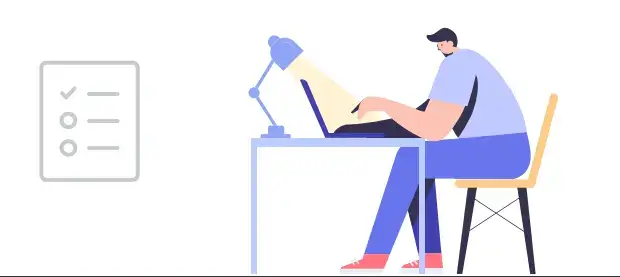 There are lots of places and times in the customer journey where you can ask for feedback. Post-purchase surveys, app or website feedback boxes, Net Promoter Score (NPS), Customer Satisfaction (CSAT), and Customer Effort Score (CES) surveys should all be regularly posed and incentivised if you want to see how micro and macro trends in customer data change over time.
3. Avoid feedback fatigue
Asking for direct feedback as regularly as possible is really important, but you should also do what you can to avoid building feedback fatigue in your audience. Being asked too often to fill out surveys or score interactions is a surefire way to turn people off, but there are a few ways you can ensure that you're toeing the line:
Customers are more willing to answer surveys that have been personalised to them, and personalisation can be done in a number of ways. You'll want to be sure that you're asking questions that are relevant to their buying habits, for one thing, but also think about the platforms you're using: are you targeting the right people on the right channel? Maybe your audience uses one social platform more than another, for instance?

If you were a waiter in a restaurant, you probably wouldn't ask customers how their meal was before they've taken a single bite, or after they've cleared their plate. There's a perfect time to ask for feedback, and there's a natural cadence that works, too. So think about when (and how often) is best for your audience. For B2B audiences, best practice is to send customer surveys quarterly. For B2C, think about how often customers interact with you and double it.
People will gladly answer questions if they think there'll be something in it for them, but this doesn't have to be a grand prize. Incentivisation can come through transparency and a promise to act on what you learn. Letting people know that the purpose of a survey is ultimately to make things better for them can help them find personal value in the exercise.
4. Make customer service a human science
Don't let customer service data sit untapped and underutilised. Your contact centre is an incredible repository for customer experience insights – one that can be unlocked with an intelligent customer data platform capable of understanding the meaning and sentiment behind every interaction.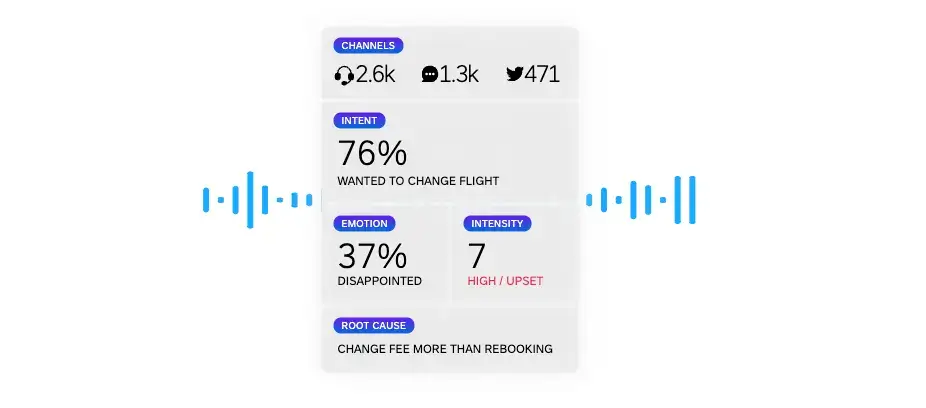 The volume of customer support queries most companies receive – across various mediums – makes it impossible to manually draw out and collate any deep insights. But a contact centre solution that can understand customer behaviour, automatically sift through calls and written complaints in real-time, and catalog customer experiences, will provide you with a real competitive advantage.
The goal is to bring all these disparate and innate human interactions into a single source of truth – one that can then proactively deliver real consumer insight.
How to use customer experience insights
The single best thing you can do with customer experience insights is to put them to work.
If you have a customer data platform sieving for insight gold, you'll want to ensure you have processes in place to use them. And that means making whatever changes those insights suggest with a good degree of agility.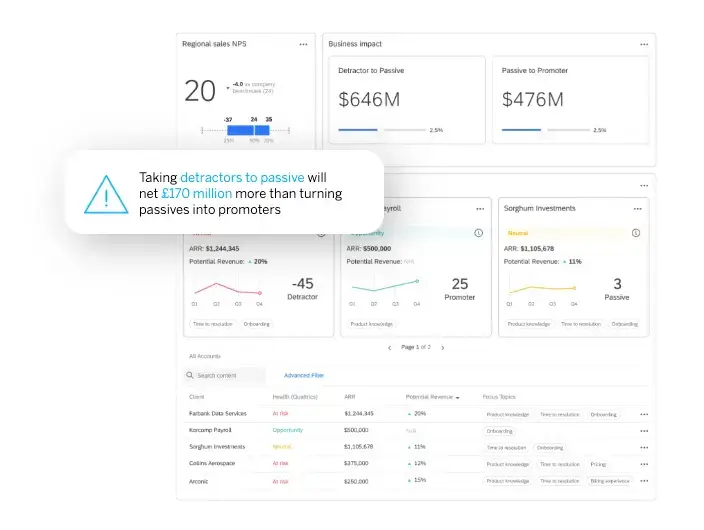 It's important to build a culture of action that transcends departments – one that puts customer experiences at the forefront of every business decision. The right customer data platform can help here, by turning raw data into insights gold using experience management tools.
Understanding pain points and designing personalised customer experiences that fix them is the most effective way to grow customer retention and boost customer lifetime value.
With Qualtrics CustomerXM™, you'll be able to bring omnichannel feedback together into one place, make sense of customer trends, and make proactive changes that drive real change. You can learn more here.