---
What is an employee engagement strategy?
An employee engagement strategy is your company's approach to creating the best possible employee experience for your workforce. And when employees feel they have the best possible experience, they thrive, achieve work life balance, do their best work, deliver the best customer experience, and all this translates into a healthy bottom line for the business.
And it's important to remember that it's up to the company to provide the employee experience. No longer can companies expect employees to 'try to make their own fun', which is simply a recipe for a disengaged, siloed, and directionless workforce. Your company culture must now be one that supports, encourages, and empowers a great employee experience, to stand any chance in today's competitive business world.
"Employee expectations are shaped by societal forces and by individuals themselves. But the experiences that employees have with your organisation… this is within your control" says Cecelia Herbert, Lead Employee Experience Scientist for Qualtrics in the Asia Pacific.
To do this requires a well-thought-out employee engagement strategy, and later, we'll walk you through how to formulate your action plan.
Transform your EX performance with this complete guide. 
The return on investment (ROI) and business impact of an employee engagement strategy
Employee engagement is a critical factor in how successful a business is. For a company to grow organically, and to meet the challenges of disruption head on, it demands more than just 'satisfactory' work from its employees. Work performance must be exceptional, and this comes only from engaged employees.
Gallup's 2020 Q12 Meta-Analysis shows the relationship between employee engagement and business performance to be a powerful one. It found the following differences when comparing the companies with the highest employee engagement scores against those with the lowest employee engagement scores (described as the median percent differences between top-quartile and bottom-quartile units) were:
10% in customer engagement/customer loyalty
23% in profitability
18% in productivity (sales)
14% in productivity (production records and evaluations)
18% in turnover for high-turnover organisations (those with more than 40% annualised turnover)
43% in turnover for low-turnover organisations (those with 40% or lower annualised turnover)
64% in safety incidents (accidents)
81% in absenteeism
28% in shrinkage (theft)
58% in patient safety incidents (mortality and falls)
41% in quality (defects)
66% in wellbeing (net thriving employees)
13% in organisational citizenship (participation
[Statistics quoted from: Gallup The Relationship Between Engagement at Work and Organisational Outcomes 2020 Q12® Meta-Analysis: 10th Edition]
Clearly, these numbers, when applied across the costs of your whole organisation, have huge implications for the bottom line, justifying your spend on employee engagement strategies.
5 steps to develop effective employee engagement strategies
1. Define your goals and KPIs
Having a clear definition of employee engagement is a critical first step. But you don't have to come up with this yourself, as engagement survey items have been used for a long time, so this hard work has been done for you. At Qualtrics, thousands of clients use our library of survey items, which have been analysed and distilled down to three core elements of employee engagement:
Feeling a sense of personal accomplishment
Feeling motivated
Driven to recommend the company as a great place to work.
But as we mentioned, measuring employee experience goes beyond employee engagement. Qualtrics has identified five outcomes, or key performance indicators (KPIs), of employee experience:
Engagement
Experience vs Expectations
Intent to Stay
Inclusion
Well-being
By using a standardised framework to measure the employee experience, you can confidently make data-informed decisions that improve your organisation.
2. Identify the drivers of employee engagement
Understanding the drivers of employee outcomes such as employee engagement enables your organisation to identify the highest impact actions it can take to move the needle.  These drivers correspond to the deeper needs of the individual employee, contributing to their wellbeing, and increasing the energy and passion that goes into every aspect of their work.
We have identified these 25 drivers of employee experience that you must measure to gather a holistic view of your employee experience.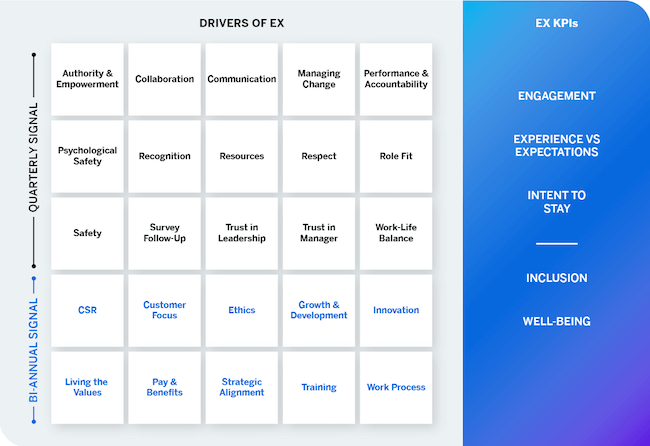 This framework helps you measure the top signals and bring up critical insights from your employees. It informs your priorities that are the building blocks of your employee engagement strategy. For each of the critical drivers, you need to ask the following three questions:
What initiatives (if any) do we currently have that support this driver?
Can we solve our most urgent pain points by investing in this particular area?
Who is responsible for taking action?
3. Build an employee listening roadmap with employee engagement surveys
"Employees want to know they are being heard, and employers will lose the war for talent if they don't continuously listen and respond to employee feedback," says Jay Choi, Chief Product Officer at Qualtrics.
There's only one way to find out what your employees are experiencing in all aspects of their working life: ask them.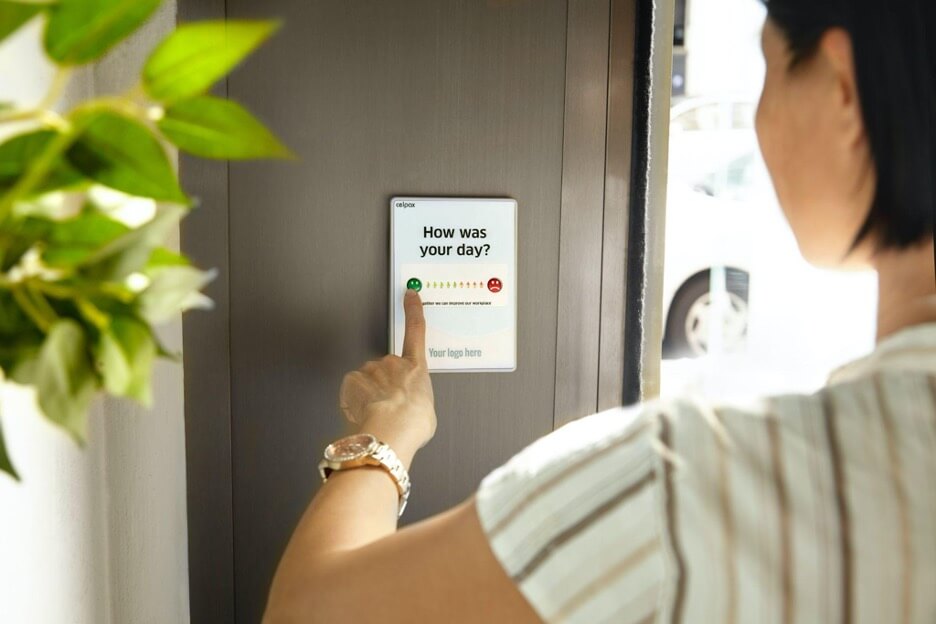 Asking your employees: why surveys are essential for your employee engagement strategy
There are four main reasons why you need to conduct employee engagement surveys for your organisation:
1. To measure how engaged your employees are
This includes assessing how happy, interested, enthusiastic and engaged employees are, whether they have job satisfaction, and which factors make them feel this way (or not).
2. To give employees a voice
So that they can comment on issues, organisational culture, give suggestions, make observations, and feel heard.
3. For improving employee engagement
You may have high employee satisfaction scores, but you can always make improvements. Employee feedback tells you where those experience gaps, however small, are.
4. To encourage business success and growth
Feedback from employee engagement surveys can pinpoint areas of the business where you can make improvements.
Surveys for a successful employee engagement strategy
Feedback must be the backbone of an effective employee engagement strategy, and structured listening is the way to gather it. This means going beyond a traditional annual or bi-annual survey, to solicit feedback from employees at multiple touchpoints. For example:
Annual baseline and pulse: Run regularly (4x per year), everyone in your company gets surveyed about their critical KPIs and drivers
Ad hoc: When you need to run one-off, sampled pulse surveys on special topics (e.g. diversity, equity and inclusion, wellbeing, or the future of work)
Lifecycle: Always on, automated feedback at moments that matter to employees (onboarding, candidate experience, employer brand, professional development, internal services, internal transfers, exit interviews)
360-degree feedback: multi-rater feedback given by those colleagues who work directly with the person who's receiving the feedback. 360-degree feedback is an authentic review for developing your employees
One-on-ones: meetings between two individuals (usually a senior leader or manager and a direct report or team member) are a great way to keep employees engaged with a positive emotional connection. One-on-ones help your employees stay connected to their purpose and the meaning of their work in the context of the team and an engaged workforce
Using an employee experience management platform such as EX25 in Qualtrics EmployeeXM™ to evolve your traditional approach to employee engagement surveys, you can increase the frequency at which you gather and respond to feedback from your employees, in a way that is realistic and actionable.
How to design an employee engagement survey
Designing an effective employee engagement survey requires careful thought to return the best possible results and data. To start, keep your survey structure simple and intuitive. Employees will need to understand how to answer the questions and your managers will need to understand how to read the report. Your goal is for as many employees as possible to understand and act on the results of your engagement survey.
Here's what else you'll need to think about before you get started:
Decide whose input you need to include and whose input you don't need (manage expectations by explaining why you are not consulting them).
Set clear deadlines and turnaround times right from the start
Ask participants to let you know upfront if they cannot meet the timeframe, so you can assign someone else
Establish one person for the final sign-off, and make it clear to everyone in the sign-off process that when they say it's final, it's final
Distinguish 'nice to have' questions from 'must have' questions
Avoid designing your employee engagement survey by committee
Find out more on developing an employee engagement survey
4. Devise questions to ask your employees
Your employee engagement survey should not only help you solve a problem at your organisation, but also point to what you're doing right in the eyes of every engaged employee. To accomplish this, you need to be sure that your questions are going to deliver useful insights into their employee experience.
If you're starting to worry about formulating the right employee engagement survey questions, don't. Designing your own employee engagement survey means that you don't have to ask a question in a certain way to fit into a particular model – every question can be designed to be 100% relevant to your organisation, which can help make your survey shorter and easier to digest.
Your questions should cover three key areas:
Employee engagement
These questions go at the front of your survey and measure: intent to stay, work involvement, discretionary effort, pride in the company, and willingness to recommend the organisation.
Core themes
These ask about the conditions that might cause (or detract from) employee engagement with questions about company culture, autonomy and empowerment, career progression, collaboration, communication, leadership, recognition, resources, strategy, management support, and training and development.
Additional themes
Depending on what's happening in your company or market at the time, you might also want to ask about additional topics. In our employee engagement survey template, you'll find some additional ones you can include. Try to avoid throwing them all in, and only ask them if they're relevant to prevent your engagement survey from becoming too unwieldy.
5. Get the right insights to the right people
Your feedback analysis platform will supply you with analysed data so you will understand the top drivers of employee engagement across your teams, and be able to act on improving those areas.
It's essential that, as part of your strategy, you map out who gets which insights to action them. The data must go to someone who can do something with it. There's nothing more disengaging for employees than to give feedback, then nothing gets done as a result of that feedback.
Executives, people managers, and HR all play a unique role in taking action on feedback. And by taking action, you demonstrate that employee voices are heard, making an impact, and – bingo – you've created a feedback culture.
Taking action as a result of feedback is essential to the employee experience, as it shows:
you care about keeping employees engaged
you're willing to fix things
you're willing to improve
you're a far-sighted company
6. Measure and track your progress
Your EX platform will probably include dashboard templates featuring analysed employee feedback data. These are ideal for managers and team leaders to understand and measure the top drivers of employee engagement across their team members.
Using external benchmark data and trends over time, leaders at all levels of the organisation can access relevant and timely insights from their teams that empower them to take action.
Proven employee engagement strategy examples
There are many ways that companies can go about achieving change. Probably the most important of these is…
Improve employee engagement by making your whole company culture one of belonging
Belonging takes employee experience to another level, forging a positive emotional connection between people and their workplace.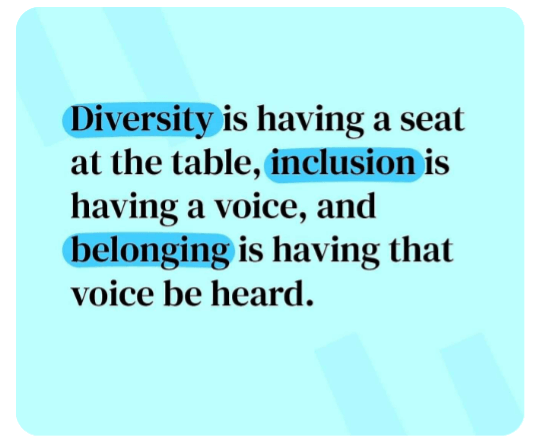 Belonging emerged as the top employee experience driver linked to engagement and well-being, according to one global study.
Engaged employees who also feel like they belong are almost three times as likely to have a greater sense of well-being: 78% versus 28%.
Things that people say make them feel they have a sense of belonging at their organisation include:
Employee pride in ESG — making a positive difference in the world
Inspirational company core values
Open and honest communication
Feeling like a valued member of the team
Feeling supported in adapting to organisational change
The knowledge that they can be their authentic selves at work
Belief that their company is one where everyone can succeed to their full potential, no matter who they are
A determination to promote diversity, equity and inclusion
Here are several other examples of employee engagement strategies you can use to improve your employees' experience, some chosen from our list of 25 key drivers of employment engagement:
Core values: When your company is built on principles that employees believe in, they are more engaged. Involve your people in defining your core values through surveys and consultation
Environment: Nobody does their best work in a windowless basement or cubicle farm. Make the physical workspace as airy and pleasant as you can to support a productive atmosphere. For remote workers, ensure they have suitable kit to make their workspace conducive to productivity and well being, too
Honest feedback: Collected using surveys as detailed above, one-on-one meetings and focus groups
Accountability: Without accountability, engagement suffers. Employees must be empowered to take ownership of the tasks (and results) they are responsible for. Then, they can make autonomous decisions and get on with the job.
Transparency: Employee engagement without transparency is nothing more than a one-way requirement to deliver without treating employees like responsible adults.Lacking any emotional connection or collaborative input, performance suffers. It's essential to be straight with employees, through good times and bad
Recognition: implement a recognition program; this could be peer-to-peer recognition, 'Employee of the Month' style awards, or something as simple as setting a budget aside for impromptu celebration lunches for projects done well
Work-life balance: Introduce flex-time, or a work-from-home policy
Well-being team up with a local fitness centre to offer gym memberships; instigate in-house exercise classes for both physical and mental health

Diversity, inclusion, and belonging (DEI): Celebrate multi-faith, multi-cultural events and holidays; implement unconscious bias training
Corporate social responsibility (CSR): Release employees (paid) to do community work regularly
Growth and Development: Encourage managers to support the coaching and development of their team members by making it part of their performance review goals; set up a mentorship program; budget for employee courses
Innovation: Give employees the time, space, and tools to be creative, rather than chained to their desks or in endless meeting
Safety: Address annoying things (such as a slippery floor in the restroom) as soon as they're mentioned; simply rectifying this shows employees you're listening, caring about them, appreciating their safety and wellbeing, and determined to make the working environment better
Employee engagement committee: A regular gathering of key stakeholders (CEO, senior leaders, managers and employees) who meet to discuss an effective employee engagement strategy and use their strategic management skills to increase employee engagement
Activities: All work and no play…you know the rest. Engage employees and make working fun with team challenges, days out, quizzes, bring your dog to work day… and much more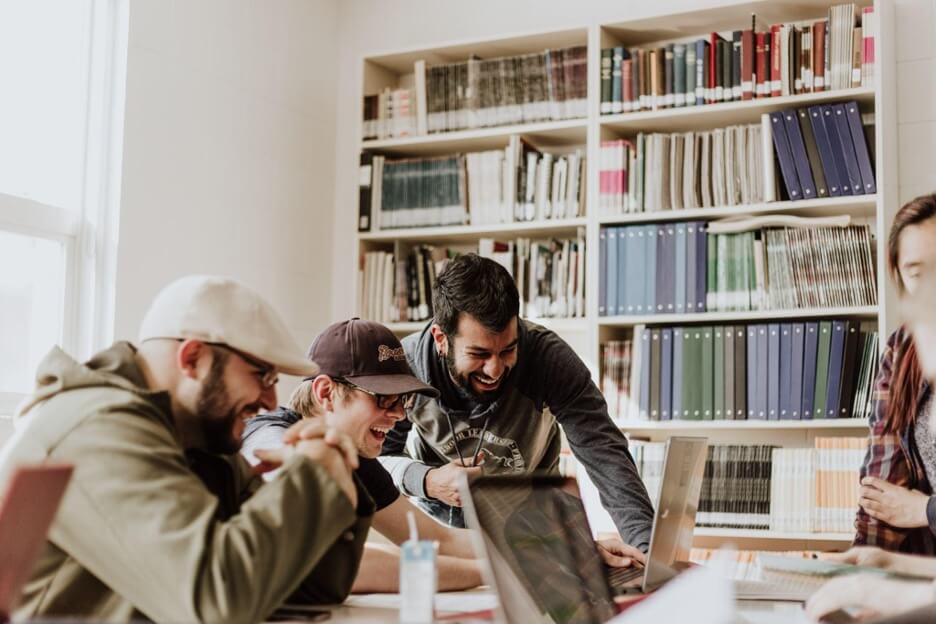 This is just a simplified list of examples and tactics you could use, but for immediate results, using products like Qualtrics EX25 can set a baseline and monitor all of your employee engagements. It's always good to have a starting point, but using advanced employee engagement software like EX25 can provide the ROI you need for your efforts.
Shift your mindset from employee engagement to employee experience
It's important to go beyond the idea of 'engagement'. While engagement is still an important construct, modern employee experience encompasses so much more. Work is dynamic; people and things change and develop rapidly, which is why the traditional annual employee engagement survey no longer cuts it. Instead, you need to explore holistically everything that your employees are experiencing in real time, then take action with employee engagement strategies in a timely way.
The organisations that invest most heavily in EX are found:
11.5x
as often in
Glassdoor's Best Places to Work
4.4x
as often in LinkedIn's list of North America's Most In-Demand Employers
2.1x
as often on the Forbes list of the World's Most Innovative Companies
2x
as often in the American Customer Satisfaction Index
Source: Jacob Morgan
Employee engagement strategies should clearly define upfront what success looks like. The EX25 model sets a baseline from which improvements in employee experience can be tracked over time.
Based on your employee engagement strategy, the operational plan to get there should be informed by the drivers, with clear deliverables, and with aligned resourcing and accountability.
Ultimately, organisations should look to create plans for every aspect of the overall employee experience, addressing everything from employee engagement and satisfaction to retaining talent and helping their people to develop.
In our guide, Designing a world-class EX program, find out how you can create experiences that attract and retain talent, as well as improve your bottom line: both now and in the future.