---
What is employee onboarding?
Employee onboarding (also known as employee orientation) is the process of integrating new hires into a company and familiarising them with their job duties, the organisation's culture, other team members and team processes, and policies.
An effective onboarding process will quickly make a new hire feel welcome and ready to settle in to become a functioning, contributing part of the business.
Free ebook: The top employee experience trends in 2023
Why is employee onboarding so important?
Poor employee onboarding is one possible reason why 28% of people leave their new jobs within 90 days of starting. It's a disappointing outcome, considering the time, resources, and money companies invest in sourcing, interviewing, and training new recruits.
Organisations that have a good onboarding process improve their new hire retention by 82%, yet 88% of organisations don't onboard new hires well.
Given the Great Resignation and the post-pandemic hybrid nature of work, it's vital not only to have a proper onboarding program but to have a well-designed, automated, structured onboarding process that has technology at its heart. Optimising your new employee onboarding process brings many benefits to the business, extending far beyond the important factor of employee retention.
Onboarding new employees is a make or break opportunity for organisations
– Liz Pavese-Kaplan Ph.D., Principal Consultant of Employee Experience for Qualtrics
Better onboarding helps new employees adjust to their jobs, by establishing better relationships to increase employee satisfaction, and clarifying expectations and objectives to improve performance.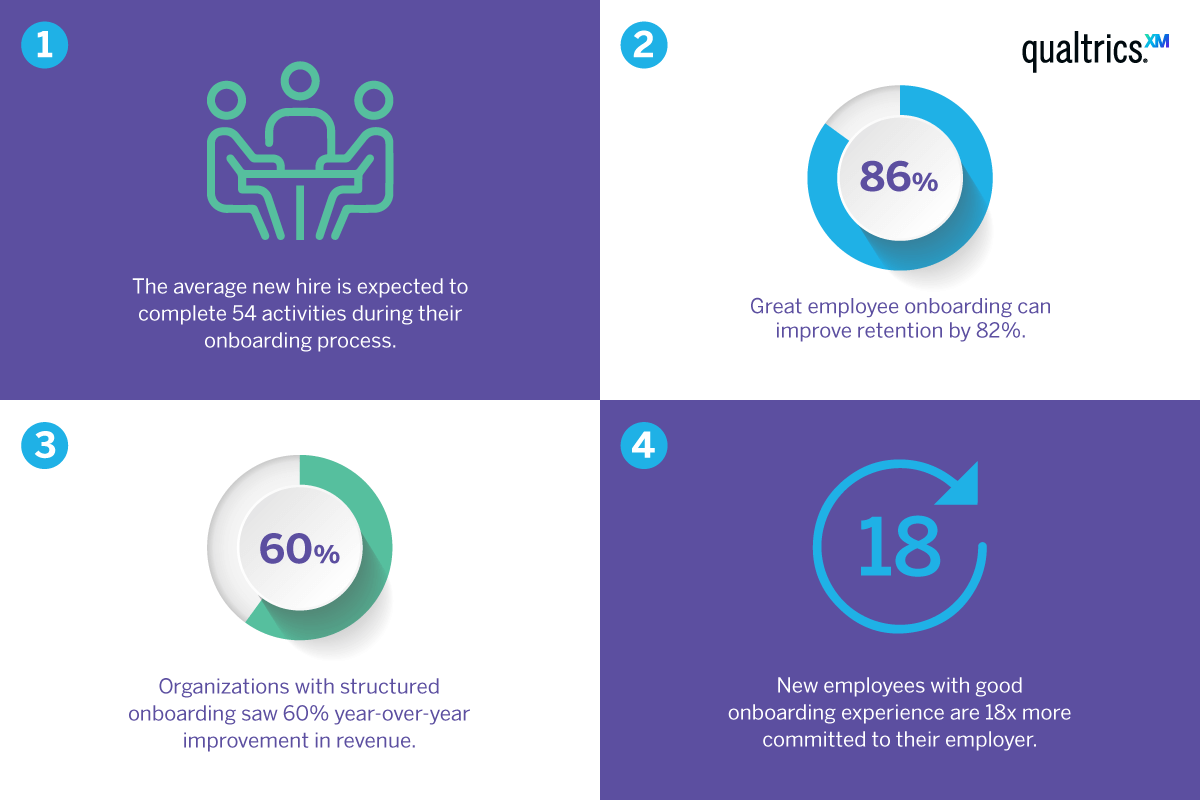 According to Liz Pavese-Kaplan Ph.D., Principal Consultant of Employee Experience at Qualtrics, "These early experiences are highly influential to new hires' overall perceptions of the company and impact future engagement, motivation, and even intentions to stay. It's a time to ensure you meet the expectations set during hiring, to reaffirm their choice to join, and maximise their ability to connect and contribute in the way they anticipate."
The global job market is strong, competition for skilled workers is fierce, and top talent can pick and choose where they want to work. And when it costs $4,000 and takes 24 days to hire a new employee on average (Glassdoor, 2019), you don't want new recruits leaving because your employee onboarding process was lacking.
This is where it is important to invest in a strategic employee onboarding process. Companies that give their new hires a really good onboarding experience are likely to see:
Less employee turnover
Higher employee engagement
Faster time to proficiency
Reduced costs
Extension of the positive candidate experience
Assimilation into the workplace culture
Understanding of role and performance expectations
Greater customer satisfaction
Greater hiring manager satisfaction
Easter identification of skill gaps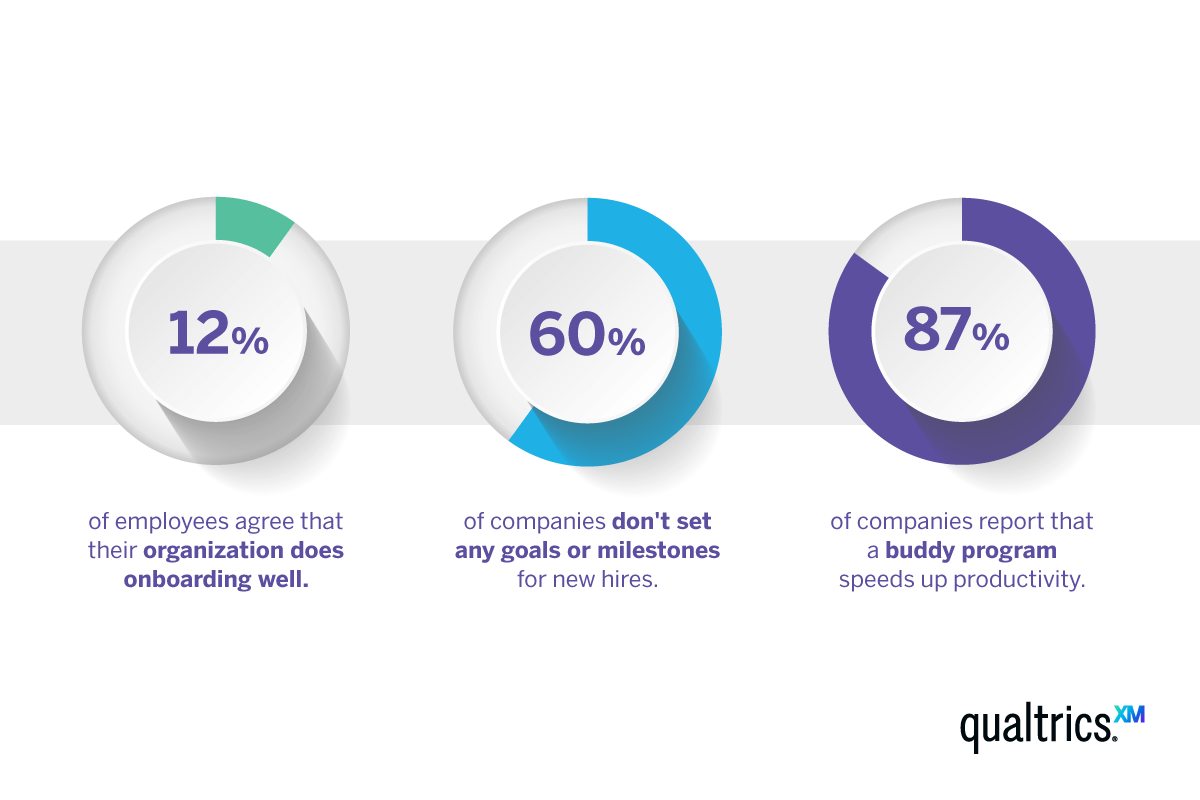 All of these factors contribute to a happier workforce, which reduces attrition and boosts the bottom line. Plus, onboarding is the perfect opportunity to show new people how great it is working for your organisation, and how wonderful your people are.
The return on investment (ROI) of successful employee onboarding
A good employee onboarding process costs money, that's for sure, but the return on that investment will have an impact on your business's bottom line. The best ROI comes from:
Achieving engagement with preboarding (i.e. even before the new hire has started)
Improving retention by providing the most positive experience possible
Taking new employee onboarding past the usual 90 days to a full year to ensure full competence
Boosting engagement with social and cultural integration
A robust training program
Appointing mentors
The better your onboarding process, the faster your enthusiastic, engaged employees get up to speed and start generating revenue for the entire company  – and they'll be more inclined to stay with you.
What is an employee onboarding process?
While there's no perfect employee onboarding process, the employee onboarding that you tailor specifically to your company is the first step in relationship building with a new employee. It's constantly evolving; a transitional process of inducting that new employee into your company's mission, values, culture, teams, systems, and processes. A new employee will:
Understand their role and responsibilities
Settle comfortably into their new setting
Meet their managers and co-workers
Learn about company policies, systems, and protocols
Onboarding can last up to 12 months and involves not only HR managers and the HR team within the HR department, but direct managers and other colleagues too. It starts when a candidate receives their job offer letter, and ends when they have become a fully integrated, productive, contributing employee.
But the administration and paperwork need to be the least of the employee onboarding process. Cultural and social acclimatisation, and support to get up to speed towards peak productivity are more important.
Get started with our free employee onboarding survey template
The 5 Cs
There are five distinct levels to successful onboarding, known as The 5 Cs:
Compliance is the boring but necessary new hire paperwork and includes teaching employees basic legal and policy-related rules and regulations.
Clarification: Making employees familiar with their new jobs and all related expectations, goals, and objectives.
Culture is a broad category that includes providing employees with a sense of belonging to the company culture, history, mission, and vision – both formal and informal.
Connection is the vital interpersonal relationships and information networks that new hires must establish to feel happy and secure.
Check back in with each new hire by setting up check-in 'milestone' meetings 30, 60, and 90 days from their start date into their first year of employment.
Keep the 5 Cs in mind as you design your strategic employee onboarding process.
Questions to ask when designing a new employee onboarding process
Before you implement an employee onboarding program, you need to pin down:
What is the number one impression you want your new hires to come away with after their first day? Their first week? Their first month?
When will onboarding start?
When will it finish?
How often are hiring managers planning to check in with a new employee?
What do new employees need to know about the company culture and work environment?
What would your ideal employee onboarding process look like? What role would management and HR professionals play? What about co-workers and team members?
What kind of goals do you want to set for new employees?
How will you gather feedback on the program, measure its success, and analyse performance metrics?
Do you have the right onboarding software and tools to streamline processes and help you manage the entire process?
The final two points are crucial. Employee onboarding will be an ongoing recruiting process that will change with your organisation. For it to be effective you need to ensure it can easily scale to meet your employee and business needs. Gathering feedback on what is – and isn't – working with your onboarding process and every new employee's experience is a huge part of this process.
The employee onboarding process flow
HR managers often use the following process to track tasks within the onboarding process from job postings, offer letter, offer acceptance, waiting period and training plan right up to the new employee's first quarter with the company: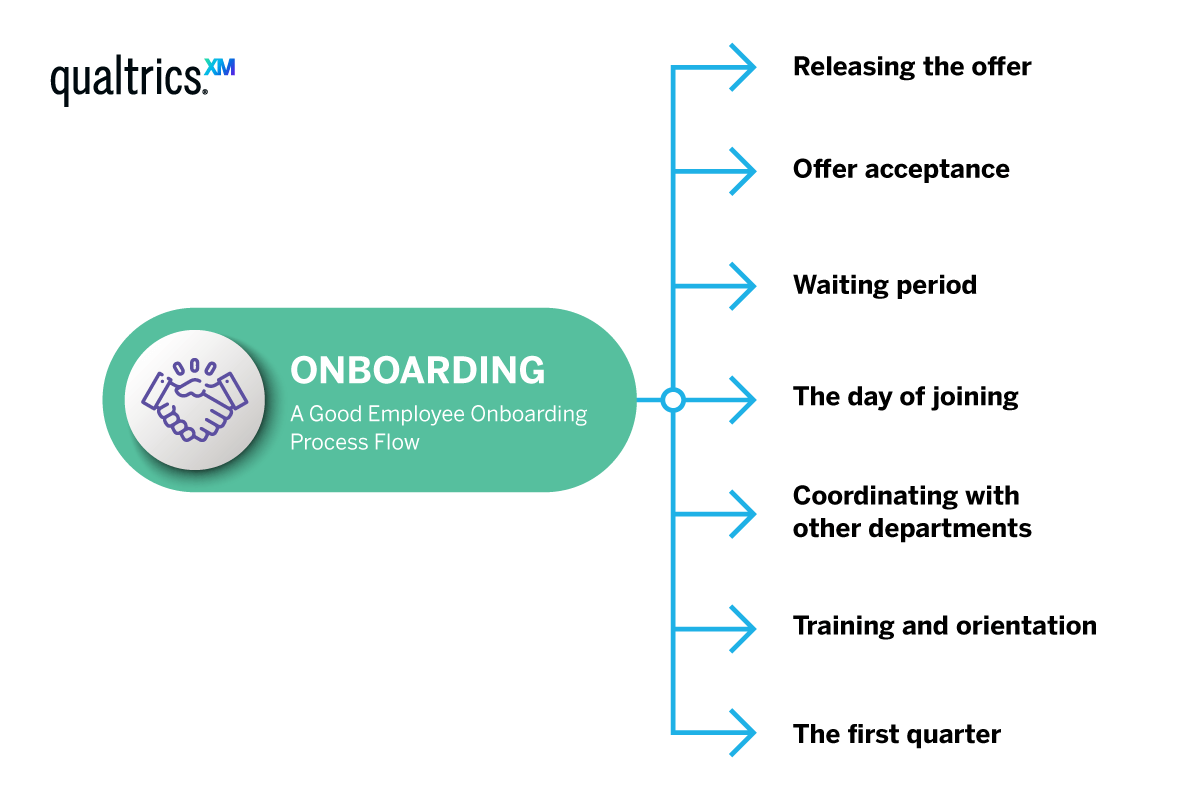 How to onboard a new employee
Simple! Just follow our comprehensive employee onboarding process checklist below for each stage of welcoming your new employees.
Employee onboarding checklist 1: preboarding
Congratulations! The candidate you've been courting for weeks (and possibly months) has accepted your offer.
But don't forget that during the waiting period between accepting an offer and the new hire walking through your door on their first day, you as an employer are on dangerous ground. Other companies may be contacting your new employees and perhaps making them more attractive offers. If you don't fully engage them at this stage, you may lose them.
Because you've already established what kind of experience and impression you'd like your new hires to have, you can start crafting their experience before they start. Part of that is how you communicate before they've walked through the office door.
If you want to give the impression your organisation is friendly, organised, and sociable, it's important that this comes across even before their first day on the job.
Things to tick off the list include:
✓ Keeping in touch before the first day If you go silent between making an offer and the new hire's first day, you risk your hard-won talent being poached by a competitor. Employee preboarding, i.e. keeping in touch until their first day keeps new hires interested, enthusiastic, and engaged.
✓ What is the welcome pack like? Is it a cold, hard contract, a non disclosure agreement, a ream of HR documents, and a miserable employee handbook with strict instructions on dress code, topped off with formal instruction not to be late on their first day? Is it an email with information on what to bring, a map of where to go (and maybe an invite to a team lunch)? Or is it somewhere in between? The tone of voice in communication materials has a huge impact on how welcome an employee will feel. And no one wants to go somewhere they don't feel welcome (especially if it's five days a week).
✓ Does your organisation offer perks and socials? Now's the time to highlight this. Even if it was mentioned in the interview process, it's still good to reaffirm it now. Give new employees all the information you think will make them feel excited and energised. You want to make new hires feel like they can't wait to get stuck in.
✓ How are you going to find out how your onboarding and hiring process went? Once the new employee is onboard, ask them for anonymous feedback on your approach, using an employee onboarding survey. Were there any misunderstandings? Were there things in the orientation schedule that could have gone better?
✓ Internal hires Just because somebody has been promoted or moved within the organisation, it doesn't mean that they can be expected to slide seamlessly in with a new team, manager, and job description. Get their old and new managers to talk to each other; set new goals and milestones for the new role, ease the internal hire into the culture of their new team (with a buddy if necessary), and help build a new development plan so they can plot their career progression with the company and skill themselves.
Employee onboarding checklist 2: the first day
Before your new hire joins, run down this employee onboarding checklist to make sure you will give them the best first introduction to your company that you can. Following this checklist can help make your new employees' first day at work a great experience:
✓ Assign them a buddy – Someone who can show them where everything is, and who'll be on hand if they have any questions. You can assign a buddy just for the week, or it could be an ongoing relationship throughout the whole onboarding process.
✓ Set their desk up – Not having a dedicated workspace – or one that's covered in someone else's junk – can make a new hire feel unwelcome, like they are an afterthought. Set up their space with all the office supplies and equipment they need to get started, ideally with some branded swag so they instantly feel part of the team.
✓ Know how to pronounce their name – Or would they prefer a nickname? Double-check the pronunciation and spelling. It can be awkward for a new hire to have to correct you on their first day.
✓ Prepare to learn their pronouns – Using gender-neutral pronouns until you have been given your new hire's pronouns – if they are happy to share them with you – helps create a more inclusive workplace environment.
✓ Set their email up, ready and waiting – Make sure to send them a welcome email! And make sure that everyone on the team is CC'd. Ask other employees to swing by their desk and say hello.
✓ Organise some introductory meetings – Ideally with the people they'll be working with regularly. It'll give them a chance to ask questions. Plus it means employees understand who to reach out to day-to-day.
✓ Provide an org chart – and an employee directory too – Bonus points if there are photos. After all, it's almost impossible to remember everyone's names when you're first introduced to lots of people all at once.
✓ Share where to get the best food and drink – Have a list of coffee shops, cafes, and restaurant recommendations good to go.
✓ Organise a team lunch – Their first day is an ideal time to organise this – it's an ideal 'welcome to the team' experience.
Hooray! Your new team member has walked through the door. Now is the time for proper first impressions. Will they be met at reception with a smile and their security pass ready and waiting for them? Or will they find no one knows who they are and the office is in disarray? First impressions count. If you've followed the checklist above, you're well on the way to providing a warm welcome.
According to BambooHR, 75% of new hires said training during the first week on the job is most important to them. However, it's a tricky balance between giving them all the training, resources, and information they may need, while at the same time not overwhelming them.
Employee onboarding checklist 3: the first quarter
Your new hire's first quarter at your organisation should be focused on introducing objectives, connecting, learning, and setting goals. It's also the time when the initial excitement of starting a new job may have worn off and the real work has thoroughly kicked in. Your latest recruit should have got to grips with most of your processes and ways of working.
But there may still be things they're struggling with. That's why it's the perfect opportunity to check in with them and make sure everything is going well. Ideally, they should be:
✓ Forging connections: Continue building connections between your new hire and other employees throughout their first quarter. The new hire's buddy can be instrumental in this regard.
✓ Being mentored: A mentor program may be an excellent way to help balance out the need to learn alongside the stress of having lots to absorb. This should be someone senior to the person they are mentoring, but not necessarily in the same role. Mentors can help give new hires the guidance and support that may not always be appropriate from their manager, especially if they're struggling and would rather not talk to their boss about their issues. The Aberdeen Group report found that high-performing organisations are almost 2.5 times more likely than lower-performing employers to assign a mentor or coach during the onboarding process.
✓ Setting a development plan and career path: Everyone needs to be developed. Work with your new hire to pinpoint where they could improve, how they like to learn, their ambitions, and what you can do to support them – not just for their current job, but for the jobs they would eventually like to move into.
✓ Setting goals and communicating progress: New hires should know exactly what is expected of them, and when they need to deliver. Set out clear, achievable goals, and use regular managerial check-ins to communicate progress and recognise the new hire for a job well done. It's also a good opportunity for team members to give them feedback.
Employee onboarding checklist 4: the first year
Unfortunately, very few companies continue with onboarding up to and beyond the 6-month mark. But a whopping 86% of employees decide whether to stay or go within that first 6 months. Finding out why could help prevent this.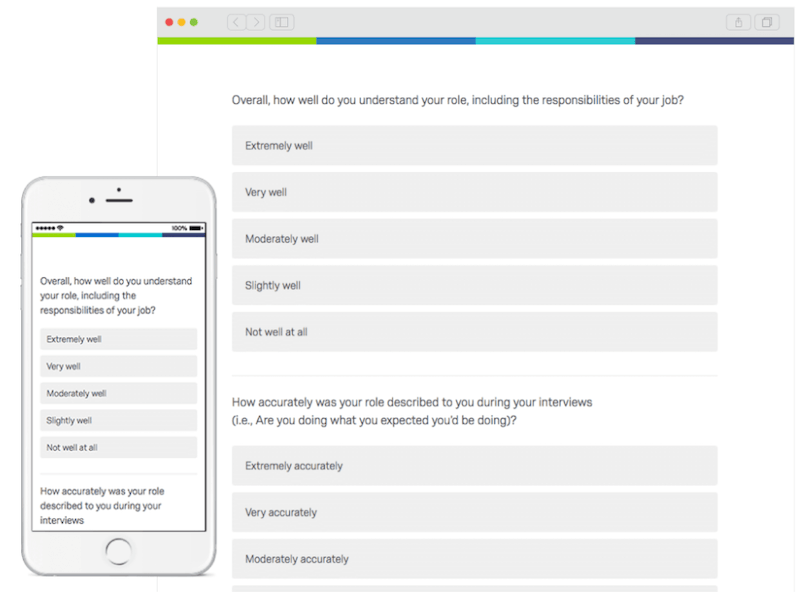 ✓ Find out if you're getting employee onboarding right
Ask your new hires! Monitor feedback at every stage of the employee onboarding process to make sure that what you're doing is making a difference.
Make sure your employee feedback software allows you to monitor the impact of your improvements so you can continually adapt and improve.
There are two types of data you need to collect to get a better understanding of how well your employee onboarding program is working:
Quantitative data is numerical information that can easily be measured and tracked. This information will show you changes in retention rates, productivity, and the number of trainings completed. These will give you insights as to what is working and what is not.
Qualitative data is information that can be interpreted rather than counted. This information can be gathered by conducting interviews and surveys. Asking employees to write about their thoughts and feelings regarding their onboarding experience in open text boxes on surveys will help you better understand the why behind the numbers.
Qualitative and quantitative data combined can give you a full picture of how effective your employee onboarding program is currently, and what, if any, areas need to be improved or added to your onboarding checklist.
✓ Own and improve your employee onboarding experience
Listening – and listening regularly – has a big impact on engagement and therefore retention too.
In 2020, we surveyed 13,551 employees for our 2020 global employee experience trends report and found that regular listening has a huge impact on employee engagement and employee retention.
For example, engagement rises to 61% for those whose company has a feedback program, compared to 45% for those without.
Plus, the frequency of listening makes a big difference too. Even if you've got an engagement program, asking people for their responses once a week (or even more) can boost your engagement score by as much as 10%.
When you use an employee onboarding solution such as Qualtrics XM Platform™, you'll get prebuilt surveys, an onboarding tool, dashboards, and expert-designed, customisable content. Real-time insights from your onboarding surveys can feed into your HRIS so that HR, hiring managers, and onboarding teams can track the progress and success of their programs in just a few clicks.
✓ Keep listening and acting on feedback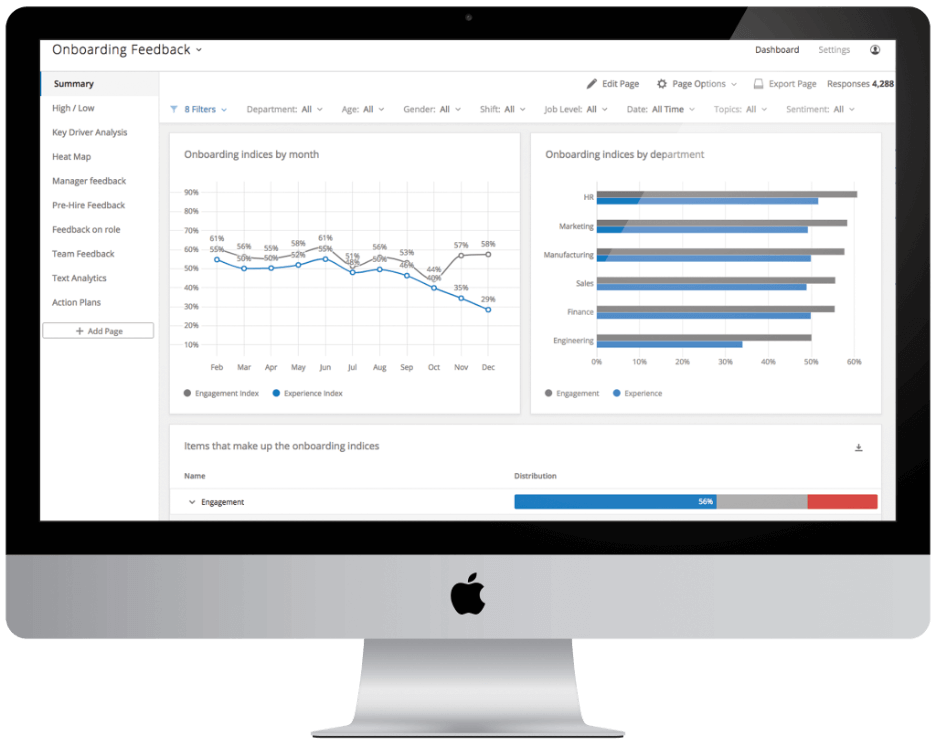 Overall, onboarding should be a process that your organisation takes as seriously as interviewing. And one of the biggest contributors to world-class onboarding is world-class listening and action.
Make sure you create a structured onboarding program that works for your organisation and people, but don't stop there. Combine your operational (O) data with your experience (X) data so that you can see how your new onboarding process impacts other important KPIs in your business.
And then continually listen, learn, and act on the feedback. Your new hires (and future ones) will thank you for it – and so will the C-suite once they see the ROI on the onboarding programs.